Abstract
Weeds plants serve as a reservoir of begomoviruses Begomovirus and play a vital role in the diversity of single stranded DNA viruses. Wild melon (Cucumis melo) plants showing leaf curling and color breaking symptoms were collected and used in for Begomovirus amplification. Cloning, sequencing and bioinformatics analysis revealed the association of a bipartite Begomovirus isolate with the diseased C. melo host. The complete genome of DNA-A (2756 bp) of a bipartite Begomovirus isolate exhibited 99.5% nucleotide similarity with DNA-A of tomato leaf curl Palampur virus (ToLCPalV) reported from Iran ([IR: Jir8:T58P:08] FJ660431). Further pairwise identity derived implemented in sequence demarcation tool identified that the DNA-B (2719 bp) showed maximum 98.7% sequence identity to the corresponding DNA-B of ToLCPalV ([IR: Jir-T65X:08] JF501720). The phylogenetic dendrogram of DNA-A and DNA-B genome components grouped respectively with ToLCPalV DNA-A and DNA-B of Iran isolates and far from Pakistan and India clade. This study provides the first identification of a bipartite Begomovirus ToLCPalV from C. melo in Oman and also indicates the requirement for more investigation of ToLCPalV, as ToLCPalV is a major threat particularly to tomato crops in India and Pakistan and recently introduced in Iran.
Access options
Buy single article
Instant access to the full article PDF.
USD 39.95
Price excludes VAT (USA)
Tax calculation will be finalised during checkout.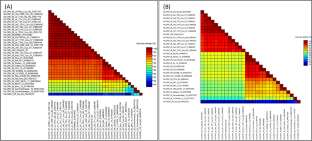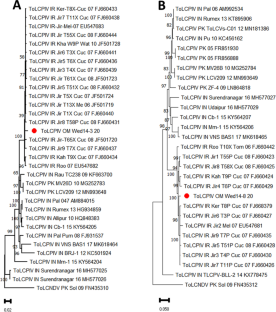 Data availability
Tha data related to this article is available on request from the author.
References
Akhtar S, Khan AJ, Singh AS, Briddon RW (2014) Identification of a disease complex involving a novel monopartite begomovirus with beta-and alphasatellites associated with okra leaf curl disease in Oman. Arch Virol 159:1199–1205

Al Shihi AA, Al Sadi AM, Deadman M, Briddon RW, Shahid MS (2018) Identification of a distinct strain of Cotton leaf curl Gezira virus infecting tomato in Oman. J Phytopathol 166:199–205

Ali I, Malik AH, Mansoor S (2010) First report of tomato leaf curl Palampur virus on bitter gourd in Pakistan. Plant Dis 94:276

Al-Mabsli SS, Al-Wahaibi AK, Al-Sadi AM, Shahid MS (2021) Association of a monopartite begomovirus and associated betasatellite with yellow vein disease of a weed host Senna Italica Mill in Oman. Virusdisease 32:378–380

Dhkal M, Sharma A, Kaur G (2020) First report of tomato leaf curl Palampur virus infecting muskmelon in India. J Plant Pathol 102:1367

Doyle J (1991) DNA protocols for plants. Molecular techniques in taxonomy. Springer, Berlin, pp 283–293

Esmaeili M, Heydarnejad J, Massumi H, Varsani A (2015) Analysis of watermelon chlorotic stunt virus and tomato leaf curl Palampur virus mixed and pseudo-recombination infections. Virus Genes 51:408–416

Fondong VN (2013) Geminivirus protein structure and function. Mol Plant Pathol 14(6):635–649

Hanamasagar Y, Naganur P, Shankarappa KS, Venkataravanappa V, Lakshminarayana Reddy CN (2021) Characterization of Tomato leaf curl Palampur virus associated with leaf curl and yellowing disease of watermelon from India. Indian Phytopathol 74:1075–1088

Heydarnejad J, Mozaffari A, Massumi H, Fazeli R, Gray AJA, Meredith S, Lakay F, Shepherd DN, Martin DP, Varsani A (2009) Complete sequences of tomato leaf curl Palampur virus isolates infecting cucurbits in Iran. Arch Virol 154:1015–1018

Heydarnejad J, Hesari M, Massumi H, Varsani A (2013) Incidence and natural hosts of Tomato leaf curl Palampur virus in Iran. Australas Plant Pathol 42:195–203

Jaiswal N, Saritha RK, Datta D, Singh M, Dubey RS, Rai AB, Rai M (2012) Mixed infections of begomoviruses in pumpkins with yellow vein mosaic disease in North India. Arch Phytopathol Plant Protect 45:938–941

Khan AJ, Akhtar S, Briddon RW, Ammara U, Al-Matrooshi AM, Mansoor S (2012) Complete nucleotide sequence of watermelon chlorotic stunt virus originating from Oman. Viruses 4:1169–1181

Khan AJ, Akhtar S, Al-Matrushi AM, Fauquet CM, Briddon RW (2013) Introduction of East African cassava mosaic Zanzibar virus to Oman harks back to "Zanzibar, the capital of Oman." Virus Genes 46:195–198

Khan AJ, Akhtar S, Singh AK, Al-Shehi AA, Al-Matrushi AM, Ammara U, Briddon RW (2014) Recent evolution of a novel begomovirus causing tomato leaf curl disease in the Al-Batinah region of Oman. Arch Virol 159:445–455

Khanna S, Rana S, Singh J, Goyal M, Kumar P, Singh N, Pant RP, Baranwal VK (2019) First report of association of begomovirus in yellow mosaic disease of bur cucumber in India. Indian Phytopathol 72:181–184

Kumar Y, Hallan V, Zaidi AA (2008) Molecular characterization of a distinct bipartite begomovirus species infecting tomato in India. Virus Genes 37:425–431

Kumar Y, Hallan V, Zaidi AA (2011) Chilli leaf curl Palampur virus is a distinct begomovirus species associated with a betasatellite. Plant Pathol 60:1040–1047

Martin DP, Murrell B, Golden M, Khoosal A, Muhire B (2015) RDP4: detection and analysis of recombination patterns in virus genomes. Virus Evol. https://doi.org/10.1093/ve/vev003

Mohammed D, Adhab M, Al-Kuwaiti N (2021) Molecular characterization of viruses associated to leaf curl disease complex on zucchini squash in iraq reveals deng primer set could distinguish between new and old world begomoviruses. Anais Acad Bras Cienc. https://doi.org/10.1590/0001-3765202120210050

Mubin M, Shahid MS, Tahir MN, Briddon RW, Mansoor S (2010) Characterization of begomovirus components from a weed suggests that begomoviruses may associate with multiple distinct DNA satellites. Virus Genes 40:452–457

Namrata J, Saritha RK, Datta D, Singh M, Dubey RS, Rai AB, Rai M (2010) Molecular characterization of tomato leaf curl palampur virus and pepper leaf curl betasatellite naturally infecting pumpkin (Cucurbita moschata) in India. Indian J Virol 21:128–132

Rojas MR, Hagen C, Lucas WJ, Gilbertson RL (2005) Exploiting chinks in the plant's armor: evolution and emergence of geminiviruses. Annu Rev Phytopathol 43:361–394

Shafiq M, Ahmad M, Nisar A, Manzoor MT, Abid A, Mushtaq S, Riaz A, Ilyas M, Sarwar W, Nawaz-Ul-Rehman MS, Haider S, Younus A, Mubin M (2019) Molecular characterization and phylogenetic analysis of tomato leaf curl Palampur virus, a bipartite begomovirus, associated with Cucumis sativus L. in Pakistan. 3 Biotech 9:204

Shafiq M, Sattar MN, Shahid MS, Al-Sadi AM, Briddon RW (2021) Interaction of watermelon chlorotic stunt virus with satellites. Australas Plant Pathol 50:117–128

Shahid MS, Shafiq M, Ilyas M, Raza A, Al-Sadrani MN, Al-Sadi AM, Briddon RW (2019) Frequent occurrence of Mungbean yellow mosaic India virus in tomato leaf curl disease affected tomato in Oman. Sci Rep 9:16634

Shahid M, Al-Sulaimani H, Al-Sadi A (2020) Squash leaf curl virus: a new world bipartite Begomovirus threatening squash production in Oman. Plant Dis 104:2533–2533

Sharma D, Kulshreshtha A, Roshan P, Hallan V (2019) Molecular characterization and infectivity analysis of a bipartite begomovirus associated with cotton leaf curl Multan betasatellite naturally infecting Rumex nepalensis in northern India. J Plant Pathol 101:935–941

Tiwari AK, Snehi SK, Singh R, Raj SK, Rao GP, Sharma PK (2012) Molecular identification and genetic diversity among six Begomovirus isolates affecting cultivation of cucurbitaceous crops in Uttar Pradesh, India. Arch Phytopathol Plant Protect 45:62–72

Venkataravanappa V, Ashwathappa KV, Reddy CNL, Shankarappa KS, Reddy MK (2020) Characterization of tomato leaf curl New Delhi virus associated with leaf curl and yellowing disease of watermelon and development of LAMP assay for its detection. 3 Biotech 10:1–2

Walker PJ, Siddell SG, Lefkowitz EJ, Mushegian AR, Adriaenssens EM, Alfenas-Zerbini P, Davison AJ, Dempsey DM, Dutilh BE, García ML, Harrach B, Harrison RL, Hendrickson RC, Junglen S, Knowles NJ, Krupovic M, Kuhn JH, Lambert AJ, Łobocka M, Nibert ML, Oksanen HM, Orton RJ, Robertson DL, Rubino L, Sabanadzovic S, Simmonds P, Smith DB, Suzuki N, Van Dooerslaer K, Vandamme A-M, Varsani A, Zerbini FM (2021) Changes to virus taxonomy and to the international code of virus classification and nomenclature ratified by the international committee on taxonomy of viruses (2021). Arch Virol 166:2633–2648

Wyatt S, Brown J (1996) Detection of subgroup III geminivirus isolates in leaf extracts by degenerate primers and polymerase chain reaction. Phytopathology 86:1288–1293
Acknowledgements
The author is grateful to Sultan Qaboos University for financial support under IG/AGR/CROP/20/02 project.
Ethics declarations
Conflict of interest
None to declare.
Ethical approval
This study does not involve any human/animals related activities by any of the authors.
Additional information
Publisher's Note
Springer Nature remains neutral with regard to jurisdictional claims in published maps and institutional affiliations.
Supplementary Information
Below is the link to the electronic supplementary material.
Rights and permissions
Springer Nature or its licensor (e.g. a society or other partner) holds exclusive rights to this article under a publishing agreement with the author(s) or other rightsholder(s); author self-archiving of the accepted manuscript version of this article is solely governed by the terms of such publishing agreement and applicable law.
About this article
Cite this article
Shahid, M.S. Characterization of tomato leaf curl Palampur virus naturally infecting wild melon in Oman. Indian Phytopathology 76, 215–221 (2023). https://doi.org/10.1007/s42360-022-00573-x
Received:

Revised:

Accepted:

Published:

Issue Date:

DOI: https://doi.org/10.1007/s42360-022-00573-x
Keywords
Bipartite begomovirus

Diversity

Whitefly

Cucumis melo