Abstract
Survey in three different seasons were conducted for collection and characterization of fungal diseases affecting nursery raised teak seedlings in central Kerala, India. Based on visual symptoms and morphological identification, nine diseases were recorded and among them six were first time records in teak from the state viz; leaf blight caused by Curvularia eragrostidis, leaf spots caused by Macrophomina phaseolina and Botryodiplodia theobromae, collar rot caused by Alternaria alternata, root rots caused by Fusarium solani and Fusarium oxysporum. Based on the investigation and assessment, leaf blight caused by Curvularia eragrostidis and root rot caused by Fusarium oxysporum were considered as two major diseases. Cultural as well as morphological characterization was made for each pathogen and molecular characterization was done for two major diseases causing pathogens. Weather correlation with disease occurrence was found to be significant for two diseases. Curvularia causing severe foliar disease was a new record since it was earlier reported as only of minor significance. The shift in disease spectrum due to increased virulence of minor pathogens should be further analyzed based on the changing climate scenario.
Access options
Buy single article
Instant access to the full article PDF.
US$ 39.95
Tax calculation will be finalised during checkout.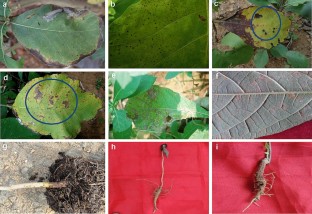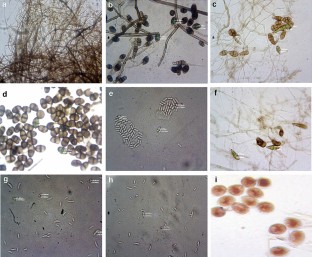 References
Agrios GN (2005) Plant pathology, 5th edn. Elsevier, Amsterdam

Ai C, Wu F, Sun S, Shan T, Wang J (2015) First report of brown leaf spot caused by Alternaria alternata on teak in China. Plant Dis 99(6):887

Ali MMI, Florence EJM (1994) Studies on collar rot of teak seedlings. Indian For 120:69–71

Archana B (2014) Morphological and physiological studies on curvularia leaf spot disease of poplar. Ph. D. thesis, Forest Research Institute, Dehradun, 179p

Bakshi BK (1976) Forest pathology principle and practice in forestry. Controller of Publications, Delhi, p 400p

Balasundaran M (2002) Diseases of tropical forest trees. Kerala Forest Research Institute, Peechi

Balasundaran M, Sankaran KV (1991) Fusarium solani associated with stem canker die-back of teak in southern India. Indian For 117:147–149

Cabral PGC, Capucho AS, Pereira OL, Maciel-Zambolim E, Freitas RL, Zambolin L (2010) First report of teak leaf rust disease caused by Olivea tectonae in Brazil. Australas Plant Dis Notes 5:113–114

IPCC [International Panel on Climate Change] (2001) IPCC third assessment report: climate change 2001. Cambridge University Press, Cambridge

Kumari R, Banerjee A, Kumar R, Kumar A, Saikia P, Khan, ML (2019) Deforestation in India: consequences and sustainable solutions. In: forest degradation around the world. https://doi.org/10.5772/intechopen.85804

Mahowald NM, Ward DS, Doney SC, Hess PG, Randerson JT (2017) Are the impacts of land use on warming underestimated in climate policy? Environ Res Lett 12(9):094016

Mishra S, Dhar V (2005) Efficient methods of inoculation by Fusarium the incitant of pigeon pea wilt. Indian Phytopathol 58:332–334

Mohanan C (2000) Status of forest nursery diseases in India and emerging trends in seedling disease management. In: Lilja, Sutherland (eds) Proc. 4th IUFRO WP. 7.03.04. Diseases and Insects in Forest Nurseries, Finnish Forest research Institute, Suonenjoki, Finland, pp 107–121

Mohanan C, (2007) Diseases of teak in India and their management. In: Bhat KM, Balasundaran M, Bhat KV, Muralidharan EM, Thulasidas, PK, (eds) Processing and marketing of teak wood products of planted forests. Proceedings of the regional workshop, Kerala Forest research Institute, Peechi, Kerala, India, 25–28 September, 2007. pp 214–222

Mohanan C, Sharma JK (2005) Improvement of seedling production system in forestry sector and its impact on seedling health. In: Diseases and insects in forest nurseries—Proceedings of the 5th Meeting of IUFRO WorkingParty S7.03.04, 6–8 May 2003, Kerala

Mohanan C, Sharma JK, Florence EJM (1997) Nursery diseases of teak in India. In: Basha CS, Mohanan C, Sankar S, (eds) Proceedings of International Teak Symposium, 4–6 December 1991, Peechi. Kerala Forest Department and Kerala Forest Research Institute, Peechi, pp 107–112

Mohanan C, Ratheesh N, Laya PN, Kumar RKC (2004) Disease problems and their management in teak root trainer nurseries in Kerala, India. In: Bhat KM, Nair KKN, Bhat KV, Muralidharan EM, Sharma JK (eds) Quality timber products of teak from sustainable forest management. Proceedings of the International Conference, Kerala Forest research Institute, Peechi, Kerala, India, 2–5 December, 2003. pp 462–466

Mohanan C, Ratheesh N, Kumar KCR (2010) Teak (Tectona grandis L.f.) root trainer nurseries: diseases and their management. Indian J Forestry 33(4):519–523

Munaut F, Hamide N, Marate H (1997) A standardized microdroplet inoculation technique for analysis of the interaction between Colletotrichum gloeosporioides and Stylosanthes guianensis. Parasit 53(4):117–125

Nagarjun N, Suryanarayana V (2016) Documentation, characterization and management of leaf spot of Syzygium cumini (L.) Skeels. J Farm Sci 29(3):381–385

Namitha J (1989) Ecology and control of some forest tree species in nurseries. Ph.D. (Botany) thesis, Dr. Harisingh Gour Vishwavidyalaya University, Madhya Pradesh, 313p

Pathak H, Maru S, Satya HN, Silawat SC (2015) Fungal diseases of trees in forest nurseries of Indore. India J Plant Pathol Microbiol 6(8):1–4

Rocha JRS, Oliveira NT, Menezes M (1998) Comparison of inoculation methods efficiency for evaluation of Colletotrichum gloeosporioides isolates pathogenicity on passion fruits (Passiflora edulis). Braz Arch Biol Technol 41:145–153

Sayyad SI, Mogle TR, Sonkamble MM (2015) Cultural characteristics of Macrophomina phaseolina. Ann Plant Prot Sci 23(2):390–417

Sharma JK, Sankaran KV (1987) Diseases of Albizia falcataria in Kerala and their possible control measures. KFRI Res Report 47:1–33

Sharma JK, Mohanan C, Florence E JM (1985) Disease survey in nurseries and plantations of forest tree species grown in Kerala. KFRI research report No. 36. Kerala Forest Research Institute, Peechi, Kerala. 275p

Tade and Bharathy (2011) Prevalence and management of root and collar rot of teak (Tectona grandis Linn. F.) seedlings in nurseries. J Plant Dis Sci 6(2):128–130

Verma RK (2013) Outbreak of a nursery disease of teak in central India. Indian For 139(8):750–752

Verma RK, Sharma N, Soni KK, Jamaluddin (2008) Forest fungi of central India. International Book Distributing Company, Lucknow, p 418p

Verma RK, Hanwat RH, Rajput PST, CK (2013) Status of Khair mortality in central India. Indian For 139(9):790–796

Wheeler BEJ (1969) An introduction of plant disease. John Wiley and Sons Ltd, London

White TJ, Bruns T, Lee S, Taylor JW (1990) Amplification and direct sequencing of fungal ribosomal RNA genes for phylogenetics. In: Innis MADH, Gelfand JJ, Sninsky, White TJ (eds) PCR protocols: a guide to methods and applications. Academic Press Inc, New York, pp 315–322

Xie CP, Ma R, Zheng FQ, Liu PP (2017) First report of leaf spot caused by Curvularia lunata on Plumeria rubra in Hainan. China Plant Dis 101(1):252

Yáñez-López R, Torres-Pacheco I, GuevaraGonzález RG, Hernández-Zul MI, Quijano-Carranza JA, Rico-García E (2012) The effect of climate change on plant diseases. Afr J Biotechnol 11(10):2417-a2428. https://doi.org/10.5897/AJB10.2442
Acknowledgements
The authors would like to acknowledge the financial and technical backing provided by Kerala Agricultural University for this research work and for the support and cooperation extended by the Social Forestry Wing of Kerala state Forests and Wildlife Department for the field survey and data collection. The authors also graciously remember the service of Dr. P. N. Chowdhary, National Centre for Fungal Taxonomy, New Delhi for his sincere taxonomic service.
Funding
This research work was carried out with the financial support of Kerala Agricultural University.
Ethics declarations
Conflict of interest
The authors declare no conflict of interest.
Additional information
Publisher's Note
Springer Nature remains neutral with regard to jurisdictional claims in published maps and institutional affiliations.
About this article
Cite this article
Kiran, M., Gopakumar, S., Reshmy, V. et al. Documentation and characterization of fungal diseases in nursery seedlings of teak (Tectona grandis L.f.) in Kerala, India. Indian Phytopathology (2021). https://doi.org/10.1007/s42360-021-00333-3
Received:

Revised:

Accepted:

Published:
Keywords
Teak

Nursery diseases

Weather correlation

Fungal pathogen