Abstract
Menthol Mint (Mentha arvensis) cultivation is estimated to touch 3,00,000 hectares with an annual production of 30,000 tons of essential oils and export about 75% of the output. In recent years the M. arvensis crop at different locations in northern Indian plains was found severely infected with Macrophomina phaseolina. The M. arvensis cultivars such as Kranti, Shivalik, Himalaya, Gomti, Saksham, Saryu, Kosi, and Kalka developed by CSIR-CIMAP were screened for the resistance source against charcoal rot disease caused by M. phaseolina under glasshouse and field conditions. Our results indicated that M. arvensis cultivars Kranti, Gomati, Saryu were resistant, while Shivalik, Himalaya, Saksham and Kalka were moderately resistant, and Kosi was moderately susceptible. The seven cultivars from eight, showed less significant damage by the M. phaseolina, while Kosi cultivars showed high damages. Host fitness made on the basis of infection fact that one cultivar was non-host; one was the poor host while four cultivars were the good host of M. phaseolina. The studies support that Kranti, Gomati, and Saryu cultivars could be suggestible for sustainable cultivation under IGP region to reduce the M. phaseolina associated diseases and prevent yield losses.
Access options
Buy single article
Instant access to the full article PDF.
US$ 39.95
Tax calculation will be finalised during checkout.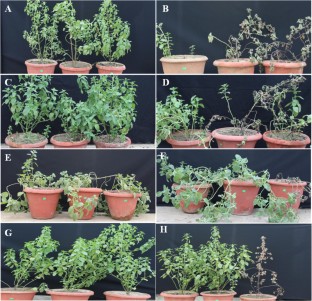 References
Babu BK, Saxena AK, Srivastava AK, Arora DK (2007) Identification and detection of Macrophomona phaseolina by using species-specific oligonucleotide primers and probe. Mycologia 99:797–803

Bahl JR, Bansal RP, Dhawan OP, Dhawan SS, Upadhyay RK, Singh JP, Lal RK, Shasany AK, Chanotiya CS, Patra DD, Kalra A, Singh SK, Mishra A, Chauhan A, Singh V, Zaim M, Nabi M, Bisht BS (2013) Registration of high yielding cold tolerant menthol mint-variety "CIM-Kranti" of Mentha arvensis. S J Med Arom Pl Sc 35:184–189

Chand S, Patra NK, Anwar M, Parta D (2004) Agronomy and uses of Mentol Mint (M. arvensis)- Indian Prospective. Proc Ind Nat Sci Acad Part B Biol Sci 70:269–297

Dung JKS, Schroeder BK, Johnson DA (2010) Evaluation of Verticillium Wilt resistance in Mentha arvensis and M. longifolia genotypes. Plant Dis 94:1255–1260

Horbach R, Navarro-Quesada AR, Knogge W, Deising HB (2011) When and how to kill a plant cell: infection strategies of plant pathogenic fungi. J Plant Physiol 168:51–62

Husain A, Janardhanan KK (1965) Stolon rot of Japanese mint. Curr Sci 34:156–157

Kalra A, Singh H, Pandey R, Samad A, Patra KN, Sushil K (2005) Diseases in mint: causal organisms, distribution, and control measures. J Her Spi Med Pl 11:71–91

Khanuja SPS, Shasany AK, Dhawan S, Darokar MP, Kumar TRS, Naqvi AA, Bahl JR, Singh AK, Bansal RP, Saikia D, Kumar S, Rajeswara BR (2001) A menthol tolerant variety 'Saksham' of Mentha arvensis yielding high menthol. J Med Arom Pl Sci 23:110–112

Kumar S, Tyagi BR, Bahl JR, Singh H, Singh V, Khanuja, SPS, Shasany AK, Shukla RS, Sattar A, Singh D, Haseeb A, Singh VP, Ram P, Singh K, Singh S, Singh SP, Patra NK, Alam M, Naqvi AA, Ram M, Agarwal KK, Singh K (1997) Himalaya - a high menthol yielding hybrid clone of Mentha arvensis. J Med Aromatic P1 19:729–731

Kumar S, Bahl JR, Shukla P, Singh A, Ram G, Bansal RP, Sharma S (1999) Screening of genotypes of menthol mint Mentha arvensis for high yield of herbage and essential oil under the late cropping conditions of the oil under the late cropping conditions of the sub-tropical indo-gangetic plains. J Hortic Sci Biotech 74:680–684

Kumar S, Suresh R, Singh V, Singh AK (2011) Economics analysis of menthol mint cultivation in the Uttar Pradesh: a case study of Barabanki district. Agric Econ Res Rev 24:345–350

Mohanapriya R, Naveenkumar R, Balabaskar P (2017) Survey, virulence and pathogenicity of root rot incidence of Cowpea in selected districts of Tamilnadu caused by Macrophomina phaseolina (Tassi.) Goid. Int J Curr Microbiol App Sci 6:694–705

Patra NK, Kumar S, Khanuja SPS, Shasany AK, Singh HP, Singh VR, Tanveer H, Kalra A, Singh HB, Mengi N (1997) Genetic improvement of the cultivated species of Cymbopogon and Mentha for essential oil yield, and quality and adaptation. J Med Arom Pl Sci 21:28–29

Radwan O, Rouhana LV, Hartman GL, Korban SS (2014) Genetic mechanisms of host–pathogen interactions for charcoal rot in soybean. Plant Mol Biol Rep 32:617–629

Sankar P (1994) Biological control of sesamum root rot caused by Macrophomina phaseolina (Tassi.) Goid. M.Sc. (Ag.) Thesis, Tamil Nadu Agricultural University, Coimbatore, p 141

Singh AK, Khanuja, SPS (2007) CIMAP initiatives for menthol mint. Spice India, pp 14–17

Singh P, Pandey AK (2018) Prospective of essential oils of the genus Mentha as biopesticides: a review. Front Plant Sci 10(9):1295

Tetali S, Karpagavalli S, Pavani L (2015) Management of dry root rot of blackgram caused by Macrophomina phaseolina (Tassi) Goid. using bioagent. Plant Archives 15:647–650

Tyagi BR, Bahl JR, Singh V, Singh H, Duhan,Tajuddin SPS, Ram P, Naqvi AA, Mandal S, Chauhan NK, Singh UB, Rajeswara BR (2009) Genetic improvement of the cultivated species of Cymbopogon and Mentha for essential oil yield, and quality and adaptation. J Med Arom Pl Sci 21: 28-29
Acknowledgements
The authors are thankful to CSIR-UGC funding agency and Director, CSIR-Central Institute of Medicinal and Aromatic Plants for providing all the necessary facilities.
Additional information
Publisher's Note
Springer Nature remains neutral with regard to jurisdictional claims in published maps and institutional affiliations.
About this article
Cite this article
Indrajeet, Samad, A. & Bandamaravuri, K.B. Screening of Mentha arvensis cultivars for resistance source against Charcoal rot disease caused by Macrophomina phaseolina. Indian Phytopathology 73, 683–687 (2020). https://doi.org/10.1007/s42360-020-00205-2
Received:

Revised:

Accepted:

Published:

Issue Date:
Keywords
Mentha arvensis

Cultivars

Macrophomina phaseolina

Plant pathogen