Abstract
Ginger (Zingiber officinale) is a valuable cash crop in the northeastern hill of India and rhizome rot incited by Pythium aphanidermatum is a highly destructive in all the ginger growing areas of Mizoram. Incidence of soft rot disease recorded in the state varied from 7.23 to 40.26% and 5.23 to 34.84% in 2012 and 2013, respectively. An experiment was conducted to evaluate the efficacy of integrated module of chemicals and non-chemicals against soft rot disease of ginger at ICAR-RC for NEH Region, Mizoram Centre, Kolasib, during 2012 and 2013. The pot culture study revealed that the highest germination percent (92.0 and 87.0%), least soft rot incidence (9.6 and 13.2%) and maximum yield (172.03 and 169.43 g/plot) were recorded in the treatment T3 i.e. treatment of rhizomes with fungicides, pyraclostrobin [strobilurins 20% at 0.2% for 30 min, followed by soil drenching with copper oxychloride (blitox 50 W) at 0.3%] for three times starting with disease initiation at 20 days interval. The two years field study indicated that rhizome treatment (T4) in hot water at 47 °C for 30 min and soil application of Trichoderma harzianum at 2.5 kg/50 kg FYM/ha, followed by three drenching of copper oxychloride (0.3%) was most effective in limiting the incidence of soft rot (19.29%) on ginger besides having their significant response in improving the growth and yield (41.90 q/ha).
Access options
Buy single article
Instant access to the full article PDF.
USD 39.95
Price excludes VAT (USA)
Tax calculation will be finalised during checkout.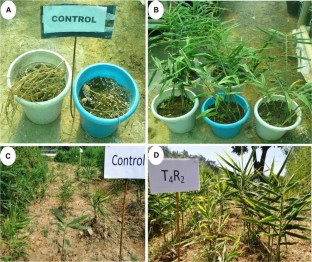 References
Ahamad S (2013) Hill agriculture. Astral Publishing House, New Delhi, p 550

Ahamad S (2017) Management of rhizome rot of ginger at farmers field in Jammu region. Indian Phytopath. 70(2):252–253

Anoop K, Bhai RS (2014) Evaluation of antagonistic potential of indigenous Trichoderma isolates against Pythium aphanidermatum (Edson) Fitz causing rhizome rot in turmeric (Curcuma longa L). J Sci 4(2):99–105

Basistha A, Homan R (2015) Evaluation and selection of appropriate management package of ginger rhizome rot disease in field condition. J Agri Veterinary Sci 8:53–56

Bhai RS, Sasikumar B, Kumar A (2013) Evaluation of ginger germplasm for resistance to soft rot caused by Pythium myriotylum. Indian Phytopath. 66:93–95

Daiho L and Upadhyay DN (2004) Screening of ginger genotypes from North-Eastern States against rhizome rot of ginger In: National Agricultural Technology Project Final Report (2001–2004), Nagaland University, Nagaland, 14

Dake GN, Edison S (1989) Association of pathogens with rhizome rot of ginger in Kerala. Indian Phytopath. 42(1):116–119

Das TPM, Devdas VS, Pillai GR (1990) Efficacy of fungicides for seed treatment against pre-emergence rhizome rot of ginger. Indian Cocoa, Arecanut Spices J 14:13–15

Dohroo NP (2001) Etiology and management of storage rot of ginger in Himachal Pradesh. Indian Phytopath 54:49–54

Dohroo NP, Gupta M (2014) Effect of bioagents on management of rhizome diseases, plant growth parameters and nematode population in ginger. Agric Sci Digest 34:41–44

Dohroo NP, Kansal S, Ahluwalia N (2012) Status of soft rot of ginger (Zingiber officinale Roscoe). Technical Bulletin, Department of Vegetable Science, Dr. Y.S. Parmar University of Horticulture and Forestry, Nuani 173 320, Solan, India, 22

Dohroo NP, Kansal S, Ahluwalia N (2015) Studies on eco-farmer-friendly practices for management of soft rot of ginger (Zingiber officinale). Indian Phytopath. 68:93–96

Ekka S, Prasad SM, Sharma RB (2009) Occurrence and relative dominance of pathogens in rhizome rot of ginger at Ranchi. Indian Phytopath 62:505–508

Gangawane LV, Shaikh SA (1988) Management of resistance in Pythium aphanidermatum to aluminium ethyl phosphite. Curr Sci 56:905–906

Ghorpade SA, Ajri DS (1982) Effectiveness of oilseed cakes in control of rhizome rot. J Maharashtra Agric Univ 7:272

Godtfredsen WO, Vagedal S (1965) Trichodermin new sesquiterpene antibiotic. Acta Chem Scandinavica 19:1088–1102

Gupta M, Dohroo NP, Gangta V, Shanmugam V (2010) Effect of microbial inoculants on rhizome disease and growth parameters of ginger. Indian Phytopath 63:438–441

Haware MP, Joshi LK (1974) Studies on soft rot of ginger from Madhya Pradesh. Indian Phytopath 27:158–159

Kavyashree R (2009) An efficient in vitro protocol for clonal multiplication of ginger—var. Varada. Indian J Biotech 8:328–331

Kulkarni S, Kulkarni SA, Suryanarayna V, Lokesha NM (2003) Scenarios of rhizome rot of ginger in northern Karnataka. Plant Pathol Newsl 21:32

Kumar A, Anandraj M, Sharma YR (2003). Rhizome solarization and microwave treatment: ecofriendly methods for disinfecting ginger seed rhizomes. In: Allen C, Hayward AC, Prion P (eds) Bacterial wilt and Ralstonia solnacearum species complex. American Phytopathological Society

Lalfakawma C, Nath BC, Bora LC, Srivastava S, Singh JP (2014) Integrated disease management of Zingiber officinale Rosc. rhizome rot. The Bioscan 9:265–269

Paret ML, Cabos R, Kratky BA, Alvarez AM (2010) Effect of plant essential oils on Ralstonia solanacearum Race 4 and bacterial wilt of edible ginger. Plant Dis 94:521–527

Pyke TR, Dietz A (1960) U-Zn-963: a new antibiotic I-discovery and biological activity. Appl Microbiol 14:506–510

Rajan PP, Gupta SR, Sarma YR, Jackson GVH (2002) Diseases of ginger and their control with Trichoderma harzianum. Indian Phytopath 55(2):173–177

Ram D, Mathur K, Lodha BC, Webster J (2000) Evaluation of resident biocontrol agents as seed treatments against ginger rhizome rot. Indian Phytopath 53:450–454

Rana KS, Arya PS (1991) Rhizome rot and yellows disease of ginger in H.P. Indian J Mycol Plant Pathol 21:60–62

Senapati AK, Ghose S (2005) Screening of ginger varieties against rhizome rot disease complex in eastern ghat high land zone of Orissa. Indian Phytopath 58(4):437–439

Shanmugam V, Gupta S, Dohroo NP (2013) Selection of a compatible biocontrol strain mixture based on co-cultivation to control rhizome rot of ginger. Crop Protection 43:119–127

Sharma BK, Rana KS (2000) Management of ginger yellows. Plant Dis Res 15(1):107–109

Sharma BR, Dutta S, Roy S, Debnath A, Roy MD (2010) The effect of soil physico-chemical properties on rhizome rot and wilt disease complex incidence of ginger under hill agro-climatic region of West Bengal. Plant Pathol J 26:198–202

Singh AK, Singh S, Edison S (2004) Effect of shading on the Phyllosticta leaf spot, sun burn of leaves and yield of ginger. Indian Phytopath 57:197–199

Sterling AM (2004) The causes of poor establishment of ginger in Queensland, Australia. Aust Plant Pathol 33(2):203–210

Suryanarayana V, Kulkarni S, Lokesha NM (2005) Soft rot of ginger—a threatened scenario in Malnad tract of Karnataka. In: National Seminar on Emerging Trends in Plant Pathology and Their Social Relevance. Annamalai University, Annamalai Nagar, Tamil Nadu

Thakur A, Thakur N, Dohroo NP (2017) Rhizome rot of ginger-management through non-chemical approach. Internat J Plant Protection 10:140–145

Waterhouse GM (1967) Key to Pythium Pringsheim. Mycol Papers 109:1–15
Acknowledgments
The authors are grateful to the Director of Research, Dr. Y.S. Parmar University of Horticulture and Forestry, Nuani, Solan, Himachal Pradesh and the Director of ICAR RC NEH Region, Umiam, Meghalaya for financial help through the network project (Project code: OXX02243) on "Management of soft rot of ginger" under Mini Mission-1 a centrally sponsored scheme for integrated development of horticulture in Himachal Pradesh. Authors thank the two anonymous reviewers and the editors for improving the previous version of the manuscript.
About this article
Cite this article
Ratankumar Singh, A., Dutta, S.K., Boopathi, T. et al. Integrated management of soft rot of ginger in Northeastern hills of India. Indian Phytopathology 71, 83–89 (2018). https://doi.org/10.1007/s42360-018-0001-7
Received:

Accepted:

Published:

Issue Date:

DOI: https://doi.org/10.1007/s42360-018-0001-7
Keywords