Abstract
Clematis hirsuta is one of the commonly used traditional medicinal plants by different communities in Ethiopia for treating wounds, headaches, and coughs. The current study intended to explore qualitative phytochemical contents, estimation of total phenolic and total flavonoid contents, purification, antioxidant and antibacterial efficiency of the petroleum ether, chloroform, ethanol crude extract, and semi-solid fractions(from chloroform extract) of the leaves of C. hirsuta. The probe into antioxidant activities using DPPH and FRAP assays showed that the ethanol extract of the leaves showed the highest antioxidant activity of 82.9% with an IC 50% value of 43.2 and 36.9% with an IC 50% value of 118.3 respectively. These results are in apparent agreement with the higher phenolic and flavonoid contents (163.6 mg GA/g, and 161.0 mgCE/g of sample), respectively, of the ethanol extract. The chloroform extract exhibited higher antibacterial efficiency against all tested bacterial strains. Solid fractions were also active against the given bacterial strains with MIC ranging from 15.64 to 62.50 ppm. This study provides the fact that the leaves extract of C. hirsuta could be a better source of natural antioxidants and antibacterial agents.
This is a preview of subscription content,
to check access.
Access this article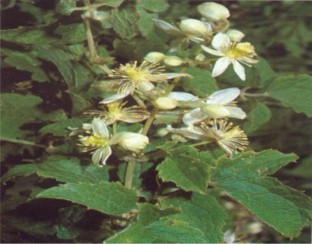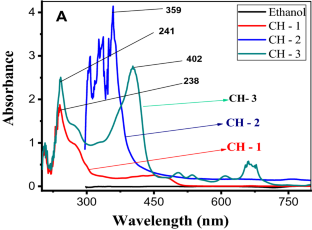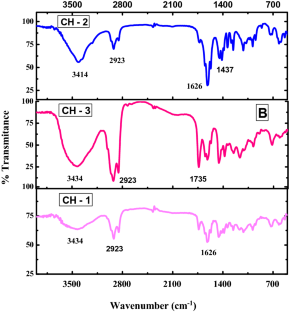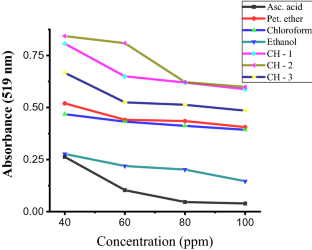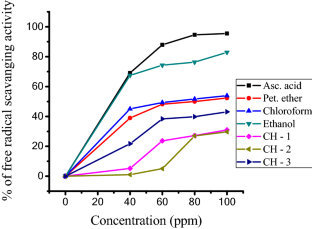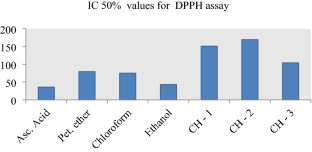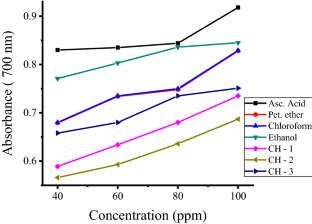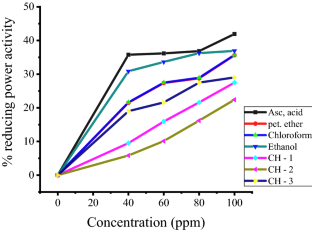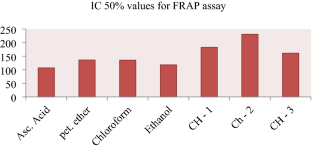 Similar content being viewed by others
Data Availability
All data sets associated with this paper are included with in the paper.
References
Lekha NK, Khaga RS, Yuba RP, Surya KK (2022) Phytochemical analysis and in vitro antioxidant and antibacterial activity of different solvent extracts of Beilschmiedia roxburghiana nees stem barks. Sci World J 2022:1–7

Palombo EA (2009) Traditional medicinal plant extracts and natural products with activity against oral bacteria: potential application in the prevention and treatment of oral diseases. Evid-Based Compl Altern Med 2011:100

Birhanu W, Giday M, Teklehaymanot T (2011) The contribution of traditional healers' clinics to public health care system in addis ababa, ethiopia: a cross-sectional study. J Ethnobiol Ethnomed 7:39

Misganaw T, Enkuahone A, Solomon L, Belete B, Mekuanint L (2021) Phytochemical investigation, antioxidant and antibacterial activities of the fruit extracts of Solanum anguivi. Biotechnol Biotechnol Equip 35(1):1480–1491

Yineger H, Kelbessa E, Bekele T, Lulekal E (2007) Ethnoveterinary medicinal plants at bale mountains national park, ethiopia. J Ethnopharmacol 112:55–70

Taye B, Giday M, Animut A, Seid J (2011) Antibacterial activities of selected medicinal plants in traditional treatment of human wounds in ethiopia. Asian Pac J Trop Biomed 1:370–375

Ogbulie J, Ogueke C, Nwanebu F (2007) Antibacterial properties of Uvaria chamae, Congronema latifolium, garcinia kola, Vemonia amygdalina and Aframomium melegueta. Afr J Biotech 4:6

Da-cheng H, Pei-gen X, Hong-ying M, Yong P, Chun-nian H (2015) Mining chemodiversity from biodiversity: pharmacophylogeny of medicinal plants of Ranunculaceae. Chin J Nat Med 13:507–520

Al-taweel AM, El-deeb KS, Abdel-kader MS (2008) Gc/ms analyses, anti-inflammatory and anti-microbial activities of the volatile constituents of three Clematis species growing in saudi arabia. Saudi Pharm J 16:170

Perry LM, Metzger J (1980) Medicinal plants of east and southeast Asia: attributed properties and uses. MIT Press

Teklehaymanot T, Giday M, Medhin G, Mekonnen Y (2007) Knowledge and use of medicinal plants by people around debre libanos monastery in Ethiopia. J Ethnopharmacol 111:271–283

Habtamu A, Mekonnen Y (2017) Antibacterial potential of the 80% methanol and chloroform extracts of Clematis hirsuta. Afr J Pharm Pharmacol 11:204–208

Raimi CO, Oyelade AR, Adesola OR (2020) Phytochemical screening and in-vitro antioxidant activity on Vernonia amygdalina (ewuro- bitter leaf). Eur J Agric For Res 8:12–17

Hossain MA, Al-raqmi KAS, Al-mijizy ZH, Weli AM, Al-riyami Q (2013) Study of total phenol, flavonoids contents and phytochemical screening of various leaves crude extracts of locally grown Thymus vulgaris. Asian Pac J Trop Biomed 3:705–710

Hikaambo CN, Kaacha L, Mudenda S, Nyambe MN, Chabalenge B, Phiri M, Biete LL, Akapelwa TM, Mufwambi W, Chulu M, Kampamba M (2022) Phytochemical analysis and antibacterial activity of Azadirachta indica leaf extracts against Escherichia coli. Pharmacol Pharm 13:1–10

Shaikh SS, Bawazir AS, Yahya BA (2022) Phytochemical, histochemical and in vitro antimicrobial study of various solvent extracts of Costus speciosus (J. Koenig) Sm. and Costus pictus D. Don. Turky J Pharm Sci 19:145–152

Aidy A, Bahmani M, Pirhadi M, Kaviar V, Karimi E, Abbasi N (2022) Phytochemical analysis and antimicrobial effect of essential oil and extract of Loranthus europaeus Jacq. on Acinetobacter baumannii, Staphylococcus aureus, and Pseudomonas aeruginosa. Kafkas UniversitesiVeteriner Fakultesi Dergisi 28:161–167

de Fernandes PAS, Pereira RLS, dos Santos ATL, Coutinho HDM, Morais-Braga MFB, da Silva VB, Costa AR, Generino MEM, de Oliveira MG, de Menezes SA, dos Santos LT, Siyadatpanah A, Wilairatana P, Portela TMA, Gonçalo MABF, Almeida-Bezerra JW (2022) Phytochemical analysis, antibacterial activity and modulating effect of essential oil from Syzygium cumini (L). Skeels. Molecules 27:3281

Beyene BB, Alem FA, Ayana MT (2020) Determination of antioxidant and antibacterial activities of leaf extracts of Plumbago zeylanica (Amira). Cogent Chem 6(1):1831715

Maurya S, Singh D (2010) Quantitative analysis of total phenolic content in Adhatoda vasica nees extracts. Int J Pharm Res 2:2403–2406

Zhishen J, Mengcheng T, Jianming W (1999) The determination of flavonoid contents in Mulberry and their scavenging effects on superoxide radicals. Food Chem 64:555–559

Brand-Williams W, Cuvelier M, Berset C (1995) Use of a free radical method to evaluate antioxidant activity. Lwt-food Sci Technol 28:25–30

Ayana MT, Mehari YG, Beyene BB (2022) A phytochemical investigation and evaluation of the antioxidant and antibacterial activities of the stem bark extract of Clematis simensis (Yeazo hareg). J Chem Res 46(5):17475198221127398

Oyaizu M (1986) Studies on products of browning reaction: antioxidative activity of products of browning reaction. Jpn J Nutr 44:307–315

Schuier M, Sies H, Illek B, Fischer H (2005) Cocoa-related flavonoids inhibit CFTR-mediated chloride transport across T84 human colon epithelia. J Nutr 135:2320–2325

Dong C-X, Wu K-S, Shi, S.-P.&Tu, P. (2006) Flavanoids from Clematis hexapetala. J Chin Pharm Sci 15:15

Dong F-Y, Cui G-H, Zhang Y-H, Zhu R-N, Wu X-J, Sun T-T, Wang W (2010) Clematomandshuricasaponin e, a new TriterpenoidSaponin from Clematis mandshurica. J Asian Nat Prod Res 12:1061–1068

Ayana MT, Beyene BB, Tigineh GT, Abebe A (2022) A Novel homobinuclear Copper (II) complex with resorcinolate: synthesis, characterization and assessment of antibacterial activity. Chem Afr. https://doi.org/10.1007/s42250-022-00517-y

Boughendjioua H, Djeddi S (2017) Fourier transformed infrared spectroscopy analysis of constituents of lemon essential oils from algeria. Acad J Polym Sci 5:30–35

Iloki-Assanga SB, Lewis-Luján LM, Lara-Espinoza CL, Gil-Salido AA, Fernandez-Angulo D, Rubio-Pino JL, Haines DD (2015) Solvent effects on phytochemical constituent profiles and antioxidant activities, using four different extraction formulations for analysis of Bucida buceras L. and Phoradendron californicum. BMC Res Notes 8:1–14

Dontha S (2016) A review on antioxidant methods. Asian J Pharm Clin Res 9:14–32

Do QD, Angkawijaya AE, Tran-Nguyen PL, Huynh LH, Soetaredjo FE, Ismadji S, Ju YH (2014) Effect of extraction solvent on total phenol content, total flavonoid content, and antioxidant activity of Limnophila aromatica. J Food Drug Anal 22:296–302

Rai A, Singh A, Sharma A (2022) Phytochemical analysis & antimicrobial activity of the leaves of Ocimum sanctum. J Pharmacog Phytochem 11:174–176
Funding
This research did not receive any specific grant from funding agencies in the public, commercial, or non-profit sectors.
Ethics declarations
Ethical Approval
Using plants without scientific knowledge is sometimes hazardous because of unbalanced doze. The process that used in this study doesn't affect any leaving matter especially Humans, Animals and Plants. And no human identity revealing data is used in the study.
Consent for Publication
Not applicable.
Supplementary Information
Below is the link to the electronic supplementary material.
Rights and permissions
Springer Nature or its licensor (e.g. a society or other partner) holds exclusive rights to this article under a publishing agreement with the author(s) or other rightsholder(s); author self-archiving of the accepted manuscript version of this article is solely governed by the terms of such publishing agreement and applicable law.
About this article
Cite this article
Adane, A.M., Ayana, M.T., Bikilla, S.L. et al. Phytochemical Exploration and Investigation of In Vitro Antioxidant and Antibacterial Activities of Different Solvent Extracts of Clematis Hirsuta (Nech Yeazohareg) Leaves. Chemistry Africa 6, 855–866 (2023). https://doi.org/10.1007/s42250-022-00532-z
Received:

Accepted:

Published:

Issue Date:

DOI: https://doi.org/10.1007/s42250-022-00532-z
Keywords