Abstract
This paper sets out to describe the reaction of N-acyl and N-ethoxycarbonyl imidates with 1,4-bisnucleophiles. The reaction selectively led to 5-membered heterocycles in good yields instead of expected 7-membered ring systems. Using mild reaction conditions, we synthesized 2-imidazoline, benzimidazolines, 2-oxazoline, 2-thiazoline and 2-dithiolane derivatives. Experimental results are supported by theoretical DFT calculations. Our approach has been further extended to 1,5 bis amines towards tetrahydropyrimidine scaffolds.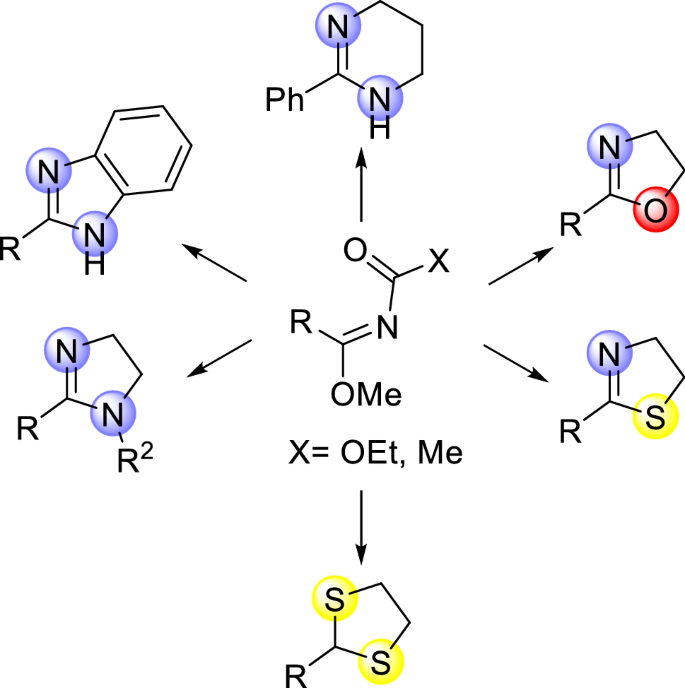 Access options
Buy single article
Instant access to the full article PDF.
USD 39.95
Price excludes VAT (USA)
Tax calculation will be finalised during checkout.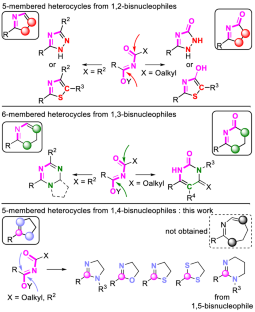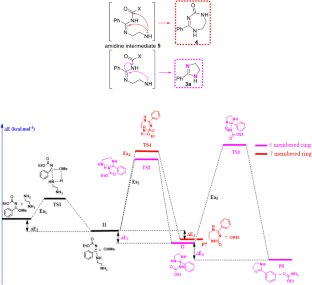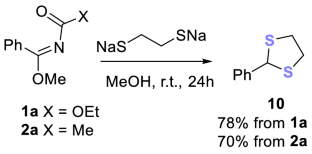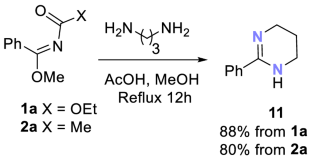 References
Borah G, Dam B, Patel BK (2022) ChemistrySelect 7:e202104583

Soni JP, Joshi SV, Chemitikanti KS, Shankaraiah N (2021) Eur J Org Chem 2021:1476–1490

Khomenko DM, Doroshchuk RO, Ivanov HV, Zakharchenko BV, Raspertova IV, Vaschenko OV, Shova S, Dobrydnev AV, Moroz YS, Grygorenko OO, Lampeka RD (2021) Tetrahedron Lett 2021:152956

Hajri A (2020) JMCH 19:36–47

El Bouakher A, Martel A, Comesse S (2019) Org Biomol Chem 17:8467–8485

Shindo N, Takasu K (2018) Heterocycles 96:195–218

Chen AD, Herbort JH, Wappes EA, Nakafuku KM, Mustafa DN, Nagib DA (2020) Chem Sci 11:2479–2486

Nakafuku KM, Fosu SC, Nagib DA (2018) J Am Chem Soc 140:11202–11205

Hajri A, Alimi D, Rtibi K, Sebai H (2021) Bull Chem Soc Ethiop 35:565–572

Efrit ML, Hajjem B, Zantour H, Baccar B (1996) Synth Commun 26:3167–3173

Fan W-T, Huang Z, Xu X, Tu G, Geng J, Ji S-J, Zhao Y (2021) Eur J Org Chem 2021:4144–4147

Kumar A, Hanchate V, Prabhu KR (2021) J Org Chem 86(24):17965–17974

Xu H-B, Zhu Y-Y, Yang J-H, Chai X-Y, Dong L (2020) Org Chem Front 7:1230–1234

Sadig JER, Foster R, Wakenhut F, Willis MC (2012) J Org Chem 77:9473–9486

Thakur R, Jaiswal Y, Kumar A (2019) Org Biomol Chem 17:9829–9843

Boukthir M, Chabchouba F (2017) Res Rev J Chem 6:22–33

Abdelli A, Azzouni S, Plais R, Gaucher A, Efrit ML, Prim D (2021) Tetrahedron Lett 86:153518S

Azzouni S, Abdelli A, Gaucher A, Arfaoui Y, Efrit ML, Prim D (2018) Tetrahedron 74:6972–6978

Sathyanarayana R, Poojary B (2020) J Chin Chem Soc 67:459–477

M'Hamed MO, M'Rabet H, Efrit ML (2007) C R Chim 10:1147–1156

Moon H, Kim J, Yoon D, Lee TH, Kim H (2022) Steroids 185:109043

Dridi K, Efrit ML, Zantour H (1998) Phosphorus Sulfur Silicon Relat Elem 134:407–412

Beyzaei H, Malekraisi F, Aryan R, Ghasemi B (2020) Chem Heterocycl Compd 56:482–487

Dridi K, Efrit ML, Baccar B, Zantour H (1999) Synth Commun 29:2019–2026

Jabli D, Milad R, Abderrabba M, Efrit ML (2019) Chem Afr 2:597–613

Boukthir M, Zribi F, Halloum I, Kremer L, Chabchoub F (2014) J Adv Chem 9:2072–2076

Hajjem B, Chihi A, Efrit ML, Baccar B (1995) Indian J Chem Sect B 34:330

Gaussian 09, Revision A.1, Frisch MJ, Trucks GW, Schlegel HB, Scuseria GE, Robb MA, Cheeseman JR, Scalmani G, Barone V, Mennucci B, Petersson GA, Nakatsuji H, Caricato M, Li X, Hratchian HP, Izmaylov AF, Bloino J, Zheng G, Sonnenberg JL, Hada M, Ehara M, Toyota K, Fukuda R, Hasegawa J, Ishida M, Nakajima T, Honda Y, Kitao O, Nakai H, Vreven T, Montgomery JA Jr., Peralta JE, Ogliaro F, Bearpark M, Heyd JJ, Brothers E, Kudin KN, Staroverov VN, Kobayashi R, Normand J, Raghavachari K, Rendell A, Burant JC, Iyengar SS, Tomasi J, Cossi M, Rega N, Millam JM, Klene M, Knox JE, Cross JB, Bakken V, Adamo C, Jaramillo J, Gomperts R, Stratmann RE, Yazyev O, Austin AJ, Cammi R, Pomelli C, Ochterski JW, Martin RL, Morokuma K, Zakrzewski VG, Voth GA, Salvador P, Dannenberg JJ, Dapprich S, Daniels AD, Farkas O, Foresman JB, Ortiz JV, Cioslowski J, Fox DJ (2009) Gaussian, Inc., Wallingford

Becke AD (1993) J Chem Phys 98:5648–5652

Stephens PJ, Devlin JF, Chabalowski CF, Frish MJ (1994) J Chem Phys 9:11623–11627

Zouaghi MO, Doggui MY, Arfaoui Y (2021) J Mol Graph Model 107(2):107960

Zhao Y, Truhlar DG (2006) J Phys Chem 531:5121–5129

Arfaoui Y, Efrit ML, Besbes N (2013) J Mol Model 19:4603–4612

Gara R, Zouaghi MO, Arfaoui Y (2021) J Mol Model 27:125

Wang B, Rong C, Chattaraj PK, Liu S (2019) Theoret Chem Acc 138:124

Omrani R, Zouaghi MO, Arfaoui Y (2020) J Mol Struct 1202:127305

Ayers PW, Parr RG (2000) J Am Chem Soc 9:2010–2018

Hamdi N, Fischmeister C, Dixneuf PH, Nievas AR (2006) J Heterocyclic chem 43:499–501 (and references cited therein)

Pérez MA, Dorado CA, Soto JL (1983) Synthesis 6:483–486

Geden JV, Pancholi AK, Shipman M (2013) J Org Chem 78:4158–4164

Popov YV, Mokhov VM, Kalitina II (2016) Russ J Gen Chem 86:281–285

Zhao J, Guo X, He Q, Wu F, Yao B (2021) J Solid State Chem 304:122567

Ranjith P, Siji M, Divia N, Karickal RH, Haridas R (2010) J Korean Chem Soc 54:589–593

Li X, Zhou B, Zhang J, She M, An S, Ge H, Li C, Yin B, Li J, Shi Z (2012) Eur J Org Chem 2012:1626–1632

Legros C, De Pauw-Gillet MC, Tam KC, Taton D, Lecommandoux S (2015) Soft Matter 11:3354–3359

Tashira T, Osada K, Mori K (2008) Biosci Biotechnol Biochem 72:2398–2402

Ghorbania F, Pourmousavi SA, Kiyania H (2020) Curr Organocatal 7:55–80
Acknowledgements
Authors are grateful to the Tunisian Ministry of Higher Education and Scientific Research, the University of Tunis El Manar, the CNRS, and to the Universities of Paris-Saclay and Versailles Saint Quentin.
Ethics declarations
Conflict of interest
The authors declare no conflict of interest.
Supplementary Information
Below is the link to the electronic supplementary material.
Rights and permissions
Springer Nature or its licensor holds exclusive rights to this article under a publishing agreement with the author(s) or other rightsholder(s); author self-archiving of the accepted manuscript version of this article is solely governed by the terms of such publishing agreement and applicable law.
About this article
Cite this article
Ouni, S., Abdelli, A., Gaucher, A. et al. On the Reactivity of N-Substituted Imidates Towards 1,4-Bisnucleophiles: An Experimental and Theoretical Study. Chemistry Africa 5, 1265–1273 (2022). https://doi.org/10.1007/s42250-022-00452-y
Received:

Accepted:

Published:

Issue Date:

DOI: https://doi.org/10.1007/s42250-022-00452-y
Keywords