Abstract
In this paper, graphite phase carbon nitride (g-C3N4) was prepared by one-step high temperature thermal decomposition method, and layered g-C3N4 was prepared by protonation with concentrated hydrochloric acid. The morphology and composition of g-C3N4 were characterised by transmission electron microscope (TEM), energy dispersive spectroscopy (EDS) and X-ray powder diffraction (XRD). Furthermore, the AuNPs-g-C3N4/GCE was constructed by coating method and potentiostatic deposition method, and the construction process and resistance change of the electrodes were characterised by cyclic voltammetry (CV) and electrochemical impedance spectroscopy (EIS). The experimental results indicated that the AuNPs-g-C3N4/GCE has excellent electrocatalytic performance for bisphenol A (BPA) and 4-n-octylphenol (OP). Under optimized experimental conditions, BPA and OP were detected by differential pulse voltammetry (DPV) at the AuNPs-g-C3N4/GCE. The linear ranges were 0.1–6.5 µmol L−1 and 0.1–3.8 µmol L−1 for BPA and OP, wtih the detection limits of 0.0176 µmol L−1 and 0.0324 µmol L−1, respectively. In addition, the AuNPs-g-C3N4/GCE showed satisfactory reproducibility and stability and can be successfully applied to monitor of BPA and OP in baby formula samples.
This is a preview of subscription content,
to check access.
Access this article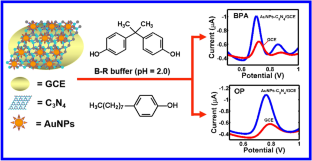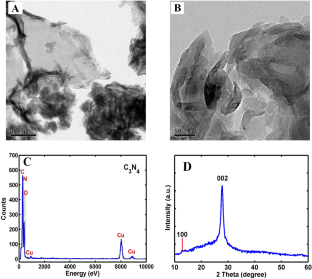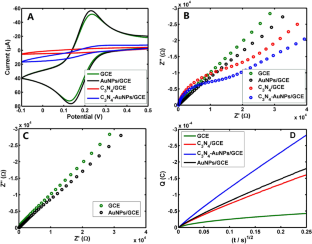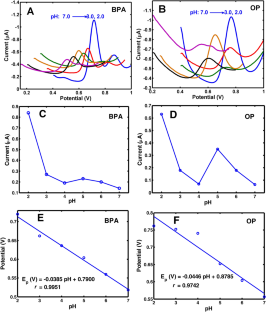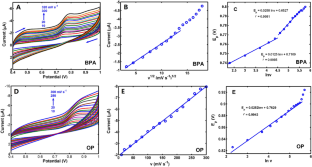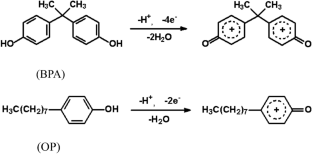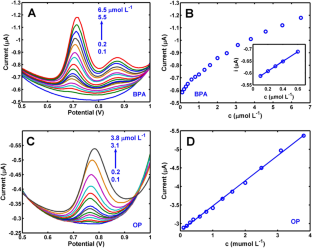 Similar content being viewed by others
References
Jiang DQ, Chen WQ, Zeng X, Tang L (2018) Environ Sci Technol 52:3706–3715

Qiu W, Zhan H, Hu J, Zhang T, Xu H, Wong M, Xu B, Zheng C (2019) Ecotox Environ Safe 173:192–202

Llevot A, Meier MA (2016) Green Chem 18:4800–4803

Sheikh IA (2020) Life Sci 253:117738

Jalalvand AR, Haseli A, Farzadfar F, Goicoechea HC (2019) Talanta 201:350–357

Wang Z, Liu H, Liu S (2017) Adv Sci 4:1600248

Wu X, Zhu LYX, He C, Wang Q, Liu S (2017) Talanta 162:57–64

Kwak JI, Moon J, Kim D, Cui R, An YJ (2018) J Hazard Mater 344:390–397

Yao Y, Shao Y, Zhan M, Zou X, Qu W, Zhou Y (2018) Anal Bioanal Chem 410:3871–3883

Simonelli A, Guadagni R, De Franciscis P, Colacurci N, Pieri M, Basilicata P, Pedata P, Lamberti M, Sannolo N, Miraglia N (2017) Int Arch Occup Environ Health 90:49–61

Stolz A, Schönfelder G, Schneider MR (2018) Trends Endocrinol Metab 29:69–71

Xiao C, Wang L, Zhou Q, Huang X (2020) J Hazard Mater 384:121488

Azzouz A, Rascon AJ, Ballesteros E (2016) J Pharmaceut Biomed 119:16–26

Chung SH, Ding WH (2018) J Pharmaceut Biomed 149:572–576

Er EO, Caglak A, Engin GO, Bakirdere S (2019) Microchem J 146:423–428

Li XH, Li S, Bai JL, Peng Y, Ning BA, Shi HM, Kang WJ, Zhou HY, Gao ZX (2020) J Chromatogr Sci 58:280–286

Xiao ZM, Wang RG, Suo DC, Li T, Su XO (2020) Food Chem 327:126882

Deceuninck Y, Bichon E, Geny T, Veyrand B, Grandin F, Viguie C, Marchand P, Le Bizec B (2019) J Chromatogr A 1601:232–242

Miao WB, Wei BW, Yang RJ, Wu CH, Lou D, Jiang W, Zhou ZJ (2014) New J Chem 38:669–675

Lu Y, Peterson JR, Gooding JJ, Lee NA (2012) Anal Bioanal Chem 403:1607–1618

Freitas M, Wachter N, Rocha RC (2020) Talanta 217:121041

Koyun O, Gorduk S, Gencten M, Sahin Y (2019) New J Chem 43:85–92

Zheng QL, Yang P, Xu H, Liu JS, Jin LT (2012) J Environ Sci 24:1717–1722

Ali MY, UI Alam A, Howlader MMR (2020) Sensor Actuator B Chem 320:128319

Zou J, Zhao GQ, Teng J, Liu Q, Jiang XY, Jiao FP, Yu JG (2019) Microchem J 145:693–702

Ben Messaound N, Lahcen AA, Dridi C, Amine A (2018) Sensor Actuat B Chem 276:304–312

Ben Messaoud N, Ghica ME, Dridi C, Ben Ali M, Brett CMA (2017) Sensor Actuat B Chem 253:513–522

Masih D, Ma Y, Rohani S (2017) Appl Catal B Environ 206:556–588

Tong ZW, Yang D, Li Z, Nan YH, Ding F, Shen YC, Jiang ZY (2017) ACS Nano 11:1103–1112

Ai C, Li J, Yang L, Wang Z, Zeng Y, Deng R, Lin S, Wang CZ (2020). Chemsuschem. https://doi.org/10.1002/cssc.202001048

Xiao M, Luo B, Wang SC, Wang LZ (2018) J Energy Chem 27:1111–1123

Xu YX, Zhou YF, Zhou JY, Guo JY, Zhang SY, Lu Y (2019) J Alloy Compd 806:343–349

Chen AY, Zhang TT, Qiu YJ, Wang D, Wang P, Li HJ, Li Y, Yang JH, Wang XY, Xie XF (2019) Electrochim Acta 294:260–267

Yuan QM, Li L, Tang YR, Zhang XF (2020) Sensor Actuat B Chem 318:128238

Li Y, Bu YY, Jiang FQ, Dai XY, Ao JP (2020) Biosens Bioelectron 150:111903

Li PP, Cao Y, Mao CJ, Jin BK, Zhu JJ (2019) Anal Chem 91:1563–1570

Ong WJ, Tan LL, Ng YH, Yong ST, Chai SP (2016) Chem Rev 116:7159–7329

Masih D, Ma YY, Rohani S (2017) Appl Cata B Environ 206:556–558

Lin XY, Wang YF, Zou MM, Ni YN (2019) Anal Methods 11:1353–1360

Wang YF, Guo Y, Pan KM, Lin XY, Ni YN (2020) Chem Afr 3:727–734

He SG, Ma Y, Zhou JY, Zeng J, Liu XF, Huang ZY, Chen XM, Chen X (2019) Talanta 191:400–408

Gerdin HS, Sarhadi H, Tajik S (2020). Int J Environ Anal Chem. https://doi.org/10.1080/03067319.2020.1790548

Rais NSM, Isa IM, Hashim N, Saidin MI, Yazid SMAM, Ahmad MS, Zainul R, Suyanta MS (2019) Int J Electrochem Sci 14:7911–7924

Pan YH, Zhao FQ, Zeng BZ (2015) RSC Adv 5:57671–57677
Acknowledgements
The authors gratefully acknowledge the financial support of this study by the National Natural Science Foundation of China (NSFC-31860468), and the Science and Technology Innovation Platform Project of Jiangxi Province (NO. 20192BCD40001).
Ethics declarations
Conflict of interest
There are no conflicts to declare.
About this article
Cite this article
Zou, M., Zou, S., Hu, C. et al. Fast and Sensitive Detection of Bisphenol A and 4-n-Octylphenol in Foods Based on a 2D Graphitic Carbon Nitride (g-C3N4)/Gold Nano-Composite Film. Chemistry Africa 4, 367–377 (2021). https://doi.org/10.1007/s42250-021-00227-x
Received:

Accepted:

Published:

Issue Date:

DOI: https://doi.org/10.1007/s42250-021-00227-x
Keywords