Zusammenfassung
Hintergrund und Zielsetzung
Low-Grade-Entzündungen sind ein häufiges Merkmal chronischer Erkrankungen. Bei entzündlichen Beschwerden des Bewegungsapparates sowie bei Depressionen kann die Produktion von Kynurenin in aktivierten Immunzellen erhöht sein. Das tibetische Arzneimittel Padma 28 wird bei Durchblutungsstörungen eingesetzt und hat antientzündliche Eigenschaften. In-vitro-Studien zeigen die Beeinflussbarkeit der Kynureninsynthese durch dieses Präparat. Die vorliegenden 3 Fälle dokumentieren die Wirkung der Rezeptur auf Beschwerden und Laborparameter von Patienten mit erhöhtem Kynureninspiegel.
Materialien und Methoden
Drei Fälle von Schmerzpatienten mit Entzündungen des Bewegungsapparates, die u. a. Padma 28 erhielten, wurde retrospektiv analysiert. Die rheumatologische Abklärung war jeweils ohne Befund. Zusätzlich bestanden eine leichte bis mittelschwere Dysphorie und/oder ein oder mehrere Psychotraumata in der Anamnese. Klinischer Verlauf und Kynureninspiegel im Blut wurden dokumentiert.
Ergebnisse
Unter der Behandlung mit Padma 28 kam es zu einer Senkung bzw. Normalisierung der Kynureninspiegel und einer klinischen Besserung von Schmerzen und Entzündungen des Bewegungsapparats.
Diskussion
Bisher war wenig über die klinische Relevanz der aktivierten Kynureninkaskade und Möglichkeiten ihrer Beeinflussung bekannt. In der vorliegenden Fallstudie konnten mit Padma 28 gute therapeutische Ergebnisse erreicht werden, welche mit einer Normalisierung der Kynureninspiegel einhergingen. Die Rolle des Kynureninstoffwechsels bei entzündlichen und psychiatrischen Krankheitsbildern sollte weiter erforscht werden.
Abstract
Background
The role of the kynurenine pathway is significant in chronic inflammatory disorders of the locomotor system as well as in chronic depression. In vitro studies have suggested the efficacy of the Tibetan herbal preparation Padma 28 in the treatment of these conditions. The three presented cases document its in vivo impact on inflammatory locomotor disorders associated with elevated kynurenine levels for the first time.
Methods
Uncontrolled, retrospective observational study with three patients presented with elevated kynurenine levels, chronic inflammatory conditions of the locomotor system, nonresponding to conventional rheumatological treatment or nonclassification according to rheumatological criteria, concomitant mild to medium dysphoria, and/or history of psychotrauma. Kynurenine pathway activation was validated through elevated kynurenine blood levels. Due to concomitant disorders of the circulatory system, patients received Padma 28 initially at 3 × 2 capsules/day with dose reduction to 2 capsules/day after 14 days. Clinical as well as lab progress was assessed after eight weeks.
Results
The present observational study illustrates the in vivo efficacy of Padma 28 on inflammatory locomotor disorders as well as lab results of patients with an activated kynurenine system.
Discussion
Little is known about effective ways to treat inflammatory symptoms associated with elevated kynurenine levels. The present study has documented quick and satisfying results using the formula Padma 28. The role of the kynurenine pathway in chronic inflammatory conditions should be examined in further studies.
This is a preview of subscription content, log in to check access.
Access options
Buy single article
Instant access to the full article PDF.
US$ 39.95
Price includes VAT for USA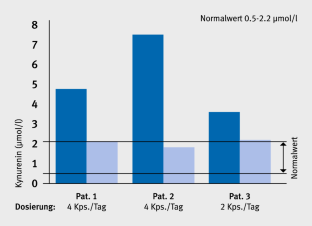 Literatur
1.

Capuron M (2011) Immune system to brain signaling. Pharmacol Ther 130:226–238

2.

Reinighaus et al (2014) Stress bei bipolarer affektiver Störung – Oxidative stress in bipolar affective dissorder. Nervenarzt 85:1099–1107

3.

Dantzer et al (2008) From inflammation to sickness and depression: when the immune system subjugates the brain. Nat Rev 9:46–57

4.

Juda et al (2016) Indoleamine-2,3-dioxygenase (IDO) protects against viral encephalitis. Brain Behav Immun 57:42. https://doi.org/10.1016/j.bbi2016.07.138

5.

Klein A et al (2013) Pathways-focused bioassays and transcriptome analysis contribute to a better activity monitoring of complex herbal remedies. BMC Genomics 14:133

6.

Boasso A et al (2007) HIV inhibits CD4+ T‑cell proliferation by inducing indoleamine 2,3-dioxygenase in plasmacytoid dendritic cells. Blood 109(8):3351–3359

7.

Maes M et al (2011) The new '5-HT' hypothesis of depression: cell-mediated immune activation induces indoleamine 2,3-dioxygenase, which leads to lower plasma tryptophan and an increased synthesis of detrimental tryptophan catabolites (TRYCATs), both of which contribute to the onset of depression. Prog Neuropsychopharmacol Biol Psychiatry 35(3):702–721

8.

Turner EH et al (2006) Serotonin a la carte: supplementation with the serotonin precursor 5‑hydroxytryptophan. Pharmacol Ther 109:325–338

9.

Majewski M et al (2016) Overview of the role of vitamins and minerals on the kynurenine pathway in health and disease. J Physiol Pharmacol 67(1):3–19

10.

Melzer J et al (2006) Review: Treating intermittent claudication with Tibetan medicine Padma 28: Does it work? Atherosclerosis 189(1):39–46

11.

Vennos C et al (2013) Clinical studies on the efficacy and safety of Padma 28, a complex herbal formulation from Tibetan medicine: an overview. Forsch Komplementärmed 20(suppl 2):25–30

12.

Barak V et al (2004) Padma 28, a Tibetan herbal preparation, is an inhibitor of inflammatory cytokine production. Eur Cytokine Netw 15(3):203–209

13.

Brunner-La Rocca HP et al (2005) Effects of the Tibetan herbal preparation Padma 28 on blood lipids and lipid oxidizability in subjects with mild hypercholesterolaemia. Vasa 34:11–17

14.

Naurauter G et al (2004) Padma 28 modulates interferon-g- induced tryptophan degradation and neopterin production in human PBMC in vitro. Int Immunopharmacol 4:833–839

15.

Miura H et al (2008) A link between Stress and depression: Shifts in the balance between the kynurenine and serotonin pathways of tryptophan metabolism and the etiology and pathophysiology of depression. Stress 11:198–209
Ethics declarations
Interessenkonflikt
S. Monz und S. Feldhaus erhielten in der Vergangenheit Honorare für Vortragstätigkeit für die Firma Padma in der Schweiz.
Für diesen Beitrag wurden von den Autoren keine Studien an Menschen oder Tieren durchgeführt. Für die aufgeführten Studien gelten die jeweils dort angegebenen ethischen Richtlinien.
About this article
Cite this article
Monz, S., Feldhaus, S. Wirkung einer tibetischen Kräutermischung auf den Kynureninstoffwechsel. Dtsch Z Akupunkt 62, 97–100 (2019). https://doi.org/10.1007/s42212-019-0160-1
Schlüsselwörter
Tibet

Phytotherapie

Rheumatische Erkrankungen

Kynurenin

Depression
Keywords
Tibet

Phytotherapy

Rheumatic diseases

Kynurenine

Depression