Zusammenfassung
Obwohl schon lange mit Faszien gearbeitet wird, schenkt die Wissenschaft erst seit Kurzem der Erforschung dieses Netzwerks in unserem Körper zunehmende Beachtung. So wird die wesentliche Rolle erforscht, die Faszien für die Körperwahrnehmung und die Beweglichkeit der Körperstrukturen spielen.
Nachdem wir einen kurzen Blick auf die Faszie als spezialisiertes Bindegewebe geworfen haben, stellen wir 6 der wichtigsten aktuellen Forschungsbereiche vor. Diese finden sich in den Sportwissenschaften, in der myofaszialen Schmerzforschung, im Bereich der evolutionären Biologie sowie der Molekularbiologie ebenso wie in der Biomechanik und der funktionellen Anatomie.
Die Fülle an Forschungsgebieten demonstriert unser wachsendes Verständnis von faszialen Bindegeweben und lässt auf neue klinische Ansätze z. B. bei Kreuzschmerzen und in der Krebsforschung hoffen.
Abstract
Although the fascia has been studied for a long time, science has only recently begun to pay more attention to the exploration of this network in our bodies. The essential role the fascia plays for body perception and the mobility of body structures is now being explored.
After a brief look at the fascia as a specialized connective tissue, we introduce six of the most important current research areas. These are sports science, myofascial pain research, evolutionary biology, molecular biology, biomechanics, and functional anatomy.
The abundance of research areas demonstrates our growing understanding of fascial connective tissues and suggests hope for new clinical approaches, such as in the treatment of lower back pain and in cancer research.
This is a preview of subscription content, log in to check access.
Access options
Buy single article
Instant access to the full article PDF.
US$ 39.95
Price includes VAT for USA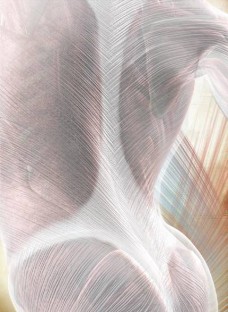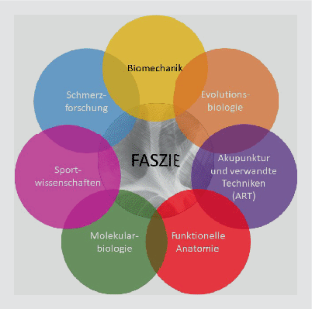 Literatur
1.

Adstrum S, Hedley G, Schleip R, Stecco C, Yucesoy CA (2017) Defining the fascial system. J Bodyw Mov Ther 21:173–177

2.

Barry CM, Kestell G, Gillan M, Haberberger RV, Gibbins IL (2015) Sensory nerve fibers containing calcitonin gene-related peptide in gastrocnemius, latissimus dorsi and erector spinae muscles and thoracolumbar fascia in mice. Neuroscience 291:106–117

3.

Driscoll M (2017) Fascia—the unsung hero of spine biomechanics. J Bodyw Mov Ther 22(1):90–91

4.

Eng CM, Arnold AS, Lieberman DE, Biewener AA (2015) The capacity of the human iliotibial band to store elastic energy during running. J Biomech 48(12):3341. https://doi.org/10.1016/j.jbiomech.2015.06.017

5.

Dorsher PT, Fleckenstein J (2008) Trigger points and classical acupuncture points: part 1: qualitative and quantitative anatomic correspondences. Dtsch Z Akupunkt 51:15–24

6.

Dorsher PT, Fleckenstein J (2009) Trigger points and classical acupuncture points: part 3: relationships of myofascial referred pain patterns to acupuncture meridians. Dtsch Z Akupunkt 52:9–14

7.

Grundwald M (2017) Homo hapticus – Warum wir ohne Tastsinn nicht leben können (Endnote 54). Drömer Knaur, München

8.

Hamed A, Bohm S, Mersmann F, Arampatzis A (2017) Exercise dynamic stability under unstable conditions increases muscle strength and balance ability in the elderly. Scand J Med Sci Sports 28(3):961. https://doi.org/10.1111/sms.13019

9.

Heine H, Missoni G, Pischinger G (2014) Das System der Grundregulation: Grundlagen einer ganzheitsbiologischen Medizin, 12. Aufl. Haug Thieme, Stuttgart

10.

Hoy D, March L, Brooks P et al (2014) The global burden of low back pain: estimates from the Global Burden of Disease 2010 Study. Ann Rheum Dis 73(6):968–974

11.

Kimmel M, Irran C, Luger MA (2014) Bodywork as systemic and inter-enactive competence: participatory process management in Feldenkrais(R) Method and Zen Shiatsu. Front Psychol 5:1424

12.

Klyne DM, Barbe MF, Hodges PW (2017) Systemic inflammatory profiles and their relationships with demographic, behavioural and clinical features in acute low back pain. Brain Behav Immun 60:84–92

13.

Langevin HM, Yandow JA (2002) Relationship of acupuncture points and meridians to connective tissue planes. Anat Rec 269:257–265

14.

Langevin HM, Keely P, Mao J, Hodge LM, Schleip R, Deng G, Hinz B, Swartz MA, de Valois BA, Zick S, Findley T (2016) Connecting (T)issues: how research in fascia biology can impact integrative oncology. Cancer Res 76:6159–6162

15.

Lieberman DE (2012) What we can learn about running from barefoot running: an evolutionary medical perspective. Exerc Sport Sci Rev 40:63–72

16.

Lieberman DE (2015) Is exercise really medicine? An evolutionary perspective. Curr Sports Med Rep 14(4):313–319

17.

Lotz JC, Chin JR (2000) Intervertebral disc cell death is dependent on the magnitude and duration of spinal loading. Spine 25(12):1477–1483

18.

Maisel K, Sasso MS, Potin L, Swartz MA (2017) Exploiting lymphatic vessels for immunomodulation: Rationale, opportunities, and challenges. Adv Drug Deliv Rev 114:43–59

19.

Marras WS, Ferguson SA, Burr D et al (2004) Spine loading in patients with low back pain during asymmetric lifting exertions. Spine J 41(1):64–75

20.

Mbeh DA, Akhavan O, Javanbakht T et al (2014) Cytotoxicity of protein corona-graphene oxide nanoribbons on human epithelial cells. Appl Surf Sci 320(30):596–601

21.

Milz H (2002) Historische Wiederbeleibungsversuche. Dtsch Z Akupunkt 45:203–204

22.

Steffens D, Maher CG, Pereira L et al (2016) Prevention of low back pain: a systematic review and meta-analysis. Jama Intern Med 176(2):199–208

23.

Schleip R, Klingler W (2014) Schleip a Klingler's response to Stecco's fascial nomenclature editorial. J Bodyw Mov Ther 18(3):447–449

24.

Tesarz J, Hoheisel U, Wiedenhöfer B, Mense S (2011) Sensory innervation of the thoracolumbar fascia in rats and humans. Neuroscience 194:302–308

25.

Van Dieen JH, Selen LP, Cholewicki J (2003) Trunk muscle activation in low-back pain patients, an analysis of literature. J Electromyogr Kinesiol 13(4):333–351

26.

Van Dieen JH, Flor H, Hodges PW (2017) Low-back pain patients learn to adapt motor behavior with adverse secondary consequences. Exerc Sport Sci Rev 45(4):223–229

27.

Vleeming A, Schuenke MD, Danneels L, Willard FH (2014) The functional coupling of the deep abdominal and paraspinal muscles: the effects of simulated paraspinal muscle contraction on force transfer to the middle and posterior layer of the thoracolumbar fascia. J Anat 225:447–462

28.

Wilke J, Schleip R, Klingler W, Stecco C (2017) The lumbodorsal fascia as a potential source of low back pain: a narrative review. Biomed Res Int. https://doi.org/10.1155/2017/5349620

29.

Willard FH, Vleeming A, Schuenke MD et al (2012) The thoracolumbar fascia: anatomy, function and clinical considerations. J Anat 221:507–526

30.

Zullo A, Mancini F, Schleip R, Wearing S, Yahia L, Klingler W (2017) The interplay between fascia, skeletal muscle, nerves, adipose tissue, inflammation and mechanical stress in musculo-fascial regeneration. J Gerontol Geriatr 65:271–283
Ethics declarations
Interessenkonflikt
J. Fleckenstein, R. Schleip, C. Sachs, M. Driscoll, S. Shockett, T. Findley und W. Klingler geben an, dass kein Interessenkonflikt besteht.
Dieser Beitrag beinhaltet keine von den Autoren durchgeführten Studien an Menschen oder Tieren.
Additional information
Johannes Fleckenstein und Robert Schleip haben zu gleichen Teilen zum Manuskript beigetragen.
Dieser Artikel begleitet und bezieht sich auf Editorials zum Thema Faszienforschung, die in englischer Sprache und abgewandelter Form im Journal of Bodywork and Movement Therapy erschienen sind.
About this article
Cite this article
Fleckenstein, J., Schleip, R., Sachs, C. et al. Faszienforschung: Quo vadis?. Dtsch Z Akupunkt 61, 69–74 (2018). https://doi.org/10.1007/s42212-018-0037-8
Schlüsselwörter
Faszie

Sport

Bindegewebe

Kreuzschmerz

Skelettmuskulatur
Keywords
Fascia

Sports

Connective tissue

Low back pain

Skeletal muscle