Abstract
The orchid Guarianthe skinneri (Bateman) Dressler & Higgins, with attractive mauve flowers, survives in small populations in forest fragments in Mexico and Central America. This orchid is vulnerable due to illegal extraction and habitat reduction. Attempts at sustainable cultivation are hindered by a disease, referred to in this study as the "Black Blotch", characterized in the field by the development of black areas and necrosis on the surface of the pseudobulbs. Fungi were isolated from infected pseudobulbs of G. skinneri cultivated under semi-natural conditions. The fungal strains were identified using morphological and molecular methods. Lasiodiplodia was isolated and described, with hyaline immature conidia and brown, septate mature conidia. The identity of five of the isolates was confirmed as Lasiodiplodia theobromae and three isolates as Lasiodiplodia sp. Pathogenicity tests were carried out by inoculating the isolates on pseudobulbs of healthy, mature plants of G. skinneri. Symptoms appeared after 24 h, characterized by soft and slightly sunken light reddish-brown lesions, with a dark brown to black necrotic spot which increased in size, and, at 35 days, exudation, and detachment or rupture of the cuticle surface were observed. Pycnidia formed on the surface and between the cells of the spongy parenchyma of some of the pseudobulbs. The causal agents of the "Black Blotch" were identified as L. theobromae and Lasiodiplodia sp., this being the first report of Lasiodiplodia causing disease on Guarianthe skinneri.
Access options
Buy single article
Instant access to the full article PDF.
USD 39.95
Price excludes VAT (USA)
Tax calculation will be finalised during checkout.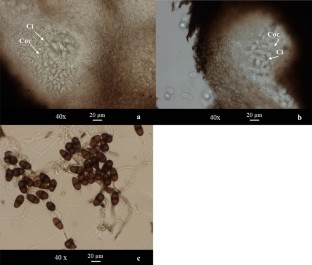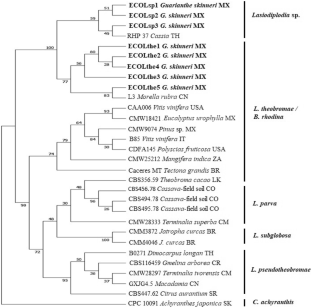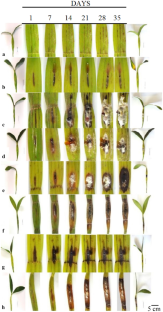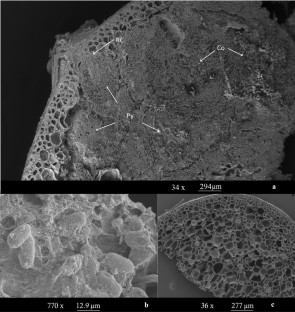 References
Abdollahzadeh J, Javadi A, Goltapeh EM, Zare R, Phillips A (2010) Phylogeny and morphology of four new species of Lasiodiplodia from Iran. Persoonia: Mol Phylog Evol Fungi 25:1–10. https://doi.org/10.3767/003158510X524150

Agrios GN (2005) Plant Pathology. Elsevier Academic Press, 952 p

Akgül D, Gündör N, Teker T, Keykubat B, Mayorquin J, Eskalen A (2015) Fungal trunk pathogens of Sultana seedless vineyards in Aegean region of Turkey. Phytopathol Mediterranea 54:241–252. https://doi.org/10.14601/Phytopathol_Mediterr-16138

Aljanabi SM, Martinez I (1997) Universal and rapid salt-extraction of high quality genomic DNA for PCR-based techniques. Nucleic Acids Res 25:4692–4693. https://doi.org/10.1093/nar/25.22.4692

Allikas G (2003) Guarianthe skinneri (Bateman) Dressler & W.E. Higgins. In: American Orchid Society. https://www.aos.org/orchids/collectors-items/guarianthe-skinneri.aspx

Almanza-Álvarez J, Garibay-Orijel R, Salgado-Garciglia R, Fernández-Pavia S, Lappe-Oliveras P, Arellano-Torres E, Ávila-Díaz I (2017) Identification and control of pathogenic fungi in neotropical valued orchids (Laelia spp.). Tropical Plant Pathology 42:339–351. https://doi.org/10.1007/s40858-017-0171-3

Alves A, Crous PW, Correia A, Phillips AJL (2008) Morphological and molecular data reveal cryptic speciation in Lasiodiplodia theobromae. Fungal Diversity 28:1–13

Angel C, Malsanobu T, Leguizamon J, Cardenas R, Chaves B, Bustillo A, Ospina H (2001) Enfermedades y Plagas en Cattleyas: Antecedentes e Investigaciones en Colombia. Cenicafe, Colombia. 132 p

Arditti J (2000) Numerical and physical properties of orchid seeds and their biological implications. New Phytol 145:367–421

Barnett HL, Hunter BB (1998) Illustrated genera of imperfect fungi, 4th edn. Macmillan, USA

Begoude BAD, Slippers B, Wingfield MJ, Roux J (2011) The pathogenic potential of endophytic Botryosphaeriaceous fungi on Terminalia species in Cameroon. Forest Pathol 41:281–292. https://doi.org/10.1111/j.1439-0329.2010.00671.x

Borges RCF, Santos MDM, Macedo MA, Martins I, Nascimento A, Café-Filho A, Boiteux L, Fonseca M, Inácio C, Mello S (2015) A trunk canker disease of Tectona grandis induced by Lasiodiplodia theobromae in Brazil. New Disease Reports 31:26. https://doi.org/10.5197/j.2044-0588.2015.031.026

Box G, Cox D (1964) An analysis of transformations. J Roy Stat Soc 26:211–252

Brown-Rytlewski DE, McManus PS (2000) Virulence of Botryosphaeria dothidea and Botryosphaeria obtusa on apple and management of stem cankers with fungicides. Plant Dis 84:1031–1037. https://doi.org/10.1094/PDIS.2000.84.9.1031

Burgess TI, Barber PA, Mohali S, Pegg G, de Beer W, Wingfield M (2006) Three new Lasiodiplodia spp. from the tropics, recognized based on DNA sequence comparisons and morphology. Mycologia 98:423–435. https://doi.org/10.3852/mycologia.98.3.423

Cabrera MG, Agueda M (2013) Occurrence of Lasiodiplodia theobromae in Cattleya spp. in Corrientes, Argentina. Summa Phytopathol 39:143. https://doi.org/10.1590/S0100-54052013000200014

Cabrera T (2006) Ficha técnica de Cattleya skinneri. Cuarenta y ocho especies de la flora de Chiapas incluidas en el PROY-NOM-059-ECOL-2000. 1–5

Cárdenas C (2016) Estudio de la pudrición negra de las orquídeas causada por Phytophthora sp. en colecciones del Valle Central de Costa Rica. Lankesteriana 3:179–180. https://doi.org/10.15517/lank.v3i2.23049

Carlucci A, Cibelli F, Lops F, Raimondo ML (2015) Characterization of Botryosphaeriaceae species as causal agents of trunk diseases on grapevines. Plant Dis 99:1678–1688. https://doi.org/10.1094/PDIS-03-15-0286-RE

Chang JM, Zhan RL, Liu F, Wu JB (2018) First Report of Lasiodiplodia pseudotheobromae causing Husk Rot in Macadamia. Plant Dis 103:153. https://doi.org/10.1094/PDIS-06-18-1048-PDN

Damon A (2017) Strategy for the rescue, conservation and sustainable exploitation of orchids (Orchidaceae) in southeastern México. Agroproductividad 10:25–30

Dissanayake AJ, Phillips AJL, Li XH, Hyde KD (2016) Botryosphaeriaceae: Current status of genera and species. Mycosphere 7:1001–1073. https://doi.org/10.5943/mycosphere/si/1b/13

Dressler RL, Higgins WE (2016) Guarianthe, a generic name for the "Cattleya" skinneri complex. Lankesteriana 3:3–5. https://doi.org/10.15517/lank.v3i2.23009

Endrés D, Hisayuki M, Lizandro J, Droste A (2018) Survival and development of reintroduced Cattleya intermedia plants related to abiotic factors and herbivory at the Edge and in the interior of a forest fragment in South Brazil. Acta Botanica Brasilica 32 (4) https://doi.org/10.1590/0102-33062018abb0009

Fernández-Pavía SP, Díaz-Celaya M, Rodríguez-Alvarado G, Gómez-Dorantes N, Abad G, Félix-Gastelum, R, Ochoa-Ascencio A, Garay-Serrano E, Mondragón- Flores A, Soto-Placarte A, Grünwald NJ, Santillán-Mendoza R (2020) Manual de laboratorio de Phytophthora. Imagia Comunicación S. de R.L. de C.V. Ciudad de México. 100 pp

Groenewald JZ, Nakashima C, Nishikawa J, Shin HD, Park JH, Jama AN, Groenewald M, Braun U, Crous PW (2013) Species concepts in Cercospora: spotting the weeds among the roses. Stud Mycol 75:115–170. https://doi.org/10.3114/sim0012

Hágsater E, Soto M, Salazar G, Jiménez R, López M, Dressler R (2005) Las Orquídeas de México. Instituto Chinoín, Ciudad de México. 304 pp

Johnson GI, Mead AJ, Cooke AW, Dean JR (1992) Mango stem end rot pathogens - fruit infection by endophytic colonization of the inflorescence and pedicel. Annals of Applied Biology 120:225–234. https://doi.org/10.1111/j.1744-7348.1992.tb03420.x

Kumar S, Stecher G, Li M, Knyaz C, Tamura K (2018) MEGA X: Molecular evolutionary genetics analysis across computing platforms. Mol Biol Evol 35:1547–1549. https://doi.org/10.1093/molbev/msy096

Li JW, Zhang SB (2019) Physiological responses of orchid pseudobulbs to drought stress are related to their age and plant life form. Plant Ecol 220:83–96. https://doi.org/10.1007/s11258-018-00904-x

Lopes UP, Zambolim L, Pereira OL (2009) First report of Lasiodiplodia theobromae causing leaf blight on the orchid Catasetum fimbriatum in Brazil. Aust Plant Dis Notes 4:64–65. https://doi.org/10.1071/DN09027

Machado AR, Pinho DB, Pereira OL (2014) Phylogeny, identification and pathogenicity of the Botryosphaeriaceae associated with collar and root rot of the biofuel plant Jatropha curcas in Brazil, with a description of new species of Lasiodiplodia. Fungal Diversity 67:231–247. https://doi.org/10.1007/s13225-013-0274-1

Maciel CG, Muniz MFB, Mezzomo R, Reiniger LRS (2015) Lasiodiplodia theobromae associated with seeds of Pinus spp. originated from the northwest of Rio Grande do Sul. Brazil Scientia Forestalis/forest Sciences 43:639–646

Mehl JWM, Slippers B, Roux J, Wingfield MJ (2017) Overlap of latent pathogens in the Botryosphaeriaceae on a native and agricultural host. Fungal Biol 121:405–419. https://doi.org/10.1016/j.funbio.2016.07.015

Mohali SR, Slippers B, Wingfield MJ (2007) Identification of Botryosphaeriaceae from Eucalyptus, Acacia and Pinus in Venezuela. Fungal Diversity 25:103–125

Mussi-Dias V, Valmir A, Machado M (2016) Pycnidia and conidia quantification of Lasiodiplodia using a culture medium enriched with sugarcane bagasse. Journal of Agriculture and Research 2:1–16

Nadkarni NM (1984) Epiphyte biomass and nutrient capital of a neotropical elfin forest. Biotropica 16:249. https://doi.org/10.2307/2387932

Nei M, Kumar S (2000) Molecular evolution and phylogenetics. Oxford University Press, Oxford, UK

Pavlic D, Slippers B, Coutinho TA, Wingfield MJ (2007) Botryosphaeriaceae occurring on native Syzygium cordatum in South Africa and their potential threat to Eucalyptus. Plant Pathol 56:624–636. https://doi.org/10.1111/j.1365-3059.2007.01608.x

Picos-Muñoz P, García-Estrada R, León-Félix J, Sañudo-Barajas A, Allende-Molar R (2015) Lasiodiplodia theobromae in Agricultural Crops in México: Taxonomy, Host, Diversity and Control. Revista Mexicana De Fitopatología 33:54–74

Punithalingam E (1976) Botryodiplodia theobromae. CMI descriptions of pathogenic fungi and bacteria. No. 519. Kew, Surrey, England: Commonwealth Mycological Institute

R Core Team (2017) R: A Language and Environment for Statistical Computing. R Foundation for Statistical Computing 2. https://www.R-project.org

Rasband W (2006) ImageJ for microscopy. Image processing and analysis in Java. Online: http://rbs.info.nih.gov/ij/docs/index.hyml. In: http://imagej.nih.gov/ij/. http://ci.nii.ac.jp/naid/10030139275/en/. Accessed 26 Apr 2018

Rehner SA, Buckley E (2005) A Beauveria phylogeny inferred from nuclear ITS and EF1-α sequences: Evidence for cryptic diversification and links to Cordyceps teleomorphs. Mycologia 97:84–98. https://doi.org/10.1080/15572536.2006.11832842

Rivera-Coto G, Corrales-Moreira G (2007) Problemas fitosanitarios que amenazan la conservación de las orquídeas en Costa Rica. Lankesteriana 7:347–352. https://doi.org/10.15517/lank.v7i1-2.19562

Rooney-Latham S, Soriano MC, Nolan PA (2017) First report of Lasiodiplodia theobromae associated with collar rot and dieback on Polyscias fruticosa in California. Plant Dis 101:1552. https://doi.org/10.1094/PDIS-12-16-1717-PDN

Salazar-Casasa W, Rivera-Coto G, Corrales-Moreira G (2007) Comparación de los problemas fitosanitarios en orquídeas de poblaciones silvestres y de cultivo, como evaluación de riesgos de plagas o epidemias. Lankesteriana 7:362–367. https://doi.org/10.15517/LANK.V7I1-2.19565

Sandoval-Sánchez M, Nieto-Ángel D, Sandoval-Islas JS et al (2013) Hongos asociados a pudrición del pedúnculo y muerte descendente del mango (Mangifera indica L.). Agrociencia 47:61–73

Sanger F, Nicklen S, Coulson AR (1977) DNA sequencing with chain-terminating inhibitors. Proc Natl Acad Sci USA 74(12):5463–5467. https://doi.org/10.1073/pnas.74.12.5463

Schoch CL, Seifert KA, Huhndorf S, Robert V, Spouge J, André C, Chen W, Consortion FB (2012) Nuclear ribosomal internal transcribed spacer (ITS) region as a universal DNA barcode marker for Fungi. Proc Natl Acad Sci USA 109:6241–6246. https://doi.org/10.1073/pnas.1117018109

Shaner G, Finney R (1977) The effect of nitrogen fertilization on the expression of slow-mildewing resistance in knox wheat. Phytopathology 77:1051. https://doi.org/10.1094/Phyto-67-1051

Slippers B, Crous PW, Denman S, Coutinho TA, Wingfield BD, Wingfield MJ (2004) Combined multiple gene genealogies and phenotypic characters differentiate several species previously identified as Botryosphaeria dothidea. Mycologia 96:83–101. https://doi.org/10.2307/3761991

Slippers B, Wingfield MJ (2007) Botryosphaeriaceae as endophytes and latent pathogens of woody plants: diversity, ecology and impact. Fungal Biol Rev 21:90–106. https://doi.org/10.1016/j.fbr.2007.06.002

Tovar-Pedraza JM, Mora-Aguilera JA, Nava-Díaz C, Teliz-Ortiz D, Valdovinos-Ponce G, Villegas-Monter A, Hernández-Morales J (2012) Identification, pathogenicity, and histopathology of Lasiodiplodia theobromae on mamey sapote grafts in Guerrero, Mexico. Agrociencia 46:147–161

Tovar J, Mora J, Nava C, Téliz D, Villegas A, Leyva S (2013) Control of Lasiodiplodia theobromae, the causal agent of dieback of sapote mamey [Pouteria sapota (Jacq.) H. E. Moore and Stearn] grafts in Mexico. Revista Fitotecnia Mexicana 36:233–238. https://doi.org/10.35196/rfm.2013.3.233

Trakunyingcharoen T, Lombard L, Groenewald JZ, Cheewangkoon R, To-anum C, Crous PW (2015) Caulicolous Botryosphaeriales from Thailand. Persoonia Molecular Phylogeny and Evolution of Fungi 34:87–99. https://doi.org/10.3767/003158515X685841

van den Berg C, Higgins WE, Dressler RL, Mark W, Soto MA, Culham A, Chase MW (2000) A phylogenetic analysis of Laeliinae (Orchidaceae) based on sequence data from internal transcribed spacers (ITS) of nuclear ribisomal DNA. Lindleyana 15:96–114. https://doi.org/10.1093/aob/mcp101

Watson JB (2002) Orchid pests and diseases. American Orchid Society Inc, Delray Beach, p 124

White TJ, Bruns T, Lee S, Taylor J (1990) Amplification and direct sequencing of fungal ribosomal RNA genes for phylogenetics. PCR Protocols. https://doi.org/10.1016/b978-0-12-372180-8.50042-1

Zhi L, Yu-Ting W, Lei G, Fan W, Jun-Li Y, Guo-Huai L (2014) Biochemical changes and defence responses during the development of peach gummosis caused by Lasiodiplodia theobromae. Eur J Plant Pathol 138:195–207. https://doi.org/10.1007/s10658-013-0322-4
Acknowledgements
We are grateful to the orchid growers of Santa Rita Las Flores for allowing us access to their orchid cultivation units. The first author received a grant from CONACYT (no. 736042) which permitted the completion of this study. We thank Erika Roxana Bautista Arredondo for the images of conidia, hyphae and damaged tissue taken in the SEM Laboratory of the Colegio de la Frontera Sur (ECOSUR), in Tapachula. We appreciate the help and advice received from Javier Valle-Mora (statistics) and Alejandra López-Pastrana (laboratory work).
Ethics declarations
Research involving human and animal participants
This article does not contain any studies with human or animal subjects performed by the any of the authors.
Conflict of Interest
The authors declare that they have no conflict of interest.
Additional information
Publisher's Note
Springer Nature remains neutral with regard to jurisdictional claims in published maps and institutional affiliations.
About this article
Cite this article
Fabiola, HR., Patricia, FP.S., Anne, D. et al. Etiology of the "black blotch" caused by Lasiodiplodia in pseudobulbs of Guarianthe skinneri (Orchidaceae), in the Region of Soconusco, Chiapas, Mexico. J Plant Pathol 104, 1083–1095 (2022). https://doi.org/10.1007/s42161-022-01154-7
Received:

Accepted:

Published:

Issue Date:

DOI: https://doi.org/10.1007/s42161-022-01154-7
Keywords