Abstract
The current study investigates the biological activities of lemon (Citrus limon L.) peel extracts against anthracnose of mango fruit caused by Colletotrichum gloeosporioides. In vitro test results showed that Lemon Peel Extract (LPE) at 1.75 to 2.5 g/L concentration totally controlled the growth and development of C. gloeosporioides. Mycelial distortion, conidial swelling and cytoplasmic discharged were vividly observed when applied with LPE. The Minimum Effective Concentration (MEC) of LPE for in-vivo test result was 1.75 g/L, and can be used as protective, simultaneous and curative treatment on Mangifera indica L. fruit to inhibit and/or lessen the anthracnose infection. Further, no detectable phytotoxicity nor changes in aroma was observed on fruit treated with LPE (1.75 g/L). This could be due to the phytochemicals and its derivatives present in LPE. On the other hand, lesions, changed in color, aroma and texture was noticed on the untreated mango fruit.
Forty-two chemical components were identified in LPE, based on Gas Chromatography – Mass Spectrometry (GC-MS) analysis. The six major compounds were as follows: oleyl-alcohol methyl ether (27.23%), γ-sitosterol (18.48%), stigmasterol (4.49%), 24-norursa-3.12-diene (4.00%), 3-heptanol,6-methyl (3.50%) and coumarin (3.39%). LPE attributes excellent fungicidal effects towards C. gloeosporioides and can be utilized as an alternative compound to conventional fungicides in the market.
Access options
Buy single article
Instant access to the full article PDF.
USD 39.95
Price excludes VAT (USA)
Tax calculation will be finalised during checkout.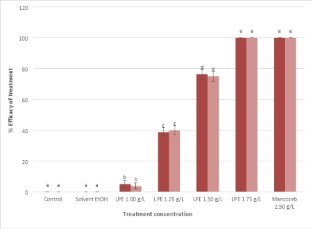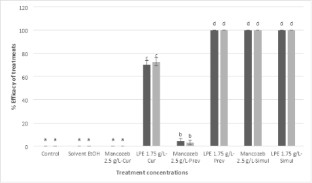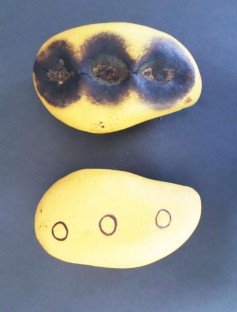 References
Al-Majedy YK, Kadhum AAH, Al-Amiery AA, Mohamad AB (2017) Coumarins: The Antimicrobial agents. Sys Rev Pharm 8(1):62–70

Alvindia DG, Acda MA (2015a) The antagonistic effect and mechanism of Bacillus amyloliquefaciens DGA 14 against anthracnose of mango cv 'Carabao'. Biocontrol Sci Technol. 25(5):560–572

Alvindia DG, Acda MA (2015b) Revisiting the efficacy of hot water treatment in managing anthracnose and stem-end rot diseases of mango cv. 'Carabao'. Crop Prot. 67: 96–101

Alvindia DG, Mangoba MAA (2020) Bioactivities of Allium longicuspis Regel against anthracnose of mango caused by Colletotrichum gloeosporioides (Penz.). Sci Rep 10:11367

Arauz LF (2000) Mango anthracnose: Economic impact and current options for integrated management. Plant Dis. 84:600–611

Balamurugan R, Duraipandiyan V, Ignacimuthu S (2011) Antidiabetic activity of γ-sitosterol isolated from Lippia nodiflora L. in streptozotocin induced diabetic rats. Eur J Pharmacol 667:410–418

Ballistreri G, Fabroni S, Romeo FV, Timpanaro N, Amenta M, Rapisarda P (2019) Anthocyanins and Other Polyphenols in Citrus Genus: Biosynthesis, Chemical Profile, and Biological Activity. Polyphenols in Plants Chapter 13:191–209. https://doi.org/10.1016/B978-0-12-813768-0.00014-

Bocco A, Cuvelier ME, Richard H, Berset C (1998) Antioxidant Activity and Phenolic Composition of Citrus Peel and Seed Extracts. J Agricultural Food Chem 46:2123–2129)

Burcova Z, Kreps F, Greifova M, Jablonsky M, Haz A, Schmidt S, Surina I (2018) Antibacterial and antifungal activity of phytosterols and methyl dehydroabietate of Norway spruce bark extracts. J Biotechnol 282:18–24

Cabral CE, Klein MR (2017) Phytosterols in the treatment of hypercholesterolemia and prevention of cardiovascular diseases. Arquivos Brasileiros de Cardiologia 109(5):475–482

Cerqueira F, Watanadilok R, Sonchaeng P, Kijjoa A, Pinto M, Quarles V, Ufford H, Kroes B, Beukelman C, Nascimento MS (2003) Clionasterol: a potent inhibitor of complement component C1. Planta Med 69:174–176

Donkin DJ, Oosthuyse SA (1996) Quality evaluations of sea-exported South African mangoes in Europe during the 1995-96 season. South Afr Mango Growers Association Yearbook 16:1–5

Dubey NK, Kumar R, Tripathi P (2004) Global promotion of herbal medicine: India's opportunity. Curr Sci 86:37–41

Endrini S, Rahmat A, Ismail P, Taufiq-Yap YH (2014) Cytotoxic effect of c-sitosterol from Kejibeling (Strobilanthes crispus) and its mechanism of action towards c-myc gene expression and apoptotic pathway. Med J Indones. 23(4):203–208

FAO (2014) FAOSTAT database. Available from: http://www.fao.org/faostat/en/#data

Feng R, Isman MB (1995) Selection for resistance to azadirachtin in the green peach aphid. Myzus persicae Experientia 51:831–833

Ferrer A, Altabella T, Arro M, Boronat A (2017) Emerging role for coagulated sterols in plants. Prog Lipid Res 67:27–37

Figueiredo KV, Olieveira MT, Olievera AFM, Silva GC, Santos M (2012) Epicuticular-wax removal influences gas exchange and water relations in the leaves of an exotic and native species from a Brazilian semiarid region under induced drought stress. Aust J Bot 60:685–692

Jetter R, Riederer M (2016) Localization of the transpiration barrier in the epi- and intracuticular waxes of eight plant species: water transport resistances are associated with fatty acyl rather than alicyclic components. Plant Physiol 170:921–934

Kimbaris AC, Siatis NG, Daferera DJ, Tarantilis PA, Pappas CS, Polissiou MG (2006) Comparison of distillation and ultrasound-assisted extraction methods for the isolation of sensitive aroma compounds from garlic (Allium sativum). Ultrasonic Sonochemistry 13:54–60

Koul O, Singh G, Singh R, Singh J, Daniewski WM, Berlozecki S (2004a) Bio-efficacy and mode of action of some limonoids of salannin group from Azadirachta indica A. Juss and their role in a multicomponent system against lepidopteran larvae. J Biosci 29:409–416

Koul O, Multani JS, Goomber S, Daniewski WM, Berlozecki M (2004b) Activity of some non-azadirachtin limonoids from Azadirachta indica against lepidopteran larvae. Aust J Entomol 43:189–195

Koul O, Walia S (2009) Comparing impacts of plant extracts and pure allelochemicals and implications for pest control. CAB Reviews: Perspectives in Agriculture, Veterinary Science, Nutrition and Natural Resources. 1–30

Laufenberg G, Kunz B, Nystroem M (2003) Transformation of vegetable waste into value added products: (A) the upgrading concept; (B) practical implementations. Bioresour Technol 87:167–198

Mandalari G, Bennett RN, Bisignano G, Saija A, Dugo G, Lo-Curto RB, Faulds CB, Waldron KW (2006) Characterization of flavonoids and pectins from bergamot (Citrus bergamia Risso) peel, a major byproduct of essential oil extraction. J Agricultural Food Chem 54:197–203)

Mangoba MAA, Alvindia DG (2019) Acaricidal and chemical composition of Allium sativum L. crude extracts against stored product mite. Oudemans J Biologically Act Prod Nat 9:6:484–491

Molina EG, Perles RD, Moreno DA, Viguera CG (2009). Natural bioactive compounds on Citrus limon for food and health. J Pharm Biomedical Anal 51:327–345)

Perez-Perez JG, Castillo IP, Garcia-Lidon A, Botia P, Garcia-Sanchez F (2005) Fino lemon clones compared with the lemon varieties eureka and Lisbon on two rootstocks in Murcia (Spain). Sci Hort 106:530–538

Ploetz RC (2003) Diseases of Mango. In: Ploetz RC (ed) Diseases of Tropical Fruit Crops. CABI Publishing, Wallingford, UK, pp 327–363

Ploetz RC, Freeman S (2009) Foliar, floral and soilborne diseases. In: Litz, R.E. (ed.) The Mango:Botany, Production and Uses. 2nd edition. CABI

Saleem M, Seed MT (2020) Potential application of waste fruit peels (orange, yellow lemon and banana) as wide range natural antimicrobial agent. J King Saud University-Science 32:805–810

Segura R, Javierre C, Lizarraga MA, Ros E (2007) Other relevant components of nuts:Phytosterols, folate and minerals. Br J Nutr 96:36–44

Sundravadana S, Alice D, Kuttalam S, Samiyappan R (2007) Efficacy of Azoxystrobin on Colletotrichum gloeosporioides (Penz.) growth and on controlling mango anthracnose. J Agricultural Biol Sci 2:10–15

Tangtrakulwanich K, Reddy GVP (2014) Development of Insect Resistance to Plant Biopesticides: An overview. Advances in Plant Bio-pesticides. 47–62

Van den Bosch F, Paveley N, Shaw M, Hobbelen P, Oliver R (2011) The dose rate debate: Does the risk of fungicide resistance increase or decrease with dose? Plant Pathol 60:597–606

Vazquez CC, May ER, Analco JAG, Contreras JME, Ortiz EJE, Saito GR, Sanchez LL, Martinez ALK, Landa IB, Villanueva JLM, Romero JLO, Martinez PG, Arellano JCT, Hernandez MET, Figueroa FRQ, Birke A, Aluja M (2019) Filling gaps in our knowledge on the cuticle of mangoes (Mangifera indica) by analyzing six fruit cultivars: Architecture/structure, postharvest physiology and possible resistance to fruit fly (Tephritidae) attack. Postharvest Biol Technol 148:83–96

Vinson JA, Proch J, Bose P (2001) Determination of quantity and quality of polyphenol antioxidants in foods and beverages.Methods in Enzymology103–114

Vogg G, Fischer S, Leide J, Emmanuel E, Jetter R, Levy AA, Riederer M (2004) Tomato fruit cuticular waxes and their effects on transpiration barrier properties: functional characterization of a mutant deficient in a very-long-chain fatty acid beta- ketoacyl-CoA synthase. J Exp Bot 55:1401–1410
Acknowledgements
The authors acknowledge Prof. Young Soo Keum, Prof Se Chul Chun, Prof Do Hwan Kim and the rest of the team of Konkuk University (KU) Seoul, South Korea, Korea International Cooperation Agency (KOICA), Davao Analytical Laboratories headed by Sir Tony Gumapac, and Dr. Brian Lopez for the assistance.
Ethics declarations
Ethics approval and consent to participate
Not applicable.
Conflict of interest
No potential conflict of interest was reported by the authors.
Additional information
Publisher's Note
Springer Nature remains neutral with regard to jurisdictional claims in published maps and institutional affiliations.
Electronic Supplementary Material
Below is the link to the electronic supplementary material.
About this article
Cite this article
Alvindia, D.d., Angeles Mangoba, M.A. Fungitoxic activities of Citrus limon L. peel extracts in controlling anthracnose of mango. J Plant Pathol 104, 939–945 (2022). https://doi.org/10.1007/s42161-022-01080-8
Received:

Accepted:

Published:

Issue Date:

DOI: https://doi.org/10.1007/s42161-022-01080-8
Keywords
Citrus limon

γ-sitosterol

Coumarin

Stigmasterol

Anthracnose

Mango