Abstract
Trioza erytreae per se is a major citrus pest, although its destructive power is much greater as a vector of the non-culturable bacterium 'Candidatus Liberibacter africanus' causing the most devastating disease of citrus worldwide: the citrus huanglongbing (HLB). Following early detections of T. erytreae in mainland Europe, simultaneously in Portugal and Spain in 2014, its distributional range has rapidly increased, thus becoming a serious threat to the entire Mediterranean citrus industry. In 2018, one year after our latest survey, the situation has only worsened, with T. erytreae being around 200 km closer to key citrus growing areas in southern Portugal and Spain. Once T. erytreae invades a new area, the degree of severity of its attacks increases very quickly, which is indicative of its potential for invasiveness. We highlight that T. erytreae is currently spread and well established along the northwestern coast of the Iberian Peninsula, ranging from Cedeira in A Coruña (Spain) to Pontes/Setúbal in Portugal, covering approximately 600 km on a straight uninterrupted line. Implementation of further containment and control measures are critical to addressing this growing risk.
Access options
Buy single article
Instant access to the full article PDF.
US$ 39.95
Tax calculation will be finalised during checkout.
Subscribe to journal
Immediate online access to all issues from 2019. Subscription will auto renew annually.
US$ 79
Tax calculation will be finalised during checkout.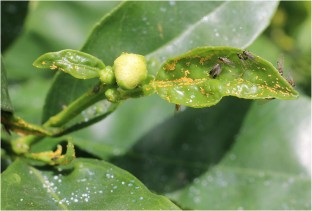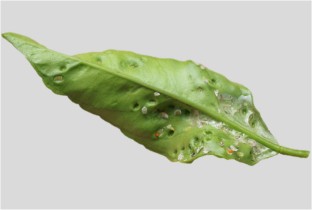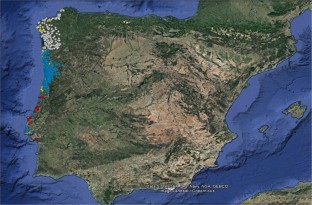 References
Arenas-Arenas FJ, Duran-Vila N, Quinto J, Hervalejo A (2018) Is the presence of Trioza erytreae, vector of huanglongbing disease, endangering the Mediterranean citrus industry? Survey of its population density and geographical spread over the last years. J Plant Pathol 100:567–574. https://doi.org/10.1007/s42161-018-0109-8

Bové JM (2006) Huanglongbing: a destructive, newly-emerging, century-old disease of citrus. J Plant Pathol 88:7–37. https://doi.org/10.4454/jpp.v88i1.828

CABI (2018) Datasheet 'citrus huanglongbing (greening) disease (citrus greening)'. https://www.cabi.org/isc/datasheet/16567. Accessed 12 Dec 2018

Cocuzza GEM, Alberto U, Hernández-Suárez E, Siverio F, Di Silvestro S, Tena A, Carmelo R (2016) A review on Trioza erytreae (African citrus psyllid), now in mainland Europe, and its potential risk as vector of huanglongbing (HLB) in citrus. J Pest Sci 90:1–17. https://doi.org/10.1007/s10340-016-0804-1

DOG 119 (Diario oficial de Galicia) published in June 23, 2017 by the Galician Government (Xunta de Galicia). https://www.xunta.gal/dog/Publicados/2017/20170623/AnuncioG0426-150617-0003_es.html. Accessed 27 Jul 2017

Owusu AF, Tanga CM, Paris TM, Allan SA, Mohamed SA, Khamis FM, Sétamou M, Borgemeister C, Ekesi S (2018) Size and shape analysis of Trioza erytreae Del Guercio (Hemiptera: Triozidae), vector of citrus huanglongbing disease. Pest Manag Sci. https://doi.org/10.1002/ps.5176

Pérez-Otero P, Mansilla JP, de Estal P (2015) Detección de la psila africana de los cítricos, Trioza erytreae (Del Guercio, 1918) (Hemiptera: Psylloidea: Triozidae), en la Península Ibérica. Arquivos Entomolóxicos 13:119–122

van den Berg MA (1990) The citrus psylla, Trioza erytreae (Del Guercio) (Hemiptera: Triozidae): a review. Agric Ecosyst Environ 30:171–194. https://doi.org/10.1016/0167-8809(90)90104-l
Acknowledgements
We wish to underscore again the key role played by Joseph-Marie Bové in initiating and thoroughly developing this topic until, unfortunately, leukaemia took away his life on June 2, 2016.
Financial support was provided by the research project ADI-PP.PEI.IDF201601.3, 80% of which is partly funded by the European Regional Development Fund (ERDF).
Funding
This study was funded by the research project "Desarrollo de estrategias para el manejo del HLB y sus psílidos vectores en los cítricos andaluces" (ADI-PP.PEI.IDF201601.3), 80% of which is partly funded by the European Regional Development Fund (ERDF) and 20% by the Instituto de Investigación y Formación Agraria y Pesquera de Andalucía (IFAPA, Spain).
Ethics declarations
Conflict of interest
The authors declare that they have no conflict of interest.
Ethical approval
This article does not contain any studies with human participants or animals performed by any of the authors.
Additional information
Publisher's note
Springer Nature remains neutral with regard to jurisdictional claims in published maps and institutional affiliations.
About this article
Cite this article
Arenas-Arenas, F.J., Duran-Vila, N., Quinto, J. et al. Geographic spread and inter-annual evolution of populations of Trioza erytreae in the Iberian Peninsula. J Plant Pathol 101, 1151–1157 (2019). https://doi.org/10.1007/s42161-019-00301-x
Received:

Accepted:

Published:

Issue Date:
Keywords
Huanglongbing

'Candidatus Liberibacter spp.'
Citrus spp.

Spain

Portugal