Abstract
Tomato, a top cash crop, is infected by a number of viruses that cause drastic yield losses. Recently an unusual viral syndrome that resembled somewhat that induced by tobacco mosaic virus has been observed in Northern Palestine. The most affected tomatoes were of cultivars 'Ikram' and 'Azmeer'. A study aimed at revealing the cause of the disease, identified the presence of an apparently undescribed tobamovirus. The virus genome was entirely sequenced and shown to be composed of 6391 nucleotides. Sequence analysis indicated that this virus was an isolate of tomato brown rugose fruit virus (TBRFV). This is the first time TBRFV was detected in Palestine on tomatoes and the name tomato brown rugose fruit virus-Palestinian isolate (TBRFV-Ps) is suggested. Molecular tools were developed for specific detection of the virus and sanitary actions to protect tomato production from TBRFV were recommended.
Access options
Buy single article
Instant access to the full article PDF.
USD 39.95
Price includes VAT (USA)
Tax calculation will be finalised during checkout.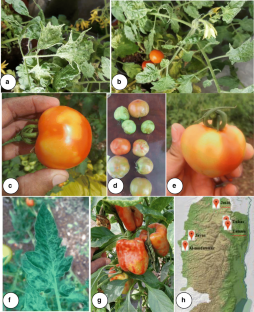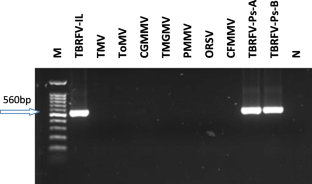 References
Alkowni R (2017) Phytoviruses in Palestine: status and future perspectives. An - Najah University. Journal for Research (N Sc) 31(1):11–34

Alkowni R and Srouji F (ed) (2009) Food security and viral diseases (in fruit trees). Palestine economic policy research institute (MAS). Ramallah-Palestine

Ambros S, Martinez F, Ivars P, Hernandez C, de la Iglesia F, Elena SF (2016) Molecular and biological characterization of an isolate of Tomato mottle mosaic virus (ToMMV) infecting tomato and other experimental hosts in a greenhouse in Valencia, Spain. bioRxiv 063255; https://doi.org/10.1101/063255

Amro S, Alkowni R, Hamdan A (2014) Molecular and biological tools for assessment of TYLCV resistant tomato cultivars commercially grown in southern Palestine. An-Najah University Journal for Research (N Sc) 28:85–108

Anfoka GH, Abhary M, Nakhla MK (2005) Molecular identification of species of the tomato yellow leaf curl virus complex in Jordan. J Plant Pathol 87(1):65–70

Dorais M, Papadopoulos A, Gosselin A (2001) Greenhouse tomato fruit quality. Hortic Rev 26:239–319

FAO (2017) Integrated pest management of major pests and diseases in Eastern Europe and the Caucasus. Budapest: Food and Agriculture Organization of the United Nations

George B, Kaur C, Khurdiya D, Kapoor H (2004) Antioxidants in tomato (Lycopersium esculentum) as a function of genotype. Food Chem 84(1):45–51

Goujon M, McWilliam H, Li W, Valentin F, Squizzato S, Paern J, Lopez R (2010) A new bioinformatics analysis tools framework at EMBL-EBI. Nucleic Acids Res 38(Web server):W695–W699. https://doi.org/10.1093/nar/gkq313

Hanssen IM, Lapidot M (2012) Major tomato viruses in the Mediterranean Basin. In: Loebenstein G, Lecoq H (eds) Advances in Virus Research, vol 84. Academic Press, Cambridge, pp 31–66

Hanssen IM, Lapidot M, Thomma BP (2010) Emerging viral diseases of tomato crops. Mol Plant Microbe Interact 23:539–548

Johnson et al (2008) NCBI BLAST: a better web interface. NCBI BLAST: a better web interface. Nucleic Acids Res 36(Web Server issue):W5–W9

Kimura S, Sinha N (2008) Tomato (Solanum lycopersicum): a model fruit-bearing crop. Cold Spring Harbor Laboratory. https://doi.org/10.1101/pdb.prot5084

Kumar S, Udaya Shankar AC, Nayaka SC, Lund OS, Prakash HS (2011) Detection of tobacco mosaic virus and tomato mosaic virus in pepper and tomato by multiplex RT–PCR. Appl Microbiol 53:359–363

Li R, Gao S, Fei Z, Ling K-S (2013) Complete genome sequence of a new tobamovirus naturally infecting tomatoes in Mexico. Genome Announc 1(5):e00794±13. https://doi.org/10.1128/genomeA.00794-13

Luria N, Smith E, Reingold V, Bekelman I, Lapidot M, Levin I et al (2017) A new Israeli Tobamovirus isolate infects tomato plants harboring tm-22 resistance genes. PLoS One 12(1):e0170429. https://doi.org/10.1371/journal.pone.0170429

McGovern RJ, Elmer WH (2018) Handbook of Florists' Crops Diseases, Springer

Meng B, Martelli GP, Golino DA, Fuchs M (Eds.) (2017) Grapevine viruses: molecular biology. Diagnostics and management. Springer

Morgulis A, Coulouris G, Raytselis Y, Madden TL, Agarwala R, Schäffer AA (2008) Database indexing for production mega BLAST searches. Bioinformatics 24:1757–1764

Salem NM, Mansour A, Badwan H (2012) Identification and partial characterization of Tomato spotted wilt virus on lettuce in Jordan. J Plant Pathol 94:431–435

Salem N, Mansour A, Ciuffo M, Falk B, Turina M (2016) A new tobamovirus infecting tomato crops in Jordan. Arch Virol 161(2):503–506

Sievers F, Wilm A, Dineen D, Gibson TJ, Karplus K, Li W, Lopez R, McWilliam H, Remmert M, Söding J, Thompson JD, Higgins DG (2011) Fast, scalable generation of high-quality protein multiple sequence alignments using Clustal omega. Mol Syst Biol 7:539. https://doi.org/10.1038/msb.2011.75

Turina M, Geraats BPJ, Ciuffo M (2016) First report of tomato mottle mosaic virus in tomato crops in Israel. New Dis Rep 33:1. https://doi.org/10.5197/j.2044-0588.2016.033.001

Zhang Z, Schwartz S, Wagner L, Miller W (2000) A greedy algorithm for aligning DNA sequences. J Comput Biol 7(1–2):203–214
Acknowledgements
Authors wish to thank the Science Deanship of An-Najah National University and National Agriculture Research Center for their support of the study. The financial support of An-Najah National University to undertake this work under grant number [ANNU-1718-So029] is also duly acknowledged.
Funding
This study was funded by the Science Deanship of An-Najah National University under grant number [ANNU-1718-So029].
Ethics declarations
Ethical approval
This article does not contain any studies with human participants or animals performed by any of the authors.
Conflict of interest
Corresponding Author has received research grants from An-Najah National University; in collaboration with co-authors from National Agricultural Research Center. Authors declare that they have no conflict of interest.
Additional information
Publisher's note
Springer Nature remains neutral with regard to jurisdictional claims in published maps and institutional affiliations.
This article has been revised to display correct affiliation information.
About this article
Cite this article
Alkowni, R., Alabdallah, O. & Fadda, Z. Molecular identification of tomato brown rugose fruit virus in tomato in Palestine. J Plant Pathol 101, 719–723 (2019). https://doi.org/10.1007/s42161-019-00240-7
Received:

Accepted:

Published:

Issue Date:
Keywords
Virus

Tomato

Tobamovirus

TBRFV

Phylogenetic analysis