Abstract
Huanglongbing (HLB) is one of the most destructive diseases of Citrus. This study was conducted to characterize its etiological agent, 'Candidatus Liberibacter' spp., as well as the occurrence and distribution of HLB associated with acid lime (Citrus aurantifolia Swingle) in Oman. A survey of different geographical areas in Oman has shown that HLB is present in some farms in the northern and southern parts of the country. Disease incidence was 71.8% in the surveyed lime trees with typical symptoms of HLB in Sohar and Wkaan, 40% in Al Jabal Al Akhdar and 62% in Salalah. Disease symptoms in some areas were observed all year round, but were more apparent from October to March. Phylogenetic analysis of the 16SrRNA gene of 38 isolates indicated an association of 'Candidatus Liberibacter asiaticus' (Las) with HLB-symptomatic acid lime trees. The analysis showed that Omani isolates clustered with isolates from Iran, India, USA and China. No 'Candidatus Liberibacter' spp. were detected in nursery seedlings imported from abroad. This study reports for the first time the association of HLB with acid lime in Oman. Extension programs and strict quarantine measures should be applied to help reduce the international spread of HLB.
Access options
Buy single article
Instant access to the full article PDF.
USD 39.95
Price excludes VAT (USA)
Tax calculation will be finalised during checkout.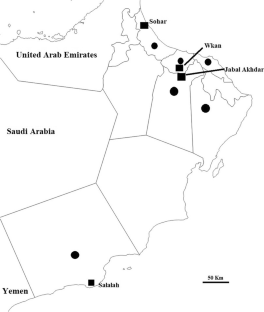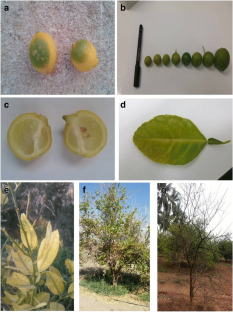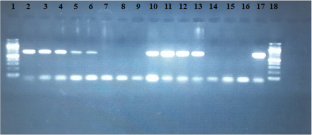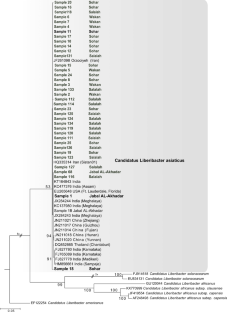 References
Abdullah TL, Shokrollah H, Sijam K, Abdullah SNA (2009) Control of Huanglongbing (HLB) disease with reference to its occurrence in Malaysia. Afr J Biotechnol 8:4007–4015

Al-Ghaithi AG, Hanif MA, Al-Busaidi WM, Al-Sadi AM (2016) Increased sodium and fluctuations in minerals in acid limes expressing witches' broom symptoms. SpringerPlus 5:418

Al-Harthi SA, Al-Sadi AM, Al-Saady AA (2013) Potential of citrus budlings originating in the Middle East as sources of citrus viroids. Crop Prot 48:13–15

Al-Sadi AM, Al-Hilali SA, Al-Yahyai RA, Al-Said FA, Deadman ML, Al-Mahmooli IH, Nolasco G (2012) Molecular characterization and potential sources of Citrus tristeza virus in Oman. Plant Pathol 61:632–640

Al-Yahyai RA, Al-Sadi AM, Al-Said FAJ, Alkalbani ZH, Carvalho CM, Elliot SL, Bertaccini A (2015) Development and morphological changes in leaves and branches of acid lime (Citrus aurantifolia) affected by witches' broom. Phytopathol Mediterr 54:133–139

Bella P, Licciardello G, Sicilia A, Strano CP, Catara A, Deng X, Deng Z, La Rosa R, Catara V (2016) Collecting and preserving plant DNA for huanglongbing diagnosis in citrus samples from China. Eur J Plant Pathol 146:829–836

Bové JM (2006) Huanglongbing: a destructive, newly-emerging, century-old disease of citrus. J Plant Pathol 88:7–37

Bové JM (2014) Huanglongbing or yellow shoot, a disease of Gondwanan origin: will it destroy citrus worldwide? Phytoparasitica 42:579–583

Bove JM, Garnier M (1984) Citrus greening and Psylla vectors of the disease in the Arabian Peninsula. In: Garnsey SM, Timmer LW, Dodds JA (eds) The Ninth Conference of the International Organization of Citrus Virologists. Riverside, CA, USA

Chiyaka C., Singer B.H., Halbert S.E., Morris Jr J.G., Van Bruggen A.H.C., 2012. Modeling huanglongbing transmission within a citrus tree. Proc Natl Acad Sci U S A 109: 12213–12218

Doyle JJ, Doyle JL (1987) A rapid DNA isolation procedure for small amount of fresh leaf tissue. Phytochemcial Bulletin 19:11–15

EPPO (2014) PM 7/121 (1) 'Candidatus Liberibacter africanus', 'Candidatus Liberibacter americanus' and 'Candidatus Liberibacter asiaticus'. EPPO Bulletin 44:376–389

da Graça JV, Douhan GW, Halbert SE, Keremane ML, Lee RF, Vidalakis G, Zhao H (2016) Huanglongbing: an overview of a complex pathosystem ravaging the world's citrus. J Integr Plant Biol 58:373–387

Haapalainen M (2014) Biology and epidemics of Candidatus Liberibacter species, psyllid-transmitted plant-pathogenic bacteria. Ann Appl Biol 165:172–198

Halbert SE, Manjunath KL (2004) Asian citrus psyllids (Sternorrhyncha: Psyllidae) and greening disease of citrus: a literature review and assessment of risk in Florida. Fla Entomol 87:330–353

Halbert SE, Manjunath K, Ramadugu C, Lee RF (2012) Incidence of huanglongbing-associated 'Candidatus Liberibacter Asiaticus' in Diaphorina citri (Hemiptera: Psyllidae) collected from plants for sale in Florida. Fla Entomol 95:617–624

Hilf ME, Lewis RS (2016) Transmission and propagation of 'candidatus liberibacter asiaticus'by grafting with individual citrus leaves. Phytopathology 106:452–458

Hocquellet A, Toorawa P, Bové JM, Garnier M (1999) Detection and identification of the two Candidatus Liberobacter species associated with citrus huanglongbing by PCR amplification of ribosomal protein genes of the β operon. Mol Cell Probes 13:373–379

Inoue H, Ohnishi J, Ito T, Tomimura K, Miyata S, Iwanami T, Ashihara W (2009) Enhanced proliferation and efficient transmission of Candidatus Liberibacter asiaticus by adult Diaphorina citri after acquisition feeding in the nymphal stage. Ann Appl Biol 155:29–36

Janse JD (2012) Bacterial diseases that may or do emerge, with (possible) economic damage for europe and the mediterranean basin: notes on epidemiology, risks, prevention and management on first occurrence. J Plant Pathol 94:5–29

Lee JA, Halbert SE, Dawson WO, Robertson CJ, Keesling JE, Singer BH (2015) Asymptomatic spread of huanglongbing and implications for disease control. Proc Natl Acad Sci U S A 112:7605–7610

Li W, Levy L, Hartung JS (2009) Quantitative distribution of 'Candidatus liberibacter asiaticus' in citrus plants with citrus huanglongbing. Phytopathology 99:139–144

MAF, 2013. Agriculture Census. Muscat, Oman: Ministry of Agriculture and fisheries

Manjunath KL, Halbert SE, Ramadugu C, Webb S, Lee RF (2008) Detection of 'Candidatus Liberibacter asiaticus' in Diaphorina citri and its importance in the management of citrus huanglongbing in Florida. Phytopathology 98:387–396

Naeem A, Freed S, Jin FL, Akmal M, Mehmood M (2016) Monitoring of insecticide resistance in Diaphorina citri Kuwayama (Hemiptera: Psyllidae) from citrus groves of Punjab, Pakistan. Crop Prot 86:62–68

Okuda M, Matsumoto M, Tanaka Y, Subandiyah S, Iwanami T (2005) Characterization of the tufB-secE-nusG-rplKAJL-rpoB gene cluster of the citrus greening organism and detection by loop-mediated isothermal amplification. Plant Dis 89:705–711

Queiroz R.B., Donkersley P., Silva F.N., Al-Mahmmoli I.H., Al-Sadi A.M., Carvalho C.M., Elliot S.L., 2016. Invasive mutualisms between a plant pathogen and insect vectors in the Middle East and Brazil. Royal Society Open Science 3: 160557

Saberi E, Alavi SM, Safaie N, Moslemkhany C, Azadvar M (2017) Bacterial pathogens associated with citrus huanglongbing-like symptoms in southern Iran. J Crop Prot 6:99–113

da Silva F., Souza A., Al-Mahmooli I., Al-Sadi A., Carvalho C., 2015. A new disease in Citrus aurantifolia, "sudden decline", is associated with a pathogen complex in Oman. Phytopathogenic Mollicutes 5: S101–S102

Silvestro D, Michalak I (2012) RaxmlGUI: a graphical front-end for RAxML. Org Divers Evol 12:335–337

Tamura K, Stecher G, Peterson D, Filipski A, Kumar S (2013) MEGA6: molecular evolutionary genetics analysis version 6.0. Mol Biol Evol 30:2725–2729

Wang N, Pierson EA, Setubal JC, Xu J, Levy JG, Zhang Y, Li J, Rangel LT, Martins J (2017a) The Candidatus Liberibacter-host Interface: insights into pathogenesis mechanisms and disease control. Annu Rev Phytopathol 55:451–482

Wang N, Stelinski LL, Pelz-Stelinski KS, Graham JH, Zhang Y (2017b) Tale of the Huanglongbing disease pyramid in the context of the citrus microbiome. Phytopathology 107:380–387

Zreik L, Carle P, Bové JM, Garnier M (1995) Characterization of the mycoplasma like organism associated with witches' broom disease of lime and proposition of a 'Candidatus' taxon for the organism, 'Candidatus Phytoplasma aurantifolia. Int J Syst Bacteriol 45:449–453
Acknowledgements
Thanks are due to Sultan Qaboos University, Vale Oman and Vale Technological Institute for funding the study through the projects SR/AGR/CROP/13/01 and EG/AGR/CROP/12/01,02.
About this article
Cite this article
Al Fahdi, A., Al-Mamari, A., Shahid, M.S. et al. Characterization of Huanglongbing disease associated with acid lime (Citrus aurantifolia Swingle) in Oman. J Plant Pathol 100, 419–427 (2018). https://doi.org/10.1007/s42161-018-0088-9
Published:

Issue Date:

DOI: https://doi.org/10.1007/s42161-018-0088-9
Keywords