Occurence of beet western yellows virus on squash and broad bean in Turkey
Abstract
Vegetable crops species from areas of Turkey where beet western yellows virus (BWYV), genus Polerovirus, family Luteoviridae was previously detected in pepper were surveyed for poleroviruses. Leaf samples were tested by DAS-ELISA, RT-PCR with degenerate primers for poleroviruses, and sequencing. Blast analysis of sequenced PCR amplicons revealed the presence of BWYV in broad bean (Vicia faba) and squash (Cucurbita pepo). These are new records of this virus on these two species in Turkey.
Keywords
BWYV 
Polerovirus
Luteoviridae
Genetic diversity 
The genus Polerovirus (family Luteoviridae) comprises 17 virus species based on the 2016 ICTV classification. These viruses are phloem-limited and transmitted in a circulative nonpropagative manner by aphids, including Aphis gossypii and Myzus persicae (King et al. 2012), two widespread aphid species in Mediterranean and tropical regions. Poleroviruses are not mechanically transmissible (Lecoq et al. 1992; D'Arcy and Domier 2005). Cucurbit aphid-borne yellows virus (CABYV) was the first polerovirus identified in Turkey on a range of cucurbit crops by DAS-ELISA (Yardimci and Özgönen 2007). Subsequently, beet western yellows virus (BWYV) and pepper vein yellows virus (PVYV) were recovered from field-grown pepper (Capsicum annuum) plants (Buzkan et al. 2013). More recently, CABYV was reported in broad bean (Vicia faba) (Buzkan et al. 2017).
BWYV, one of the most economically important and widespread viruses of Brassicaceae in the world (Hampton et al. 1998), was first reported by Duffus (1960) in North America under the name of radish yellows virus, (Duffus 1961). This virus causes yellowing and stunting in a large number of crops, including sugarbeet (Beta vulgaris), spinach (Spinacia oleracea), lettuce (Lactuca sativa), canola (Brassica napus), broad bean and a number of common weed species (Gray and Gildow 2003; Wang et al. 2013). BWYV infection has also been reported in the carnivorous plant Nepenthes mirabilis (Miguel et al. 2016).
The genome of BWYV is composed of a single-stranded plus-sense RNA, ca. 5.6 kb in length, containing six open reading frames (ORFs), a short 50 nucleotide (nt) untranslated region (UTR) at the 5′, a 30 nt UTR at the 3′ without either tRNA-like or poly(A) structure, and an intergenic non-coding region (NCR) between ORF2 and ORF3, about 200 nt in size (Stevens et al. 2005).
During a survey in June 2016, symptoms of chlorosis of young leaves and bright yellow discoloration of older leaves (Fig. 
1
), suggestive of poleroviruses, were observed in plants of pepper, spinach, muskmelon (
Cucumis melo
), cucumber (
Cucumis sativus
), lettuce, field bean (
Phaesolus vulgaris
), summer squash (
Cucurbita pepo subsp. pepo)
and broad bean in Kilis (Southeast Anatolia, Turkey). Leaf tissues from symptomatic plants were collected and stored in four volumes per gram of 0.03 M phosphate buffer (pH 7.0) supplemented with 0.2% (wt/vol) diethyldithiocarbamate at -20 °C until virus tests were performed. Poleroviruses were first detected by DAS-ELISA using a CABYV commercial kit (Sediag, France) since serological cross-reactions are known to occur (Dombrovsky et al.
2010
; Buzkan et al.
2013
). Samples were considered positive when their A
405
was higher than three times the mean A
405
of negative controls. A total of 29 samples from pepper, muskmelon, cucumber, squash and broad bean (out of 67) reacted positively to the CABYV antiserum in DAS-ELISA. To confirm the presence of poleroviruses, total RNA was extracted from leaf samples using Tri Reagent (Molecular Research Center, Cincinnati, USA) and used in RT-PCR using the primer pair Pol-G-F (5'-GAYTGCTCYGGYTTYGACTGGAG-3′) and Pol-G-R (5'-GATYTTATAYTCATGGTAGGCCTTGAG-3′) (Knierim et al.
2010
). PCR amplicons of the expected 1.1 kb size were custom-sequenced in both directions (Medsantek, Turkey). Alignments of the obtained sequences with additional sequences retrieved from GenBank using the BLASTN program (Altschul et al.
1997
) were performed using the ClustalW method (Thompson et al.
1994
). The phylogeny reconstruction was generated by the neighbor-joining method and displayed using the software MEGA v. 06 (Tamura et al.
2013
) with bootstrap value of 1000 replicates. Positions of the sequence alignment corresponding to gaps were removed, providing a 459 nt long alignment, corresponding to the 3′ of the RNA-dependent RNA polymerase (RdRp) coding region. BLASTN analysis of the obtained nucleotide sequences from pepper showed nucleotide identity with BWYV, those from muskmelon and cucumber with CABYV isolates. The nucleotide sequences of the polerovirus isolates from broad bean and squash plants showed nucleotide identity ranging between 90% and 97% with BWYV isolates from pepper plants of Turkey (GenBank Accession No. HE978259.1). The molecular species demarcation threshold within the genus
Polerovirus
is an amino acid (aa) sequence identity of any gene product of less than 90% (Domier
2012
).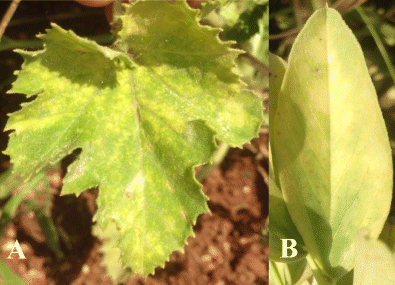 Polerovirus sequences from broad bean and squash were compared phylogenetically (Tamura et al. 2013) with other poleroviruses: (i) BWYV isolates from Beta vulgaris in the USA (NC_004756.1), China (EU636990.1) and Japan (AB903033.1); (ii) CABYV isolates from C. pepo in Spain (JF939814. 1), C. melo in South Korea (KR231946.1), Luffa cylindrica in Shangai (EF063707.1); (iii) turnip yellows virus (TuYV) from Nicotiana tabacum in China (KR706247.1); (iv) brassica yellows virus (BrYV) from Brassica rapa in South Korea (KF923236.1).
Three clustering patterns were observed in the phylogenetic tree (Fig. 
2
). Squash and broad bean BWYV-like isolates grouped together with a Turkish BWYV isolate from pepper and other sugar beet BWYV isolates from the USA, China and Japan. The nucleotide sequence of the Turkish BWYV-broad bean and squash isolates was identical to that of the Turkish BWYV-pepper isolate. The amino acid sequence of BWYV-broad bean and squash isolates was 81 to 97% identical to that of the Turkish BWYV-pepper isolate, while the BWYV-sugar beet isolate from the USA was closely related to Turkish BWYV-isolates from pepper, broad bean and squash. The genetic diversity among BWYV isolates should be confirmed by sequencing a larger part of the genome. The nucleotide sequences of Chinese and Japanese BWYV sugar beet isolates were slightly different from those of the Turkish BWYV isolates from pepper, broad bean and squash. BWYV isolates were distinct from CABYV isolates that grouped into the second cluster. In the phylogenetic tree BWYV isolates grouped according to their geographical origin rather than the host. As expected, TuYV (KR706247) and BrYV (KF923236) formed another group. To our knowledge, this is the first report of BWYV in broad bean and squash plants in Turkey.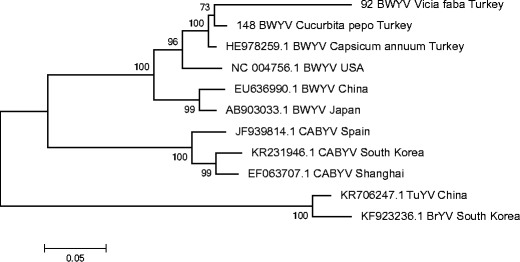 Notes
Acknowledgements
Authors would like to thank to Prof. G.P. Martelli for his review and valuable comments on this manuscript. This work was supported by the Scientific and Technological Research Council of Turkey (TUBITAK) (Project No: 113 O 423).
Copyright information
© Società Italiana di Patologia Vegetale (S.I.Pa.V.) 2018