Broadband optical limiting and nonlinear optical graphene oxide co-polymerization Ormosil glasses
Abstract
A class of graphene oxide (GO) Ormosil glasses with excellent nonlinear optical properties were made with sol-gel method. The as-prepared GO Ormosil glasses were highly transparent in visible and near-infrared region, due to the uniform dispersion of modified GO in the matrix. These Ormosil glasses have a broadband optical limiting effect from 532 to 1570 nm, with lower optical limiting onset energy density (FON). The nonlinear absorption coefficients of the Ormosil glass could reach 210.62, 647.96, and 43.10 cm GW−1 at 532, 1064, and 1570 nm. The optical limiting properties of the Ormosil glasses come from nonlinear absorption proved by Z-scan measurements. Therefore, the Ormosil glasses have potential applications in nonlinear optical areas.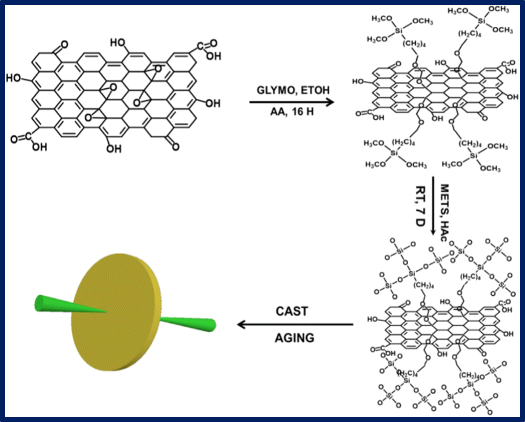 Keywords
Graphene oxides 
Modification 
Ormosil glass 
Broadband wavelength 
Optical limiting 
1

Introduction

Optical limiting is one kind of nonlinear optical phenomena, induced by nonlinear effects, such as nonlinear absorption, nonlinear refraction, nonlinear reflection, and nonlinear scattering [1, 2]. Since the invention of laser in 1960, optical limiting has been proposed to be used on the laser protection aspects for the past decades. Various kinds of materials have been used as optical limiters, including semiconductors [3], metal clusters [4], organic conjugated polymers [5, 6], and carbon nano materials [7, 8]. Among these optical limiting materials, graphene and its derived materials are appropriate candidates for nonlinear optical limiting due to their nonlinear optical properties and excellent thermal conductivity [9, 10, 11, 12].

Although graphene oxide (GO) liquid dispersions have fast response and optical limiting performance against laser irritation, they tend to aggregate under high concentration, which may cause non-uniformity and invalidation. Therefore, researchers have paid great efforts on how to make GOs into solid hybrid materials to overcome the shortages of their dispersion. The polymer/GO solid-state materials have been fabricated and their physical properties are investigated [13]. The polymer matrices include polyamine-ester [14], poly-imide [15], and epoxy resins [16, 17, 18]. These composites also have high transmittance and lower limiting thresholds. Furthermore, the hybrid process has proved that the graphene or graphene oxide could be encapsulated or composited.

Since sol-gel process can entrap various organic and inorganic functional materials [19], it has drawn the attentions of researchers to fabricate GOs solid materials because of simple synthesis procedure and mild synthesis condition [20, 21, 22]. Sol-gel-derived organic modified silicated (Ormosil) glasses exhibited superior physical rigidity, chemical inertness, and long-term stability [23]. In previous reports, Zheng et al. made the gold nano-particles/GO into Ormosil glasses by physical mixture of silane sol-gel and gold nano-particles/GO composites and found these glasses have nonlinear absorption and scattering effects under a 532 nm laser [21]. Zhan prepared GO Ormosil glasses at 0.03% by mixing GO with silane sol and found that they have nonlinear absorption and scattering under nanosecond and picosecond pulse lasers [24, 25]. These works have obviously confirmed that graphene or GOs could be composited into sol-gel matrix by physical mixture. Nevertheless, there still exist challenges, such as the lower bonding energy and small doping level. To overcome these shortages, researchers firstly modified the object materials with some special groups, like amino and carboxyl groups. Then, the functionalized materials were co-polymerized with host matrix to fabricate hybrid devices. By this way, researchers can change the physical interaction between functional materials and matrices into chemical bonds, improving the doping level of functional materials and thermal stability of the composite materials [26]. Niu and Xu prepared graphene or GO Ormosil glasses by using the amido silane, 3-aminopropyltriethoxysilane (APTS) as chemical bond bridge to connect silane sol matrices, and graphene or GOs [27, 28]. Above all, amido modification needs restrict reaction conditions and optical limiting wavelengths of Ormosil glass concentrates in 532~1064 nm. There still exist challenges on finding milder modification agent and extending working band to NIR.

Herein, γ-glycidoxypropyltrimethoxy silane, containing epoxy group, was chosen to modify GO and the modified GO (m-GO) was co-polymerized to fabricate Ormosil glasses. It is easier to modify GO using epoxy group silane than amido group at ambient temperature and the catalysis can be removed easily [29]. The Ormosil glasses have optical limiting performances in 532~1570 nm with lower optical limiting onset energy density (FON) and high laser damage energy density. Z-scan measurements confirm optical limiting properties of m-GO Ormosil glasses are derived from nonlinear absorption and their nonlinear absorption coefficients are as high as 210.62, 647.96, and 43.10 cm GW−1 corresponding to 532, 1064, and 1570 nm when doping ratio is 0.10%. Moreover, distribution of GO in matrix is uniform and doping mass ratio can reach 0.10% with average transmittance of 50% in 400–800 nm. Since there is no aggregation, the highest transmittance of Ormosil glasses could be over 80% at the concentration of 0.01%. Above all, the m-GO Ormosil glasses have a broad optical limiting wavelength band in 532~1570 nm with lower FON (< 100 mJ cm−2), high damaged energy density (> 10 J cm−2), and proper transmittance. Therefore, these Ormosil glasses have potential application in nonlinear optical area.
2

Experimental section
2.1

Materials

The methyltriethoxysilane (MTES) and the 3-glycidoxypropyltrimethoxy silane (GLYMO) were purchased from WD Silicone, China. Graphite and aluminum acetylacetonate (AA) were from the Sino-pharm Chemical Reagent and B&JK Chemical Reagent, respectively. Sulphuric acid (H2SO4), potassium permanganate (KMnO4), sodium nitrate (NaNO3), ethanol, isopropanol (IPA), and acetic acid (HAc) were all from Beijing Chemical Corp, Beijing, China. All the chemicals were used without further treatment.
2.2

Preparation of modified GO Ormosil glasses

GOs were fabricated by Hummers' method as followings: 2 g graphite powder and 1 g NaNO3 were ball-milled uniformly and transferred into a 500 mL flask. Then, 70 mL H2SO4 was added into the flask and stirred well. 3 g KMnO4 was gradually added with constant stirring with an ice bath. After 2 h, the reaction mixture was diluted by deionized water and then H2O2 (5%) was added into the flask until color of the mixture turns into bright yellow. The product is centrifuged and washed by HCl solution and H2O. Finally, the dispersion was centrifuged at 1000 rpm to collect the supernatant.

GO was modified by GLYMO with AA as described in the following, called m-GO. Firstly, certain amount of GO was added into H2O/IPA and ultra-sonicated for 1 h. Secondly, GLYMO (mass ratio to GO, 30%) was added with continuous stirring. Finally, AA was added and the reaction lasted for 16 h.

GO Ormosil glasses were fabricated by copolymerization of MTES sol-gel matrix and m-GO. MTES was pre-polymerized in ethanol and water (pH = 2.5) for 12 h, with a molar ratio 1:3:3 responding to silane, ethanol, and water. Then, water and ethanol in the mixture were distilled out. As followed, a certain amount of m-GO was introduced into the mixture and the weight ratio of GO and GLYMO varies from 0.01 to 0.1%. The final mixture was stirred for 7 days and finally cast into the molds at room temperature and the m-GO Ormosil glasses could be lifted out from the molds after 2 weeks.
2.3

Characterization

Scanning electron microscope (SEM) images and transmission electron microscope (TEM) images were obtained in an S-4800 at 10 kV and JEM-2100F at 220 kV, respectively. GO and m-GO structures were imaged in the SEM without metal coating. The atom force microscopy (AFM) images were obtained by NanoBrucker and the liquid sample was dropped onto a mica plate. The ultraviolet-visible (UV-vis) spectra of GO aqueous dispersion and m-GO Ormosil glasses were acquired on a U-3000 Spectrophotometer. The Fourier transportation infrared spectra (FTIR) of GO and m-GO were obtained from an Excalibur 3100 by KBr parallel method. The nonlinear optical properties of the Ormosil glasses were investigated by Nd:YAG laser while the measurement setup was shown in supporting information Note 2 and Note 3.
3

Results and discussions

Furthermore, the peaks Ar–OH vibration at 1154 cm−1, C=C–O–R stretches at 1220 cm−1, and C=C vibration at 1630 cm−1 [28, 34] indicate there exists conjugated structure, which is consistent with UV-vis spectra analysis and will improve nonlinear optical limiting properties [35]. As GO reacts with GLYMO, the epoxy C–O–C peak disappears and Si–C (1195 cm−1) and Si–O–C (1125 cm−1) appear in spectrum, indicating GO is successfully modified by epoxy silane.

The optical limiting mechanisms of graphene or graphene oxide often concentrate on reverse saturable absorption (RSA) and two-photon absorption (TPA) as reported previously [44, 45, 46]. For the nonlinear optical effects, the materials often possess a large absorption cross section or a large π-conjugated system. The UV-vis spectrum, TEM and AFM images, and FTIR spectrum confirm that the samples have the conjugated structure with π electron, which is helpful to the nonlinear optical properties.
4

Conclusions

GOs are made by Hummers' method and modified by GLYMO silane. A class of m-GO Ormosil glasses are made by co-polymerization of m-GO and silane matrix. These glasses exhibit nonlinear absorption properties against from 532 to 1570 nm lasers and their NLA coefficients are 210.62, 647.96, and 43.10 cm GW−1 at 532, 1064, and 1570 nm when the m-GO doping mass ratio reaches 0.10% versus to the matrix. As a result, the Ormosil glasses have strong optical limiting behaviour in a range of 532~1570 nm. In summary, the m-GO Ormosil glasses exhibit excellent optical limiting properties in wavelength band, FON, and damaged energy density, which may lead applications on nonlinear optical area.
Notes
Acknowledgements
The authors would like to thank Dr. X. Gan in HKPU for help of Graphic Abstract.
Author contribution
S. Zhou and Z. Xie initialized and designed the research. X. Sun conducted the preparation of all the samples, characterizations, nonlinear experiments, and analysis of the data and wrote the manuscript. X. Hu, J. Sun, and P. Chen took part in the discussions of all the experiments.
Funding information
This work was funded by National Natural Science Foundation of China (21702214).
Compliance with ethical standards
Conflict of interest
The authors declare that they have no competing interests.
Copyright information
© Springer International Publishing AG, part of Springer Nature 2018