Robust Modeling in Cognitive Science
Abstract
In an attempt to increase the reliability of empirical findings, psychological scientists have recently proposed a number of changes in the practice of experimental psychology. Most current reform efforts have focused on the analysis of data and the reporting of findings for empirical studies. However, a large contingent of psychologists build models that explain psychological processes and test psychological theories using formal psychological models. Some, but not all, recommendations borne out of the broader reform movement bear upon the practice of behavioral or cognitive modeling. In this article, we consider which aspects of the current reform movement are relevant to psychological modelers, and we propose a number of techniques and practices aimed at making psychological modeling more transparent, trusted, and robust.
Keywords
Robustness 
Cognitive Modeling 
Open Science 
Reproducibility 
"You never want a serious crisis to go to waste … This crisis provides the opportunity for us to do things that you could not before" (Rahm Emmanuel, 1998).
The field of psychology has recently questioned whether its findings are as reliable as they need to be to build a useful and cumulative body of knowledge. The growing lack of trust is sometimes called a "crisis of confidence" (Pashler and Wagenmakers
2012
, p. 528). A retrospective by Spellman (
2015
) identified a set of five causes for this crisis. A first rare but worrying culprit has been the manipulation and fabrication of empirical data (Simonsohn
2013
; Wagenmakers
2012
). A second more common problem has been the failure of established empirical findings to replicate in careful and systematic attempts (Alogna et al.
2014
; Klein et al.
2014
; Shanks et al.
2013
; Open Science Collaboration
2012
). A third problem involves increasing recognition of the inherent but undisclosed flexibility in data collection and analysis, sometimes called "researcher degrees of freedom" (Simmons et al.
2011
). A closely related fourth problem is the possibility of selective reporting and hypothesizing after empirical results are known, sometimes called "HARKing" (see Bones
2012
; Kerr
1998
; and Fig. 
1
). Finally, Spellman (
2015
) noted the difficulties of obtaining other researchers' data for reanalysis, verification, and conducting meta-analyses (Vanpaemel et al.
2015
; Wicherts et al.
2006
).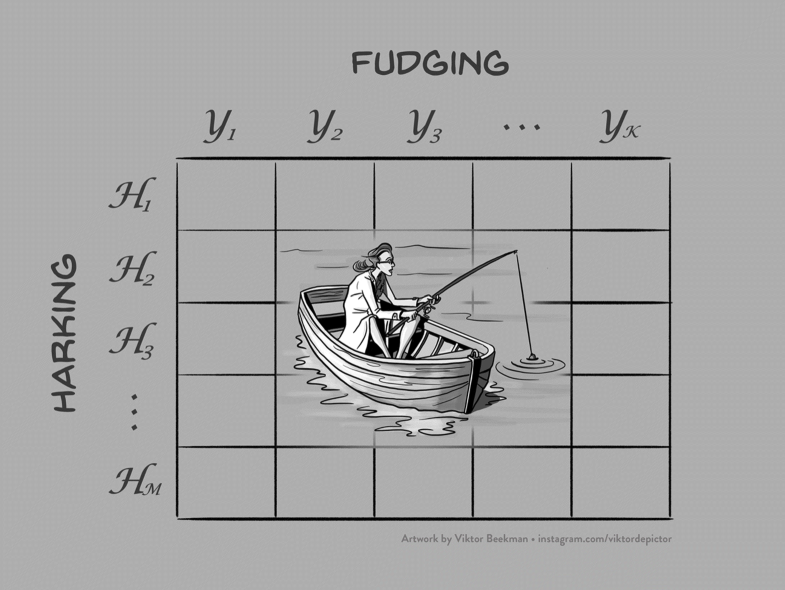 In reaction to the crisis in confidence, there has been an effort to identify and enforce good practices for analysis and reporting of experimental data. The practice of pre-specifying data collection and analysis plans, long required in clinical trials, has been proposed in psychology to limit both HARKing and undisclosed flexibility. This practice has become collectively known in psychology as preregistration (e.g., Matzke et al. 2015; Munafò et al. 2017; Nosek et al. 2018; Wagenmakers et al. 2012). A new publication format known as registered reports has been adopted by more than 100 psychology journals as a way to incorporate these ideas directly into the research and publication pipeline1 (Chambers 2013; Chambers et al. 2015; Hardwicke and Ioannidis 2018). Psychologists have also recognized the importance of replication as a tool for verifying scientific claims (Open Science Collaboration 2012, 2015), and vigorously debated what role replication plays in a healthy science (see Zwaan et al. 2018, and its associated commentaries). In addition, psychologists have pushed for open data, open code, and open materials to allow for better verification and reanalysis of study results. For example, the transparency and openness promotion (TOP) guidelines (Miguel et al. 2014; Nosek et al. 2015) is a collection of eight key open science practices structured into three levels of increasing stringency. The TOP guidelines have been implemented by more than 5,000 scientific organizations and more than 1,000 journals spanning many scientific disciplines.
Notes
Acknowledgments
This article is the product of the Workshop on Robust Social Science held in St. Petersburg, FL, in June 2018.
Funding Information
The workshop was made possible by generous funding from the National Science Foundation (grant no. BCS-1754205) to Joachim Vandekerckhove and Michael Lee of the University of California, Irvine. Alexander Etz was supported by NSF GRFP no. DGE-1321846. Berna Devezer was supported by NIGMS of the NIH under award no. P20GM104420. Dora Matzke was supported by a Veni grant (no. 451-15-010) from the Netherlands Organization of Scientific Research (NWO). Jennifer Trueblood was supported by NSF no. SES-1556325.
Compliance with Ethical Standards
Disclaimer
The content is solely the responsibility of the authors and does not necessarily represent the official views of the National Institutes of Health or the National Science Foundation and Netherlands Organization of Scientific Research.
Copyright information
© Society for Mathematical Psychology 2019