Abstract
The study of land suitability (LS) for agriculture is one of the most competent mechanisms that show concern for cultivable land and forecasts the supply of sustainable production in semi-arid areas. In view of this, the purpose of the present study is to suggest a conceptual framework for the analysis of LS that would greatly enhance green cover to tackle environmental challenges caused by groundwater recharge (water resources). In semi-arid areas, physiographic components play a fundamental role in agriculture. LULC, NDVI, TGSI, soil, geology, geomorphology, slope, DD, LD, and availability of nutrients affect agricultural production. Analysis of LS may lead to formulating strategies for improving agricultural productivity. A multi-criterion decision-making methodology focused on GIS using the Landsat 8 (OLI) dataset was used to evaluate LS maps in semi-arid regions for agriculture. For LS analysis, the structure and recommendations of the Food and Agriculture Organization were followed and it was found that 23.79% of the land is "highly suitable", 20.17% of the land is "moderately suitable", while approximately 28.28% of the total area is calculated to be "marginally suitable" for forestation, approximately 23.20% is "not suitable" for forestation, and water resources or water bodies are 4.53%. The study's methods, techniques, and conclusions can be useful in determining the LS for agriculture in semi-arid regions. The multi-criterion decision-making tool AHP incorporated with GIS introduces a new approach and the findings of the study may be useful for the identification of suitable agricultural land in any part of the world.
Access options
Buy single article
Instant access to the full article PDF.
USD 39.95
Price includes VAT (USA)
Tax calculation will be finalised during checkout.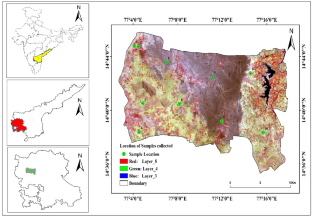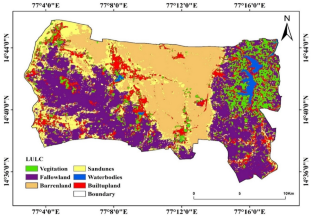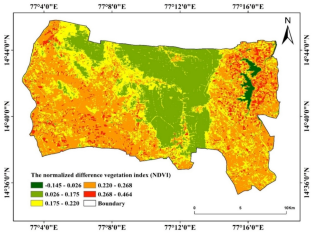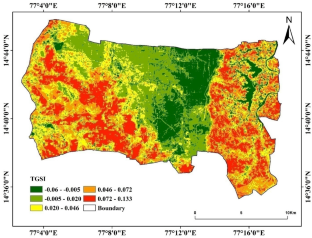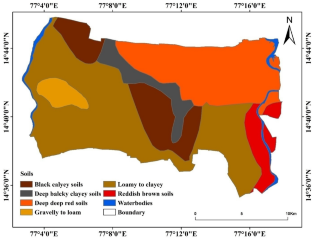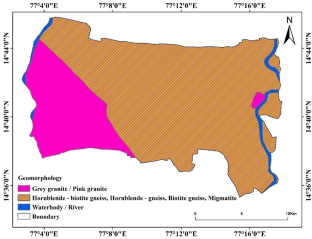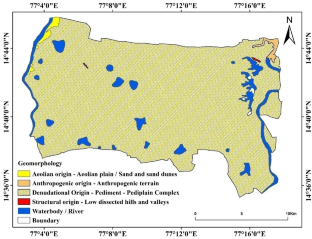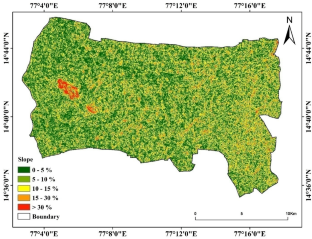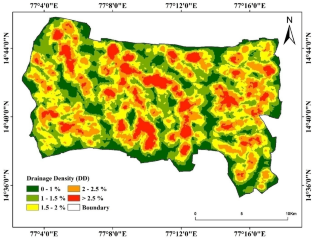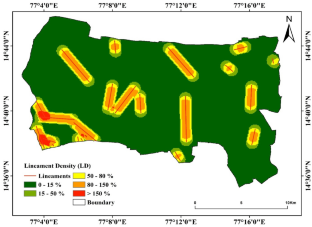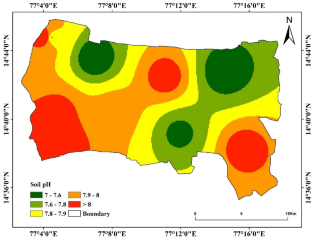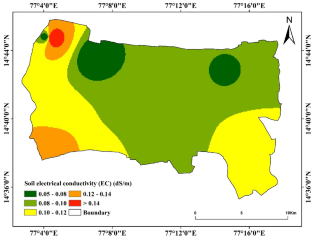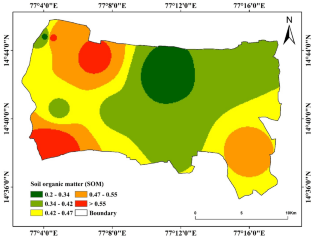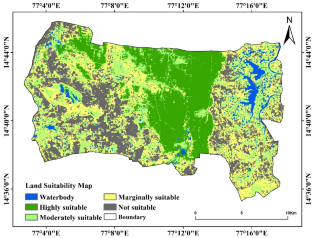 Availability of data and materials
References
Adgo, E., Teshome, A., & Mati, B. (2013). Impacts of long-term soil and water conservation on agricultural productivity: The case of Anjenie watershed, Ethiopia. Agricultural Water Management, 117, 55–61.

Adimassu, Z., Langan, S., & Johnston, R. (2016). Understanding determinants of farmers' investments in sustainable land management practices in Ethiopia: Review and synthesis. Environment, Development and Sustainability, 18(4), 1005–1023.

Angelopoulou, T., Tziolas, N., Balafoutis, A., Zalidis, G., & Bochtis, D. (2019). Remote sensing techniques for soil organic carbon estimation: A review. Remote Sensing, 11(6), 676.

Bhagat, V. S. (2009). Use of Landsat ETM+ data for detection of potential areas for afforestation. International Journal of Remote Sensing, 30(10), 2607–2617.

Bhagat, V. S. (2012). Use of remote sensing techniques for robust digital change detection of land: A review. Recent Patents on Space Technology, 2(2), 123–144.

Bhagat, V. (2014a). Agriculture water balance of micro-watershed using GIS techniques. Journal of Earth Science Research, 2(1), 1.

Bhagat, V. (2014). Use of IRS P6 LISS-IV data for land suitability analysis for cashew plantation in hilly zone. Asian Journal of Geoinformatics, 14(3).

Bhunia, G. S., Kumar Shit, P., & Pourghasemi, H. R. (2019). Soil organic carbon mapping using remote sensing techniques and multivariate regression model. Geocarto International, 34(2), 215–226.

Bogan, B. W., & Sullivan, W. R. (2003). Physicochemical soil parameters affecting sequestration and mycobacterial biodegradation of polycyclic aromatic hydrocarbons in soil. Chemosphere, 52(10), 1717–1726.

Champ, B. R., & Dyte, C. E. (1976). Report of the FAO global survey of pesticide susceptibility of stored grain pests. FAO.

Chandio, I. A., Matori, A. N., Lawal, D. U., & Sabri, S. (2011). GIS-based land suitability analysis using AHP for public parks planning in Larkana City. Modern Applied Science, 5(4), 177.

Chandio, I. A., Matori, A. N., Yusof, K., Talpur, M. H., & Aminu, M. (2014). GIS-basedland suitability analysis of sustainable hillside development. Procedia Engineering, 77, 87–94.

Dehni, A., & Lounis, M. (2012). Remote sensing techniques for salt affected soil mapping: Application to the Oran region of Algeria. Procedia Engineering, 33, 188–198.

Dumanski, J. (1997). Criteria and indicators for land quality and sustainable land management. ITC Journal, 3(4), 216–222.

FAO. (2006). Fertilizer and plant nutrition bulletin 16. Food and Agriculture Organization of the United Nations, Rome, Italy.

FAO, WFP and IFAD. (2012). The State of food insecurity in the World 2012. Economic growth is necessary but not sufficient to accelerate reduction of hunger and malnutrition. Rome, Italy.

Faulkner, S. P., Patrick, W. H., Jr., & Gambrell, R. P. (1989). Field techniques for measuring wetland soil parameters. Soil Science Society of America Journal, 53(3), 883–890.

Filip, Z. (2002). International approach to assessing soil quality by ecologically-related biological parameters. Agriculture, Ecosystems and Environment, 88(2), 169–174.

Gaikwad, R., & Bhagat, V. (2017). Multi-criteria watershed prioritization of Kas Basin in Maharashtra India: AHP and influence approaches. Hydrospatial Analysis, 1(1), 41–61.

Jafari, S., & Zaredar, N. (2010). Land suitability analysis using multi attribute decision making approach. International Journal of Environmental Science and Development, 1(5), 441.

Kadam, A., Karnewar, A. S., Umrikar, B., & Sankhua, R. N. (2019). Hydrological response-based watershed prioritization in semiarid, basaltic region of western India using frequency ratio, fuzzy logic and AHP method. Environment, Development and Sustainability, 21(4), 1809–1833.

Kadam, A. K., Umrikar, B. N., & Sankhua, R. N. (2018). Assessment of soil loss using revised universal soil loss equation (RUSLE): A remote sensing and GIS approach. Remote Sensing of Land, 2(1), 65–75.

Kumar, B. P., Babu, K. R., Rajasekhar, M., & Ramachandra, M. (2020a). Identification of land degradation hotspots in semiarid region of Anantapur district, Southern India, using geospatial modeling approaches. Modeling Earth Systems and Environment, 6(3), 1841–1852.

Kumar, B. P., Babu, K. R., Ramachandra, M., Krupavathi, C., Swamy, B. N., Sreenivasulu, Y., & Rajasekhar, M. (2020b). Data on identification of Desertified regions in Anantapur district, Southern India by NDVI approach using remote sensing and GIS. Data in Brief, 30, 105560.

Kumar, B. P., Babu, K. R., Sree, P. P., Rajasekhar, M., & Ramachandra, M. (2021b). A New Approach for Environmental Modelling of LULC Changes in Semiarid Regions of Anantapur District, Andhra Pradesh, India Using Geospatial Techniques. Nature Environment and Pollution Technology, 20(2), 875–880.

Liu, Q., Liu, G., & Huang, C. (2018). Monitoring desertification processes in Mongolian Plateau using MODIS tasseled cap transformation and TGSI time series. Journal of Arid Land, 10(1), 12–26.

Mendas, A., & Delali, A. (2012). Integration of Multi Criteria Decision Analysis in GIS to develop land suitability for agriculture: Application to durum wheat cultivation in the region of Mleta in Algeria. Computers and Electronics in Agriculture, 83, 117–126.

Miller, W., Collins, M. G., Steiner, F. R., & Cook, E. (1998). An approach for greenway suitability analysis. Landscape and Urban Planning, 42(2–4), 91–105.

NRSC and Ministry of rural development. (2010). wastelands atlas of India, 2010, Hyderabad: National remote Sensing Cater, dept. of Space Government of India.

Nyeko, M. (2012). GIS and multi-criteria decision analysis for land use resource planning.

Prakash, T. N. (2003, December). Land suitability analysis for agricultural crops: a fuzzy multicriteria decision making approach. ITC.

Rajasekhar, M., Gadhiraju, S. R., Kadam, A., & Bhagat, V. (2020). Identification of groundwater recharge-based potential rainwater harvesting sites for sustainable development of a semiarid region of southern India using geospatial, AHP, and SCS-CN approach. Arabian Journal of Geosciences, 13(1), 1–19.

Rajasekhar, M., Raju, G. S., Sreenivasulu, Y., & Raju, R. S. (2019b). Delineation of groundwater potential zones in semi-arid region of Jilledubanderu river basin, Anantapur District, Andhra Pradesh, India using fuzzy logic, AHP and integrated fuzzy-AHP approaches. HydroResearch, 2, 97–108.

Rajasekhar, M., Sudarsana Raju, G., Imran Basha, U., Siddi Raju, R., Pradeep Kumar, B., & Ramachandra, M. (2019a). Identification of suitable sites for artificial groundwater recharge structures in semi-arid region of Anantapur District: AHP approach. Hydrospatial Analysis, 3(1), 1–11.

Saaty, T. L. (1997). That is not the analytic hierarchy process: What the AHP is and what it is not. Journal of Multi-Criteria Decision Analysis, 6(6), 324–335.

Schwilch, G., Bestelmeyer, B., Bunning, S., Critchley, W., Herrick, J., Kellner, K., Winslow, M., et al. (2011). Experiences in monitoring and assessment of sustainable land management. Land Degradation & Development, 22(2), 214–225.

Smith, K. A., & Mullins, C. E. (1991). Soil analysis. In SMR 873 (p. 7).

Sonawane, K., & Bhagat, V. S. (2016). Improved change detection of forests using landsat TM and ETM data. Remote Sensing of Land, 1(1), 18–40.

Soyam, P. S., Safai, P. D., Mukherjee, S., Todekar, K., Bankar, S., Gurnule, D., Prabhakaran, T., et al. (2021). Black carbon aerosols over a semi-arid rain shadow location in Peninsular India: Temporal variability and sources. Journal of Earth System Science, 130(2), 1–14.

Sparks, D. L., Page, A. L., Helmke, P. A., & Loeppert, R. H. (Eds.). (2020). Methods of soil analysis, part 3: Chemical methods (Vol. 14). Wiley.

World Health Organization. (2018). The state of food security and nutrition in the world 2018: building climate resilience for food security and nutrition. Food & Agriculture Org.

Zolekar, R. B., & Bhagat, V. S. (2015). Multi-criteria land suitability analysis for agriculture in hilly zone: Remote sensing and GIS approach. Computers and Electronics in Agriculture, 118, 300–321.
Acknowledgements
The authors wish to thank all who assisted in conducting this work.
Funding
The first author B. Pradeep Kumar, greatly thankful to Department of Science and Technology (DST), Government of India, for financial support through Inspire programme (Sanction order No. DST/INSPIRE Fellowship/2017/IF170114). Also thankful to USGS for remote sensing data utilization, and Department of Geology, Yogi Vemana University for providing laboratories to carrying out my research work.
Ethics declarations
Conflict of interest
The authors declare that they have no known competing financial interests or personal relationships which have or could be perceived to have influenced the work reported in this article.
Ethics approval
Not applicable.
Consent for participate
Not applicable.
Consent for publication
Not applicable.
About this article
Cite this article
Badapalli, P.K., Kottala, R.B., Madiga, R. et al. Land suitability analysis and water resources for agriculture in semi-arid regions of Andhra Pradesh, South India using remote sensing and GIS techniques. Int J Energ Water Res (2021). https://doi.org/10.1007/s42108-021-00151-3
Received:

Accepted:

Published:
Keywords
LULC

NDVI

TGSI

Land suitability

Water resources

Remote sensing and GIS