Abstract
Polymer coated urea (PCU) was evaluated for its efficiency under two rice establishment methods [transplanting method (TP) and direct-seeded rice (DSR)] during two crop seasons (rabi, dry season and kharif, wet season). The results indicated that split application of PCU @ 75 and 100% recommended dose of nitrogen (RDN) were at par and resulted in significantly higher yields (46 and 49%) than normal urea in splits, respectively, during rabi 2015–2016 under transplanting method. During kharif-2016 under transplanting method, grain yield was maximum with 100% RDN from PCU single dose (5.13 t ha−1) which was on par to 100% PCU in 3 splits (4.62 t ha−1) and 75% PCU (4.80 t ha−1) as a basal dose. In DSR, significantly higher grain yield was recorded in 100% RDN supplied through PCU as basal dose (6.16 t ha−1). The maximum nitrogen use efficiency indices were observed in 75% PCU (split) followed by 100% PCU (Split) in rabi-2015–2016 but in the case of kharif-2016, basal application of 100% PCU found to be superior followed by 75% PCU. Thus, PCU proved its efficiency by saving 25% of N in transplanted rice in both wet and dry seasons and by considerable labour saving due to single basal application in case of transplanting as well as DSR in the wet season.
Access options
Buy single article
Instant access to the full article PDF.
US$ 39.95
Tax calculation will be finalised during checkout.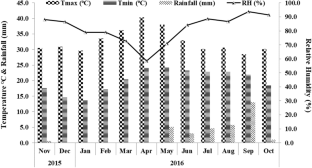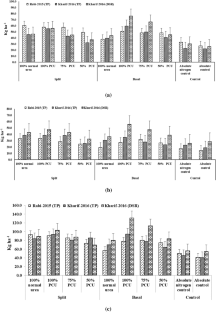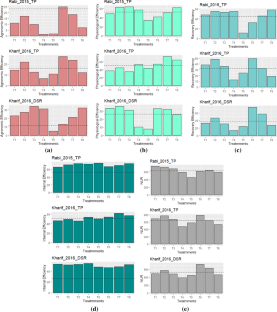 References
Agricultural Statistics at a Glance (2018) Government of India Ministry of Agriculture & Farmers Welfare Department of Agriculture, Cooperation & Farmers Welfare Directorate of Economics and Statistics, Government of India: New Delhi, India, pp. 87–89.

Azeem, B., Kushaari, K., Man, Z. B., Basit, A., Thanh, T. H., et al. (2014). Review on materials & methods to produce controlled release coated urea fertilizer. Journal of Controlled Release, 181, 11–21.

Bhatt, R., & Singh, M. (2021). Comparative efficiency of polymer-coated urea for lowland rice in semi-arid tropics. Communications in Soil Science and Plant Analysis. https://doi.org/10.1080/00103624.2021.1925689

Blackshaw, R. E., Hao, X., Brandt, R. N., Clayton, G. W., Harker, K. N., Donovan, O., Johnson, E. N., & Vera, C. L. (2011). Canola response to ESN and urea in a four-year no-till cropping system. Agronomy Journal, 103, 92–99.

Cho, J. Y. (2003). Seasonal runoff estimation of N and P in a paddy field of central Korea. Nutrient Cycling in Agroecosystems, 65, 43–52.

Choudhury, T. M. A., & Khanif, Y. M. (2001). Evaluation of effects of nitrogen and magnesium fertilization on rice yield and fertilizer nitrogen efficiency using 15N tracer technique. Journal of Plant Nutrition, 24, 855–871.

Fageria, N. K. (2007). Yield physiology of rice. Journal of Plant Nutrition, 30, 843–879.

FAOSTAT (2021) Production Quantities of Rice, Paddy by Country. Available online: http://www.fao.org/faostat/en/#data/QC/visualize.

Fashola, O. O., Hayashi, K., & Wakatsuki, T. (2002). Effect of water management and polyolefin coated urea on growth and nitrogen uptake of indica rice. Journal of Plant Nutrition, 25, 2173–2190.

Fujinuma, R., Balster, N. J., & Norman, J. M. (2009). An improved model of nitrogen release for surface-applied controlled-release fertilizer. Soil Science Society of America Journal, 73, 2043–2050.

Golden, B., Slaton, N., Norman, R., Gbur, E., & Wilson, C. (2011). Nitrogen release from environmentally smart nitrogen fertilizer as influenced by soil series, temperature, moisture, and incubation method. Communications in Soil Science and Plant Analysis, 42(15), 1809–1824.

Gomez, K. A., & Gomez, A. A. (1984). Statistical Procedure for Agricultural Research. John Willy and Sons.

Guo, Z., Han, J., Li, J., Xu, Y., & Wang, X. (2019). Effects of long-term fertilization on soil organic carbon mineralization and microbial community structure. PLoS ONE, 14(4), e0216006.

Hayat, K. & Khan, A. Z. (2013). Influence of super and agrotain coated Urea on growth, yield and quality of Wheat. M.Sc (H) thesis Department of Agronomy, University of Agriculture, Peshawar, Pakistan.

Inubushi, K., Acquaye, S., Tsukagoshi, S., Shibahara, F., & Komatsu, S. (2002). Effects of controlled-release coated urea (CRCU) on soil microbial biomass N in paddy fields examined by the 15N tracer technique. Nutrient Cycling in Agroecosystems, 63, 291–300.

Jackson, M. L. (1967). Soil Chemical Analysis (p. 498). Prentice Hall of India Pvt. Ltd.,.

Jat, R. A., Wani, S. P., Sahrawat, K. L., Singh, P., Dhaka, S. R., & Dhaka, B. L. (2012). Recent approaches in nitrogen management for sustainable agricultural production and eco-safety. Archives in Agronomy and Soil Science, 58, 1033–1060.

Kiran, J. K., Khanif, Y. M., Amminuddin, H., & Anuar, A. R. (2010). Effects of controlled release urea on the yield and nitrogen nutrition of flooded rice. Communications in Soil Science and Plant Analysis, 41, 811–819.

Mesquita, G. L., Zambrosi, F. C. B., & Cantarella, H. (2017). A practical approach for assessing the efficiency of coated urea on controlling nitrogen availability. Bragantia, 76(2), 311–317.

Morgan, K. T., Cushman, K. E., & Sato, S. (2009). Release mechanisms for slow- and controlled release fertilizers and strategies for their use in vegetable production. Horticulture Technology, 19, 10–12.

Nash, P. R., Nelson, K. A., & Motavalli, P. P. (2013). Corn yield response to timing of strip-tillage and nitrogen source applications. Agronomy Journal, 105(623), 630.

Olsen, S. R., Cole, C. V., Watanabe, F. S., & Dean, L. A. (1954). Estimation of Available Phosphorus in Soils by Extraction with Sodium Bicarbonate. U.S. Government Printing Office.

Patil, M. D., Das, B. S., Barak, E., Bhadoria, P. B. S., & Polak, A. (2010). Performance of polymer-coated urea in transplanted rice: Effect of mixing ratio and water input on nitrogen use efficiency. Paddy Water Environment, 8, 189–198.

Peng, S., García, F. V., Laza, R. C., & Cassman, K. G. (1993). Adjustment for specific leaf weight improves chlorophyll meter's estimate of rice leaf nitrogen concentration. Agronomy Journal, 85, 987–990.

Samonte, S. O. P., Wilson, L. T., Medley, J. C., Pinson, S. R. M., Clung, A. M., & Lales, J. S. (2006). Nitrogen utilization efficiency: Relationships with grain yield, grain protein, and yield-related traits in rice. Agronomy Journal, 98, 168–176.

Shivay, Y. S., & Prasad, R. (2016). Effect of nitrogen levels and coated urea on growth, yields and nitrogen use efficiency in aromatic rice. Journal of Plant Nutrition, 39(6), 875–882.

Shoji, S., Delgado, J., Mosier, A., & Miura, Y. (2001). Use of controlled release fertilizers and nitrification inhibitors to increase nitrogen use efficiency and to conserve air and water quality. Communications in Soil Science and Plant Analysis, 32(7), 1051–1070.

Subbiah, B. V., & Asija, G. L. (1956). A rapid procedure for the determination of available nitrogen in soil. Current Science, 25, 259–260.

Surekha, K., Mahender Kumar, R., Nagendra, V., Sailaja, N., & Satyanarayana, T. (2016). 4R nitrogen management for sustainable rice production. Better Crops South Asia, 2, 16–19.

Surekha, K., Nagendra, V., Sailaja, N., Neeraja, C. N. N., Subrahmanyam, D., & Voleti, S. R. (2018). Genotypic variation in rice (Oryza sativa L.) for nitrogen use efficiency under optimal and sub optimal nitrogen levels. Journal of Rice Research, 11(2), 54–62.

Tandon, H. L.S. (1998). Methods of Analysis of Soils, Plants, Water and Fertilizers. Fertilizer Development and Consultation Organization. p:143.

Wang, S., Zhao, X., & Xing, G. (2015). Improving grain yield and reducing N loss using polymer-coated urea in southeast China. Agronomy for Sustainable Development, 35, 1103–1115.

Watkins, K. B., Hignight, J. A., Norman, R. J., Roberts, T. L., Slaton, N. A., Wilson, C. E., & Frizzell, D. L. (2010). Comparison of economic optimum nitrogen rates for rice in arkansas. Agronomy Journal, 102, 1099–1108.

Xu, J., Peng, S., Yang, S., & Wang, W. (2012). Ammonia volatilization losses from a rice paddy with different irrigation and nitrogen managements. Agriculture Water Management, 104, 184–192.

Yadav, R. L., Padre, A. T., Pandey, P. S., & Sharma, S. K. (2004). Calibrating the leaf colour chart for nitrogen management in different genotypes of rice and wheat in a system. Agronomy Journal, 98, 1606–1621.

Yang, X., Geng, J., Li, C., Zhang, M., Chen, B., Tian, X., Zheng, W., Liu, Z., & Wang, C. (2016). Combined application of polymer coated potassium chloride and urea improved fertilizer use efficiencies, yield and leaf photosynthesis of cotton on saline soil. Field Crops Research, 197, 63–73.

Yang, Y. C., Zhang, M., Li, Y., Fan, X. H., & Geng, Y. Q. (2012). Improving the quality of polymer coated urea with recycled plastic, proper additives, and large tablets. Journal of Agricultural Food Chemistry, 60, 11229–11237.

Yang, Y. C., Zhang, M., Zheng, L., Cheng, D. D., Liu, M., & Geng, Y. Q. (2011). Controlled release urea improved nitrogen use efficiency, yield, and quality of wheat. Agronomy Journal, 103(2), 479–485.

Yang, Y. C., Zhang, M., Zheng, L., Cheng, D. D., Liu, M., & Geng, Y. Q. (2013). Controlled release urea for rice production and its environmental implications. Journal of Plant Nutrition, 36, 781–794.

Ye, Y. S., Liang, X. Q., Chen, Y. X., Liu, J., Gu, J. T., Guo, R., et al. (2013). Alternate wetting and drying irrigation and controlled-release nitrogen fertilizer in late-season rice. effects on dry matter accumulation, yield, water and nitrogen use. Field Crops Research, 144, 212–224. https://doi.org/10.1016/j.fcr.2012.12.003

Yu, H., Tremblay, N., Wang, Z., Bélec, C., Yang, G., & Grant, C. (2010). Evaluation of nitrogen sources and application methods for nitrogen-rich reference plot establishment in corn. Agronomy Journal, 102, 23–30. https://doi.org/10.2134/agronj2009.0102

Zhang, S. G., Shen, T. L., Yang, Y. C., Li, Y. C., Wan, Y. S., Zhang, M., Tang, Y. F., & Allen, S. C. (2018). Controlled-release urea reduced nitrogen leaching and improved nitrogen use efficiency and yield of direct-seeded rice. Journal of Environmental Management, 220, 191–197.

Zhou, T., Wang, Y., Huang, S., & Zhao, Y. (2018). Synthesis composite hydrogels from inorganic- organic hybrids based on left over rice for environment-friendly controlled release urea fertilizers. Science of the Total Environment, 615, 422–430.
Acknowledgements
The authors would like to thank the Gujarat State Fertiliser Corporation (GSFC), Gujarat, India for their material and the Director, ICAR-Indian Institute of Rice Research, Hyderabad, India for support during the trial period in the institute farm.
About this article
Cite this article
Kuchi, S., Rajendran, G. & Manasa, V. Improving Yield and Nitrogen Use Efficiency Using Polymer Coated Urea in Two Crop Establishment Methods of Rice (Oryza sativa L.) Under Vertisol (Typic Pellustert). Int. J. Plant Prod. (2021). https://doi.org/10.1007/s42106-021-00164-2
Received:

Accepted:

Published:
Keywords
Polymer coated urea

Yield

Nitrogen uptake

Nitrogen use efficiency

Transplanted and direct seeded rice