Abstract
Dwindling water resources appear to become a great challenge threatening the future of sustainable rice cultivation as it consumes substantial amount of water available in agricultural farming par se. Ostensibly being a water-guzzling crop, aerobic rice could be a viable option requiring less irrigation water than conventional farming, instead. However, grain yield penalty while grown continuously is becoming a strong demerit for sustainable aerobic rice cultivation. A better understanding of the causes and concerns vis-à-vis alleviation mechanism suggested a long term field experiment studying rotational sequences with different non-rice crops in a system perspective mode. Thus, the current field study was conducted for consecutive five years exploring the potentiality of aerobic rice based crop rotations with maize, ground nut and green gram in view of promoting soil health resiliency for arresting grain yield decline during 2013–14 to 2017–18. The study revealed a perceptible depletion in soil quality parameters at the end of last year/5th year accounting around 2.70% soil organic carbon, 1.70% available nitrogen, 1.60% available phosphorus, 1.39% available potassium, 2.75% iron and 1.35% zinc as compared those in the 1st year of the study. Even the situations also aggravated root nematode populations, especially rice root knot (Meloidogyne graminicola) and root rot nematode (Hirschmanniella oryzae) that inhibited usual root growth pronouncing less volume (26.50 cc plant−1) and density (0.54 g cc−1). As a result, drastic depression in usual growth and development of continuously grown aerobic rice caused more than 50% grain yield (2.04 t ha−1) decline at the 5th year compared to that (4.30 t ha−1) at the initial 1st year. However, no detrimental impacts were visualized on rice while grown in yearly rotation with non-rice crops; instead, grain yield increased significantly, especially in rotation with groundnut or green gram (4.40–4.46 t ha−1). Additionally, rice grain protein content (6.92–7.0%) also enhanced as compared that (6.36%) at pure aerobic rice stands. Thus, implication of this current study could have far reaching consequences ensuring aerobic rice cultivation sustainable in a rotational sequence with ground nut/green gram even under the apprehension of irrigation water deficiency.
Access options
Buy single article
Instant access to the full article PDF.
US$ 39.95
Tax calculation will be finalised during checkout.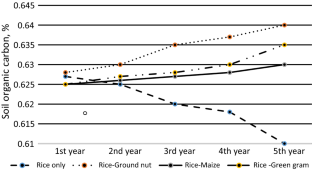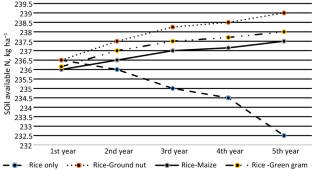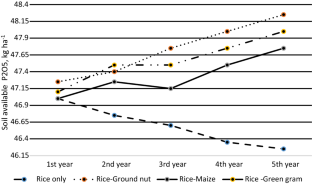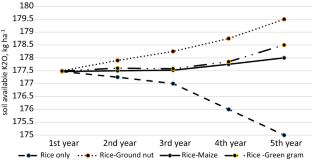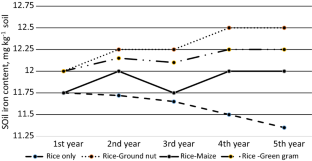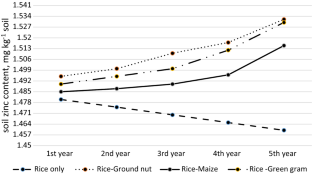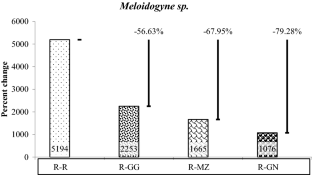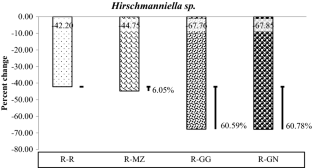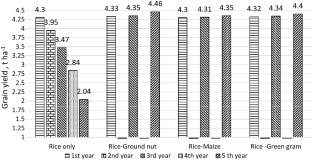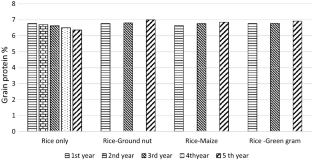 References
Alejo, L. A. (2021). Assessing the impacts of climate change on aerobic rice production using the DSSAT-CERES-Rice model. Journal of Water and Climate Change, 12, 696–708.

Anonymous. (1993). Methods of soil and plant analysis: LT2-01. Philippines : International Rice Research Institute,.

Bouman, B. A. M., Peng, S., Castaneda, A. R., & Visperas, R. M. (2005). Yield and water use of irrigated tropical aerobic rice systems. Agricultural Water Management, 74, 87–105.

Chandel, S. T., Gaur, H. S., & Alam, M. M. (2002). Population dynamics of the root-knot nematode Meloidogyne triticoryzae under five rice-based cropping systems. Archives of Phytopathology and Plant Protection, 35, 43–51.

Dey, S., Ram, K., Chhabra, A. K., Reddy, A. L., & Janghel, D. K. (2018). Aerobic rice: Smart technology of rice cultivation. International Journal of Current Microbiology and Applied Sciences, 7, 1–6.

Dobermann, A., & Fairhurst, T. (2000). Rice: Nutrient disorder and nutrient management. Potash and Phosphate Institute; International Rice Research Institute.

George, T., Magbanua, G., Garrity, D. P., Tubafia, B. S., & Quiton, J. (2002). Rice: Rapid yield loss of rice cropped successively in aerobic soil. Agronomy Journal, 94, 981–989.

Ghosh, A., Tiwari, A., & Singh, O. N. (2021). Impacts of critical periods of weed control (CPWC) on nitrogen utilization and grain yield in aerobic rice cultivation. International Journal of Plant Production, 15, 151–159.

Halim, N. S. A., Abdullah, R., Karsani, S. A., Osman, N., Panhwar, Q. A., & Ishak, C. F. (2018). Influence of soil amendments on the growth and yield of rice in acidic soil. Agronomy, 8, 165–169.

He, D. C., Ma, Y. L., Li, Z. Z., Zhong, C. S., Cheng, Z. B., & Zhan, J. (2021). Crop rotation enhances agricultural sustainability: from an empirical evaluation of eco-economic benefits in rice production. Agriculture, 11, 91–98.

Hongyan, L., Zhan, J., Hussain, S., & Nie, L. (2019). Grain yield and resource use efficiencies of upland and lowland rice cultivars under aerobic cultivation. Agronomy, 9, 591–598.

Joshi, R., Singh, B., & Shukla, A. (2018). Evaluation of elite rice genotypes for physiological and yield attributes under aerobic and irrigated conditions in Tarai areas of western Himalayan region. Current Plant Biology, 13, 45–52.

Kadiyala, D. M., Rao, M., Li, Y. C., & Reddy, G. B. (2012). Impact of aerobic rice cultivation on growth, yield, and water productivity of rice-maize rotation in semiarid tropics. Agronomy Journal, 104, 1757.

Kato, Y., & Katsura, K. (2014). Rice adaptation to aerobic soils: Physiological considerations and implications for agronomy. Plant Production Science, 17, 1–12.

Kato, Y., Okami, M., & Katsura, K. (2009). Yield potential and water use efficiency of aerobic rice (Oryza sativa L.). Japan Field Crop Research, 113, 328–334. https://doi.org/10.1016/j.fcr.2009.06.010

Kermah, M., Franke, A. C., Ahiabor, B. D. K., Abaidoo, R. C., & Giller, K. E. (2018). N2- fixation and N contribution by grain legumes under different soil fertility status and cropping systems in the Guinea savanna of northern Ghana. Agriculture, Ecosystems and Environment, 261, 201–210.

Kreye, C., Bouman, B. A. M., Kreye, C., Bouman, B., Faronilo, J., & Llorca, L. (2009). Causes for soil sickness affecting early plant growth in aerobic rice. Field Crop Research, 114, 182–187.

Kumar, U., Berliner, J., Adak, T., Rath, P. C., Dey, A., Pokhare, S. S., Jambhulkar, N. N., Pannerselvam, P., Kumar, A., & Mohapatra, S. D. (2017). Non-target effect of continuous application of chlorpyrifos on soil microbes, nematodes and its persistence under sub-humid tropical rice-rice cropping system. Agriculture, Ecosystems and Environment, 135, 225–235.

Kyndt, T., Fernandez, D., & Gheysen, G. (2014). Plant-parasitic nematode infections in rice: Molecular and cellular insights. Annual Review of Phytopathology, 52, 135–153.

Maung, Z. T., Zar, K. P., Pyone, K., Myint, Y. Y., Thein, L., & Waele, D. (2010). Occurrence of the rice root nematode Hirschmanniella oryzae on monsoon rice in Myanmar Trop. Plant Pathology, 35, 3–10.

Mubarak, A. R., Rosenani, A. B., Anuar, A. R., & Zauyahet, S. (2002). Decomposition and nutrient release of maize stover and groundnut haulm under tropical field conditions of Malaysia. Communications in Soil Science and Plant Analysis, 33, 3–4.

Nie, L., Peng, S., Bouman, B. A. M., Huang, J. C. K., Visperas, R. M., & Xiang, J. (2009a). Alleviating soil sickness caused by aerobic monocropping: Response of aerobic rice to various nitrogen sources. Soil Science and Plant Nutrition, 55, 150–159.

Nie, L., Peng, S., Bouman, B. A. M., Huang, J., Cui, K., Visperas, R. M., Xiang, J. (2009b). Alleviating soil sickness caused by aerobic monocropping: Responses of aerobic rice to fallow, flooding and crop rotation. Journal of food, agriculture & environment, 7, 723–727.

Pan, G. X., Li, L. Q., Qi, Z., Wang, X. K., Sun, X. B., Xu, X. B., & Jiang, D. A. (2005). Organic carbon stock in topsoil of Jiangsu province, China, and the recent trend of carbon sequestration. Journal of Environmental Science, 17, 1–7.

Pinheiro, B. S., Castro, E. M., & Guimaraes, C. M. (2006). Sustainability and profitability of aerobic rice production in Brazil. Field Crop Research, 97, 34–42.

Rong-li, S. H. I., RezaulZhang, K. M. F. S., & Zou, C. Q. (2012). Responses of aerobic rice (Oryza sativa L.) to iron deficiency. Journal of Integrative Agriculture, 11, 935–945.

Singh, M. V. (2008). Micronutrient deficiencies in crops and soils in India. In B. J. Alloway (Ed.), Micronutrient deficiencies in global crop production. Dordrecht: Springer.

Song, Y. J., Choi, I. U., Sharma, P. K., & Kang, C. H. (2012). Effect of different nitrogen doses on the storage proteins and palatability of rice grains of primary and secondary rachis branches. Plant Production Science, 15, 253–257.

Soriano, I. R., & Reversat, G. (2003). Management of Meloidogyne graminicola and yield of upland rice in South-Luzon, Philippines. Nematodes, 5, 879–884.

Sunil, C. M., Shankaralingappa, B. C., Shruthi, M. K., Hittalmani, S., & Harinikumar, K. M. (2014). Influence of integrated package of agrotechniques on quality parameters of aerobic rice. Journal of Agronomy, 13, 58–64.

Tuong, T. P., & Bouman, B. A. M. (2003). Rice production in water scarce environments. In J. W. Kijne, R. Barker, & D. Molden (Eds.), Water productivity in agriculture: Limits and opportunities for improvement (pp. 53–67). Wallingford: CABI Publishing.

Win, P., Kyi, P., Maung, Z., & Waele, D. D. (2013). Population dynamics of Meloidogyne graminicola and Hirschmanniella oryzae in a double rice-cropping sequence in the lowlands of Myanmar. Nematodes, 15, 795–807.

Wissuwa, M., Ismail, M. A., & Yanagihara, S. (2006). Effects of zinc deficiency on rice growth and genetic factors contributing to tolerance. Plant Physiology, 142, 731–741.
About this article
Cite this article
Ghosh, A., Singh, O.N., Berliner, J. et al. System of Crop Rotation: A Prospective Strategy Alleviating Grain Yield Penalty in Sustainable Aerobic Rice Production. Int. J. Plant Prod. (2021). https://doi.org/10.1007/s42106-021-00163-3
Received:

Accepted:

Published:
Keywords
Aerobic rice

Crop rotation

Grain yield decline

Nematodes

Soil sickness