Abstract
With respect to the significance of finding methods, which may improve corn (Zea mays L.) yield and quality in the semi-arid areas of the world, an improved method and type of fertilization has been suggested and tested. A two-year field experiment (2016–2017) (split plot) was conducted in the Research Station of Safi-Abad, Dezful, Iran to test the effects of fertilization methods (soil application of fertilizer (N1), foliar application (N2), and fertigation (N3)) and micronutrient use (Fe and Zn at 3 gL−1) on the yield and quality of corn plants. Cob (CH) and plant height (PH), weight of 1000 grains (W), corn yield (Y), weight of cob wood (CobWood), cob weight (CobW), number of rows in a cob (NR), number of grains in a row (NG), plant nutrient uptake of Fe and Zn, and grain protein (Pro) were determined. The single or combined effects of the experimental treatments significantly affected the measured parameters. The fertilization method significantly affected corn growth (CH), yield (W, Y, CobWood, and NR) and plant Fe uptake. However, micronutrients were significant on all the measured parameters except Pro. Although the soil method significantly increased plant uptake of Fe and Zn, the foliar application and fertigation methods significantly enhanced corn growth and yield. The combined use of the tested methods may enhance corn yield and quality in the arid and semi-arid areas of the world.
Access options
Buy single article
Instant access to the full article PDF.
US$ 39.95
Tax calculation will be finalised during checkout.
Subscribe to journal
Immediate online access to all issues from 2019. Subscription will auto renew annually.
US$ 79
Tax calculation will be finalised during checkout.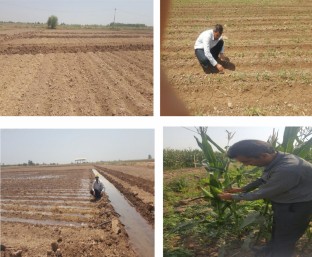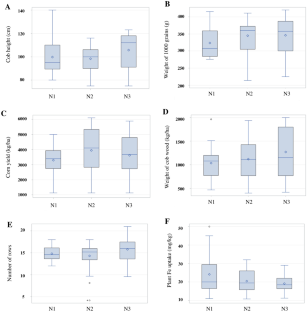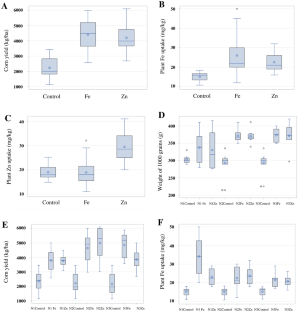 References
Abdoli, M. (2020). Effects of Micronutrient Fertilization on the Overall Quality of Crops. In: Plant micronutrients (pp. 31–71). Springer.

Afshari, M., Naderi, A., Mojadam, M., Shahram, L. A. C. K., & Alavifazel, M. (2020). Zinc and iron-mediated alleviation water deficiency of maize by modulating antioxidant metabolism. Notulae Botanicae Horti Agrobotanici Cluj-Napoca, 48, 989–1004.

Asadi, E., Ghehsareh, A. M., Moghadam, E. G., Hoodaji, M., & Zabihi, H. R. (2019). Improvement of pomegranate colorless arils using iron and zinc fertilization. Journal of Cleaner Production, 234, 392–399.

Bhattarai, M. D., Secchi, S., & Schoof, J. (2017). Projecting corn and soybeans yields under climate change in a Corn Belt watershed. Agricultural Systems, 152, 90–99.

Bisht, A., Kaur, S., Sharma, S., Bhandawat, A., Bhardwaj, S., Garg, M., Pandey, A.K., Bishnoi, M., Sharma, T.R., & Roy, J.K. (2021). Wheat Quality Improvement for Micronutrients. In: Physiological, molecular, and genetic perspectives of wheat improvement (pp. 43–69). Springer.

Chaleshtori, A. A. Z., Panahpour, E., Iranipour, R., & Moezzi, A. (2020). Diagnosing the nutritional balance of almond (Prunus sp.) orchards using DRIS and DOP methods. Journal of Plant Growth Regulation. https://doi.org/10.1007/s00344-020-10214-0

da Silva, P. C. R., Paiva, P. E. B., de Oliveira Charlo, H. C., & de Miranda Coelho, V. P. (2020). Slow release fertilizers or fertigation for sugarcane and passion fruit seedlings? Agronomic performance and costs. Journal of Soil Science and Plant Nutrition, 20, 2175–2181.

Incrocci, L., Massa, D., & Pardossi, A. (2017). New trends in the fertigation management of irrigated vegetable crops. Horticulturae, 3, 37.

Katyal, J. C., & Sharma, B. D. (1980). A new technique of plant analysis to resolve iron chlorosis. Plant and Soil, 55, 105–119.

Khawla, K., Besma, K., Enrique, M., & Mohamed, H. (2019). Accumulation of trace elements by corn (Zea mays) under irrigation with treated wastewater using different irrigation methods. Ecotoxicology and Environmental Safety, 170, 530–537.

Liu, D. Y., Zhang, W., Yan, P., Chen, X. P., Zhang, F. S., & Zou, C. Q. (2017). Soil application of zinc fertilizer could achieve high yield and high grain zinc concentration in maize. Plant and Soil, 411, 47–55.

Miransari, M. (2013). Soil microbes and the availability of soil nutrients. Acta Physiologiae Plantarum, 35, 3075–3084.

Miransari, M., & Mackenzie, A. F. (2011). Development of a soil N test for fertilizer requirements for wheat. Journal of Plant Nutrition, 34, 762–777.

Miransari, M., & Mackenzie, A. F. (2014). Optimal N fertilization, using total and mineral N, affecting corn (Zea mays L.) grain N uptake. Journal of Plant Nutrition, 37, 232–243.

Miransari, M., Bahrami, H. A., Rejali, F., & Malakouti, M. J. (2008). Using arbuscular mycorrhiza to alleviate the stress of soil compaction on wheat (Triticum aestivum L.) growth. Soil Biology and Biochemistry, 40, 1197–1206.

Munirah, N., Khairi, M., Nozulaidi, M., & Jahan, M. (2015). The effects of zinc application on physiology and production of corn plants. Australian Journal of Basic and Applied Sciences, 9, 362–367.

Oliveira, K. S., de Mello Prado, R., & de Farias Guedes, V. H. (2020). Leaf spraying of manganese with silicon addition is agronomically viable for corn and sorghum plants. Journal of Soil Science and Plant Nutrition, 20, 872–880.

Sabet, H., & Mortazaeinezhad, F. (2018). Yield, growth and Fe uptake of cumin (Cuminum cyminum L.) affected by Fe-nano, Fe-chelated and Fe-siderophore fertilization in the calcareous soils. Journal of Trace Elements in Medicine and Biology, 50, 154–160.

Sharifi, R., Mohammadi, K., & Rokhzadi, A. (2016). Effect of seed priming and foliar application with micronutrients on quality of forage corn (Zea mays). Environmental and Experimental Biology, 14, 151–156.

Shokuhifar, Y., Ghahsareh, A. M., Shahbazi, K., Tehrani, M. M., & Besharati, H. (2021). Biochar and wheat straw affecting soil chemistry and microbial biomass carbon countrywide. Biomass Conversion and Biorefinery. https://doi.org/10.1007/s13399-021-01471-4

Shukla, A. K., Sinha, N. K., et al. (2018). Evaluation of spatial distribution and regional zone delineation for micronutrients in a semiarid Deccan Plateau Region of India. Land Degradation & Development, 29, 2449–2459.

Spehia, R. S. (2021). Growth stage wise fertigation scheduling improves nutrient uptake, growth and yield of capsicum under protected conditions. Journal of Plant Nutrition, 44, 898–904.

Styczen, M. E., Abrahamsen, P., Hansen, S., & Knudsen, L. (2020). Model analysis of the significant drop in protein content in Danish grain crops from 1990–2015. European Journal of Agronomy, 118, 126068.

Tabatabai, S. M. R., Oveysi, M., & Honarnejad, R. (2014). Foliar application of zinc improves seed yield and quality of corn (Zea mays L.) grown under water deficit stress. Advances in Environmental Biology, 8, 351–356.

Wasaya, A., Shahzad Shabir, M., Hussain, M., Ansar, M., Aziz, A., Hassan, W., & Ahmad, I. (2017). Foliar application of zinc and boron improved the productivity and net returns of maize grown under rainfed conditions of Pothwar plateau. Journal of Soil Science and Plant Nutrition, 17, 33–45.

Yilmaz, A., Ekiz, H., Torun, B., Gultekin, I., Karanlik, S., Bagci, S. A., & Cakmak, I. (1997). Effect of different zinc application methods on grain yield and zinc concentration in wheat cultivars grown on zinc-deficient calcareous soils. Journal of Plant Nutrition, 20, 461–471.

Zhao, Y., Yan, Z., Qin, J., & Xiao, Z. (2014). Effects of long-term cattle manure application on soil properties and soil heavy metals in corn seed production in Northwest China. Environmental Science and Pollution Research, 21, 7586–7595.
Acknowledgements
The authors would like to thank very much, the international publisher, AbtinBerkeh Scientific Ltd. Company (https://AbtinBerkeh.com), Isfahan, Iran, for editing the manuscript and revising it according to the journal format.
About this article
Cite this article
Khalafi, A., Mohsenifar, K., Gholami, A. et al. Corn (Zea mays L.) Growth, Yield and Nutritional Properties Affected by Fertilization Methods and Micronutrient Use. Int. J. Plant Prod. (2021). https://doi.org/10.1007/s42106-021-00148-2
Received:

Accepted:

Published:
Keywords
Fertigation

Grain protein

Iron

Soil use

Spraying

Zinc