Abstract
The expansion of conservation agriculture (CA) requires an immediate attention on targeted breeding for the next generation of wheat cultivars that are adapted to CA system and maintain their productivity under severe drought conditions in unpredictable Mediterranean environments. In this study, eight released bread and durum wheat cultivars, differing in growth habit, were evaluated for grain yield and 15 agro-physiological traits under both conventional tillage (CT) and conservation agriculture (CA) systems using split-plot arrangements in randomized complete blocks design with three replications, in three cropping seasons (2017–2020) under rainfed conditions, at Sararood field station, Kermanshah, Iran. Cultivar, year and tillage-system main effects were significant (P < 0.01) and accounted for 1.5%, 57.8%, and 10.5% of the total variation in grain yield, respectively. The wheat cultivars performed better in conventional than conservation agriculture system with grain yield superiority varied from 4 to 35%, depending on amount and distribution pattern of precipitation over crop seasons. The best performing cultivar in conservation agriculture system was cv. Baran, winter bread wheat, while the best performing cultivar under conventional tillage was cv. Rijaw, facultative bread wheat. Cv. Sadra had the highest grain yield stability followed closely by cv. Rijaw. The positive relationships observed between grain yield and important agro-physiological traits, suggesting the efficiency of indirect selection of traits for improving grain yield under the two different tillage systems. The trait profile of wheat cultivars was strongly affected by year, depending on growth habit, and varied from one system to another. In conclusion, positive interaction of genotype and traits under two systems indicated that some traits (i.e., number of spike/m−2, SPAD reading, normalized difference vegetative index (NDVI), days to heading, 1000-kernel weight and grain filling duration) were effective in genotype adaptation to a particular system. Based on the findings, the distribution pattern of precipitation during cropping season was among the major determinant factor in success of rainfed wheat productivity. The wheat genotypes also significantly interacted with different tillage systems, implying the need for specific adaptation to tillage systems and environments.
Access options
Buy single article
Instant access to the full article PDF.
US$ 39.95
Tax calculation will be finalised during checkout.
Subscribe to journal
Immediate online access to all issues from 2019. Subscription will auto renew annually.
US$ 79
Tax calculation will be finalised during checkout.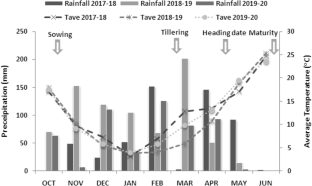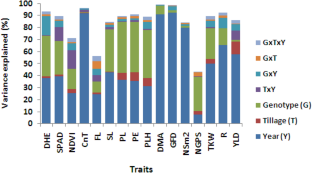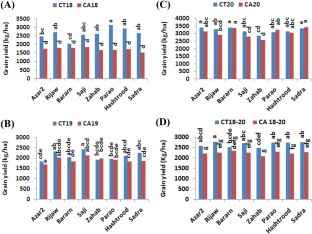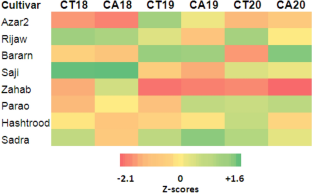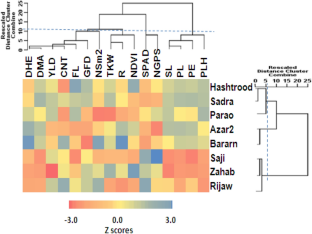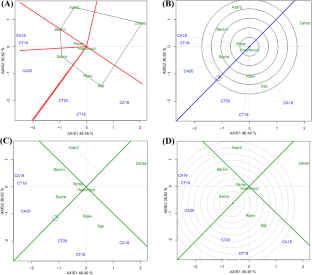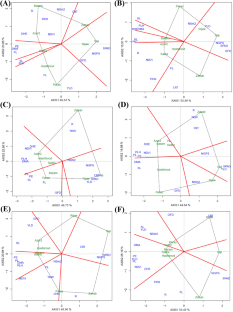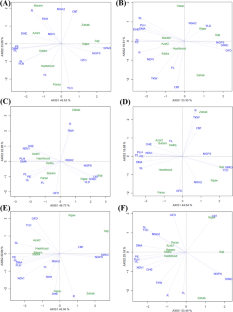 References
Alvarado, G., López, M., Vargas, M., Pacheco, Á., Rodríguez, F., Burgueño, J., & Crossa, J. (2016). META-R (Multi Environment Trail Analysis with R for Windows) Version 6.0 (2016–11–30). International Maize and Wheat Improvement Center (CIMMYT). available at http://www.oracle.com/technetwork/java/javase/terms/license/index.html

Banziger, M., Edmeades, G. O., Beck, D., & Bellon, M. (2000). Breeding for drought and nitrogen stress tolerance in maize: From theory to practice. CIMMYT.

Barnábas, B., Jager, K., & Fehér, A. (2008). The effect of drought and heat stress on reproductive processes in cereals. Plant, Cell and Environment, 31, 11–38.

Busari, M. A., Kukal, S. S., Kaur, A., Bhatt, R., & Dulazi, A. A. (2015). Conservation tillage impacts on soil, crop and the environment. International Soil and Water Conservation Research, 3(2), 119–129.

Calado, J. M. G., Basch, G., & Carvalho, M. (2020). Weed management in no-till winter wheat (Triticum aestivum L.). Crop Protection, 29(1), 1–6.

Carranza-Gallego, G., Guzmán, G., Soto, D., Aguilera, E., Villa, I., Infante-Amate, J., Herrera, A., & Gonzálezde Molina, M. (2018). Modern wheat varieties as a driver of the degradation of Spanish rainfed mediterranean agroecosystems throughout the 20th century. Sustainability, 10, 3724.

Cavalieri, K. M. V., Silva, A. P., Tormena, C. A., Leão, T. P., Dexter, A. R., & Hakansson, I. (2009). Long-term effects of no-tillage on dynamic soil physical properties in a Rhodic Ferralsol in Paraná, Brazil. Soil and Tillage Research, 103, 158–164.

Danga, B. O., Isaiah, J. P., Wakindiki, I. C., & Bar-Tal, A. (2009). Legume-wheat rotation effects on residual soil moisture, nitrogen and wheat yield in tropical regions. Advances in Agronomy, 101, 315–349.

De Vita, P., Di Paolo, E., Fecondo, G., Di Fonzo, N., & Pisante, M. (2007). No-tillage and conventional tillage effects on durum wheat yield, grain quality and soil moisture content in southern Italy. Soil and Tillage Research, 92(1), 69–78.

Evans, L., Wardlaw, I., & Fischer, R. (1975). Wheat. In L. Evans (Ed.), Crop physiology: Some case histories (pp. 101–150). Cambridge University Press.

Falconer, D. S., & Mackay, T. F. C. (1996). Introduction to quantitative genetics. Longman.

FAO. (2018). Food and Agriculture Organization. Rome: FAO. Available online at: http://www.fao.org/faostat/en/#home

Fischer, K. S., Fukai, S., Kumar, A., Leung, H., & Jongdee, B. (2011). Phenotyping rice for adaptation to drought. In Drought Phenotyping in Crops: From Theory to Practice: CGIAR Generation Challenge Program, 215–243 (Eds P. Monneveux and J.M.Ribaut).

Fufa, H., Baenziger, P. S., Beecher, B. S., Graybosch, R. A., Eskridge, K. M., & Nelson, L. A. (2005). Genetic improvement trends in agronomic performances and end-use quality characteristics among hard red winter wheat cultivars in Nebraska. Euphytica, 144, 187–198.

Gathala, M. K., & Laing, A. M., (2020). Lessons learnt from long-term experiments on no-till systems in Semi-arid Regions. Y. P. Dang et al. (eds.), No-till Farming Systems for Sustainable Agriculture, Springer Nature Switzerland AG 2020. Chapter 24: 415–436. https://doi.org/10.1007/978-3-030-46409-7_24

Gathala, M. K., Laing, A. M., Tiwari, T. P., Timsina, J., Islam, S., Chowdhury, A., Chattopadhyay, C., Singh, A. K., Bhatt, B. P., Shrestha, R., Barma, N. C. D., Rana, D. S., Jackson, T. M., & Gerard, B. (2020). Enabling smallholder farmers to sustainably improve their food, energy and water nexus while achieving environmental and economic benefits. Renewable & Sustainable Energy Reviews, 120, 109645.

Gathala, M. K., Laing, A. M., Tiwari, T. P., Timsina, J., Rola-Ruzben, F., Islam, S., Maharjan, S., Browm, P. R., Das, K. K., Pradhan, K., Chowdhury, A. K., Kumar, R., Datt, R., Anwar, M., Hossain, S., Kumar, U., Adhikari, S., Magar, D. B. T., Sapkota, B. K., … Gerard, B. (2021). Improving smallholder farmers' gross margins and labor-use efficiency across a range of cropping systems in the Eastern Gangetic Plains. World Development, 138, 105266. https://doi.org/10.1016/j.worlddev.2020.105266

Ghaley, B., Rusu, T., Sandén, T., Spiegel, H., Menta, C., Visioli, G., O'Sullivan, L., Gattin, I., Delgado, A., & Liebig, M. (2018). Assessment of benefits of conservation agriculture on soil functions in arable production systems in Europe. Sustainability, 10, 794.

Gonzalez-Sanchez, E. J., Veroz-Gonzalez, O., Blanco-Roldan, G. L., Marquez-Garcia, F., & Carbonell-Bojollo, R. (2015). A renewed view of conservation agriculture and its evolution over the last decade in Spain. Soil and Tillage Research, 146, 204–212.

Grahmann, K., Verhulst, N., Dittert, K., Govaerts, B., & Buerkert, A. (2018). High N fertilizer application to irrigated wheat in Northern Mexico for conventionally tilled and permanent raised beds: Effects on N balance and short-term N dynamics. Journal of Plant Nutrition and Soil Science, 181, 606–620.

Gutierrez, M., Reynolds, M. P., Raun, W. R., Stone, M. L., & Klatt, A. R. (2012). Indirect selection for grain yield in spring bread wheat in diverse nurseries worldwide using parameters locally determined in north-west Mexico. Journal of Agricultural Science (Cambridge), 150, 23–43.

Herrera, J., Verhulst, N., Trethowan, R., Stamp, P., & Govaerts, B. (2013). Insights into genotype- tillage interaction effects on the grain yield of wheat and maize. Crop Science, 53, 1845–1859.

Honsdorf, N., Mulvaney, M. J., Singh, R. P., Ammar, K., Burgueño, J., Govaerts, B., & Verhulst, N. (2018). Genotype by tillage interaction and performance progress for bread and durum wheat genotypes on irrigated raised beds. Field Crops Research, 216, 42–52.

Jat, M. L., Chakraborty, D., Ladha, J. K., et al. (2020). Conservation agriculture for sustainable intensification in South Asia. Nature Sustainability, 3, 336–343. https://doi.org/10.1038/s41893-020-0500-2

Khorami, S. S., Kazemeini, S. A., Afzalinia, S., & Gathala, M. K. (2018). Changes in soil properties and productivity under different tillage practices and wheat genotypes: A short-term study in Iran. Sustainability, 10, 3273.

Lafitte, H. R., Blum, A., & Atlin, G. (2003). Using secondary traits to help identify drought tolerant genotypes. In Breeding Rice for Drought-Prone Environments, 38–39 (Eds K. S. Fischer, R. Lafitte, S. Fukai, G. Atlin and B. Hardy). IRRI.

Mohammadi, R. (2016). Efficiency of yield-based drought tolerance indices to identify tolerant genotypes in durum wheat. Euphytica, 211, 71–89.

Mohammadi, R., Etminan, A., & Shooshtari, L. (2019). Agro-physiological characterization of durum wheat genotypes under drought conditions. Experimental Agriculture, 55, 484–499.

Mohammadi, R., Sadeghzadeh, B., Ahmadi, M. M., & Amri, A. (2020). Biological interpretation of genotype × environment interaction in rainfed durum wheat. Cereal Research Communications, 48, 547–554.

Monneveux, P., Jing, R., & Misra, S. C. (2012). Phenotyping for drought adaptation in wheat using physiological traits. Frontiers in Physiology, 3, 00429.

Pacheco, A., Vargas, M., Alvarado, G., Rodríguez, F., Crossa, J., & Burgueño, J. (2016). GEA-R (genotype x environment analysis with R for Windows). Version 2.0. CIMMYT. http://hdl.handle.net/11529/10203 (accessed 20 June 2016).

Pask, A., Pietragalla, J., & Mullan, D. (2012). Physiological breeding II: A field guide to wheat phenotyping. CIMMYT.

Pittelkow, C. M., Linquist, B. A., Lundy, M. E., Liang, X., van Groenigen, K. J., Lee, J., van Gestel, N., Six, J., Venterea, R. T., & van Kessel, C. (2015). When does no-till yield more? A global meta-analysis. Field Crops Research, 183, 156–168.

R Core Team. (2016). R: A language and environment for statistical computing. R Foundation for Statistical Computing.

Sanchez-Garcia, M., Álvaro, F., Martín-Sánchez, J. A., Sillero, J. C., Escribano, J., & Royo, C. (2012). Breeding effects on the genotype × environment interaction for yield of bread wheat grown in Spain during the 20th century. Field Crops Research, 126, 79–86.

Shavrukov, Y., Kurishbayev, A., Jatayev, S., Shvidchenko, V., Zotova, L., Koekemoer, F., de Groot, S., Soole, K., & Langridge, P. (2017). Early flowering as a drought escape mechanism in plants: How can it aid wheat production? Frontiers in Plant Science, 8, 1950.

Subira, J., Alvaro, F., del Moral, L. F. G., & Royo, C. (2015). Breeding effects on the cultivar × environment interaction of durum wheat yield. European Journal Agronomy, 68, 78–88.

Taner, A., Arisoy, R. Z., Kaya, Y., Gultekin, I., & Partigoc, F. (2015). The effects of various tillage systems on grain yield, quality parameters and energy indices in winter wheat production under the rainfed conditions. Fresenius Environmental Bulletin, 24, 1463–1473.

Wuest, S. B., Albrecht, S. L., & Skirvin, K. W. (2000). Crop residue position and interference with wheat seedling development. Soil Tillage Research, 55, 175–182.

Yan, W., Cornelius, P. L., Crossa, J., & Hunt, L. A. (2001). Two types of GGE Biplots for analyzing multi-environment trial data. Crop Science, 41, 656–663.

Yan, W., & Rajcan, I. R. (2002). Biplot analysis of test sites and trait relations of soybean in Ontario. Canadian Journal of Plant Science, 42, 11–20.
Acknowledgements
This research project (project code: 34-15-1557-121-961530) was co-founded and supported by the Dryland Agriculture Research Institute (DARI) of Iran and International Maize and Wheat Improvement Center (CIMMYT) through the Iran-CIMMYT joint project: Increasing the Productivity of Wheat and Wheat-based Cropping Systems in Iran. The authors thank the two reviewers and the editor of International Journal of Plant production for providing helpful comments and corrections on earlier drafts of this manuscript.
Ethics declarations
Conflict of interest
There is no conflict of interest among authors.
About this article
Cite this article
Mohammadi, R., Jalal Kamali, M.R. & Gathala, M.K. Performance of Rainfed Bread and Durum Wheat Cultivars Under Different Tillage Options in Wheat-Based Dryland Cropping Systems. Int. J. Plant Prod. (2021). https://doi.org/10.1007/s42106-021-00135-7
Received:

Accepted:

Published:
Keywords
Rainfed winter wheat

Crop rotation

Grain yield

Agro-physiological traits

Stability performance