Abstract
Farmers face increased risks and vulnerability to the effects of climate change and land degradation on crop production due to the lack of information and impact assessment. This is especially true in the Khorezm, an irrigated agricultural region near the Aral Sea Basin (Uzbekistan) which represents eight million of irrigated land in Central Asia. Water scarcity requires research and introduction of alternative crops into a common winter wheat–cotton rotation. Mung bean (Vigna radiata) is considered as a drought-tolerant crop that could be implemented in Khorezm and other similar drought prone areas. The main objective of this study was modeling the triple rotation sequenced the winter wheat (WW), summer mung bean (MB) and cotton (C) as a single cropping system. Specific objectives were to (1) update the parameterization of the irrigated winter wheat and cotton modules in CropSyst to identify the key variables impacting the triple rotation (WW–MB–C) on overall crop yield; (2) to parameterize and validate the developed (CropSyst-based) model using controlled triple rotation data and (3) carry out scenario analyses to capture the influence of soil fertility levels and irrigation water shortage on crops growth, development and yields. The results revealed, for the first time, the impact of different soil-ecological factors such as high soil fertility (HSF) and low soil fertility (LSF) varying levels of irrigation water availability on crops in the triple crop rotation. Compared to LSF simulated yields of winter wheat and cotton under HSF were increased with 0.58 Mg ha−1 for WW grain and 0.21 Mg ha−1 for cotton while mung bean grain yields were not affected by different soil fertility levels. Scenario analyses showed the possibility of reduced (by 20%) irrigation for triple crop without the effect on yield. However, compared to full irrigation scenario, reduction of irrigation for 40 and 60% could decrease the rotation crops yields up to 33% and 40%, respectively. The developed model could be useful to increase the understanding of the nexus of food, energy and water in Khorezm and comparable regions of Central Asia, and to inform decision-making about sustainable use of available water resources.
Access options
Buy single article
Instant access to the full article PDF.
US$ 39.95
Tax calculation will be finalised during checkout.
Subscribe to journal
Immediate online access to all issues from 2019. Subscription will auto renew annually.
US$ 79
Tax calculation will be finalised during checkout.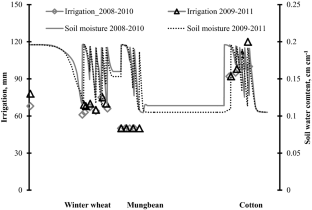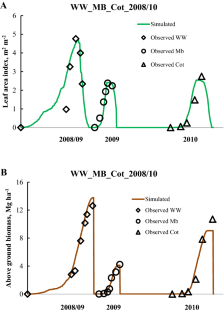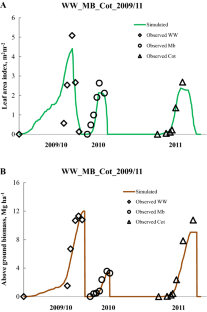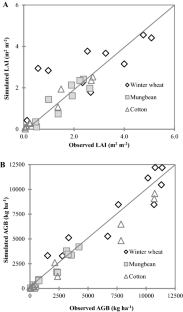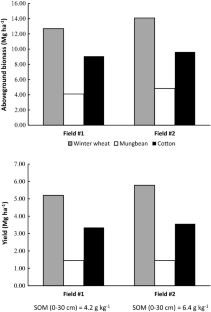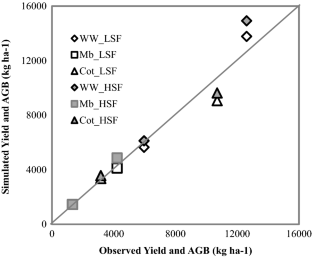 References
Abid, M., Scheffran, J., Schneider, A. U., & Ashfaq, M. (2015). Farmers' perceptions of and adaptation strategies to climate change and their determinants: The case of Punjab province, Pakistan. Earth System Dynamics,6, 225–243. https://doi.org/10.5194/esd-6-225-2015.

Akramkhanov, A. (2005). The spatial distribution o f soil salinity: Detection and prediction. ZEF Series in Ecology and Development No. 32. Bonn: University of Bonn.

Akramkhanov, A., Kuziev, R., Sommer, R., Martius, C., Forkutsa, O., & Massucci, L. (2012). Soils and soil ecology in Khorezm. In C. Martius (Ed.), Cotton, Water, Salts, and Soums. Economic and Ecological Restructuring in Khorezm, Uzbekistan (pp. 37–58). New York: Springer.

Awan, U. K., Tischbein, B., & Martius, C. (2012). Combining hydrological modeling and GIS approaches to determine the spatial distribution of groundwater recharge in an arid irrigation scheme. Springer Verlag Irrigation Science,31(4), 793–806. https://doi.org/10.1007/s00271-012-0362-0.

Babadjanova, Sh. K., Eshchanov, R. A., Ibragimov, N. M., Ruzimov, J. Sh. (2012). Effects of inter-row width on mung bean productivity on irrigated alluvial soil of the desert zone of Uzbekistan, (in Rus). In Agrarian science—agriculture collection of articles in 2 book. Proceedings of VII international scientific and practical conference 2–3 February 2012. Barnaul RIO. AGAU (pp. 283–285).

BBCH Monograph 2, (2001). Growth stages of mono- and dicotyledonous plants. In Uwe Meier (Ed.) Federal Biological Research Centre for Agriculture and Forestry Edition (pp. 158).

Bekchanov, M., Lamers, J. P. A., & Martius, C. (2014). Coping with water scarcity in the irrigated lowlands of the lower Amudarya basin, Central Asia. In J. P. A. Lamers, et al. (Eds.), Restructuring land allocation, water use, and agricultural value chains. Technologies, policies, and practices for the lower Amudarya region. V & R unipress (pp. 199–216). Goettingen: Bonn University Press.

Burmester C.H., Reeves D.W., and Motta A.C.V., (2002). Effect of crop rotation/tillage systems on cotton yield in the Tennessee Valley area of Alabama, 1980–-2001. In E. van Santen (Ed.) Making Conservation Tillage Conventional: Building a Future on 25 Years of Research. Proceedings of 25th Annual Southern Conservation Tillage Conference for Sustainable Agriculture. Auburn, Special Report no. 1. (pp 354–357). Alabama: Auburn University.

Conrad, C., Schönbrodt-Stitt, S., Löw, F., Sorokin, D., & Paeth, H. (2016). Cropping intensity in the Aral Sea Basin and its dependency from the runoff formation 2000–2012. Remote Sensing,8, 630. https://doi.org/10.3390/rs8080630.

Constable, G. A., Rochester, I. J., & Daniells, I. G. (1992). Cotton yield and nitrogen requirement are modified by crop rotation and tillage method. Soil & Tillage Research,23, 41–59.

Cook, R. L., & Ellis, B. G. (1987). Soil Management: A worldview of conservation and production (pp. 152–170). Singapore: John Wiley & Sons. New York.

Cooper, J. L. (1999). A grower survey of rotations used in the New South Wales cotton industry. Australian Journal of Experimental Agriculture,39, 743–755.

Dayathilake, G. A., Subasinghe, S., & Senaratne, R. (2001). N fixation potential of cowpea and mungbean lines and its effects on succeeding maize crop. Tropical Agricultural Research and Extension,4, 6–9.

De Kock, J., de Bruyn, L. P., & Human, J. J. (1993). The relative sensitivity to plant water stress during the reproductive phase of upland cotton, Irrig. Sci. 11, 239–244.De Kock, J., de Bruyn L.P., and Human J.J. 1993. The relative sensitivity to plant water stress during the reproductive phase of upland cotton. Irrigation Science,14, 239–244.

Devkota, M., Martius, C., Lamers, J. P. A., Sayre, K. D., Devkota, K. P., & Vlek, P. L. G. (2013). Tillage and nitrogen fertilization effects on yield and nitrogen use efficiency of irrigated cotton. Soil and Tillage Research,134, 72–82.

Djumaniyazova, Y., Sommer, R., Ibragimov, N., Ruzimov, J., Lamers, J. P. A., & Vlek, P. L. G. (2010). Simulating water use and N response of winter wheat in the irrigated floodplains of Northwest Uzbekistan. Field Crops Research,116, 239–251.

Dudejai, S. S., & Duhan, J. S. (2005). Biological nitrogen fixation research in pulses with special reference to mungbean and urdbean. Indian Journal of Pulses Research,18, 107–118.

Forkutsa, I., Sommer, R., Shirokova, Y., Lamers, J. P. A., Kienzler, K., Tischbein, B., et al. (2009). Modeling irrigated cotton with shallow groundwater in the Aral Sea Basin of Uzbekistan: I. Water dynamics. Irrigation Science,27(4), 331–346.

Giunta, F., Motzo, R., & Deidd, M. (1993). Effect of drought on yield and yield components of Durum Wheat and triticale in a Mediterranean environment. Field Crops Research,33, 399–409.

Haitbayeva, J. U., (2019). Effects of mineral fertilizer rates to productivity of winter wheat in conditions of irrigated meadow alluvial soils of Khorezm region Uzbekistan (In Russian). Actual problems of modern science. Moscow. No. 3. pp. 129–133 (06.00.00.No.5).

Hulugalle, N., & Scott, F. (2008). A review of the changes in soil quality and profitability accomplished by sowing rotation crops after cotton in Australian Vertosols from 1970 to 2006. Australian Journal of Soil Research,42, 173–190.

Ibrakhimov, M., Khamzina, A., Forkutsa, I., Paluasheva, G., Lamers, J. P. A., Tischbein, B., et al. (2007). Groundwater table and salinity: Spatial and temporal distribution and influence on soil salinization in the Khorezm region.Uzbekistan, Aral Sea Basin. Irrigation Science,21, 219–236.

Ibrakhimov, M., Martius, C., Lamers, J. P. A., & Tischbein, B. (2011). The dynamics of groundwater table and salinity over 17 years in Khorezm. Agricultural Water Management,101(1), 52–61.

Jacovides, C. P., & Kontayiannis, H. (1995). Statistical procedures for the evaluation of evapotranspiration computing models. Agricultural Water Management,27, 365–371.

Jamieson, P. D., Porter, J. R., & Wilson, D. R. (1991). A test of computer simulation model ARC-WHEAT1 on wheat crops grown in New Zealand. Field Crops Research.,27, 337–350. https://doi.org/10.1016/0378-4290(91)90040-3

Kienzler, K. M., Djanibekov, N., & Lamers, J. P. A. (2011). An agronomic, economic and behavioral analysis of N application to cotton and wheat in post-Soviet Uzbekistan. Agricultural Systems. https://doi.org/10.1016/j.agsy.2011.01.005.

Loague, K., & Green, R. E. (1991). Statistical and graphical methods for evaluating solute transport models overview and application. Journal of Contaminant Hydrology,7, 51–73.

Loka D.A., Oosterhuis D.M., and Ritchie G.L., (2011). Water deficit stress in cotton, in Stress Physiology in Cotton, Ed by D.M. Oosterhuis (The Cotton Foundation, Memphis, TN.) p. 37–71.

Mandelbaum, Michael M. (1994). Central Asia and the World: Kazakhstan, Uzbekistan, Tajikistan, Kyrgyzstan, and Turkmenistan (p. 251). New York: Council on Foreign Relations Press. vii.

Milroy, S. P., & Bange, M. P. (2003). Nitrogen and light response of cotton photosynthesis and implications for crop growth. Crop Science,43, 904–913.

Peng, S., & Krieg, D. R. (1991). Single leaf and canopy photosynthesis response to plant age in cotton. Agronomy Journal,83, 704–708.

Samant, T. K. (2014). Evaluation of growth and yield parameters of green gram (Vigna radiate L.). Agriculture Update,9, 427–430.

Sengupta, K., Banik, N. C., Bhui, S., & Mitra, S. (2011). Effect of Brassinolide on growth and yield of summer green gram crop. Journal of Crop and Weed,7, 152–154.

Sharma, P., Sekhon, H. S., Veena, K., & Singh, G. (2007). Biological nitrogen fixation in mungbean: facts and findings. Acta Horticulturae (ISHS),752, 597–602.

Singh, A. K., Tripathy, R., & Chopra, U. K. (2008). Evaluation of CERES-Wheat and CropSyst models for water-nitrogen interactions in wheat crop. Agricultural Water Management,95, 776–786.

Sommer, R., Kienzler, K., Conrad, C., Ibragimov, N., Lamers, J., Martius, C., et al. (2008). Evaluation of the CropSyst model for simulating the potential yield of cotton. Agronomy for Sustainable Development,28, 345–354.

Stockle, C. O., Donatelli, M., & Nelson, R. (2003). CropSyst, a cropping systems simulation model. European Journal of Agronomy,18, 289–307.

Ventrella, D., & Rinaldi, M. (1999). Comparison between two simulation models to evaluate cropping systems in southern Italy. Yield response and soil water dynamics. Agricoltura Mediterranea,129, 99–110.

Webber, H. A., Madramootoo, C. A., Bourgault, M., Horst, M. G., Stulina, G., & Smith, D. L. (2006). Water use efficiency of common bean and green gram grew using alternate furrow and deficit irrigation. Agricultural Water Management,86, 259–268.

Willmott, C. J. (1981). On the validation of models. Physical Geography,2(2), 184–194.

Willmott, C. J. (1982). Some comments on the evaluation of model performance. Bulletin American Meteorology Society,63(11), 1309–1313.

Wolf, J., Evans, L. G., Semenov, M. A., Eckersten, H., & Iglesias, A. (1996). Comparison of wheat simulation models under climate change. I. Model calibration and sensitivity analyses. Climate Research,7, 253–270.

Wright, A. L., Hons, F. M., & Matocha, J. E., Jr. (2005). Tillage impacts on microbial biomass and soil organic carbon and nitrogen dynamics of corn and cotton rotations. Applied Soil Ecology,29, 85–92.

Yadav, S., & Singh, B. N. (2014). Effect of irrigation schedules and planting methods on growth, productivity and WUE of green gram (Phaseolus radiate L.) under rice-wheat-green gram cropping system. Plant Archives,14, 211–213.

Zhonghu, H. and Alain Bonjean, P. A., (2010). Cereals in China, Mexico, D.F. CIMMYT.
Acknowledgements
The German Ministry for Education and Research (BMBF; Project Number 0339970A) and the Ministry for Schools, Science and Research of the State of Nordrhein-Westfalia funded this study. Model calibration for treble crop rotation was undertaken as part of and funded by, the CGIAR Research Program on Dryland Systems led by the International Center for Agricultural Research in the Dry Areas (ICARDA) and with financial contribution from Russian Federation. The opinions expressed here belong to the authors and do not necessarily reflect those of Dryland Systems, ICARDA, or CGIAR. We would like to thank Dr. Jacek A. Koziel for his valuable comments on the manuscript. This paper includes research results made possible by the ZEF/UNESCO project entitled: Economic and Ecological Restructuring of Land- and Water Use in the Khorezm Region, Uzbekistan.
Ethics declarations
Conflict of interest
The authors declare that they have no conflict of interest.
About this article
Cite this article
Ibragimov, N., Djumaniyazova, Y., Khaitbaeva, J. et al. Simulating Crop Productivity in a Triple Rotation in the Semi-arid Area of the Aral Sea Basin. Int. J. Plant Prod. 14, 273–285 (2020). https://doi.org/10.1007/s42106-019-00083-3
Received:

Accepted:

Published:

Issue Date:
Keywords
CropSyst

Water scarcity

Wheat–mungbean–cotton rotation

Climate change