Abstract
India is one of the largest landmasses under crop cultivation with staple consumption of food security crops. Post green revolution (since 1967), there has been a steady March towards self-sustainability in food production. Though the general trends speak of an increase in crop yields, the detailed study on decade wise trends and fast approaching state of stagnation in crop yields is largely missing. The present manuscript is the first study examining the crop yield trends of three major food crops—wheat, rice, and maize across Indian states. The four types of regression models were fitted on the annual yield data from all the 29 Indian states over the period 1967–2017. The best-fit statistical models were chosen using the Akaike information criterion. Our results suggest that (1) Wheat yields in 13 Indian states, rice yields in eleven Indian states, and maize yields in six Indian states are now not improving. (2) The yields in ~ 76% of wheat harvested area (~ 18.5 million hectares), ~ 47% of rice harvested area (~ 19.5 million hectares), and ~ 18% of maize harvested area (~ 1.2 million hectares) are not improving for the recent decade. The detailed mapping of current crop yield trends across Indian states is the first step towards achieving a bigger goal of identifying the responsible factors affecting current crop yield trends and then identifying and recommending appropriate mitigation strategies.
Access options
Buy single article
Instant access to the full article PDF.
US$ 39.95
Tax calculation will be finalised during checkout.
Subscribe to journal
Immediate online access to all issues from 2019. Subscription will auto renew annually.
US$ 79
Tax calculation will be finalised during checkout.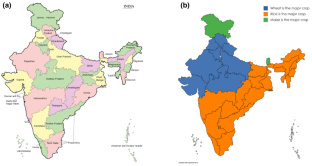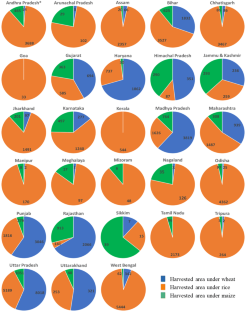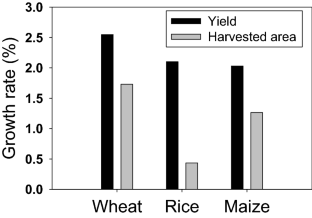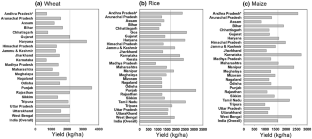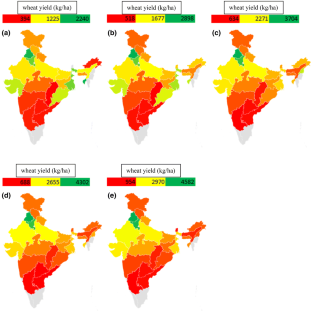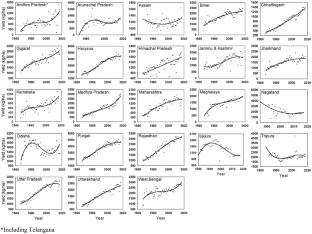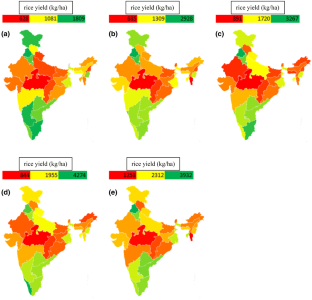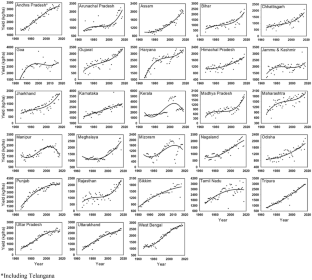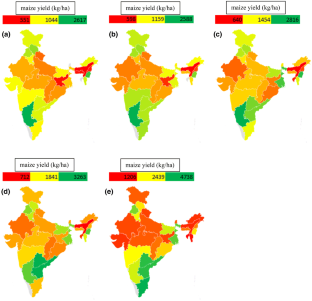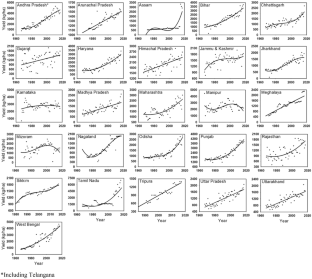 References
Aggarwal, P. K. (2008). Global climate change and Indian agriculture: Impacts, adaptation and mitigation. Indian Journal of Agricultural Sciences,78(11), 0019–5022.

Aggarwal, P. K., & Mall, R. K. (2002). Climate change and rice yields in diverse agro-environments of India. II. Effect of uncertainties in scenarios and crop models on impact assessment. Climatic Change,52(3), 331–343.

Akaike, H. (1974). A new look at the statistical model identification. IEEE Transactions on Automatic Control,19(6), 716–723.

Alexandratos, N. (1999). World food and agriculture: Outlook for the medium and longer term. Proceedings of the National academy of Sciences of the United States of America,96(11), 5908–5914.

Asseng, S., Foster, I., & Turner, N. C. (2011). The impact of temperature variability on wheat yields. Global Change Biology,17(2), 997–1012.

Bhatt, R., Kukal, S., Busari, M. A., Arora, S., & Yadav, M. (2016). Sustainability issues on rice–wheat cropping system. International Soil and Water Conservation Research,4(1), 64–74.

Brisson, N., Gate, P., Gouache, D., Charmet, G., Oury, F.-X., & Huard, F. (2010). Why are wheat yields stagnating in Europe? A comprehensive data analysis for France. Field Crops Research,119(1), 201–212.

Cassman, K. G. (1999). Ecological intensification of cereal production systems: Yield potential, soil quality, and precision agriculture. Proceedings of the National academy of Sciences of the United States of America,96(11), 5952–5959.

Erenstein, O. (2012). Resource scarcity gradients and agricultural technologies. Outlook on Agriculture,41(2), 87–95.

Fan, S., & Chan-Kang, C. (2005). Is small beautiful? Farm size, productivity, and poverty in Asian agriculture. Agricultural Economics,32(s1), 135–146.

FAOSTAT, 2017. FAOSTAT Agricultural data 2017. http://www.fao.org/faostat/en/. Accessed 7 Feb 2019.

Finger, R. (2010). Evidence of slowing yield growth—the example of Swiss cereal yields. Food Policy,35(2), 175–182.

Gleeson, T., Wada, Y., Bierkens, M. F. P., & van Beek, L. P. H. (2012). Water balance of global aquifers revealed by groundwater footprint. Nature,488(7410), 197–200.

Godfray, H. C. J., Beddington, J. R., Crute, I. R., Haddad, L., Lawrence, D., Muir, J. F., et al. (2010). Food Security: The challenge of feeding 9 billion people. Science,327(5967), 812–818.

Grewal, S., & Goel, S. (2015). Current research status and future challenges to wheat production in India. Indian Journal of Biotechnology, 14, 445–454. http://nopr.niscair.res.in/handle/123456789/33991. Accessed 15 Feb 2019.

Hirel, B., Tétu, T., Lea, P. J., & Dubois, F. (2011). Improving nitrogen use efficiency in crops for sustainable agriculture. Sustainability,3(9), 1452–1485.

Hirel, B., et al. (2001). Towards a better understanding of the genetic and physiological basis for nitrogen use efficiency in maize. Plant Physiology,125(3), 1258–1270.

Humphreys, E., Kukal, S. S., Christen, E. W., Hira, G. S., Balwinder-Singh, Sudhir-Yadav, & Sharma, R. K. (2010). Halting the groundwater decline in north-west India—which crop technologies will be winners? Advances in Agronomy,109, 155–217.

Kalra, N., Chakraborty, D., Sharma, A., Rai, H. K., Jolly, M., Chander, S., et al. (2008). Effect of increasing temperature on yield of some winter crops in northwest India. Current Science,94, 82–88.

Kumar, R. (2005). Constraints facing indian agriculture: Need for policy intervention. Journal of Agricultural Economics, 60(1). https://ageconsearch.umn.edu/bitstream/204386/2/07-Ranjana Kumar.pdf. Accessed 7 Feb 2019.

Ladha, J., Dawe, D., Pathak, H., Padre, A., Yadav, R., Singh, B., et al. (2003). How extensive are yield declines in long-term rice-wheat experiments in Asia? Field Crops Research,81, 159–180.

Lal, M., Singh, K. K., Rathore, L. S., Srinivasan, G., & Saseendran, S. A. (1998). Vulnerability of rice and wheat yields in NW India to future changes in climate. Agricultural and Forest Meteorology,89(2), 101–114.

Licker, R., Johnston, M., Foley, J. A., Barford, C., Kucharik, C. J., Monfreda, C., et al. (2010). Mind the gap: How do climate and agricultural management explain the 'yield gap' of croplands around the world? Global Ecology and Biogeography,19(6), 769–782.

Lin, M., & Huybers, P. (2012). Reckoning wheat yield trends. Environmental Research Letters,7(2), 024016.

Lobell, D. B., Sibley, A., & Ivan Ortiz-Monasterio, J. (2012). Extreme heat effects on wheat senescence in India. Nature Climate Change,2, 29.

Naresh Kumar, S., Aggarwal, P., Swaroopa Rani, D., Saxena, R., Chauhan, N., & Jain, S. (2014). Vulnerability of wheat production to climate change in India. Climate Research,59(3), 173–187.

Noor, M. A. et al. (2020). Small farmers and sustainable N and P management: Implications and potential under changing climate. Carbon and nitrogen cycling in soil, Springer, Singapore, 185–219. http://link.springer.com/10.1007/978-981-13-7264-3_6. Accessed 6 Oct 2019.

Ortiz, R., Sayre, K. D., Govaerts, B., Gupta, R., Subbarao, G. V., Ban, T., et al. (2008). Climate change: Can wheat beat the heat? Agriculture, Ecosystems & Environment,126, 46–58.

Peltonen-Sainio, P., Jauhiainen, L., & Laurila, I. P. (2009). Cereal yield trends in northern European conditions: Changes in yield potential and its realisation. Field Crops Research,110(1), 85–90.

Peng, S., Huang, J., Sheehy, J. E., Laza, R. C., Visperas, R. M., Zhong, X., et al. (2004). Rice yields decline with higher night temperature from global warming. Proceedings of the National Academy of Sciences,101(27), 9971–9975.

Ray, D. K., Ramankutty, N., Mueller, N. D., West, P. C., & Foley, J. A. (2012). Recent patterns of crop yield growth and stagnation. Nature Communications,3(1), 1293.

Shah, T., Roy, A. D., Qureshi, A. S., & Wang, J. (2003). Sustaining Asia's groundwater boom: An overview of issues and evidence. Natural Resources Forum,27(2), 130–141.

Singh, M. (2011). Yield gap and production constraints in rice-wheat system: Scenario from eastern Uttar Pradesh. Bangladesh Journal of Agricultural Research,36(4), 623–632.

Soora, N. K., Aggarwal, P. K., Saxena, R., Rani, S., Jain, S., & Chauhan, N. (2013). An assessment of regional vulnerability of rice to climate change in India. Climatic Change,118, 683–699.

Tilman, D., Balzer, C., Hill, J., & Befort, B. L. (2011). Global food demand and the sustainable intensification of agriculture. Proceedings of the National Academy of Sciences,108(50), 20260–20264.

Tilman, D., Cassman, K. G., Matson, P. A., Naylor, R., & Polasky, S. (2002). Agricultural sustainability and intensive production practices. Nature,418(6898), 671–677.

Timsina, J., & Connor, D. (2001). Productivity and management of rice–wheat cropping systems: Issues and challenges. Field Crops Research,69(2), 93–132.

United Nations Population Division, 2015. World population prospects the 2015 revision. Population Division, Department of Economic and Social Affairs, United Nations, New York. https://doi.org/10.1128/AAC.03728-14
Acknowledgements
Anand Madhukar sincerely thank IIT Delhi for providing a research fellowship. Authors declare no conflict of interest or finance.
Electronic supplementary material
Below is the link to the electronic supplementary material.
About this article
Cite this article
Madhukar, A., Kumar, V. & Dashora, K. Spatial and Temporal Trends in the Yields of Three Major Crops: Wheat, Rice and Maize in India. Int. J. Plant Prod. 14, 187–207 (2020). https://doi.org/10.1007/s42106-019-00078-0
Received:

Accepted:

Published:

Issue Date:
Keywords
Crop yield

Statistical models

Wheat

Rice

Maize

Food security