Abstract
Hijab or the Muslim veil has emerged as one of the most contentious articles of clothing in recent times. Scholarly literature has often limited itself to discussing the hijab in binaries of oppression and liberation. The present qualitative phenomenological undertaking sought to move beyond this reductive dichotomy and analyzed the veil through a systemic framework. Accounts of twelve hijabi Muslim women, between the ages of 18 and 25, from Mumbai, India, were explored to identify issues of relevance for hijabi women and highlight unique ways in which they exercise agency. Hijab was found to be inextricable from the varied sub-systems of the respondent's ecology. Positive response to the veil at home, neighborhood, and on social media promoted the hijab, while negative responses at work and in educational settings impeded it. Participants devised personal "rules" for hijab, adapting it to different settings, after evaluating the diverse demands of the roles they occupied. Hijab was understood as modest clothing that covered their body, not limited to a burqa. Spiritual adherence to the principles of hijab were considered as imperative as its physical adherence. Though the degree of physical veiling fluctuated, commitment to the veil strengthened over time. The primary reason for veiling was religion, but secondary reasons such as empowerment, advocacy, and protection were cited in favor of the practice. The veil was embedded with many meanings, including modesty, a means of connection with the Muslim community, and a symbol of resistance. It was purposefully worn to promote a positive image of Islam and exhibit the self-efficacy of the Muslim community. The study has implications for counselling, policy making, and further psychological research.
Access options
Buy single article
Instant access to the full article PDF.
USD 39.95
Price excludes VAT (USA)
Tax calculation will be finalised during checkout.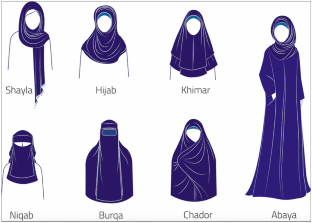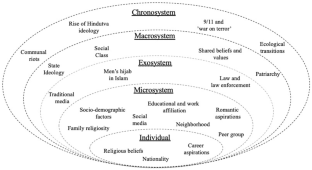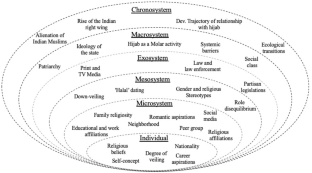 Notes
Literally meaning curtain. A system of secluding men and women in South Asian societies.

Pbuh, an acronym for "Peace be upon him," a translation of the salutation added to the name of the Prophet.

Narrations and actions of the Prophet (Pbuh).

Refers to the traditional customs, habits and practices of the Prophet (Pbuh); not limited to verbal prescriptions of Hadith.

Male blood relatives and affine that a Muslim woman cannot marry such as father, grandfather, male siblings, sons and so on.

Shariah refers to Islamic religious law.

Renowned Islamic scholar.

A.S. is short for Alayhi s-salam, and it translates to peace be upon him.

Not mahram, or men that the respondents were not related to by blood.

Long, loose collarless shirt.

Sermon after friday prayers.

Nationalist chant that means Hail Mother India or Long Live Mother India.

Cow is considered holy in the Hindu religion. Several Indian Muslims have been lynched in public for allegedly consuming or trading cattle , with support of state apparatus.
References
Abubakre, F. (2018). Media Influences on the Perceptions of the Usage of in Nigeria's Public Institutions and Surrounding Controversy in the Lagos-Ibadan Axis. Journal of Muslim Minority Affairs, 38(4), 521–536.

Afshar, H. (2000). Gendering the Millennium: Globalising Women (Intégrer le 'genre' dans le nouveau millénaire: Mondialisation des femmes / Tornando o milênio mais feminino: Mulheres globalizadas / El milenio del género: Globalización de la mujer). Development in Practice, 10(3/4), 527-534. Retrieved December 11, 2020, from http://www.jstor.org/stable/4029580.

Afshar, H. (2008). Can I see your hair? Choice, agency and attitudes: the dilemma of faith and feminism for Muslim women who cover. Ethnic and Racial Studies, 31(2), 411–427. https://doi.org/10.1080/01419870701710930.

Ahmad, I. (2006). Why is veil such a contentious issue? Economic and Political Weekly, 41(49).

Amer, M. M., & Bagasra, A. (2013). Psychological research with Muslim Americans in the age of Islamophobia: Trends, challenges, and recommendations. American Psychologist, 68(3), 134–144. https://doi.org/10.1037/a0032167.

Arnett, J. J. (2004). Adolescence and emerging adulthood: A cultural approach. Upper Saddle River, N.J: Pearson Prentice Hall.

Aziz, S. F. (2012). The Muslim'veil' Post-9/11: rethinking women's rights and leadership. Institute for Social Policy and Understanding Policy Brief.

Baulch, E., & Pramiyanti, A. (2018). Hijabers on Instagram: Using Visual Social Media to Construct the Ideal Muslim Woman. Social Media, 15.

Bilgrami, A. (2006). India's Muslims post-9/11. Index on Censorship, 35(4), 15–21. https://doi.org/10.1080/03064220601027148.

Braun, V., & Clarke, V. (2006). Using thematic analysis in psychology. Qualitative Research in Psychology, 3, 77–101.

Bronfenbrenner, U. (1979). The Ecology of human development. Cambridge, MA: Harvard.

Byng, M. (1998) Mediating Discrimination: Resisting Oppression among African American Muslim Women. Social Problems. 45(4), 473–87.

Creswell, J. W. (2003). Research design: Qualitative, quantitative, and mixed methods approaches (2nd ed.). Thousand Oaks, CA: Sage.

Cumper, P., & Lewis, T. (2008). "Taking religion seriously"? Human rights and hijab in Europe— Some problems of adjudication. Journal of Law and Religion, 24(2), 599–627. https://doi.org/10.1017/S0748081400001727.

Droogsma, R. A. (2007). Redefining Hijab: American Muslim Women's Standpoints on Veiling. Journal of Applied Communication Research, 35(3), 294–319.

Dwyer, C. (1999). Veiled meanings: Young British Muslim women and the negotiation of difference. Gender, Place and Culture, 6(1), 5–26.

El Guindi, F. (1999). Veil: Modesty, Privacy and Resistance. Oxford: Berg.

Eriksson, M., Ghazinour, M., & Hammarström, A. (2018). Different uses of Bronfenbrenner's ecological theory in public mental health research: What is their value for guiding public mental health policy and practice? Social Theory & Health, 16(4), 414–433. https://doi.org/10.1057/s41285-018-0065-6.

Everett, J. A. C., Schellhaas, F. M. H., Earp, B. D., Ando, V., Memarzia, J., Parise, C. V., et al. (2015). Covered in stigma? The impact of differing levels of Islamic head-covering on explicit and implicit biases toward Muslim women: Journal of Applied Social Psychology, 45(2), 90–104. https://doi.org/10.1111/jasp.12278.

Ghumman, S., & Ryan, A. M. (2013). Not welcome here: Discrimination towards women who wear the Muslim headscarf. Human Relations, 66(5), 671–698. https://doi.org/10.1177/0018726712469540.

Gulamhussein, Q., & Eaton, N. R. (2015). Hijab, Religiosity, and Psychological Wellbeing of Muslim Women in the United States. Journal of Muslim Mental Health, 9(2). https://doi.org/10.3998/jmmh.10381607.0009.202.

Haddad, Y. Y. (2007). The Post-9/11 Hijab as Icon*. Sociology of Religion, 68(3), 253–267. https://doi.org/10.1093/socrel/68.3.253.

Hamzeh, M. (2011). Deveiling body stories: Muslim girls negotiate visual, spatial, and ethical hijabs. Race Ethnicity and Education, 14(4), 481–506. https://doi.org/10.1080/13613324.2011.563287.

Hasan, Md. M. (2018). The feminist "quarantine" on hijab: A study of its two mutually exclusive sets of meanings. Journal of Muslim Minority Affairs, 38(1), 24–38. https://doi.org/10.1080/13602004.2018.1434941.

Hassan, H., Zaman, B. A., & Santosa, I. (2015). Tolerance of Islam: A study on fashion among modern and professional Malay women in Malaysia. International Journal of Social Science and Humanity, 5(5), 454–460. https://doi.org/10.7763/IJSSH.2015.V5.499.

Hollander, J., & Haber, L. (1992). Ecological transition: Using Bronfenbrenner's model to study sexual identity change. Health Care for Women International, 13(2), 121–129. https://doi.org/10.1080/07399339209515985.

Human Rights Watch Report. (2020). "Shoot the Traitors": Discrimination Against Muslims under India's New Citizenship Policy. Retrieved August 22, 2020, from https://www.hrw.org/report/2020/04/09/shoot-traitors/discrimination-against-muslims-under-indias-new-citizenship-policy.

Khan, M. (1995). Social Change among Muslims of Aurangabad City. In A. A. Engineer: Problems of Muslim Women in India. Mumbai: Orient Longman.

Khan, S. (2007). Negotiating the Mohalla. Economic and Political Weekly., 42(17), 1527–1533.

Marouka, E. (2008). Wearing 'our sword': Post-September activism among South Asian Muslim women. Social Justice, 35(2), 119–133.

Leonard, J. (2011). Using Bronfenbrenner's ecological theory to understand community partnerships: A historical case study of one urban high school. Urban Education, 46(5), 987–1010. https://doi.org/10.1177/0042085911400337.

Malterud, K. (2001). Qualitative research: Standards, challenges and guidelines. The Lancet, 358, 483–488.

Mernissi, F. (1987). Beyond the veil: Male-female dynamics in modern Muslim society. Bloomington: Indiana University Press.

Medina, J. (2014). This battlefield called my body: Warring over the Muslim female. Religions, 5(3), 876–885. https://doi.org/10.3390/rel5030876.

Menon, M. (1981). Status of Muslim women in India: A case study of Kerala. New Delhi: Uppal.

Papanek, H. (1973). Purdah: Separate worlds and symbolic shelter. Comparative Studies in Society and History, 15(3), 289–325.

Pazhoohi, F., & Burriss, R. (2016). Hijab and 'hitchhiking': A field study. Evolutionary Psychological Science, 2(1), 32–37.

Parker-Jenkins, M. (1999). Islam, gender and discrimination in the workplace. Paper presented to the Nationalism, Identity and Minority Rights: Sociological and Political Perspective Conference, University of Bristol, United Kingdom.

Peek, L. (2005). Becoming Muslim: The development of a religious identity. Sociology of Religion, 66(3), 215. https://doi.org/10.2307/4153097.

Rashid, U. (2017). Muslim women in America: Challenges and politics of diversity within American Muslim community. Journal of Muslim Minority Affairs, 37(4), 481–495. https://doi.org/10.1080/13602004.2017.1405502.

Rastmanesh, R., Gluck, M. E., & Shadman, Z. (2009). Comparison of body dissatisfaction and cosmetic rhinoplasty with levels of veil practicing in Islamic women. International Journal of Eating Disorders, 42, 339–345. https://doi.org/10.1002/eat.20613.

Ryan, L. (2011). Muslim women negotiating collective stigmatization: 'We're just normal people. Sociology., 45(6), 1045–60. https://doi.org/10.1177/0038038511416170.

Sriram, S., & Vaid, S. (2011). Being Muslim: A study of Muslim youth in Delhi. Identity, multiculturalism and changing societies: Psychological, group and cultural processes, (Progress in Asian Social Psychology, Series, Vol. 8) Edited by Purnima Singh, Paul Bain, Leong Chan-Hoong, Girishwar Misra, Yohsuke Ohtsubo. MacMillan Publishers.

Tarlo, E. (2005). Reconsidering stereotypes: Anthropological reflections on the jilbab controversy. Anthropology Today, 21(6), 13–17. https://doi.org/10.1111/j.1467-8322.2005.00395.x.

Tolaymat, L. D., & Moradi, B. (2011). U.S. Muslim women and body image: Links among objectification theory constructs and the hijab. Journal of Counseling Psychology, 58(3), 383–392. https://doi.org/10.1037/a0023461.

Williams, R. H., & Vashi, G. (2007). Hijab and American Muslim Women: Creating the Space for Autonomous Selves. Sociology of Religion, 68(3), 269–287. https://doi.org/10.1093/socrel/68.3.269.

Winchester, D. (2008). Embodying the Faith: Religious Practice and the Making of a Muslim Moral Habitus. Social Forces, 86(4), 1753–1780. https://doi.org/10.1353/sof.0.0038.

Wright, R. (2011). The Pink Hijab. The Wilson Quarterly, 35(3), 47-51. Retrieved from https://www.jstor.org/stable/41484313.

Zahedi, A. (2007). Contested meaning of the veil and political ideologies of Iranian regimes. Journal of Middle East Women's Studies, 3(3), 75–98. https://doi.org/10.2979/MEW.2007.3.3.75.

Zempi, I. (2016). 'It's a part of me, I feel naked without it': Choice, agency and identity for Muslim women who wear the niqab. Ethnic and Racial Studies, 39(10), 1738–1754. https://doi.org/10.1080/01419870.2016.1159710.
Acknowledgements
The researchers are grateful to the respondents for participating and giving their time to this study. We would also like to acknowledge the contribution of Soham Bhowmick (bhowmicksoham7@gmail.com) in illustrating the different styles of hijab for the readers of this journal.
Ethics declarations
Consent to Participate
Informed consent was obtained from all individual participants included in the study.
Conflict of Interest
The authors declare that they have no conflicts of interest.
Additional information
This paper is drawn from the M.A. dissertation of the first author titled "Not Without my Hijab: Experiences of Veiled Women in India" carried out under the supervision of the second author.
Publisher's Note
Springer Nature remains neutral with regard to jurisdictional claims in published maps and institutional affiliations.
About this article
Cite this article
Rumaney, H., Sriram, S. Not Without My Hijab: Experiences of Veiled Muslim Women in India. Hu Arenas 6, 1–24 (2023). https://doi.org/10.1007/s42087-021-00193-3
Received:

Revised:

Accepted:

Published:

Issue Date:

DOI: https://doi.org/10.1007/s42087-021-00193-3
Keywords