Abstract
The increasing number of individuals who are using and spending most of their time on Facebook, Instagram, Twitter, Snapchat, and other social media platforms has sparked interest amongst politicians, educators, parents, and clinicians due to how it impacts their lives, fellowships, and welfare in general. One of the implications of using social networking sites is that they encourage individuals to cherish and be more focused on the bonds they create online than the friendships that they have in the real world. Moreover, when the word "friend" is used on social media, it lacks the familiarity associated with conventional and long-established friendships where individuals genuinely and personally know each other, speak to each other, have an intimate connection, and communicate face to face. Contrary to what is often assumed, the constant rise in the use of the worldwide web results to the decreasing number of social engagements present in numerous communities. The findings imply that the creation of technology and social media has not really helped people connect with each other but has only spurred people to divide themselves, alienate in social gatherings, and completely become misfits.
Access options
Buy single article
Instant access to the full article PDF.
US$ 39.95
Tax calculation will be finalised during checkout.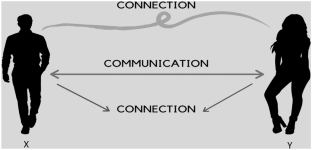 References
Aguas, J. J. (2014). "Action and love: the philosophical thoughts of Karol Wojtyla.

"Communio et Progressio." (1971). Vatican.Va. Accessed January 10, 2021. http://www.vatican.va/roman_curia/pontifical_councils/pccs/documents/rc_pc_pccs_doc_23051971_communio_en.html

Davisson, W. I. (1972). "Technology and social change." Retrieved from https://www.cambridge.org/core/journals/review-of-politics/article/abs/technology-and/Socil-change/E44C9D733287C9547A0F77DBA77B2E77

De Poissy. (n.d.). Christian philosophy. Retrieved from https://www.maritain.nd.edu/jmc/etext/cp26.htm/

Ehmke, R. (2016). How using social media affects teenagers. Retrieved from https://givingcompass.org/article/how-using-social-media-affects-teenagers/

Ellul, J. (1964). Technological society. Alfred A: Knopf.

Entrikin, N. (2002). Democratic place–making and multiculturalism. Geografiska Annaler. Series B, Human Geography 84(1): 19–25.

Fischhoff, B., Iannotta, J. G., & Nightingale, E. O. (2001). Adolescent risk and vulnerability: concepts and measurement. Washington, D.C., DC: National Academies Press.

George State University.  Archival Research: Why Archival Research? GSU Library Research Guides at Georgia State University, George State University Library, 9 Dec. 2019, https://www.research.library.gsu.edu/archivalresearch. Accessed 19 June 2020.

Heidegger, M. (1927). Being and Time. HarperCollins Publishers.

Heidegger, M. (1978). Quest concerning technology. Facsimiles-Garl.

LeBaron, M. (2020). Culture and conflict: beyond intractability. https://www.beyondintractability.org/essay/culture_conflict

Long, T. T., & Hadden, J. K. (1985). A reconception of socialization. Sociological Theory, 3(1), 39.

Massey, D. (1994). Space, place and gender. Minneapolis, MN: University of Minnesota Press.

Miller, D. (2016). Social media in an English village: (or how to keep people at just the right distance). London, England: UCL Press.

Mullet, D. R. (2018). A general critical discourse analysis framework for educational research. Journal of Advanced Academics, 29(2), 116–142.

Nikiforuk, A. (2018). Jacques Ellul: a prophet for our tech-saturated times. Resilience.Org. Retrieved November 16, 2018. http://www.resilience.org/stories/2018-11-16/jacques-ellul-a-prophet-for-our-tech-saturated-times/

Pew Research Center. (2019). Share of U.S. Adults Using Social Media, Including Facebook, is Mostly Unchanged Since 2018. Pew Research Center, 10 Apr. 2019, https://www.pewresearch.org/fact-tank/2019/04/10/share-of-u-s-adults-using-social-media-including-facebook-is-mostly-unchanged-since-2018/

Primack, B. A., Shensa, A., Sidani, J. E., Whaite, E. O., et al. (2017). Social media use and perceived social isolation among young adults in the U.S. American Journal of Preventive Medicine 53 (1): 1–8.

Stevens, P. (2018). Man is by nature a social animal: social integration following lower-limb amputation. The O and P Edge, 40–46

Steiner-Adair, C., & Barker, T. (2013). The big disconnect: protecting childhood and family relationships in the digital age.

Wojtyła, K. (1979). The acting person in the aspect of consciousness. In The Acting Person, 25–59. Dordrecht: Springer Netherlands. N.d. Maritain.edu. Retrieved December 2020. http://maritain.nd.edu/jmc/etext/cp26.htm. N.d.Vatican.va. Retrieved 2020.  https://w2.vatican.va/content/pius-xii/en/encyclicals/documents/hf_p-xii_enc_08091957_miranda-prorsus.html/
Additional information
Publisher's Note
Springer Nature remains neutral with regard to jurisdictional claims in published maps and institutional affiliations.
About this article
Cite this article
Canete, J.J.O., Pandey, D. The Paradox of Connectivity in the Worldwide Web: An Analysis of Social Alienation in the Social Media and the Response of the Church to Genuine Dialogue. Hu Arenas (2021). https://doi.org/10.1007/s42087-021-00192-4
Received:

Revised:

Accepted:

Published:
Keywords
Social media

Social alienation

Genuine dialogue

Paradox

Connectivity