Abstract
Background
The important role played by circular RNA (circRNA) in promoting the progression of papillary thyroid cancer (PTC) is attracting ever more attention among medical researchers. However, what the precise contribution is of circRTN1 in PTC progression remains unclear. The study was designed to analyze the role and mechanism of circRTN1 in regulating PTC progression.
Methods
Human PTC cell lines (TPC-1 and IHH-4) and human thyroid normal cells (Nthy-ori 3-1) were used for in vitro assays. mRNA or protein expression of circRTN1, miR-101-3p, and high mobility group box 1 (HMGB1) were detected by quantitative real-time polymerase chain reaction or western blot. Cell proliferation was investigated by cell counting kit-8 assay, cell colony formation assay, and 5-ethynyl-2′-deoxyuridine assay. Wound-healing assay and transwell invasion assay were conducted to evaluate cell migration and invasion. Dual-luciferase reporter assay and RNA immunoprecipitation assay were applied to verify the target relations between circRTN1, miR-101-3p, and HMGB1. A xenograft tumor model was established to demonstrate the effect of circRTN1 on tumor formation in vivo. An immunohistochemistry assay was used to detect protein expression of HMGB1, ki-67, E-cadherin, and vimentin.
Results
In comparison with healthy thyroid tissues and cells, PTC tissues and cells displayed high circRTN1 RNA expression and high HMGB1 mRNA and protein expression but low miR-101-3p expression. Silencing of circRTN1 suppressed PTC cell proliferation, migration, and invasion in vitro. MiR-101-3p was a target of circRTN1, and the knockdown of miR-101-3p relieved circRTN1 absence-mediated suppressive effects on PTC cell malignancy. HMGB1 was identified as a target gene of miR-101-3p, and overexpressed HMGB1 almost reverted the inhibitory impacts induced by miR-101-3p mimic in PTC cells. Moreover, circRTN1 silencing hampered tumor formation in vivo.
Conclusion
CircRTN1 depletion impeded PTC cell malignancy via the miR-101-3p/HMGB1 pathway, which provided a possible circRNA-targeted therapeutic strategy for PTC.
Access options
Buy single article
Instant access to the full article PDF.
USD 39.95
Price excludes VAT (USA)
Tax calculation will be finalised during checkout.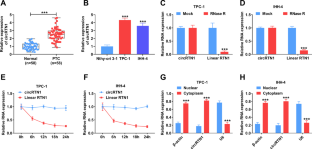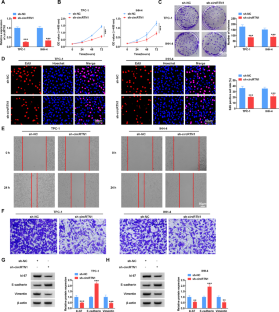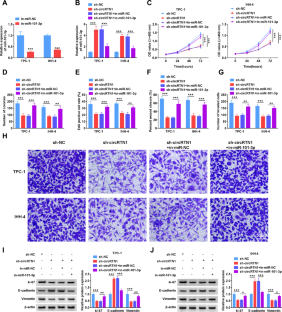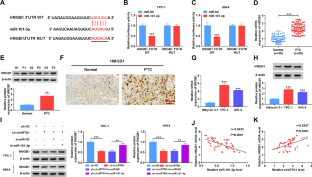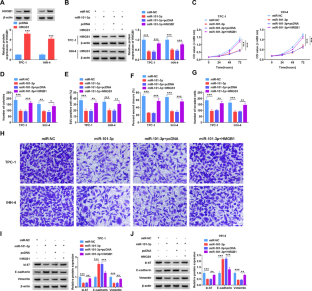 References
Goncalves CFL, de Freitas ML, Ferreira ACF (2017) Flavonoids, thyroid iodide uptake and thyroid cancer-a review. Int J Mol Sci. 18(6):1247

Ancker OV, Kruger M, Wehland M, Infanger M, Grimm D (2019) Multikinase inhibitor treatment in thyroid cancer. Int J Mol Sci. 21(1):10

Schlumberger M, Leboulleux S (2021) Current practice in patients with differentiated thyroid cancer. Nat Rev Endocrinol. 17:176–188

Cabanillas ME, McFadden DG, Durante C (2016) Thyroid cancer. Lancet. 388:2783–2795

Tiedje V, Fagin JA (2020) Therapeutic breakthroughs for metastatic thyroid cancer. Nat Rev Endocrinol. 16:77–78

Zhu X, Cheng SY (2017) Epigenetic modifications: novel therapeutic approach for thyroid cancer. Endocrinol Metab (Seoul). 32:326–331

Jiang C, Cheng T, Zheng X, Hong S, Liu S, Liu J, Wang J, Wang S (2018) Clinical behaviors of rare variants of papillary thyroid carcinoma are associated with survival: a population-level analysis. Cancer Manag Res. 10:465–472

Lyu YS, Pyo JS, Cho WJ, Kim SY, Kim JH (2021) Clinicopathological Significance of papillary thyroid carcinoma located in the isthmus: a meta-analysis. World J Surg. 45:2759–2768

Sun JH, Li YR, Chang KH, Liou MJ, Lin SF, Tsai SS, Yu MC, Hsueh C, Chen ST (2021) Evaluation of recurrence risk in patients with papillary thyroid cancer through tumor-node-metastasis staging: a single-center observational study in Taiwan. Biomed J. 45(6):923–930

Wang Y, Zhou S, Wang D, Wei T, Zhu J, Li Z (2021) Complement C4-A and plasminogen as potential biomarkers for prediction of papillary thyroid carcinoma. Front Endocrinol (Lausanne). 12:737638

Kristensen LS, Andersen MS, Stagsted LVW, Ebbesen KK, Hansen TB, Kjems J (2019) The biogenesis, biology and characterization of circular RNAs. Nat Rev Genet. 20:675–691

Wang S, Zhang K, Tan S, Xin J, Yuan Q, Xu H, Xu X, Liang Q, Christiani DC, Wang M, Liu L, Du M (2021) Circular RNAs in body fluids as cancer biomarkers: the new frontier of liquid biopsies. Mol Cancer. 20:13

Shen H, Liu B, Xu J, Zhang B, Wang Y, Shi L, Cai X (2021) Circular RNAs: characteristics, biogenesis, mechanisms and functions in liver cancer. J Hematol Oncol. 14:134

Xue C, Li G, Lu J, Li L (2021) Crosstalk between circRNAs and the PI3K/AKT signaling pathway in cancer progression. Signal Transduct Target Ther. 6:400

Geng Y, Jiang J, Wu C (2018) Function and clinical significance of circRNAs in solid tumors. J Hematol Oncol. 11:98

Liu Y, Wang S, Pan S, Yan Q, Li Y, Zhao Y (2021) Circ_0000463 contributes to the progression and glutamine metabolism of non-small-cell lung cancer by targeting miR-924/SLC1A5 signaling. J Clin Lab Anal. 1:e24116

Huang C, Yu W, Wang Q, Huang T, Ding Y (2021) CircANTXR1 contributes to the malignant progression of hepatocellular carcinoma by promoting proliferation and metastasis. J Hepatocell Carcinoma. 8:1339–1353

Lu J, Zhong C, Luo J, Shu F, Lv D, Liu Z, Tan X, Wang S, Wu K, Yang T, Zhong W, Wang B, Chen Y, Li Y, Jia Z, Zou Y, Zhong W, Mao X (2021) HnRNP-L-regulated circCSPP1/miR-520h/EGR1 axis modulates autophagy and promotes progression in prostate cancer. Mol Ther Nucleic Acids. 26:927–944

Liu J, Zheng X, Liu H (2020) Hsa_circ_0102272 serves as a prognostic biomarker and regulates proliferation, migration and apoptosis in thyroid cancer. J Gene Med. 22:e3209

Du YL, Liang Y, Cao Y, Liu L, Li J, Shi GQ (2021) LncRNA XIST promotes migration and invasion of papillary thyroid cancer cell by modulating MiR-101-3p/CLDN1 axis. Biochem Genet. 59:437–452

Mardente S, Mari E, Consorti F, Di Gioia C, Negri R, Etna M, Zicari A, Antonaci A (2012) HMGB1 induces the overexpression of miR-222 and miR-221 and increases growth and motility in papillary thyroid cancer cells. Oncol Rep. 28:2285–2289

Huang D-W, Huang M, Lin X-S, Huang Q (2017) CD155 expression and its correlation with clinicopathologic characteristics, angiogenesis, and prognosis in human cholangiocarcinoma. OncoTargets and therapy. 10:3817–3825

Xie R, Tang J, Zhu X, Jiang H (2019) Silencing of hsa_circ_0004771 inhibits proliferation and induces apoptosis in breast cancer through activation of miR-653 by targeting ZEB2 signaling pathway. Biosci Rep 39(5):BSR20181919

Zhong Y, Du Y, Yang X, Mo Y, Fan C, Xiong F, Ren D, Ye X, Li C, Wang Y, Wei F, Guo C, Wu X, Li X, Li Y, Li G, Zeng Z, Xiong W (2018) Circular RNAs function as ceRNAs to regulate and control human cancer progression. Mol Cancer. 17:1–11

Qiu J, Sun M, Zang C, Jiang L, Qin Z, Sun Y, Liu M, Zhang W (2021) Five genes involved in circular RNA-associated competitive endogenous RNA network correlates with metastasis in papillary thyroid carcinoma. Math Biosci Eng. 18:9016–9032

Ma J, Kan Z (2021) Circular RNA circ_0008274 enhances the malignant progression of papillary thyroid carcinoma via modulating solute carrier family 7 member 11 by sponging miR-154-3p. Endocr J. 68:543–552

Qi Y, He J, Zhang Y, Wang L, Yu Y, Yao B, Tian Z (2021) Circular RNA hsa_circ_0001666 sponges miR3305p, miR193a5p and miR326, and promotes papillary thyroid carcinoma progression via upregulation of ETV4. Oncol Rep. 45(4):1–12

Wang H, Xiao R, Yang B (2021) MiR-101-3p suppresses progression of cervical squamous cell carcinoma by targeting and down-regulating KPNA2. Technol Cancer Res Treat. 20:15330338211055948

Zhang Y, Li R, Ding X, He M, Zhang R (2021) Long noncoding RNA SNHG6 promotes oesophageal squamous cell carcinoma by downregulating the miR-101-3p/EZH2 pathway. J Biochem Mol Toxicol. 2:e22959

Shao J, Zhang Q, Wang P, Wang Z (2021) LncRNA MALAT1 promotes breast cancer progression by sponging miR101-3p to mediate mTOR/PKM2 signal transmission. Am J Transl Res. 13:10262–10275

Liu C, Feng Z, Chen T, Lv J, Liu P, Jia L, Zhu J, Chen F, Yang C, Deng Z (2019) Downregulation of NEAT1 reverses the radioactive iodine resistance of papillary thyroid carcinoma cell via miR-101-3p/FN1/PI3K-AKT signaling pathway. Cell Cycle. 18:167–203

Jonas S, Izaurralde E (2015) Towards a molecular understanding of microRNA-mediated gene silencing. Nat Rev Genet. 16:421–433

Dong LP, Chen LY, Bai B, Qi XF, Liu JN, Qin S (2021) circ_0067934 promotes the progression of papillary thyroid carcinoma cells through miR-1301-3p/HMGB1 axis. Neoplasma 69(1):1–15

Li M, Hu J, Peng Y, Li J, Ren R (2021) CircPTK2-miR-181c-5p-HMGB1: a new regulatory pathway for microglia activation and hippocampal neuronal apoptosis induced by sepsis. Mol Med. 27:45

Kam NW, Wu KC, Dai W, Wang Y, Yan LYC, Shakya R, Khanna R, Qin Y, Law S, Lo AWI, Lee VHF, Guan XY, Kwong DL (2021) Peritumoral B cells drive proangiogenic responses in HMGB1-enriched esophageal squamous cell carcinoma. Angiogenesis 25(2):181–203

Xu Q, Liao B, Hu S, Zhou Y, Xia W (2021) Circular RNA 0081146 facilitates the progression of gastric cancer by sponging miR-144 and up-regulating HMGB1. Biotechnol Lett. 43:767–779

Yang G, Xu Q, Wan Y, Zhang L, Wang L, Meng F (2021) Circ-CSPP1 knockdown suppresses hepatocellular carcinoma progression through miR-493-5p releasing-mediated HMGB1 downregulation. Cell Signal. 86:110065

Ding C, Yu H, Shi C, Shi T, Qin H, Cui Y (2019) MiR-let-7e inhibits invasion and magration and regulates HMGB1 expression in papillary thyroid carcinoma. Biomed Pharmacother. 110:528–536
Ethics declarations
Ethical approval
This study was performed with the ratification of the Ethics Committee of The First People's Hospital of Jingmen City, Hubei Province, People's Republic of China
Informed consent
Written informed consent was signed by all participants.
Conflict of interest
The authors declare no competing interests.
Additional information
Publisher's note
Springer Nature remains neutral with regard to jurisdictional claims in published maps and institutional affiliations.
Supplementary information
Figure S1 CircRTN1 expression analysis in PTC cells. Barplot of circRTN1 expression in Nthy-ori 3-1 cells, FTC-133 cells, 8505C cells, TPC-1 cells and IHH-4 cells. Results are presented as mean ± SD. *P<0.05, **P<0.01 and ***P<0.001. Statistical analyses were performed using one-way ANOVA. Figure S2 The identification of target miRNAs of circRTN1 and target mRNAs of miR-101-3p. (A-B) Barplot of miR-1271-5p and miR-101-3p relative expression in TPC-1 cells and IHH-4 cells transfected with sh-NC or sh-circRTN1. Results are presented as mean ± SD. (C-D) Barplot of DNMT3A, CLDN1, ZEB1, VEGFA, LMO4, E2F3, YAP1, TRIM44, PDK4, MAPK1, KIF2A and HMGB1 expression in TPC-1 cells and IHH-4 cells transfected with miR-NC or miR-101-3p. Results are presented as mean ± SD. *P<0.05, **P<0.01 and ***P<0.001. Statistical analyses were performed using two-way ANOVA.
Table S1 Relationship between circRTN1 expression and clinicopathologic features of papillary thyroid cancer patients. Table S2 The effects of circRTN1 knockdown on PTC cell migration and invasion.
Rights and permissions
Springer Nature or its licensor (e.g. a society or other partner) holds exclusive rights to this article under a publishing agreement with the author(s) or other rightsholder(s); author self-archiving of the accepted manuscript version of this article is solely governed by the terms of such publishing agreement and applicable law.
About this article
Cite this article
Zheng, M., Xu, L., Wei, C. et al. CircRTN1 stimulates HMGB1 to regulate the malignant progression of papillary thyroid cancer by sponging miR-101-3p. Hormones (2023). https://doi.org/10.1007/s42000-023-00440-y
Received:

Accepted:

Published:

DOI: https://doi.org/10.1007/s42000-023-00440-y
Keywords
PTC

circRTN1

miR-101-3p

HMGB1