Abstract
Introduction
Medullary thyroid carcinoma (MTC) is an aggressive form of thyroid cancer. Early detection is essential because only complete resection of the thyroid tumor and any local metastases can cure MTC. Calcitonin (CT) is a marker used for diagnosis of MTC. In controversial cases of slightly elevated CT levels, stimulation tests have shown their utility, but their safety should also be taken into account.
Objective
Our aim is to present our own experience regarding the safety of CT stimulating tests.
Materials and methods
We applied a specific protocol of calcium stimulation test in 176 patients after informed consent (115 women with a median age of 46 years, range 21–79; 61 men with a median age of 54 years, range 22–78). We recorded the side effects and a further analysis was performed.
Results
The most frequent side effects noted were hot flashes in 159 out of 176 patients (90.34%), followed by dysgeusia (32/176) and bradycardia (10/176). Severe bradycardia was reported in only one patient (0.568%), which was rapidly reversible. There was no correlation between patients' age, weight, height, body mass index, basal CT or peak stimulated CT, and grade of severity, but men were more likely to develop cardiovascular side effects than women, namely, bradycardia, tachycardia, ventricular or atrial extrasystoles, hypertension, hypotension, or angina (p = 0.024), with an odds ratio of 2.94 (CI: 1.11–7.76). We recommend thyroid surgery in all women with sCT above 285 pg/ml.
Conclusion
The calcium stimulation test is well tolerated, with few adverse reactions. The test should be performed with appropriate precautions (i.e., ECG monitoring during and after the test) to minimize the possibility of a serious event.
Access options
Buy single article
Instant access to the full article PDF.
US$ 39.95
Tax calculation will be finalised during checkout.
Subscribe to journal
Immediate online access to all issues from 2019. Subscription will auto renew annually.
US$ 79
Tax calculation will be finalised during checkout.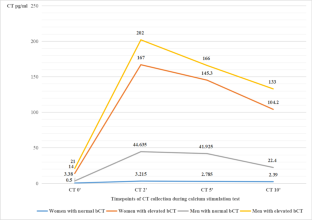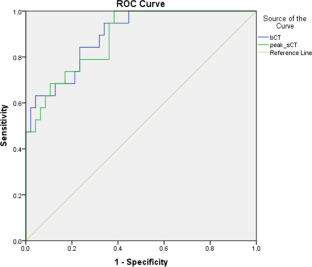 Data availability
All data generated or analyzed during this study are included in this manuscript.
References
1.

Wells SA Jr, Asa SL, Dralle H, Elisei R, Evans DB, Gagel RF, Lee N, Machens A, Moley JF, Pacini F, Raue F, Frank-Raue K, Robinson B, Rosenthal MS, Santoro M, Schlumberger M, Shah M, Waguespack SG (2015) Revised American thyroid association guidelines for the management of medullary thyroid carcinoma. Thyroid 25:567–610. https://doi.org/10.1089/thy.2014.0335

2.

Du L, Wang Y, Sun X, Li H, Geng X, Ge M, Zhu Y (2018) Thyroid cancer: trends in incidence, mortality and clinical-pathological patterns in Zhejiang Province. Southeast China BMC Cancer 18(1):291. https://doi.org/10.1186/s12885-018-4081-7

3.

Sippel RS, Kunnimalaiyaan M, Chen H (2008) Current management of medullary thyroid cancer. Oncologist 13:539–547. https://doi.org/10.1634/theoncologist.2007-0239

4.

Medullary thyroid cancer: Surgical treatment and prognosis - UpToDate https://www.uptodate.com/contents/medullary-thyroid-cancer-surgical-treatment-andprognosis? search=Medullary thyroid cancer: Treatment and prognosis.&source=search_result&selectedTitle=1~88&usage_type=default&display_rank=1 Accessed February 19, 2021

5.

Băetu M, Dobrescu R (2017) Novel markers for early diagnosis and prognostic classification in medullary thyroid carcinoma. Acta Endocrinol 13:519–522. https://doi.org/10.4183/aeb.2017.519

6.

Niederle MB, Scheuba C, Riss P, Selberherr A, Koperek O, Niederle B (2020) Early diagnosis of medullary thyroid cancer: are calcitonin stimulation tests still indicated in the era of highly sensitive calcitonin immunoassays? Thyroid 30:974–984. https://doi.org/10.1089/thy.2019.0785

7.

Fugazzola L, Di Stefano M, Censi S, Repaci A, Colombo C, Grimaldi F, Magri F, Pagotto U, Iacobone M, Persani L, Mian C (2020) Basal and stimulated calcitonin for the diagnosis of medullary thyroid cancer: updated thresholds and safety assessment. J Endocrinol Invest 44:587–597. https://doi.org/10.1007/s40618-020-01356-9

8.

Russo M, Scollo C, Padova G, Vigneri R, Pellegriti G (2014) Cardiac arrest after intravenous calcium administration for calcitonin stimulation test. Thyroid 24:606–607. https://doi.org/10.1089/thy.2013.0394

9.

Niederle B, Sebag F, Brauckhoff M (2014) Timing and extent of thyroid surgery for gene carriers of hereditary C cell disease - a consensus statement of the European Society of Endocrine Surgeons (ESES). Langenbeck's Arch Surg 399:185–197. https://doi.org/10.1007/s00423-013-1139-5

10.

Niederle MB, Scheuba C, Gessl A, Li S, Koperek O, Bieglmayer C, Riss P, Selberherr A, Niederle B (2018) Calcium-stimulated calcitonin - the "new standard" in the diagnosis of thyroid C-cell disease-clinically relevant gender-specific cut-off levels for an "old test." Biochem Med 28(3):030710. https://doi.org/10.11613/BM.2018.030710

11.

Gardner DG, Shoback D (2018) Greenspan's Basic & Clinical Endocrinology

12.

Băetu M, Olariu CA, Moldoveanu G, Corneci C, Badiu C (2021) Calcitonin stimulation tests: rationale, technical issues and side effects: a review. Horm Metab Res 53:355–363. https://doi.org/10.1055/a-1487-6449

13.

Doyle P, Düren C, Nerlich K, Verburg FA, Grelle I, Jahn H, Fassnacht M, Mäder U, Reiners C, Luster M (2009) Potency and tolerance of calcitonin stimulation with high-dose calcium versus pentagastrin in normal adults. J Clin Endocrinol Metab 94:2970–2974. https://doi.org/10.1210/jc.2008-2403

14.

Colombo C, Verga U, Mian C, Ferrero S, Perrino M, Vicentini L, Dazzi D, Opocher G, Pelizzo MR, Beck-Peccoz P, Fugazzola L (2012) Comparison of calcium and pentagastrin tests for the diagnosis and follow-up of medullary thyroid cancer. J Clin Endocrinol Metab 97:905–913. https://doi.org/10.1210/jc.2011-2033

15.

Ubl P, Gincu T, Keilani M, Ponhold L, Crevenna R, Niederle B, Hacker M, Li S (2014) Comparison of side effects of pentagastrin test and calcium stimulation test in patients with increased basal calcitonin concentration: The gender-specific differences. Endocrine 46:549–553. https://doi.org/10.1007/s12020-013-0109-6

16.

Vainas I, Marthopoulos A, Chrisoulidou A, Raptou K, Tziomalos K, Pazaitou-Panayiotou K (2013) Calcitonin stimulation tests for the early diagnosis and follow-up of patients with C cell disease: a descriptive analysis. Hippokratia 17:246–251

17.

Thiem U, Marculescu R, Cejka D, Gessl A, Borchhardt K (2014) Low-dose calcium versus pentagastrin for stimulation of calcitonin in chronic hemodialysis patients: a pilot study. J Clin Endocrinol Metab 99:4704–4711. https://doi.org/10.1210/jc.2014-1869

18.

Common Terminology Criteria for Adverse Events (CTCAE) | Protocol Development | CTEP https://ctep.cancer.gov/protocoldevelopment/electronic_applications/ctc.htm. Accessed February 19, 2021

19.

CFR - Code of Federal Regulations Title 21 https://www.accessdata.fda.gov/scripts/cdrh/cfdocs/cfcfr/cfrsearch.cfm?fr=312.32. Accessed February 19, 2021

20.

Mian C, Perrino M, Colombo C, Cavedon E, Pennelli G, Ferrero S, De Leo S, Sarais C, Cacciatore C, Manfredi GI, Verga U, Iacobone M, De Pasquale L, Pelizzo MR, Vicentini L, Persani L, Fugazzola L (2014) Refining calcium test for the diagnosis of medullary thyroid cancer: cutoffs, procedures, and safety. J Clin Endocrinol Metab 99:1656–1664. https://doi.org/10.1210/jc.2013-4088

21

Carlon GC, Howland WS, Goldiner PL, Kahn RC, Bertoni G, Turnbull AD (1978) Adverse effects of calcium administration: report of two cases. Arch Surg 113:882. https://doi.org/10.1001/archsurg.1978.01370190104021

22.

Morimoto S, Onishi T, Okada Y, Tanaka K (1979) Comparison of human calcitonin secretion after calcium infusion in young normal and in elderly subjects. Endocrinol Jpn 26:207–211. https://doi.org/10.1507/endocrj1954.26.207
Ethics declarations
Conflict of interest
The authors declare no competing interests.
Ethics approval
Study approval was provided by the Ethics Committee of "Carol Davila" University of Medicine and Pharmacy, Bucharest, Romania, No. 161/PO-35-F-03/14.06.2018. The study was performed in accordance with the ethical standards as laid down in the 1964 Declaration of Helsinki and its later amendments.
Informed consent
Written informed consent was obtained from each participant in the study.
Consent for publication
Patients signed informed consent regarding the publication of their data.
Additional information
Publisher's Note
Springer Nature remains neutral with regard to jurisdictional claims in published maps and institutional affiliations.
About this article
Cite this article
Băetu, M., Olariu, C.A., Nițu, I. et al. Safety of calcitonin stimulation tests with calcium. Hormones (2021). https://doi.org/10.1007/s42000-021-00315-0
Received:

Accepted:

Published:
Keywords
Calcitonin

Stimulation test

Side effects

Safety