Abstract
Purpose
Progesterone-induced blocking factor (PIBF) is a protein secreted by lymphocytes exposed to progesterone (P4). P4 and PIBF have immunomodulatory effects on peripheral CD4+ T cells during normal pregnancy. Membrane progesterone receptors (mPRs) may correlate with the immunomodulatory properties of P4 on T cells. Variation in expression of mPRs may influence P4 regulatory performance during pregnancy. On the other hand, PIBF increases in pregnant normal women compared to women who have experienced abortion. The present study aimed to determine whether PIBF, in addition to having a direct influence on the immune system, can affect P4 performance through its effect on mPR expression. Such novel research findings demonstrate the importance of PIBF in the maintenance of pregnancy.
Methods
Isolated peripheral blood mononuclear cells (PBMCs) from 30 healthy women were stimulated with the mitogen phytohemagglutinin (PHA). Cells were either exposed to various concentrations of PIBF or had no exposure at all in a culture medium at 37 °C for 3 days. The mean fluorescence intensity (MFI) of mPRα and mPRβ was evaluated using polyclonal and monoclonal antibodies on CD4+ T cells.
Results
PIBF was able to significantly increase mPR expression on the surface of peripheral CD4+ T cells (p ≤ 0.05).
Conclusion
This study characterized the effects of PIBF on mPR expression on peripheral CD4+ T cells of healthy fertile women. Thus, a decrease in PIBF concentration during abnormal pregnancy can modulate mPR expression and regulatory performance of P4 on T cells. Future research into this issue is likely to open up a new understanding of the etiology of abortion.
Access options
Buy single article
Instant access to the full article PDF.
US$ 39.95
Tax calculation will be finalised during checkout.
Subscribe to journal
Immediate online access to all issues from 2019. Subscription will auto renew annually.
US$ 79
Tax calculation will be finalised during checkout.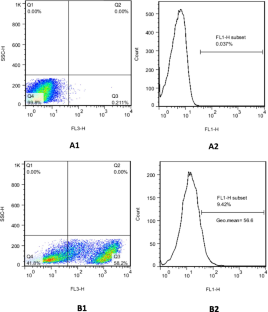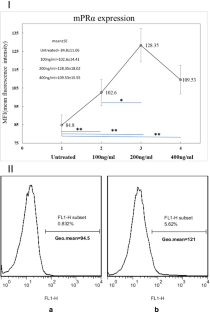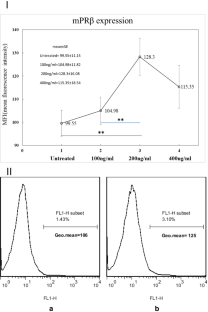 Abbreviations
P4:

Progesterone

PIBF:

Progesterone-induced blocking factor

PR:

Progesterone receptor

mPRs:

Membrane progesterone receptors

PHA:

Phytohemagglutinin

PBS:

Phosphate-buffered saline

PBMCs:

Peripheral blood mononuclear cells
References
1.

Backstrom CT et al (1982) Pulsatile secretion of LH, FSH, prolactin, oestradiol and progesterone during the human menstrual cycle. Clin Endocrinol (Oxf) 17(1):29–42

2.

Mihm M, Gangooly S, Muttukrishna S (2011) The normal menstrual cycle in women. Anim Reprod Sci 124(3–4):229–236

3.

Lissauer D et al (2015) Progesterone promotes maternal-fetal tolerance by reducing human maternal T-cell polyfunctionality and inducing a specific cytokine profile. Eur J Immunol 45(10):2858–2872

4.

Nadeem L et al (2016) Molecular evidence of functional progesterone withdrawal in human myometrium. Nat Commun 7:11565

5.

Shah NM, Imami N, Johnson MR (2018) Progesterone modulation of pregnancy-related immune responses. Front Immunol 9:1293

6.

Arruvito L et al (2008) NK cells expressing a progesterone receptor are susceptible to progesterone-induced apoptosis. J Immunol 180(8):5746–5753

7.

Younglai EV et al (2006) Binding of progesterone to cell surfaces of human granulosa-lutein cells. J Steroid Biochem Mol Biol 101(1):61–67

8.

Behera MA et al (2009) Progesterone stimulates mitochondrial activity with subsequent inhibition of apoptosis in MCF-10A benign breast epithelial cells. Am J Physiol Endocrinol Metab 297(5):E1089–E1096

9.

Patel B et al (2015) Role of nuclear progesterone receptor isoforms in uterine pathophysiology. Hum Reprod Update 21(2):155–173

10.

Miyaura H, Iwata M (2002) Direct and indirect inhibition of Th1 development by progesterone and glucocorticoids. J Immunol 168(3):1087–1094

11.

Areia A et al (2015) Membrane progesterone receptors in human regulatory T cells: a reality in pregnancy. BJOG 122(11):1544–1550

12.

Szekeres-Bartho J et al (1990) Reactivity of lymphocytes to a progesterone receptor-specific monoclonal antibody. Cell Immunol 125(2):273–283

13.

Mansour I, Reznikoff-Etievant MF, Netter A (1994) No evidence for the expression of the progesterone receptor on peripheral blood lymphocytes during pregnancy. Hum Reprod 9(8):1546–1549

14.

Bamberger CM et al (1999) Dissociative glucocorticoid activity of medroxyprogesterone acetate in normal human lymphocytes. J Clin Endocrinol Metab 84(11):4055–4061

15.

Dosiou C et al (2008) Expression of membrane progesterone receptors on human T lymphocytes and Jurkat cells and activation of G-proteins by progesterone. J Endocrinol 196(1):67–77

16.

Szekeres-Bartho J et al (1985) The mechanism of the inhibitory effect of progesterone on lymphocyte cytotoxicity: I. Progesterone-treated lymphocytes release a substance inhibiting cytotoxicity and prostaglandin synthesis. Am J ReprodImmunolMicrobiol 9(1):15–18

17.

Cohen RA, Check JH, Dougherty MP (2016) Evidence that exposure to progesterone alone is a sufficient stimulus to cause a precipitous rise in the immunomodulatory protein the progesterone induced blocking factor (PIBF). J Assist Reprod Genet 33(2):221–229

18.

Raghupathy R et al (2009) Progesterone-induced blocking factor (PIBF) modulates cytokine production by lymphocytes from women with recurrent miscarriage or preterm delivery. J Reprod Immunol 80(1–2):91–99

19.

Faust Z et al (1999) Progesterone-induced blocking factor inhibits degranulation of natural killer cells. Am J Reprod Immunol 42(2):71–75

20.

Hudic I, Fatusic Z (2009) Progesterone-induced blocking factor (PIBF) and Th(1)/Th(2) cytokine in women with threatened spontaneous abortion. J Perinat Med 37(4):338–342

21.

Wu S et al (2014) Expression of kisspeptin/GPR54 and PIBF/PR in the first trimester trophoblast and decidua of women with recurrent spontaneous abortion. Pathol Res Pract 210(1):47–54

22.

Hudic I et al (2016) Lower urinary and serum progesterone-induced blocking factor in women with preterm birth. J Reprod Immunol 117:66–69

23.

Wegmann TG et al (1993) Bidirectional cytokine interactions in the maternal-fetal relationship: is successful pregnancy a TH2 phenomenon? Immunol Today 14(7):353–356

24.

Hsi BL, Hunt JS, Atkinson JP (1991) Differential expression of complement regulatory proteins on subpopulations of human trophoblast cells. J Reprod Immunol 19(3):209–223

25.

Aluvihare VR, Kallikourdis M, Betz AG (2004) Regulatory T cells mediate maternal tolerance to the fetus. Nat Immunol 5(3):266–271

26.

King A et al (2000) Surface expression of HLA-C antigen by human extravillous trophoblast. Placenta 21(4):376–387

27.

Munn DH et al (1998) Prevention of allogeneic fetal rejection by tryptophan catabolism. Science 281(5380):1191–1193

28.

Makhseed M et al (2001) Th1 and Th2 cytokine profiles in recurrent aborters with successful pregnancy and with subsequent abortions. Hum Reprod 16(10):2219–2226

29.

Piccinni MP et al (1995) Progesterone favors the development of human T helper cells producing Th2-type cytokines and promotes both IL-4 production and membrane CD30 expression in established Th1 cell clones. J Immunol 155(1):128–133

30.

Weinberg A et al (2011) Effect of menstrual cycle variation in female sex hormones on cellular immunity and regulation. J Reprod Immunol 89(1):70–77

31.

Lee JH et al (2011) Progesterone promotes differentiation of human cord blood fetal T cells into T regulatory cells but suppresses their differentiation into Th17 cells. J Immunol 187(4):1778–1787

32.

Chien EJ et al (2007) The non-genomic effects on Na+/H+-exchange 1 by progesterone and 20alpha-hydroxyprogesterone in human T cells. J Cell Physiol 211(2):544–550

33.

Areia A et al (2016) Can membrane progesterone receptor alpha on T regulatory cells explain the ensuing human labour? J Reprod Immunol 113:22–26

34.

Szekeres-Bartho J et al (1989) Lymphocytic progesterone receptors in normal and pathological human pregnancy. J Reprod Immunol 16(3):239–247

35.

Chiu L et al (1996) Enhancement of the expression of progesterone receptor on progesterone-treated lymphocytes after immunotherapy in unexplained recurrent spontaneous abortion. Am J Reprod Immunol 35(6):552–557

36.

Rafiee M et al (2019) Vitamin D3 induces the expression of membrane progesterone receptors (mPRs) on naive CD4+ T lymphocyte cells in women of reproductive age. Int Immunopharmacol 72:55–61

37.

Polgar B et al (2004) Urinary progesterone-induced blocking factor concentration is related to pregnancy outcome. Biol Reprod 71(5):1699–1705

38.

Kozma N et al (2006) Progesterone-induced blocking factor activates STAT6 via binding to a novel IL-4 receptor. J Immunol 176(2):819–826
Acknowledgments
The authors gratefully acknowledge the financial support of Isfahan University of Medical Sciences and Birjand University of Medical Sciences.
Ethics declarations
Ethical approval
This study was approved by the Institutional Ethics Committee of Isfahan University of Medical Science (code of ethics: 1,395,030,632).
Informed consent
Written informed consent was obtained from all patients participating in this study.
Conflict of interest
The authors declare no competing interests.
Additional information
Publisher's note
Springer Nature remains neutral with regard to jurisdictional claims in published maps and institutional affiliations.
Dr Mitra Rafiee is the first author.
About this article
Cite this article
Rafiee, M., Rezaei, A., Alipour, R. et al. Progesterone-induced blocking factor (PIBF) influences the expression of membrane progesterone receptors (mPRs) on peripheral CD4+ T lymphocyte cells in normal fertile females. Hormones (2021). https://doi.org/10.1007/s42000-021-00291-5
Received:

Accepted:

Published:
Keywords
Progesterone (P4)

Progesterone-induced blocking factor (PIBF)

Membrane progesterone receptor α and β

CD4+ T lymphocyte cells