Abstract
Sappho has always been regarded as one of the greatest lyric poets of ancient Greece. Her famous poem Fragment 31 V., also known as the "Ode to Jealousy", accurately describes the profound emotional reaction triggered by the sight of her beloved. The poet's precise description of each sign and symptom triggered by this arousal makes Sappho 31 V., to the best of our knowledge, the first analytical description of the acute stress response, the so-called "fight-or-flight" response, in human history. Here, Fragment 31 V. is re-read from a medical point of view, correlating the ancient Greek lyric text, the corresponding medical terms, and the underlying catecholamine mechanism of action.
Access options
Buy single article
Instant access to the full article PDF.
US$ 39.95
Tax calculation will be finalised during checkout.
Subscribe to journal
Immediate online access to all issues from 2019. Subscription will auto renew annually.
US$ 79
Tax calculation will be finalised during checkout.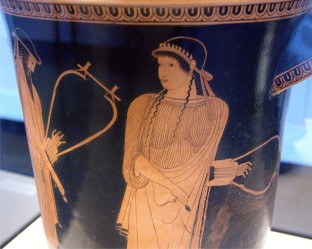 References
1.

Sappho A, Lyric G, Volume I: Sappho and Alcaeus. Edited and translated by David A. Campbell, (1982) Loeb Classical Library 142. Harvard University Press, Cambridge, MA

2.

Voigt EM (1971) Sappho et Alcaeus. Fragmenta. Pp. ix + 507. Amsterdam: Polak & van Gennep.

3.

Neri C (2017) Saffo. Poesie, frammenti e testimonianze, Introduzione e nuova traduzione e commento a cura di C. Neri e F. Cinti, Santarcangelo di Romagna, Rusconi libri.

4.

von Wilamowitz-Moellendorff U (1913) Sappho und Simonides. Weidmannsche Buchhandlung, Berlin

5.

Snell B (1931) Sapphos Gedicht ΦΑΙΝΕΤΑΙ ΜΟΙ ΚΗΝΟΣ. Hermes 66(2):71–90

6.

Jensen A, Nguyen X, Karpitsky V, Mettenleiter M (1995) Central command neurons of the sympathetic nervous system: basis of the fight-or flight response. Sci Mag 5236(270):644–666

7.

Fisher H, Aron A, Mashek D, Li H, Strong G, Brown LL (2002) The neural mechanisms of mate choice: a hypothesis. Neuro Endocrinol Lett 23(Suppl 4):92–97

8.

Young LJ (2009) Being human: love: neuroscience reveals all. Nature 457:148

9.

Marazziti D, Canale D (2004) Hormonal changes when falling in love. Psychoneuroendocrinology 29:931–936

10.

Griffin MG, Taylor GT (1995) Norepinephrine modulation of social memory: evidence for a time-dependent functional recovery of behavior. Behav Neurosci 109:466–473

11.

Fisher HE (1998) Lust, attraction, and attachment in mammalian reproduction. Hum Nat 9:23–52

12.

Seshadri KG (2016) The neuroendocrinology of love. Indian J Endocrinol Metab 20(4):558–563

13.

Devereux G (1970) The nature of Sappho's seizure in fr. 31 LP as evidence of her inversion. Class Q 20:17–31

14.

American Psychiatric Association. Diagnostic and statistical manual of mental disorders (5th ed.) (2013) Arlington, VA: American Psychiatric Publishing. https://doi.org/10.1176/appi.books.9780890425596.

15.

Most GW (1996) Reflecting Sappho. In: Greene E (ed) Re-reading Sappho. Berkley, Los Angeles, London, University of California Press, Reception and Transmission, pp 11–35

16.

Goldstein DS (2010) Adrenal response to stress. Cell Mol Neurobiol 30(8):1433–1340

17.

Di Benedetto V (1985) Intorno al linguaggio erotico di Saffo. Hermes 113:145–156

18.

Tank AW, Lee Wong D (2015) Peripheral and central effects of circulating catecholamines. Compr Physiol 5(1):1–15

19.

Badelow B, Baldwin D, Abellli M, et al (2017) Biological markers for anxiety disorders, OCD and PTSD: a consensus statement. Part II: Neurochemistry, neurophysiology and neurocognition. World J Biol Psychiatry 18(3):162–214.

20.

Joyner MJ (2016) Preclinical and clinical evaluation of autonomic function in humans. J Physiol 594(14):4009–4013

21.

Plutarch. Lives, Volume IX: Demetrius and Antony. Pyrrhus and Gaius Marius (1920) translated by Bernadotte Perrin. Loeb Classical Library 101. Cambridge, MA: Harvard University Press.
Acknowledgements
We thank Sarah Jane Christopher for her linguistic revision of the text.
Ethics declarations
Ethics approval
Not applicable
Consent to participate
Not applicable
Consent for publication
Not applicable
Conflict of interest
The authors declare no competing interests.
Additional information
Publisher's note
Springer Nature remains neutral with regard to jurisdictional claims in published maps and institutional affiliations.
About this article
Cite this article
Papi, G., Cuomo, V., Tedeschini, E. et al. The ancient Greek poet Sappho and the first case report of the fight-or-flight response. Hormones (2021). https://doi.org/10.1007/s42000-021-00290-6
Received:

Accepted:

Published:
Keywords
Sappho

Panic attack

Anxiety disorder

Autonomic nervous system

Catecholamines