Abstract
Purpose
This study was designed to determine the value of miR-205-5p and thyroid-stimulating hormone receptor (TSHR) mRNA in differentiating benign thyroid nodules from malignant thyroid nodules.
Methods
A total of 67 patients with malignant thyroid nodules admitted to our hospital from October 2016 to March 2018 were enrolled in the malignant group, and 71 patients with benign thyroid nodules were enrolled in the benign group. Another 56 healthy individuals, as determined by physical examination, were enrolled in the control group. Quantitative real-time polymerase chain reaction (qRT-PCR) was adopted to determine the relative expression of miR-205-5p and TSHR mRNA in serum, and receiver operating characteristic (ROC) curves were used to analyze the diagnostic value of miR-205-5p and TSHR mRNA in thyroid nodules and their benignancy or malignancy. The correlation of miR-205-5p and TSHR mRNA with clinical data of the patients with thyroid carcinoma was analyzed, and multivariate logistic regression was used to analyze risk factors for lymph node metastasis of thyroid carcinoma. In addition, Pearson's test was used to analyze the relationship between miR-205-5p and TSHR mRNA in serum of patients with thyroid carcinoma.
Results
The malignant group showed significantly higher expression of miR-205-5p and TSHR mRNA than the benign group and control group (both p <0.001), and the benign group showed significantly higher expression of these than the control group (p <0.01). miR-205-5p expression was related to tumor size, TNM staging, lymph node metastasis, capsular infiltration, and BRAF mutation (p <0.05), and TSHR mRNA expression was related to lymph node metastasis, capsular infiltration, BRAF mutation, and RAS mutation (p <0.05). Gender, number of lesions, capsular infiltration, miR-205-5p, and TSHR mRNA were independent risk factors for lymph node metastasis of patients with thyroid carcinoma. Moreover, there was a positive correlation between miR-205-5p and TSHR mRNA in patients with thyroid carcinoma (r=0.735, p<0.001).
Conclusion
MiR-205-5p and TSHR mRNA may be potential diagnosis indexes of thyroid nodules, their benignancy, or malignancy, while the independent risk factors for patients with thyroid carcinoma include a large number of lesions, occurrence of capsular infiltration, and relatively high expression of miR-205-5p and TSHR mRNA.
Access options
Buy single article
Instant access to the full article PDF.
USD 39.95
Price excludes VAT (USA)
Tax calculation will be finalised during checkout.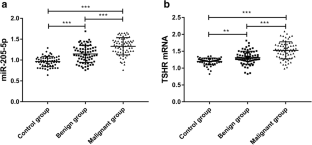 Data availability
The datasets generated during and/or analyzed during the current study are available from the corresponding author on reasonable request.
References
Li S, Zhang L, Duan M, Li W, Yang Y (2019) Langerhans histiocytosis renders a differential and complementary diagnosis for a sjögren syndrome female presenting with a hypophyseal mass, pulmonary emphysema and thyroid nodules. Indian J Hematol Blood Transfus 35:189–191

Slough CM, Kamani D, Randolph GW (2019) In-office ultrasonographic evaluation of neck masses/thyroid nodules. Otolaryngol Clin N Am 52:559–575

Chang Y, Paul AK, Kim N, Baek JH, Choi YJ, Ha EJ, Lee KD, Lee HS, Shin D, Kim N (2016) Computer-aided diagnosis for classifying benign versus malignant thyroid nodules based on ultrasound images: a comparison with radiologist-based assessments. Med Phys 43:554–567

Durante C, Grani G, Lamartina L, Filetti S, Mandel SJ, Cooper DS (2018) The diagnosis and management of thyroid nodules: a review. JAMA 319:914–924

Pandeya N, McLeod DS, Balasubramaniam K, Baade PD, Youl PH, Bain CJ, Allison R, Jordan SJ (2016) Increasing thyroid cancer incidence in Queensland, Australia 1982–2008–true increase or overdiagnosis? Clin Endocrinol 84:257–264

Conzo G, Avenia N, Ansaldo GL, Calò P, De Palma M, Dobrinja C, Docimo G, Gambardella C, Grasso M, Lombardi CP et al (2017) Surgical treatment of thyroid follicular neoplasms: results of a retrospective analysis of a large clinical series. Endocrine 55:530–538

Cristo AP, Goldstein HF, Faccin CS, Maia AL, Graudenz MS (2016) Increasing diagnostic effectiveness of thyroid nodule evaluation by implementation of cell block preparation in routine US-FNA analysis. Arch Endocrinol Metab 60:367–373

Sollini M, Cozzi L, Chiti A, Kirienko M (2018) Texture analysis and machine learning to characterize suspected thyroid nodules and differentiated thyroid cancer: Where do we stand? Eur J Radiol 99:1–8

Russ G, Bonnema SJ, Erdogan MF, Durante C, Ngu R, Leenhardt L (2017) European Thyroid Association guidelines for ultrasound malignancy risk stratification of thyroid nodules in adults: the EU-TIRADS. Eur Thyroid J 6:225–237

Kleinau G, Worth CL, Kreuchwig A, Biebermann H, Marcinkowski P, Scheerer P, Krause G (2017) Structural–functional features of the thyrotropin receptor: a class A G-protein-coupled receptor at work. Front Endocrinol (Lausanne) 8:86

Hoffmann S, Hofbauer LC, Scharrenbach V, Wunderlich A, Hassan I, Lingelbach S, Zielke A (2004) Thyrotropin (TSH)-induced production of vascular endothelial growth factor in thyroid cancer cells in vitro: evaluation of TSH signal transduction and of angiogenesis-stimulating growth factors. J Clin Endocrinol Metab 89:6139–6145

Milas M, Shin J, Gupta M, Novosel T, Nasr C, Brainard J, Mitchell J, Berber E, Siperstein A (2010) Circulating thyrotropin receptor mRNA as a novel marker of thyroid cancer: clinical applications learned from 1758 samples. Ann Surg 252:643–651

Liu R, Hao S, Zhang H, Ma J, Liu X, Xu J, Liu X, Ning J, Sun Y, Jiang L et al (2017) Correlation of thyroid stimulating hormone receptor mRNA expression levels in peripheral blood with undesirable clinicopathological features in papillary thyroid carcinoma patients. Oncotarget 8:74129

Schwarzenbach H, Nishida N, Calin GA, Pantel K (2014) Clinical relevance of circulating cell-free microRNAs in cancer. Nat Rev Clin Oncol 11:145

Jiang M, Zhong T, Zhang W, Xiao Z, Hu G, Zhou H, Kuang H (2017) Reduced expression of miR2055p promotes apoptosis and inhibits proliferation and invasion in lung cancer A549 cells by upregulation of ZEB2 and downregulation of erbB3. Mol Med Rep 15:3231–3238

Vosgha H, Salajegheh A, Smith RA, Lam AK (2014) The important roles of miR-205 in normal physiology, cancers and as a potential therapeutic target. Curr Cancer Drug Targets 14:621–637

Salajegheh A, Vosgha H, Md RA, Amin M, Smith RA, Lam AKY (2015) Modulatory role of miR-205 in angiogenesis and progression of thyroid cancer. J Mol Endocrinol 55:183–196

Gharib H, Papini E, Garber JR, Duick DS, Harrell RM, Hegedüs L, Paschke R, Valcavi R, Vitti P (2016) AACE/ACE/AME Task Force on Thyroid Nodules: American Association of Clinical Endocrinologists, American College of Endocrinology, and Associazione Medici Endocrinologi medical guidelines for clinical practice for the diagnosis and management of thyroid nodules–2016 update. Endocr Pract 22:1–60

Angell TE, Vyas CM, Medici M, Wang Z, Barletta JA, Benson CB, Cibas ES, Cho NL, Doherty GM, Doubilet PM et al (2017) Differential growth rates of benign vs. malignant thyroid nodules. J Clin Endocrinol Metab 102:4642–4647

Durante C, Costante G, Lucisano G, Bruno R, Meringolo D, Paciaroni A, Puxeddu E, Torlontano M, Tumino S, Attard M et al (2015) The natural history of benign thyroid nodules. JAMA 313:926–935

Zhang ZZ, Chen Q, Kong CY, Li ZM, Wang LS (2017) Circulating thyroid stimulating hormone receptor messenger RNA and differentiated thyroid cancer: a diagnostic meta-analysis. Oncotarget 8:6623

Paschke R, Cantara S, Crescenzi A, Jarzab B, Musholt TJ, Sobrinho Simoes M (2017) European Thyroid Association guidelines regarding thyroid nodule molecular fine-needle aspiration cytology diagnostics. Eur Thyroid J 6:115–129

Labourier E, Shifrin A, Busseniers AE, Lupo MA, Manganelli ML, Andruss B, Wylie D, Beaudenon-Huibregtse S (2015) Molecular testing for miRNA, mRNA, and DNA on fine-needle aspiration improves the preoperative diagnosis of thyroid nodules with indeterminate cytology. J Clin Endocrinol Metab 100:2743–2750

Mohamad Yusof A, Jamal R, Muhammad R, Abdullah Suhaimi SN, Mohamed Rose I, Saidin S, Ab Mutalib NS (2018) Integrated characterization of microRNA and mRNA transcriptome in papillary thyroid carcinoma. Front Endocrinol (Lausanne) 9:158

Ito Y, Miyauchi A, Kudo T, Kihara M, Fukushima M, Miya A (2017) The effectiveness of prophylactic modified neck dissection for reducing the development of lymph node recurrence of papillary thyroid carcinoma. World J Surg 41:2283–2289

Liu FH, Kuo SF, Hsueh C, Chao TC, Lin JD (2015) Postoperative recurrence of papillary thyroid carcinoma with lymph node metastasis. J Surg Oncol 112:149–154

Suman P, Wang CH, Abadin SS, Moo-Young TA, Prinz RA, Winchester DJ (2016) Risk factors for central lymph node metastasis in papillary thyroid carcinoma: a National Cancer Data Base (NCDB) study. Surgery 159:31–40

Zheng HT, Xu J, Hao SL, Liu XC, Ning JR, Song XC, Jiang LX, Liu ZY (2018) Expression of BANCR promotes papillary thyroid cancer by targeting thyroid stimulating hormone receptor. Oncol Lett 16:2009–2015
Ethics declarations
Ethics approval and consent to participate
The study was approved by the Ethics Committee of Yiyang Central Hospital, Yiyang, China. Patients who participated in this research signed an informed consent document and had complete clinical data. Signed, written informed consent was obtained from the patients/parents and/or guardians where applicable.
Consent for publication
Not applicable
Competing interests
The authors declare no competing interests.
Additional information
Publisher's note
Springer Nature remains neutral with regard to jurisdictional claims in published maps and institutional affiliations.
About this article
Cite this article
Zhou, J., Cao, L. & Chen, Z. Differentiation of benign thyroid nodules from malignant thyroid nodules through miR-205-5p and thyroid-stimulating hormone receptor mRNA. Hormones 20, 571–580 (2021). https://doi.org/10.1007/s42000-021-00286-2
Received:

Accepted:

Published:

Issue Date:

DOI: https://doi.org/10.1007/s42000-021-00286-2
Keywords