Abstract
Objectives
Ramadan intermittent fasting may affect whole-body metabolism by affecting appetite-related hormones. This systematic review and meta-analysis aimed to clarify the possible effects of Ramadan intermittent fasting on the main hormones regulating appetite and satiety, including leptin and adiponectin.
Methods
All English language papers in the PubMed, Scopus, and Embase databases were searched using the keywords "Ramadan fasting", "adiponectin", and "leptin", up to 2020. Data extraction was conducted based on the main data of the studies; the primary outcomes of the analysis were mean changes of adiponectin and leptin levels during the holy month of Ramadan in fasted subjects.
Main results
Data of 16 eligible studies, conducted between 2003 and 2020, were included in the systematic review. Of these, 10 studies with complete data on leptin and adiponectin were included in the meta-analysis. A significant decrease in leptin levels was observed after Ramadan fasting (WMD = −2.28 ng/ml, 95% CI = −3.72, −0.84). Ramadan fasting had no significant effect on adiponectin levels (WMD = 2.19 ng/ml, 95% CI = −0.29, 4.67). Sub-group analysis demonstrated a greater decrease in leptin levels among normal-weight subjects compared to those of overweight/obese subjects (WMD = −4.67 ng/ml, 95% CI = −6.03, −3.31 vs. WMD = −3.43 ng/ml, 95% CI = −5.69, −1.17).
Conclusion
Ramadan fasting may decrease leptin levels, especially in normal-weight subjects. There was high heterogeneity, which may be explained by the differences between the wide ranges of study conditions.
Access options
Buy single article
Instant access to the full article PDF.
US$ 39.95
Tax calculation will be finalised during checkout.
Subscribe to journal
Immediate online access to all issues from 2019. Subscription will auto renew annually.
US$ 79
Tax calculation will be finalised during checkout.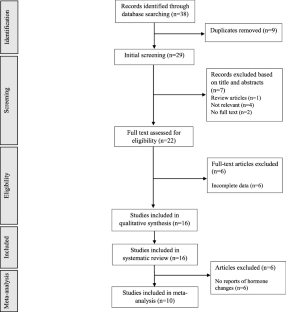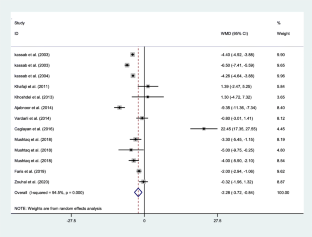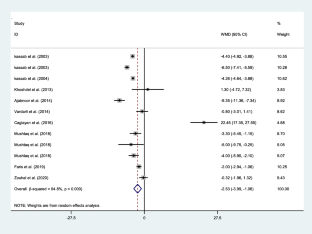 References
1.

Khalil AB et al (2018) Research and ramadan fasting: not too much of a good thing! Ibnosina J Med Biomed Sci 10(2):35

2.

Trepanowski JF, Bloomer RJ (2010) The impact of religious fasting on human health. Nutr J 9:57

3.

IslamiCity. Islamic legal rules of fasting. 2017 [cited 2018 26 May ]; Available from: http://www.islamicity.org/5331/islamic-legal-rules-of-fasting/.

4.

Bazzano AN, Potts KS, Mulugeta A (2018) How do pregnant and lactating women, and young children, experience religious food restriction at the community level? A qualitative study of fasting traditions and feeding behaviors in four regions of Ethiopia. PLoS One 13(12):e0208408–e0208408

5.

Azizi F (2010) Islamic fasting and health. Ann Nutr Metab 56(4):273–282

6.

Beshyah S et al (2018) The year in ramadan fasting research (2017): a narrative review. Ibnosina J Med Biomed Sci 10(2):39–53

7.

Moher D et al (2015) Preferred reporting items for systematic review and meta-analysis protocols (PRISMA-P) 2015 statement. Syst Rev 4(1):1

8.

Shea SA et al (2005) Independent circadian and sleep/wake regulation of adipokines and glucose in humans. J Clin Endocrinol Metab 90(5):2537–2544

9.

Xie L et al (2008) Adiponectin and leptin are secreted through distinct trafficking pathways in adipocytes. Biochim Biophys Acta 1782(2):99–108

10.

Lee B, Shao J (2014) Adiponectin and energy homeostasis. Rev Endocr Metab Disord 15(2):149–156

11.

Nigro E et al (2014) New insight into adiponectin role in obesity and obesity-related diseases. Biomed Res Int 2014:658913–658913

12.

Rosenbaum M, Leibel RL (2014) 20 years of leptin: role of leptin in energy homeostasis in humans. J Endocrinol 223(1):T83–T96

13.

Trayhurn P, Bing C (2006) Appetite and energy balance signals from adipocytes. Philosophical transactions of the Royal Society of London. Series B, Biol Sci 361(1471):1237–1249

14.

Ajabnoor GM et al (2014) Health impact of fasting in Saudi Arabia during Ramadan: association with disturbed circadian rhythm and metabolic and sleeping patterns. PLoS One 9(5):e96500

15.

Alzoghaibi MA et al (2014) Diurnal intermittent fasting during Ramadan: the effects on leptin and ghrelin levels. PLoS One 9(3):e92214–e92214

16.

Bogdan A, Bouchareb B, Touitou Y (2005) Response of circulating leptin to Ramadan daytime fasting: a circadian study. Br J Nutr 93(4):515–518

17.

Bouhlel E et al (2008) Ramadan fastings effect on plasma leptin, adiponectin concentrations, and body composition in trained young men. Int J Sport Nutr Exerc Metab 18(6):617–627

18.

Faris MAE et al (2019) Effect of Ramadan diurnal fasting on visceral adiposity and serum adipokines in overweight and obese individuals. Diabetes Res Clin Pract 153:166–175

19.

Feizollahzadeh S et al (2014) Augmented plasma adiponectin after prolonged fasting during ramadan in men. Health Promot Perspect 4(1):77–81

20.

Gnanou JV et al (2015) Effects of Ramadan fasting on glucose homeostasis and adiponectin levels in healthy adult males. J Diabetes Metab Disord 14:55

21.

Kassab S et al (2004) Interactions between leptin, neuropeptide-Y and insulin with chronic diurnal fasting during Ramadan. Ann Saudi Med 24(5):345–349

22.

Kassab SE et al (2003) Serum leptin and insulin levels during chronic diurnal fasting. Asia Pac J Clin Nutr 12(4):483–487

23.

Khafaji HA et al (2012) The impact of diurnal fasting during Ramadan on the lipid profile, hs-CRP, and serum leptin in stable cardiac patients. Vasc Health Risk Manag 8:7–14

24.

Khoshdel A et al (2014) The effect of Ramadan fasting on serum leptin, neuropeptide Y and insulin in pregnant women. Med J Islam Repub Iran 28:92

25.

Kiyak Caglayan E et al (2016) The effects of prolonged fasting on the levels of adiponectin, leptin, apelin, and omentin in pregnant women. J Obstet Gynaecol 36(4):555–558

26.

Mushtaq R et al (2019) The role of inflammatory markers following Ramadan Fasting. Pak J Med Sci 35(1):77–81

27.

Reiches MW et al (2014) Endocrine responses, weight change, and energy sparing mechanisms during Ramadan among Gambian adolescent women. Am J Hum Biol 26(3):395–400

28.

Telci Caklili O et al (2017) Differences in leptin, ghrelin, and glucagon-like peptide-1 levels between religious fasting and normal fasting. Turk J Med Sci 47(4):1152–1156

29.

Vardarli MC, Hammes HP, Vardarli I (2014) Possible metabolic impact of Ramadan fasting in healthy men. Turk J Med Sci 44(6):1010–1020

30.

Higgins JP, Thompson SG, Deeks JJ, Altman DG (2003) Measuring inconsistency in meta-analyses. BMJ Br Med J 327:557–560

31.

Institute, J.B (2016) Checklist for quasi-experimental studies (non-randomized experimental studies). The Joanna Briggs Institute Critical Appraisal tools for use in JBI Systematic Reviews

32.

Prinz P (2004) Sleep, appetite, and obesity—what is the link? PLoS Med 1(3):e61–e61

33.

Guven S et al (1999) Plasma leptin and insulin levels in weight-reduced obese women with normal body mass index: relationships with body composition and insulin. Diabetes 48(2):347–352

34.

Mars M et al (2005) Decreases in fasting leptin and insulin concentrations after acute energy restriction and subsequent compensation in food intake. Am J Clin Nutr 81(3):570–577

35.

Fogteloo AJ et al (2004) Impact of meal timing and frequency on the twenty-four-hour leptin rhythm. Horm Res 62(2):71–78

36.

Elimam A, Marcus C (2002) Meal timing, fasting and glucocorticoids interplay in serum leptin concentrations and diurnal profile. Eur J Endocrinol 147(2):181–188

37.

Schrauwen P et al (1997) Effect of diet composition on leptin concentration in lean subjects. Metabolism 46(4):420–424

38.

Raben A, Astrup A (2000) Leptin is influenced both by predisposition to obesity and diet composition. Int J Obes Relat Metab Disord 24(4):450–459

39.

Khaled BM, Belbraouet S (2009) Effect of Ramadan fasting on anthropometric parameters and food consumption in 276 type 2 diabetic obese women. Int J Diab Dev Count 29(2):62–68

40.

Shadman Z et al (2014) Ramadan major dietary patterns. Iran Red Crescent Med J 16(9):e16801–e16801

41.

Turin TC et al (2016) Ramadan fasting is not usually associated with the risk of cardiovascular events: a systematic review and meta-analysis. J Fam Community Med 23(2):73–81

42.

Bahammam A (2007) Does Ramadan fasting affect sleep? Int J Clin Pract 60:1631–1637

43.

Morselli L et al (2010) Role of sleep duration in the regulation of glucose metabolism and appetite. Best practice & research. Clin Endocrinol Metab 24(5):687–702

44.

Van Cauter E et al (1991) Modulation of glucose regulation and insulin secretion by circadian rhythmicity and sleep. J Clin Invest 88(3):934–942

45.

Motivala SJ et al (2009) Nocturnal levels of ghrelin and leptin and sleep in chronic insomnia. Psychoneuroendocrinology 34(4):540–545

46.

Taheri S et al (2004) Short sleep duration is associated with reduced leptin, elevated ghrelin, and increased body mass index. PLoS Med 1(3):e62

47.

Figueiro MG, Plitnick B, Rea MS (2012) Light modulates leptin and ghrelin in sleep-restricted adults. Int J Endocrinol 2012:530726–530726

48.

Gavrila A et al (2003) Serum adiponectin levels are inversely associated with overall and central fat distribution but are not directly regulated by acute fasting or leptin administration in humans: cross-sectional and interventional studies. J Clin Endocrinol Metab 88(10):4823–4831

49.

Lihn AS, Pedersen SB, Richelsen B (2005) Adiponectin: action, regulation and association to insulin sensitivity. Obes Rev 6(1):13–21

50.

Cho Y et al (2019) The effectiveness of intermittent fasting to reduce body mass index and glucose metabolism: a systematic review and meta-analysis. J Clin Med 8(10):1645

51.

Patterson RE et al (2015) Intermittent fasting and human metabolic health. J Acad Nutr Diet 115(8):1203–1212

52.

Ganesan K, Habboush Y, Sultan S (2018) Intermittent fasting: the choice for a healthier lifestyle. Cureus 10(7):e2947–e2947

53.

Stockman M-C et al (2018) Intermittent fasting: is the wait worth the weight? Curr Obes Rep 7(2):172–185
Acknowledgements
This study was supported by the Research Institute for Endocrine Sciences, Shahid Beheshti University of Medical Sciences.
Code availability
Not applicable
Funding
This work was not supported by any funding agency.
Ethics declarations
Ethics approval and consent to participate
The study protocol was approved by the ethics research council of the Research Institute for Endocrine Science, Shahid Beheshti University of Medical Science in Tehran.
Consent for publication
Not applicable
Competing interests
The authors declare no competing interests.
Additional information
Publisher's note
Springer Nature remains neutral with regard to jurisdictional claims in published maps and institutional affiliations.
Supplementary Information
About this article
Cite this article
Gaeini, Z., Mirmiran, P. & Bahadoran, Z. Effects of Ramadan intermittent fasting on leptin and adiponectin: a systematic review and meta-analysis. Hormones (2021). https://doi.org/10.1007/s42000-021-00285-3
Received:

Accepted:

Published:
Keywords
Ramadan fasting

Leptin

Adiponectin

Meta-analysis