Abstract
Purpose
The hormone ghrelin has an important role in a wide range of metabolic and nonmetabolic processes. Ghrelin gene polymorphisms have been reported to influence obesity or lipid abnormalities in some ethnic groups. This study was conducted mainly to examine the possible association of ghrelin − 604 G > A and Leu72Met polymorphisms with obesity and related traits in a Southwest Chinese population.
Methods
Three hundred and eighty-six Han Chinese individuals (118 obese and 268 normal weight control subjects) in the Chengdu area were studied using polymerase chain reaction-restriction fragment length polymorphism (PCR-RFLP) analysis. Clinical and biochemical parameters were also analyzed.
Results
The genotype and allele frequencies of ghrelin gene polymorphisms in participants with obesity showed no significant difference compared to those in nonobese controls. However, in the nonobese control group, carriers of genotype Met/Met at the Leu72Met site had higher serum TC and LDL-C concentrations than those of the Leu/Leu genotype (P < 0.05). When nonobese subjects were stratified by sex, the genotype-dependent effects on TC and LDL-C were more evident, although this was observed only in females. In addition, genotype-related effects on these lipid parameters at this site were observed in male obese subjects only.
Conclusions
The Leu72Met polymorphism of the ghrelin gene is associated with altered plasma TC and LDL-C concentrations, and the effects on TC and LDL-C levels are sex-dependent in both nonobese and obese subjects in the Chinese population of the Chengdu area.
Access options
Buy single article
Instant access to the full article PDF.
US$ 39.95
Tax calculation will be finalised during checkout.
Subscribe to journal
Immediate online access to all issues from 2019. Subscription will auto renew annually.
US$ 79
Tax calculation will be finalised during checkout.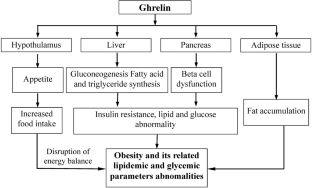 Data availability
The datasets and materials generated and/or analyzed during the current study are available from the corresponding author on reasonable request.
References
1.

Kissebah AH, Krakower GR (1994) Regional adiposity and morbidity. Physiol Rev 74(4):761–811

2.

Lemieux S, Despre's JP (1994) Metabolic complications of visceral obesity: contribution to the aetiology of type 2 diabetes and implications for prevention and treatment. Diabetes Metab 20(4):375–393

3.

Ogden CL, Carroll MD, Kit BK, Flega KM (2014) Prevalence of childhood and adult obesity in the United States, 2011-2012. JAMA 311(8):806–814

4.

Zhao LY, Liu D, Yu DM, Zhang J, Wang JZ, Zhao WH (2018) Challenges brought about by rapid changes in Chinese diets: comparison with developed countries and implications for further improvement. Biomed Environ Sci 31(10):781–786

5.

Hu L, Huang X, You C et al (2017) Prevalence of overweight, obesity, abdominal obesity and obesity-related risk factors in southern China. PLoS One 12(9):e0183934

6.

Liu L, Zhao X, Kang S, Zhang D (2013) An association between -866G/a polymorphism in the promoter of UCP2 and obesity: a meta-analysis. Gene 514(1):41–47

7.

Rudkowska I, Perusse L (2012) Individualized weight management: what can be learned from nutrigenomics and nutrigenetics? Prog Mol Biol Transl Sci 108:347–382

8.

Perusse L, Rankinen T, Zuberi A et al (2005) The human obesity gene map: the 2004 update. Obes Res 13(3):381–490

9.

Garcia EA, King P, Sidhu K et al (2009) The role of ghrelin and ghrelin-receptor gene variants and promoter activity in type 2 diabetes. Eur J Endocrinol 161(2):307–315

10.

Sato T, Ida T, Nakamura Y et al (2014) Physiological roles of ghrelin on obesity. Obes Res Clin Pract 8(5):e405–e413

11.

van der Lely AJ, Tschop M, Heiman ML et al (2004) Biological, physio logical, pathophysiological, and pharmacological aspects of ghrelin. Endocr Rev 25(3):426–457

12.

Cummings DE, Shannon MH (2003) Roles for ghrelin in the regulation of appetite and body weight. Arch Surg 138(4):389–396

13.

Tschop M, Smiley DL, Heiman ML (2000) Ghrelin induces adiposity in rodents. Nature 407(6806):908–913

14.

DelParigi A, Tschop M, Heiman ML et al (2002) High circulating ghrelin: a potential cause for hy perphagia and obesity in Prader-Willi syndrome. J Clin Endocrinol Metab 87(12):5461–5464

15.

Tsolakis AV, Portela-Gomes GM, Stridsberg M et al (2004) Malignant gastric ghrelinoma with hyperghrelinemia. J Clin Endocrinol Metab 89(8):3739–3744

16.

Ukkola O, Ravussin E, Jacobson P et al (2001) Mutations in the preproghrelin/ghrelin gene associated with obesity in humans. J Clin Endocrinol Metab 86(8):3996–3999

17.

Korbonits M, Gueorguiev M, O'Grady E et al (2002) A variation in the ghrelin gene increases weight and decreases insulin secretion in tall, obese children. J Clin Endocrinol Metab 87(8):4005–4008

18.

Ukkola O, Ravussin E, Jacobson P et al (2002) Role of ghrelin polymorphisms in obesity based on three different studies. Obes Res 10(8):782–791

19.

Kim SY, Jo DS, Hwang PH et al (2006) Preproghrelin Leu72Met polymorphism is not associated with type 2 diabetes mellitus. Metabolism 55(3):366–370

20.

Jo DS, Kim SL, Kim SY et al (2005) Preproghrelin Leu72Met polymorphism in obese Korean children. J Pediatr Endocrinol Metab 18(11):1083–1086

21.

Yang YF, Li WQ, Zhao JY et al (2012) Association between ghrelin gene (GHRL) polymorphisms and clinical response to atypical antipsychotic drugs in Han Chinese schizophrenia patients. Behav Brain Funct 8:11

22.

Hosojima H, Togo T, Odawara T et al (2006) Early effects of olanzapine on serum levels of ghrelin, adiponectin and leptin in patients with schizophrenia. J Psychopharmacol 20(1):75–79

23.

Steinle NI, Pollin TI, O'Connell JR et al (2005) Variants in the ghrelin gene are associated with metabolic syndrome in the old order Amish. J Clin Endocrinol Metab 90(12):6672–6677

24.

Takezawa J, Yamada K, Morita A et al (2009) Preproghrelin gene polymorphisms in obese Japanese: association with diabetes mellitus in men and with metabolic syndrome parameters in women. Obes Res Clin Pract 3(4):179–191

25.

Bing C, Ambye L, Fenger M et al (2005) Large-scale studies of the Leu72Met polymorphism of the ghrelin gene in relation to the metabolic syndrome and associated quantitative traits. Diabet Med 22(9):1157–1160

26.

Zhang J, Zhang XM, Fan P et al (2012) Distribution and effect of apoE genotype on plasma lipid and apolipoprotein profiles in overweight/obese and nonobese Chinese subjects. J Clin Lab Anal 26(3):200–205

27.

WHO Expert Consultation (2004) Appropriate body-mass index for Asian populations and its implications for policy and intervention strategies. Lancet 363(9403):157–163

28.

Liu BW (1995) Enzymatic method and radial immunodiffusion mea surement and its application in clinical aspects. In: Wang K (ed) Lipoprotein and atherosclerosis, 1st edn. People's Health Publish House, Beijing, p 359–360

29.

Erlich HA (1989) PCR technology: principles and applications for DNA Amplifification, 1st edn. Stockton Press, New York

30.

Hinney A, Hoch A, Geller F et al (2002) Ghrelin gene: identification of missense variants and a frameshift mutation in extremely obese children and adolescents and healthy normal weight students. J Clin Endocrinol Metab 87(6):2716–2719

31.

Vivenza D, Rapa A, Castellino N et al (2004) Ghrelin gene polymorphisms and ghrelin, insulin, IGF-I, leptin and anthropometric data in children and adolescents. Eur J Endocrinol 151(1):127–133

32.

Larsen LH, Gjesing AP, Sørensen TI et al (2005) Mutation analysis of the preproghrelin gene: no association with obesity and type 2 diabetes. Clin Biochem 38(5):420–424

33.

Pagotto U, Gambineri A, Pelusi C et al (2003) Testosterone replacement therapy restores normal ghrelin in hypogonadal men. J Clin Endocrinol Metab 88(9):4139–4143

34.

Greenman Y, Rouach V, Limor R et al (2009) Testosterone is a strong correlate of ghrelin levels in men and postmenopausal women. Neuroendocrinology 89(1):79–85

35.

Christo K, Cord J, Mendes N et al (2008) Acylated ghrelin and leptin in adolescent athletes with amenorrhea, eumenorrheic athletes and controls: a cross-sectional study. Clin Endocrinol 69(4):628–633

36.

Misra M (2008) Bone density in the adolescent athlete. Rev Endocr Metab Disord 9(2):139–144

37.

Zavarella S, Petrone A, Zampetti S et al (2008) A new variation in the promoter region, the −604 C>T, and the Leu72Met polymorphism of the ghre lin gene are associated with protection to insulin resistance. Int J Obes (Lond) 32(4):663–668

38.

Choi HJ, Cho YM, Moon MK et al (2006) Polymorphisms in the ghrelin gene are associated with serum high-density lipoprotein cholesterol level and not with type 2 diabetes mellitus in Koreans. J Clin Endocrinol Metab 91(11):4657–4663

39.

Takezawa J, Yamada K, Miyachi M et al (2013) Preproghrelin gene polymorphisms in obese Japanese women. Minor homozygotes are light eaters, do not prefer protein or fat, and apparently have a poor appetite. Appetite 63:105–111

40.

Ghaleh TD, Skandari SS, Najafipour R et al (2018) Association of -604G/a and -501A/C ghrelin and Obestatin Prepropeptide gene polymorphisms with polycystic ovary syndrome. Biochem Genet 56(1–2):116–127

41.

Mora M, Adam V, Palomera E et al (2015) Ghrelin gene variants influence on metabolic syndrome components in aged Spanish population. PLoS One 10(9):e0136931
Acknowledgments
The authors would like to thank the participants, coordinators, and administrators for their support and the Sichuan University laboratories for their support during the study.
Funding
This research was supported by the National Natural Science Foundation of China (grant no: 39770322).
Ethics declarations
Conflict of interest
The authors declare that they have no conflict of interest.
Ethics approval
This study was performed in line with the principles of the Declaration of Helsinki. Approval was granted by the University Ethics Committee.
Consent to participate
Informed consent was obtained from all individual participants included in the study.
Consent for publication
Informed consent for publication was obtained from all individuals included in the study.
Code availability
Not applicable.
Additional information
Publisher's note
Springer Nature remains neutral with regard to jurisdictional claims in published maps and institutional affiliations.
About this article
Cite this article
Bai, R., Liu, Y., Zhao, C. et al. Distribution and effect of ghrelin genotype on plasma lipid and apolipoprotein profiles in obese and nonobese Chinese subjects. Hormones (2020). https://doi.org/10.1007/s42000-020-00258-y
Received:

Accepted:

Published:
Keywords
Overweight/obese

Ghrelin

Gene polymorphism

PCR-RFLP

Genotype