Abstract
Background
The success of minimally invasive parathyroidectomy (MIP) relies on accurate localization of the abnormal parathyroid glands. Concordant findings on ultrasound (US) and 99mTc-scintigraphy (sestamibi) are currently considered the 'gold standard'. Computed tomography (CT) has also recently been used in preoperative planning. We sought to assess the accuracy of CT for localization of abnormal parathyroid glands in such patients.
Methods
An audit of 75 patients with primary hyperparathyroidism (PHPT) who underwent neck US and CT between 2017 and 2019 at our center as their first-line imaging.
Results
All 75 patients underwent US and CT and 54 (72.0%) also had sestamibi. CT alone identified a potential target in all patients, of which the location was correct in 63 (84.0%). The overall combined sensitivity of US and CT was 88% (95% CI 78–94) and was higher than the combined sensitivity of US and sestamibi (65% [95% CI 53–76]; p < 0.001). Twenty-one patients (28.0%) had an ectopic gland, and the sensitivity of US and CT was 86% (95% CI 64–96) versus US and sestamibi (57% [95% CI 34–77]; p = 0.016). For adenomas < 1.0 g (n = 36; 48%), the accuracy of CT was 81% (95% CI 64–91) compared with 62% (95% CI 44–77) for US and sestamibi (p = 0.04). The correct preoperative diagnosis of multiglandular disease (n = 9; 12%) seemed to be the most difficult, with similar accuracy for US and sestamibi (40% [95% CI 14–73]) and US and CT (50% [95% CI 20–80]) (p > 0.99).
Conclusion
The combination of US and CT was able to correctly identify the location of the abnormal parathyroid in 88% of patients and, in comparison with US and sestamibi, had better diagnostic accuracy, especially for smaller and ectopic adenomas. This finding suggests that US and CT could be considered as a first-line imaging modality in patients with PHPT considered for MIP.
Access options
Buy single article
Instant access to the full article PDF.
US$ 39.95
Tax calculation will be finalised during checkout.
Subscribe to journal
Immediate online access to all issues from 2019. Subscription will auto renew annually.
US$ 79
Tax calculation will be finalised during checkout.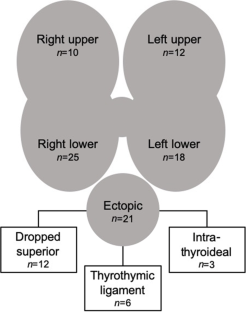 References
1.

Wilhelm SM, Wang TS, Ruan DT, Lee JA, Asa SL, Duh QY et al (2016) The American Association of Endocrine Surgeons Guidelines for definitive management of primary hyperparathyroidism. JAMA Surg 151(10):959–968

2.

Delbridge LW, Palazzo FF (2007) First parathyroid surgeon: Sir John Bland-Sutton and the parathyroids. ANZ J Surg 77(12):1058–1061

3.

Kunstman JW, Kirsch JD, Mahajan A, Udelsman R (2013) Clinical review: parathyroid localization and implications for clinical management. J Clin Endocrinol Metab 98(3):902–912

4.

Elaraj DM, Sippel RS, Lindsay S, Sansano I, Duh QY, Clark OH et al (2010) Are additional localization studies and referral indicated for patients with primary hyperparathyroidism who have negative sestamibi scan results? Arch Surg 145(6):578–581

5.

Kluijfhout WP, Pasternak JD, Beninato T, Drake FT, Gosnell JE, Shen WT et al (2017) Diagnostic performance of computed tomography for parathyroid adenoma localization; a systematic review and meta-analysis. Eur J Radiol 88:117–128

6.

Barczynski M, Konturek A, Hubalewska-Dydejczyk A, Cichon S, Nowak W (2009) Evaluation of Halle, Miami, Rome, and Vienna intraoperative iPTH assay criteria in guiding minimally invasive parathyroidectomy. Langenbeck's Arch Surg 394(5):843–849

7.

Rodgers SE, Hunter GJ, Hamberg LM, Schellingerhout D, Doherty DB, Ayers GD et al (2006) Improved preoperative planning for directed parathyroidectomy with 4-dimensional computed tomography. Surgery. 140(6):932–940 discussion 40-1

8.

Rameau A, Eng S, Vu J, Saket R, Jun P, Friduss M (2017) Four-dimensional computed tomography scan utility in parathyroidectomy for primary hyperparathyroidism with low baseline intact parathyroid hormone. Laryngoscope. 127(6):1476–1482

9.

Day KM, Elsayed M, Beland MD, Monchik JM (2015) The utility of 4-dimensional computed tomography for preoperative localization of primary hyperparathyroidism in patients not localized by sestamibi or ultrasonography. Surgery. 157(3):534–539

10.

Suh YJ, Choi JY, Kim SJ, Chun IK, Yun TJ, Lee KE et al (2015) Comparison of 4D CT, ultrasonography, and 99mTc sestamibi SPECT/CT in localizing single-gland primary hyperparathyroidism. Otolaryngol Head Neck Surg 152(3):438–443

11.

Cheung K, Wang TS, Farrokhyar F, Roman SA, Sosa JA (2012) A meta-analysis of preoperative localization techniques for patients with primary hyperparathyroidism. Ann Surg Oncol 19(2):577–583

12.

Nafisi Moghadam R, Amlelshahbaz AP, Namiranian N, Sobhan-Ardekani M, Emami-Meybodi M, Dehghan A et al (2017) Comparative diagnostic performance of ultrasonography and 99mTc-sestamibi scintigraphy for parathyroid adenoma in primary hyperparathyroidism; systematic review and meta-analysis. Asian Pac J Cancer Prev 18(12):3195–3200

13.

Scattergood S, Marsden M, Kyrimi E, Ishii H, Doddi S, Sinha P (2019) Combined ultrasound and sestamibi scintigraphy provides accurate preoperative localisation for patients with primary hyperparathyroidism. Ann R Coll Surg Engl 101(2):97–102

14.

Haber RS, Kim CK, Inabnet WB (2002) Ultrasonography for preoperative localization of enlarged parathyroid glands in primary hyperparathyroidism: comparison with (99m)technetium sestamibi scintigraphy. Clin Endocrinol 57(2):241–249

15.

Perie S, Fessi H, Tassart M, Younsi N, Poli I, St Guily JL et al (2005) Usefulness of combination of high-resolution ultrasonography and dual-phase dual-isotope iodine 123/technetium Tc 99m sestamibi scintigraphy for the preoperative localization of hyperplastic parathyroid glands in renal hyperparathyroidism. Am J Kidney Dis 45(2):344–352

16.

Lee JB, Kim WY, Lee YM (2015) The role of preoperative ultrasonography, computed tomography, and sestamibi scintigraphy localization in secondary hyperparathyroidism. Ann Surg Treat Res 89(6):300–305

17.

Lavely WC, Goetze S, Friedman KP, Leal JP, Zhang Z, Garret-Mayer E et al (2007) Comparison of SPECT/CT, SPECT, and planar imaging with single- and dual-phase (99m)Tc-sestamibi parathyroid scintigraphy. J Nucl Med 48(7):1084–1089

18.

Shafiei B, Hoseinzadeh S, Fotouhi F, Malek H, Azizi F, Jahed A et al (2012) Preoperative (9)(9)mTc-sestamibi scintigraphy in patients with primary hyperparathyroidism and concomitant nodular goiter: comparison of SPECT-CT, SPECT, and planar imaging. Nucl Med Commun 33(10):1070–1076

19.

Eslamy HK, Ziessman HA (2008) Parathyroid scintigraphy in patients with primary hyperparathyroidism: 99mTc sestamibi SPECT and SPECT/CT. Radiographics. 28(5):1461–1476

20.

Treglia G, Trimboli P, Huellner M, Giovanella L (2018) Imaging in primary hyperparathyroidism: focus on the evidence-based diagnostic performance of different methods. Minerva Endocrinol 43(2):133–143

21.

Madorin CA, Owen R, Coakley B, Lowe H, Nam KH, Weber K et al (2013) Comparison of radiation exposure and cost between dynamic computed tomography and sestamibi scintigraphy for preoperative localization of parathyroid lesions. JAMA Surg. 148(6):500–503

22.

Czarnecki CA, Einsiedel PF, Phal PM, Miller JA, Lichtenstein M, Stella DL (2018) Dynamic CT for parathyroid adenoma detection: how does radiation dose compare with nuclear medicine? AJR Am J Roentgenol 210(5):1118–1122

23.

Vaiman M, Cohenpur M, Halevy A, Volkov O, Gold R, Peer M et al (2019) Low-radiation of technetium-99m-sestamibi and single-photon emission computed tomography/computed tomography to diagnose parathyroid lesions. World J Nucl Med 18(1):52–57

24.

Wang TS, Cheung K, Farrokhyar F, Roman SA, Sosa JA (2011) Would scan, but which scan? A cost-utility analysis to optimize preoperative imaging for primary hyperparathyroidism. Surgery. 150(6):1286–1294

25.

Yoo J, Ahn HS, Kim SJ, Park SH, Seo M, Chong S (2018) Evaluation of diagnostic performance of screening thyroid ultrasonography and imaging findings of screening-detected thyroid cancer. Cancer Res Treat 50(1):11–18

26.

Shawky M, Abdel Aziz T, Morley S, Beale T, Bomanji J, Soromani C et al (2019) Impact of intraoperative parathyroid hormone monitoring on the management of patients with primary hyperparathyroidism. Clin Endocrinol 90(2):277–284

27.

Gilat H, Cohen M, Feinmesser R, Benzion J, Shvero J, Segal K et al (2005) Minimally invasive procedure for resection of a parathyroid adenoma: the role of preoperative high-resolution ultrasonography. J Clin Ultrasound 33(6):283–287

28.

Grosso I, Sargiotto A, D'Amelio P, Tamone C, Gasparri G, De Filippi PG et al (2007) Preoperative localization of parathyroid adenoma with sonography and 99mTc-sestamibi scintigraphy in primary hyperparathyroidism. J Clin Ultrasound 35(4):186–190

29.

Lo CY, Lang BH, Chan WF, Kung AW, Lam KS (2007) A prospective evaluation of preoperative localization by technetium-99m sestamibi scintigraphy and ultrasonography in primary hyperparathyroidism. Am J Surg 193(2):155–159

30.

Ozkaya M, Elboga U, Sahin E, Kalender E, Korkmaz H, Demir HD et al (2015) Evaluation of conventional imaging techniques on preoperative localization in primary hyperparathyroidism. Bosn J Basic Med Sci 15(1):61–66

31.

Nichols KJ, Tomas MB, Tronco GG, Rini JN, Kunjummen BD, Heller KS et al (2008) Preoperative parathyroid scintigraphic lesion localization: accuracy of various types of readings. Radiology. 248(1):221–232

32.

Abdel-Aziz TE, Gleeson F, Sadler G, Mihai R (2019) Dwarfs and giants of parathyroid adenomas-no difference in outcome after parathyroidectomy. J Surg Res 237:56–60

33.

Gupta M, Singhal L, Kumar A (2018) Hyperparathyroidism mimicking metastatic bone disease: a case report and review of literature. J Adolesc Young Adult Oncol 7(3):400–403

34.

Allen E, Fingeret A (2019) Anatomy, head and neck, Thyroid. StatPearls, Treasure Island

35.

Wolfe SA, Sharma S (2019) Parathyroid adenoma. StatPearls, Treasure Island

36.

Roy M, Mazeh H, Chen H, Sippel RS (2013) Incidence and localization of ectopic parathyroid adenomas in previously unexplored patients. World J Surg 37(1):102–106

37.

Kim J, Cubangbang M, Adkins L, Chia S, DeKlotz TR, Boyle L et al (2017) Ectopic parathyroid adenoma in the pyriform sinus. Head Neck 39(10):E110–E1E3

38.

Patrinos A, Zarokosta M, Piperos T, Tsiaoussis J, Noussios G, Mariolis-Sapsakos T (2019) An anatomic aberration and a surgical challenge: mediastinal parathyroid adenoma anterior the pericardium. A case report. Int J Surg Case Rep 58:153–156

39.

Gouveia S, Rodrigues D, Barros L, Ribeiro C, Albuquerque A, Costa G et al (2012) Persistent primary hyperparathyroidism: an uncommon location for an ectopic gland--case report and review. Arq Bras Endocrinol Metabol 56(6):393–403

40.

Michaud L, Burgess A, Huchet V, Lefevre M, Tassart M, Ohnona J et al (2014) Is 18F-fluorocholine-positron emission tomography/computerized tomography a new imaging tool for detecting hyperfunctioning parathyroid glands in primary or secondary hyperparathyroidism? J Clin Endocrinol Metab 99(12):4531–4536

41.

Michaud L, Balogova S, Burgess A, Ohnona J, Huchet V, Kerrou K et al (2015) A pilot comparison of 18F-fluorocholine PET/CT, ultrasonography and 123I/99mTc-sestaMIBI dual-phase dual-isotope scintigraphy in the preoperative localization of hyperfunctioning parathyroid glands in primary or secondary hyperparathyroidism: influence of thyroid anomalies. Medicine (Baltimore) 94(41):e1701

42.

Treglia G, Piccardo A, Imperiale A, Strobel K, Kaufmann PA, Prior JO et al (2019) Diagnostic performance of choline PET for detection of hyperfunctioning parathyroid glands in hyperparathyroidism: a systematic review and meta-analysis. Eur J Nucl Med Mol Imaging 46(3):751–765

43.

Piccardo A, Trimboli P, Rutigliani M, Puntoni M, Foppiani L, Bacigalupo L et al (2019) Additional value of integrated (18)F-choline PET/4D contrast-enhanced CT in the localization of hyperfunctioning parathyroid glands and correlation with molecular profile. Eur J Nucl Med Mol Imaging 46(3):766–775

44.

Broos WAM, Wondergem M, Knol RJJ, van der Zant FM (2019) Parathyroid imaging with (18)F-fluorocholine PET/CT as a first-line imaging modality in primary hyperparathyroidism: a retrospective cohort study. EJNMMI Res 9(1):72

45.

Weber T, Luster M (2014) Localization of parathyroid adenomas with C11-methionine PET-CT. Chirurg. 85(7):601–606

46.

Kluijfhout WP, Pasternak JD, Drake FT, Beninato T, Gosnell JE, Shen WT et al (2016) Use of PET tracers for parathyroid localization: a systematic review and meta-analysis. Langenbeck's Arch Surg 401(7):925–935

47.

Weber CJ, Sewell CW, McGarity WC (1994) Persistent and recurrent sporadic primary hyperparathyroidism: histopathology, complications, and results of reoperation. Surgery. 116(6):991–998

48.

Tezelman S, Rodriguez JM, Shen W, Siperstein AE, Duh QY, Clark OH (1995) Primary hyperparathyroidism in patients who have received radiation therapy and in patients who have not received radiation therapy. J Am Coll Surg 180(1):81–87

49.

Bonjer HJ, Bruining HA, Birkenhager JC, Nishiyama RH, Jones MA, Bagwell CB (1992) Single and multigland disease in primary hyperparathyroidism: clinical follow-up, histopathology, and flow cytometric DNA analysis. World J Surg 16(4):737–743 discussion 43-4

50.

Attie JN, Bock G, Auguste LJ (1990) Multiple parathyroid adenomas: report of thirty-three cases. Surgery. 108(6):1014–1019 discussion 9-20

51.

Molinari AS, Irvin GL 3rd, Deriso GT, Bott L (1996) Incidence of multiglandular disease in primary hyperparathyroidism determined by parathyroid hormone secretion. Surgery. 120(6):934–936 discussion 6-7

52.

Rose DM, Wood TF, Van Herle AJ, Cohan P, Singer FR, Giuliano AE (2001) Long-term management and outcome of parathyroidectomy for sporadic primary multiple-gland disease. Arch Surg 136(6):621–626

53.

Shane E (2001) Clinical review 122: parathyroid carcinoma. J Clin Endocrinol Metab 86(2):485–493

54.

Adam MA, Untch BR, Olson JA Jr (2010) Parathyroid carcinoma: current understanding and new insights into gene expression and intraoperative parathyroid hormone kinetics. Oncologist. 15(1):61–72

55.

Obara T, Fujimoto Y (1991) Diagnosis and treatment of patients with parathyroid carcinoma: an update and review. World J Surg 15(6):738–744
Ethics declarations
Conflict of interest
The authors declare that they have no conflict of interest.
Ethical approval
All procedures performed in this study were in accordance with the ethical standards of our institution and with the 1964 Declaration of Helsinki and its later amendments or comparable ethical standards. This retrospective study was registered as an audit of our current practice with our IRB and was exempt from review.
Informed consent
Not applicable; anonymized retrospective data analysis, consent requirement waived.
Additional information
Publisher's note
Springer Nature remains neutral with regard to jurisdictional claims in published maps and institutional affiliations.
About this article
Cite this article
de Jong, M.C., Jamal, K., Morley, S. et al. The use of computed tomography as a first-line imaging modality in patients with primary hyperparathyroidism. Hormones (2020). https://doi.org/10.1007/s42000-020-00205-x
Received:

Accepted:

Published:
Keywords
Primary hyperparathyroidism

Localization

Minimally invasive parathyroidectomy

Imaging