Abstract
We present and discuss a late-nineteenth century clinical case described by Professor Taruffi in a scientific paper titled "Scheletro con prosopoectasia e tredici vertebre dorsali" (Skeleton with prosopoectasia and thirteen thoracic vertebrae). Taruffi could not explain the disproportionate skeletal and visceral growth, and the case could therefore be considered an unrecognized case of acromegaly. The anatomopathological specimens and the wax model cited in the paper are currently hosted at the "Luigi Cattaneo" Anatomical Wax Collection of Bologna University; however, some inaccuracies and uncertainties as to their attribution to the same case have remained to this day. The skeletal remains were examined macroscopically to investigate any structural abnormalities and pathological changes. In addition, thanks to archival, museum inventory and literature research, we documented the systematic relationship between the paper and the samples and were able to ascribe the abnormally dilated dried stomach, currently displayed in a different showcase, to the same case. This is, to our knowledge, the first case of acromegaly in the history of medical literature which also includes a visceral specimen. As far as we know, there are no reports of the occurrence of severe gastromegaly in patients with acromegaly. In view of this rare association and, to date, endocrinological research, we hypothesize a further pathogenic mechanism by which acromegaly could have induced this massive dilatation. Taruffi's work represents an immensely valuable scientific/artistic heritage and is still cited in contemporary endocrinological literature, demonstrating its relevant contribution to the historical evolution of the disease through the nineteenth and twentieth centuries.
This is a preview of subscription content, log in to check access.
Access options
Buy single article
Instant access to the full article PDF.
US$ 39.95
Price includes VAT for USA
Subscribe to journal
Immediate online access to all issues from 2019. Subscription will auto renew annually.
US$ 99
This is the net price. Taxes to be calculated in checkout.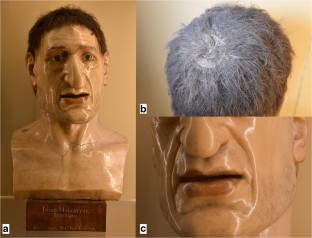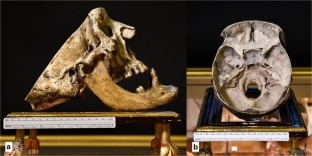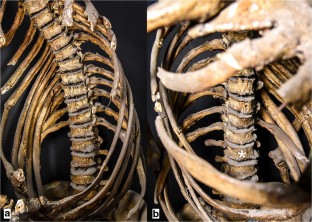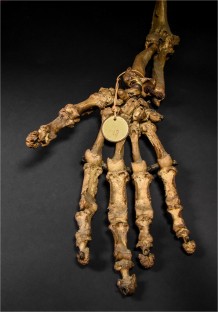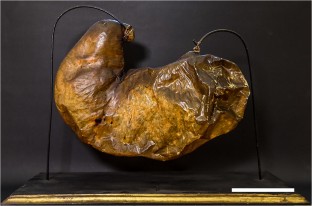 References
1.

Vierimaa O, Georgitsi M, Lehtonen R, Vahteristo P, Kokko A, Raitila A, Tuppurainen K, Ebeling TM, Salmela PI, Paschke R, Gundogdu S, De Menis E, Makinen MJ, Launonen V, Karhu A, Aaltonen LA (2006) Pituitary adenoma predisposition caused by germline mutations in the AIP gene. Science 312(5777):1228–1230. https://doi.org/10.1126/science.1126100

2.

Vilar L, Vilar CF, Lyra R, Lyra R, Naves LA (2017) Acromegaly: clinical features at diagnosis. Pituitary 20(1):22–32. https://doi.org/10.1007/s11102-016-0772-8

3.

Abreu A, Tovar AP, Castellanos R, Valenzuela A, Giraldo CM, Pinedo AC, Guerrero DP, Barrera CA, Franco HI, Ribeiro-Oliveira A Jr, Vilar L, Jallad RS, Duarte FG, Gadelha M, Boguszewski CL, Abucham J, Naves LA, Musolino NR, de Faria ME, Rossato C, Bronstein MD (2016) Challenges in the diagnosis and management of acromegaly: a focus on comorbidities. Pituitary 19(4):448–457. https://doi.org/10.1007/s11102-016-0725-2

4.

Dworakowska D, Grossman AB (2019) Colonic Cancer and acromegaly. Front Endocrinol 10. Doi:ARTN 390. https://doi.org/10.3389/fendo.2019.00390

5.

Reid TJ, Post KD, Bruce JN, Kanibir MN, Reyes-Vidal CM, Freda PU (2010) Features at diagnosis of 324 patients with acromegaly did not change from 1981 to 2006: acromegaly remains under-recognized and under-diagnosed. Clin Endocrinol 72(2):203–208. https://doi.org/10.1111/j.1365-2265.2009.03626.x

6.

Marie P (1886) Sur deux cas d'acromégalie; hypertrophie singulière non congénitale des extrémités supérieures, inférieures et céphalique. Rev Med 6:297–233

7.

Verga A (1864) Caso singolare de prosopectasia. Reale Istituto Lombardo di Scienze e Lettere Bendiconti Classe di Scienze Matematiche e Naturali 1:111–117

8.

Lombroso C (1868) Caso singolare di macrosomia simulante Giornale Ital Malattie Veneree Malattie Pelle 2:129-135

9.

Brigidi V (1877) Studii anatomopatologica sopra un uomo divenuto stranamente deforme per chronica infirmita. Soc Med Fis Fiorentina

10.

Taruffi C (1879) Scheletro con prosopoectasia e tredici vertebre dorsali. Memorie dell' Accademia delle Scienze dell'Istituto di Bologna III (X)

11.

Mammis A, Eloy JA, Liu JK (2010) Early descriptions of acromegaly and gigantism and their historical evolution as clinical entities. Neurosurg Focus 29(4):E1. https://doi.org/10.3171/2010.7.FOCUS10160

12.

de Herder WW (2009) Acromegaly and gigantism in the medical literature. Case descriptions in the era before and the early years after the initial publication of Pierre Marie (1886). Pituitary 12(3):236–244. https://doi.org/10.1007/s11102-008-0138-y

13.

Pearce JM (2006) Nicolas Saucerotte: acromegaly before Pierre Marie. J Hist Neurosci 15(3):269–275. https://doi.org/10.1080/09647040500471764

14.

Melmed S (2006) Medical progress: acromegaly. N Engl J Med 355(24):2558–2573. https://doi.org/10.1056/NEJMra062453

15.

Maraldi NM, Mazzotti G, Cocco L, Manzoli FA (2000) Anatomical waxwork modeling: the history of the Bologna anatomy museum. Anat Rec 261(1):5–10. https://doi.org/10.1002/(SICI)1097-0185(20000215)261:1<5::AID-AR3>3.0.CO;2-U

16.

Axelsson S, Storhaug K, Kjaer I (2004) Post-natal size and morphology of the Sella turcica. Longitudinal cephalometric standards for Norwegians between 6 and 21 years of age. Eur J Orthod 26(6):597–604

17.

Ortner DJ (2003) Human remains: conservation, retrieval and analysis. Int J Osteoarchaeol 13(3):173–174. https://doi.org/10.1002/oa.632

18.

Pole T (1790) The anatomical instructor. Couchman and Fry, London

19.

Scarani P, Eusebi V (2009) From the new moon to the full moon: anatomic pathology in Bologna from the 1500s to Armando Businco. Pathologica 101(2):53–75

20.

Rodati L (1823) In praeparationes splanchno-pathologicas musei pathologici bononiensis animadversiones. Opuscoli Scientifici IV:362–378

21.

Marie P, Souza-Leite JD (1891) Essays on acromegaly: with bibliography and appendix of cases by other authors. New Sydenham Society, London

22.

Colao A, Ferone D, Marzullo P, Lombardi G (2004) Systemic complications of acromegaly: epidemiology, pathogenesis, and management. Endocr Rev 25(1):102–152. https://doi.org/10.1210/er.2002-0022

23.

Lunca S, Rikkers A, Stanescu A (2005) Acute massive gastric dilatation: severe ischemia and gastric necrosis without perforation. Rom J Gastroenterol 14(3):279–283

24.

Gul W, Qazi A, Ali SA, Barde C (2008) Acute gastric dilatation in a patient with spinal injury and multiple myeloma. Gastroenterol Hepatol (N Y) 4(6):428–432

25.

Bach AG, Surov A (2013) Massive gastric dilatation in a patient with type 2 diabetes. CMAJ 185(15):E740. https://doi.org/10.1503/cmaj.121524

26.

Ferrau F, Albani A, Ciresi A, Giordano C, Cannavo S (2018) Diabetes secondary to acromegaly: physiopathology, clinical features and effects of treatment. Front Endocrinol (Lausanne) 9:358. https://doi.org/10.3389/fendo.2018.00358

27.

Kim SH, Park MJ (2017) Effects of growth hormone on glucose metabolism and insulin resistance in human. Ann Pediatr Endocrinol Metab 22(3):145–152. https://doi.org/10.6065/apem.2017.22.3.145

28.

Cerf ME (2013) Beta cell dysfunction and insulin resistance. Front Endocrinol (Lausanne) 4:37. https://doi.org/10.3389/fendo.2013.00037

29.

Maisey A (2016) A practical approach to gastrointestinal complications of diabetes. Diabetes Ther 7(3):379–386. https://doi.org/10.1007/s13300-016-0182-y

30.

Krishnan B, Babu S, Walker J, Walker AB, Pappachan JM (2013) Gastrointestinal complications of diabetes mellitus. World J Diabetes 4(3):51–63. https://doi.org/10.4239/wjd.v4.i3.51

31.

Du YT, Rayner CK, Jones KL, Talley NJ, Horowitz M (2018) Gastrointestinal symptoms in diabetes: prevalence, assessment, pathogenesis, and management. Diabetes Care 41(3):627–637

32.

Ma J, Rayner CK, Jones KL, Horowitz M (2009) Diabetic gastroparesis: diagnosis and management. Drugs 69(8):971–986

33.

Hasler WL (2012) Gastroparesis. Curr Opin Gastroenterol 28(6):621–628

34.

Krishnasamy S, Abell TL (2018) Diabetic Gastroparesis: principles and current trends in management. Diabetes Ther 9(Suppl 1):1–42

35.

Camilleri M, Chedid V, Ford AC, Haruma K, Horowitz M, Jones KL, Low PA, Park SY, Parkman HP, Stanghellini V (2018) Gastroparesis Nat Rev Dis Primers 4(1):41. https://doi.org/10.1038/s41572-018-0038-z

36.

Ball WR (2013) Sharples AJ (2013) massive gastric dilation complicating diabetic gastroparesis. BMJ Case Rep. https://doi.org/10.1136/bcr-2013-009420

37.

Cox A, Marks DJ (2011) Acute gastric dilatation causing respiratory distress. JRSM Short Rep 2(5):41. https://doi.org/10.1258/shorts.2011.011017

38.

Nagai T, Yokoo M, Tomizawa T, Mori M (2001) Acute gastric dilatation accompanied by diabetes mellitus. Intern Med 40(4):320–323. https://doi.org/10.2169/internalmedicine.40.320

39.

Camilleri M, Bharucha AE, Farrugia G (2011) Epidemiology, mechanisms, and management of diabetic gastroparesis. Clin Gastroenterol H 9(1):5–12. https://doi.org/10.1016/j.cgh.2010.09.022

40.

Oh JH, Pasricha PJ (2013) Recent advances in the pathophysiology and treatment of gastroparesis. J Neurogastroenterol Motil 19(1):18–24. https://doi.org/10.5056/jnm.2013.19.1.18

41.

Kumar M, Chapman A, Javed S, Alam U, Malik RA, Azmi S (2018) The investigation and treatment of diabetic gastroparesis. Clin Ther 40(6):850–861. https://doi.org/10.1016/j.clinthera.2018.04.012

42.

Bharucha AE, Kudva YC, Prichard DO (2019) Diabetic gastroparesis. Endocr Rev 40(5):1318–1352. https://doi.org/10.1210/er.2018-00161
Acknowledgments
The authors gratefully acknowledge the support of the staff of University Museum Network (SMA), University of Bologna.
Ethics declarations
Conflict of interest
The authors declare that they have no conflict of interest.
Additional information
Publisher's note
Springer Nature remains neutral with regard to jurisdictional claims in published maps and institutional affiliations.
About this article
Cite this article
Quaranta, M., Orsini, E., Zoli, M. et al. An early scientific report on acromegaly: solving an intriguing endocrinological (c)old case?. Hormones (2020). https://doi.org/10.1007/s42000-020-00175-0
Received:

Accepted:

Published:
Keywords
Acromegaly

Anatomopathological wax collection

Sella turcica

Gastromegaly