Geriatric-HIV Medicine: the geriatrician's role
Abstract
The scenario of people living with HIV has dramatically changed, and nowadays older adults with HIV constitute almost half of the HIV population—and the percentage is growing. Frailty and geriatric syndromes have been highly demonstrated among older adults with HIV; therefore, the application of geriatric medicine principles to their approach has become essential. Geriatric-HIV Medicine, specific, collaborative work between HIV specialists and geriatricians, is a young discipline that has the goal of ensuring a global and specific approach to older patients that is focused on function and the continuum of care. The geriatrician's role adds value to the care of older people living with HIV through Comprehensive Geriatric Assessment for those patients who can benefit but goes beyond the clinical approach and involves generating scientific evidence that impacts and changes the current model of care.
Keywords
HIV 
Older adults 
Geriatric medicine 
Geriatrician 
Introduction
The HIV population is aging due to the success of combination antiretroviral therapy (cART), which prolongs survival, and the growing number of newly diagnosed cases among older adults [1, 2]. Over half of the people living with HIV (PLWH) are 50 years old or older, and close to 20% of subjects with a new diagnosis of HIV are older than 50 in the United States [3]. In 2030, 73% of people living with HIV are estimated to be 50 years old or older, and close to 40% will be older than 65 [4]. Therefore, the aging of PLWH is already a fact.
The scenery has dramatically changed since the beginning. In the 1980s–90s, PLWH were mostly young and the sole objective of their health care was survival. The development of antiretroviral therapy (ART) in the early twenty-first century, which involved a combination of new and improved drugs, drastically reduced mortality; although survival remained a crucial goal, adverse effects and interactions between drugs became a significant problem that merited attention. In recent years, ART toxicity has been notably reduced and the treatment regimens have been simplified, both of which have positively impacted the quality of life for PLWH. Nowadays, the HIV population appears to be prematurely aging. HIV individuals suffer from a persistent and chronic activation of the immune system that leads to immune exhaustion and accelerated immunosenescence, even when they are on an optimal immuno-virological control treatment. The clinical expression is an increased prevalence of aging-related, non-HIV associated comorbidities and frailty that occurs earlier than within the general population [5]. These facts make it reasonable for the 50s to be considered as the cut-off to define older adults with HIV, taking into account that biological age is more decisive than chronological age with regard to health.
Older adults with HIV have been demonstrated to be particularly vulnerable, in terms of physical function, frailty, cognitive and mood status, and social situation, which are the main domains in which geriatricians are specialists who approach health care through the Comprehensive Geriatric Assessment (CGA). An independent association between HIV infection and reduced physical performance and early frailty development has been identified. Frailty prevalence among PLWH is variable, due to the specific groups studied and the tools used to measure it (mostly an adapted phenotype), but it is around 15% [6] twice as high as that of the largest studies that used the frailty criteria established by Fried et al. in community-dwelling older adults [7, 8, 9]. Physical performance is early affected among HIV patients as well; one in five older adults with HIV has a slow gait (< 0.8 m/s) and more than half have a short physical performance battery (SPPB) score of < 9 [6], which signifies functional impairment [10, 11]. Only one-third of older adults with HIV are free of cognitive impairments [12, 13] and the prevalence of depression ranges from 30 to 79% [14, 15, 16]. HIV-related stigma causes PLWH to become socially vulnerable. Social vulnerability is both a cause and consequence of limited access to HIV prevention and treatment, can severely compromise the health-related quality of life (HRQoL), is associated with poor medication adherence, contributes to high morbidity and high mortality, isolates PLWH from family and community support, and creates cultural barriers that inhibit integration into social networks [17, 18].
These geriatric conditions among PLWH appear at chronologic ages during which patients are not expected to be frail, depressed, or physically or cognitively impaired because they would not typically be considered geriatric. This fact currently results in a gap of care among older HIV patients. On the one hand, geriatric syndromes, frailty, and physical function require a specific, validated, and specialized evaluation that is not included in the routine HIV approach, is time-consuming, and must be followed by an intervention strategy. On the other hand, despite the fact that geriatricians are experts on complexity who are focused on function and contend that medical decisions should not be never based solely on chronological age, the reality so far is that most geriatricians understand that they do not have any role in the clinical approach of older adults with HIV because they are not "geriatric patients" according to their chronological age. Moreover, the health system and its structures are often too rigid and fail to facilitate the new ways of approaching "new patients" that older adults with HIV require.
Therefore, one of the present challenges is to detect those older adults with HIV who are at risk of unhealthy aging because of their higher vulnerability. These complex patients living with HIV are prematurely aging with a high burden of geriatric syndromes and frailty, therefore, they demand a specific, global, and multidisciplinary approach to achieve the best quality of life.
The history of nascent HIV-geriatric medicine
Interest in the specific characteristics of older adults with HIV has been present since the moment ART was developed. 15 years after the first HIV diagnosis, it permitted clinicians and researchers to focus on something more than survival. In 1998, the Centers for Disease Control and Prevention (CDC) published the first review of HIV infection cases among individuals who were 50 years old or older in the United States from 1991 to 1996 [19]. In the following years, from 1998 to 2006, the number of indexed scientific publications that focused on older HIV adults reached a thousand, including case reports [20, 21, 22, 23], reviews [24, 25, 26, 27], and a few original articles [28, 29, 30, 31, 32, 33].
As of 2007, much of the scientific evidence centered on older adults with HIV was about specific comorbidities, the high burden of comorbidity in this group, or how this comorbidity appears 10 years earlier in comparison to the general population [
5
]. Further, works began to appear that focused on the oldest of older adults with HIV [
34
] and on topics specifically related to aging, such as frailty and geriatric syndromes among PLWH. For the study of frailty, large epidemiological studies designed for other purposes—in the United States—adapted Fried's criteria for assessing frailty and contributed valuable information about the prevalence and impact of frailty in specific risk groups: men who have sex with men in the Multicenter AIDS Cohort Study (MACS) [
35
,
36
,
37
,
38
], injection drugs users in the AIDS Linked to the Intravenous Experience Study (ALIVE) [
39
,
40
,
41
], and women in the Women's Interagency HIV Study (WHIS) [
42
,
43
]. In Europe, data are also available about frailty prevalence and its impact on the general HIV population from cohorts not specifically designed for the study of frailty, including the Modena HIV Metabolic Clinic (MHMC) Cohort, which uses the Frailty Index [
44
], and from the AGEhIV Cohort Study Group, which uses the Fried frailty phenotype. Beyond the contribution of epidemiological studies, case–control and cohort studies with the main objective of studying frailty and geriatric syndromes within older adults with HIV have been developed, most of them in the United States [
45
,
46
,
47
,
48
,
49
,
50
,
51
,
52
,
53
], as well as South Africa [
54
], Mexico [
55
], Spain [
6
], Italy [
56
], and France [
57
]. In the decade from 2007 to 2017, the interest in older adults with HIV has grown tremendously and can be proven by the increased number of indexed publications on this topic (Fig. 
1
).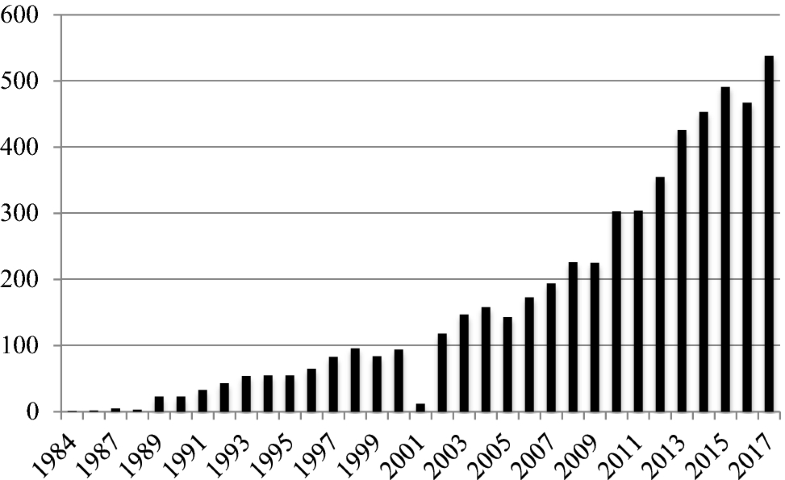 The knowledge of the specific characteristics of older adults with HIV among the scientific community started to spread and the need to work specifically in this direction was forged. Workshops on HIV and aging led by HIV specialists and the first voices asking for the integration of geriatric principles into infectious diseases research emerged [58]. Researchers and clinicians started to define a new target in the assessment of older adults with HIV: frailty, physical function, and geriatric syndromes have not been included thus far in the routine HIV approach. In 2004, Tinetti [59] called for the end of the disease era. As she noted, a primary focus on disease may inadvertently lead to under treatment, overtreatment, or mistreatment, and this concern perfectly applies to care for older adults with HIV. If the care is focused only on HIV-related issues and comorbidities, other health problems impacting patients' quality of life, such as geriatric syndromes, pain, falls or functional or cognitive impairment can be under-detected, undertreated or mistreated. In addition, a focus on disease without a global and integrated approach can lead to overtreatment of comorbidities if each one's specific guidelines are strictly followed. Therefore, HIV care should intersect routinely with geriatric medicine [4].
But a huge gap usually exists between clinical research and clinical care. Years, large efforts and the nerve to break the mold are needed to implement new strategies, especially if they involve a change in the model of care. The transition from a disease-centered model to a global, integrating and interdisciplinary model centered on function and quality of life implies a structural and a cultural change in HIV care [60]. Medical care for older adults with HIV must evolve to meet all their health care needs [4], therefore, a different approach is needed. More of the same is not enough as the World Report on Aging and Health from the World Health Organization showed in 2015 [61].
The seed of Geriatric-HIV Medicine was planted very recently by those who, after working for the best care of older adults with HIV proposed to integrate geriatric assessment into HIV/AIDS clinical care to target interventions that optimize clinical care and quality of life for older adults with HIV [62]. But it officially originated in March 2017. This was the first time the term "Geriatric-HIV Medicine" was used to define the application of the geriatric medicine principles to the treatment of older adults with HIV. A specific collaborative effort between HIV specialists and geriatricians, integrated in an interdisciplinary team and centered on older patients with HIV, that ensures a global approach and provides a continuum of care was proposed [63]. It is a science in its infancy as Guaraldi said, and we do not yet know which is the most effective way to develop this collaboration [64], but we are absolutely convinced that collaboration is necessary. In the twenty-first century, a model in which super-specialists work alone and isolated from others is doomed to fail and cause more harm than benefits for patients and the system. The collaborative work between geriatricians and other specialists has largely proven successful in ortho-geriatrics [65], cardio-geriatrics [66] and onco-geriatrics [67]. The skill to work in collaboration is the core of geriatricians' training [68]. But in this century, geriatricians have to break down the wall of chronological age, specifically the 80s as the geriatric patient cut-off, and understand that geriatric medicine principles can and should be applied to any older patient nevertheless those who will benefit the most from the Comprehensive Geriatric Assessment (CGA) followed by the specific care plan are those at risk of frailty, functional or cognitive impairment, unhealthy aging, ultimately those biologically older regardless of their chronological age.
No evidence exists of how this care of older adults with HIV should be provided, but some clinical programs have recently been initiated. Siegler has summarized the care models for older adults with HIV [69], but highlighting those led by HIV providers in co-management with geriatricians are the following: Massachusetts General Hospital/Aging Positively, Boston (United States); Brighton and Sussex University Hospital Silver Clinic, Brighton (England); University of Colorado, Denver (United States); Infanta Leonor University Hospital, Madrid (Spain); McGill University, Montreal (Canada), Ward 86/Golden Compass, San Francisco (United States); and Weill Cornell Medicine/New York Presbyterian Hospital, New York (United States) [62]. The basis of the consultation was CGA, but referral criteria, team composition, venue, goals and interventions are not homogeneous. More local experiences probably exist, but evidence is still very scarce, and no trials are available; therefore, feedback from patients and HIV care providers are needed, and generating scientific evidence is mandatory to answer the key questions about Geriatric-HIV Medicine: who should be targeted, how should they be assessed, which outcomes should be studied and what clinical effectiveness indicators should be used to measure success?
The geriatrician's role
The geriatrician's role in the approach and care of older PLWH has yet to be defined. Because no specific evidence on this topic exists, we are able nowadays just to point to the core that constitutes the geriatrician's specific expertise and extrapolate knowledge from the role and benefits of a geriatrician's contribution in other disciplines. However, generating scientific evidence in this field seems to be crucial.
What does CGA mean? Who must develop a CGA?
It is worth first of all to underline some concepts that are relevant to speaking the same language and not generating confusion. Screening is a process for evaluating the possible presence of a particular problem. The purpose of screening is to determine whether a patient needs assessment. Screening tools are designed to enable an examiner to say simple "yes" or "no." Screening can be provided by any trained health staff. Assessment is a process for defining the nature of a problem, determining a diagnosis, and developing treatment and recommendations for addressing the problem. Assessment should include multiple sources of information and evaluation to obtain a broad perspective of a patient's situation. Assessment requires specific and specialized training. CGA is defined as 'a multidimensional, multidisciplinary process which identifies medical, social and functional needs, and the development of an integrated, coordinated care plan to meet those needs' [70]. CGA originated in the 1940s [71], and its benefits have been demonstrated in randomised controlled trials [72] and in meta-analyses of controlled trials [73]. CGA is a core technology for geriatricians to perform geriatric medicine [74]. The domains CGA explores beyond comorbidities and a patient's medical situation are lifestyle, risk factors for fragility fractures, medications, physical function, physical activity, frailty, falls, cognition, depression and or anxiety, nutritional status, social network, and a patient's goals, values, and preferences.
Without developing an integrated, coordinated care plan to meet patients' needs, CGA does not exist. Using tools to screen cognitive impairment, depression, frailty, or other geriatric syndromes is not synonymous with CGA. Screening tools can be implemented by anyone trained on them, but if no intervention and care plan are available if an impairment is detected, then screening may even be counterproductive [69]. The CGA must be developed by those who are experts in geriatric assessment, the geriatricians. However, referring older patients with HIV to geriatricians is not enough [62]. A geriatrician should be integrated in an interdisciplinary team taking care of older adults with HIV. Isolated approaches to the same patient by different specialists could generate more harm than benefits if their assessments and recommendations are not integrated in a unique, personalized, and well-understood manner by all the agents who care for an older adult with HIV. To develop Geriatric-HIV Medicine successfully, interdisciplinary teams have to be built. Everyone has to know his or her role and those of others, and fluid communication channels have to be available with regularly held meetings to determine and evaluate the specific goals for each specific patient.
Which older adults with HIV should undergo CGA?
Determining which older adults with HIV should undergo CGA is a key question that cannot be categorically answered because scientific evidence on this topic is not yet available. This is one of the biggest challenges nowadays in the care of older adults with HIV. Older PLWH are a heterogeneous population and ranges from robust to frail to dependent. In the general population, it is well-known that those at risk of frailty and functional or cognitive impairment will benefit most from CGA. Most older adults with HIV today are robust, according to the data available about frailty prevalence [
6
,
53
], but one in four of older PLWH suffer from geriatric syndromes and, specifically, functional impairment [
6
,
53
]. Robust older PLWH probably do not need to undergo CGA, but the status "robust–frail–prefrail–dependent" has to be screened to be known, and validated tools should be used for this goal. Therefore, the first step to offering the best approach and care to these patients is to be able to stratify them in terms of function. Various groups are already working on the way to do this stratification. Based on the evidence already available and on expert opinion, different tools could be used to stratify this population in terms of function: walking speed, SPPB, and frailty (Frailty Phenotype [
7
], FRAIL Index [
75
], and Clinical Frailty Scale [
76
]). This screening should be done in all the new cases of HIV diagnosis among those 50 years old or older and once a year in the follow-up. The screening could be provided by different health staff depending on the specific resources of each clinic, but a trained nurse should be indicated. In Fig. 
2
, the algorithm we propose for screening older adults with HIV to define who should undergo CGA is described. According to this algorithm, a small percentage of all older adults with HIV should probably undergo CGA and be assessed by a geriatrician, but those for whom CGA is indicated will benefit the most if the healthy aging is really the goal [
77
]. However, this is just an expert opinion, and other proposals would be equally valid while scientific evidence is coming.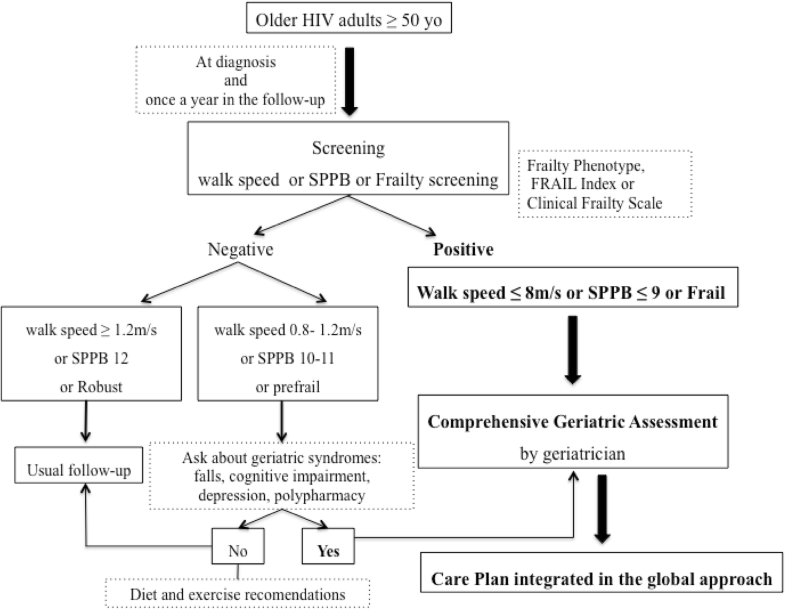 The geriatrician's role in the clinical care of older adults with HIV is to bring value with the development of CGA for the more complex older patients with HIV and to work integrated in the interdisciplinary team to define the global and personalized care plan of each patient. Geriatricians, working with HIV specialist colleagues, also have the essential role of contributing their knowledge to the design and development of clinical trials focused specifically on older PLWH to generate scientific evidence that impacts and changes the current model of care and the guidelines for HIV care of this specific group. Moreover, because they are specialists in complex patients and they have experience in co-management, geriatricians have to be involved (and are already involved) in the development and growth of this new discipline called Geriatric-HIV Medicine.
Conclusions
Older adults with HIV are a growing group that represents nowadays half of the total HIV population. Frailty and geriatric syndromes are common among older PLWH, and a new, global and specific approach taking into account these problems is needed. Geriatric-HIV Medicine makes strong sense because it is specific, collaborative work between HIV specialists and geriatricians trying to offer the best care to older patients with HIV and adapt the current model of care to the real needs of these older patients. The geriatrician's role adds value to the care of older adults with HIV.
Notes
Compliance with ethical standards
Conflict of interest
FB has received honoraria for the following: MISP grants from MSD, speaking at symposia organized on behalf of MSD and ViiV Healthcare; developing educational materials for MSD; and board membership from ViiV Healthcare. PR has received honoraria for the following: lectures and advisory boards from AbbVie, Gilead Sciences, Merck Sharp & Dohme, Janssen and ViiV. He has also received a MISP grant from Merck Sharp & Dohme and funding from the CHIME 2018 program from Gilead Sciences and travel grants from Gilead Sciences, Merck Sharp & Dohme and Janssen. JT has received honoraria for the following: lectures from Gilead Sciences, Merck Sharp & Dohme. He has also received travel grants from Gilead Sciences, and Janssen. MSC has received honoraria for the following: speaking at symposia organized on behalf of MSD, ViiV Healthcare and Gilead.
Ethical approval
This article does not contain any studies with human participants or animals performed by any of the authors.
Informed consent
For this type of study formal consent is not required.
Copyright information
© European Geriatric Medicine Society 2018