Abstract
Purpose
The purpose of this study was to perform a systematic review to assess the utility of accelerometric methods to identify older adults at risk of falls.
Methods
The Preferred Reporting Item for Systematic review and Meta-Analysis (PRISMA) guidelines were followed during all steps of this systematic review. Cross sectional and longitudinal studies assessing gait parameters in older adults using accelerometric devices, and comparing groups based on the risk of falls or fall history were identified from studies published in the MEDLINE, SCOPUS and Cochrane Database of Systematic Reviews databases between January 1996 and January 2017. Study selection and data extraction were performed independently by two reviewers. The quality of the methodology used in the studies included was assessed using the Newcastle–Ottawa Scale.
Results
In total, 354 references were identified through the database search. After selection, ten studies were included in this systematic review. According to the cross sectional studies, people who fall or are at risk of fall are slower, and walk with shorter steps, lower step frequency, worse stride and step regularity in terms of time, position and acceleration profiles. One longitudinal study suggests considering harmonic ratio of upper trunk acceleration in the vertical plane. Two other longitudinal studies highlight the importance of considering more than one gait parameter, and sophisticated statistical tools to discern older adults at risk for future fall(s).
Conclusion
This systematic review essentially highlights the lack of available literature providing strong evidence that gait parameters obtained using acceleration-based methods could be useful to discern older people at risk of fall. Available literature is encouraging, but further high quality studies are needed to highlight the cross-sectional and longitudinal relationships between gait parameters and falls in older adults.
This is a preview of subscription content, log in to check access.
Access options
Buy single article
Instant access to the full article PDF.
US$ 39.95
Tax calculation will be finalised during checkout.
Subscribe to journal
Immediate online access to all issues from 2019. Subscription will auto renew annually.
US$ 99
Tax calculation will be finalised during checkout.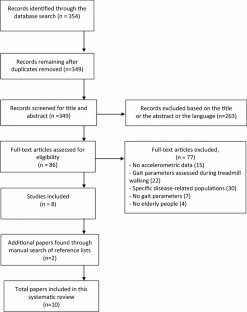 Abbreviations
AUC:

Area under the curve

IMF:

Intrinsic mode function

HR:

Harmonic ratios

MLHR:

Medio-lateral harmonic ratios

8-step MLHR:

Medio-lateral harmonic ratios based on the 8-step method

NOS:

Newcastle–Ottawa Scale

PCA:

Principal component analysis

RMS:

Root mean square

SD:

Standard deviation

SSI:

Step Stability Index
References
1.

Rubenstein LZ (2006) Falls in older people: Epidemiology, risk factors and strategies for prevention. Age Ageing 35:ii37–ii41

2.

Thiem U, Klaaßen-Mielke R, Trampisch U, Moschny A, Pientka L, Hinrichs T (2014) Falls and EQ-5D rated quality of life in community-dwelling seniors with concurrent chronic diseases: a cross-sectional study. Health Qual Life Outcomes 12:2

3.

Scheffer AC, Schuurmans MJ, van Dijk N, van der Hooft T, de Rooij SE (2008) Fear of falling: measurement strategy, prevalence, risk factors and consequences among older persons. Age Ageing 37(1):19–24

4.

Delbaere K, Crombez G, Vanderstraeten G, Willems T, Cambier D (2004) Fear-related avoidance of activities, falls and physical frailty. A prospective community-based cohort study. Age Ageing 33(4):368–373

5.

Choi K, Ko Y (2015) Characteristics associated with fear of falling and activity restriction in South Korean Older adults. J Aging Health 27(6):1066–1083

6.

Ambrose AF, Paul G, Hausdorff JM (2013) Risk factors for falls among older adults: a review of the literature. Maturitas 75(1):51–61

7.

Menant JC, Schoene D, Sarofim M, Lord SR (2014) Single and dual task tests of gait speed are equivalent in the prediction of falls in older people: a systematic review and meta-analysis. Ageing Res Rev 16:83–104

8.

MacAulay RK, Allaire TD, Brouillette RM, Foil HC, Bruce-Keller AJ, Han H et al (2015) Longitudinal assessment of neuropsychological and temporal/spatial gait characteristics of elderly fallers: taking it all in stride. Front Aging Neurosci 7:34

9.

Hausdorff JM, Rios DA, Edelberg HK (1050) Gait variability and fall risk in community-living older adults: A 1-year prospective study. Arch Phys Med Rehabil 2001(82):1056

10.

Allali G, Launay CP, Blumen HM, Callisaya ML, De Cock A-M, Kressig RW et al (2017) Falls, Cognitive Impairment, and Gait Performance: results From the GOOD Initiative. J Am Med Dir Assoc 18(4):335–340

11.

Moe-Nilssen R, Helbostad JL (2004) Estimation of gait cycle characteristics by trunk accelerometry. J Biomech 37(1):121–126

12.

Auvinet B, Berrut G, Touzard C, Moutel L, Collet N, Chaleil D et al (2002) Reference data for normal subjects obtained with an accelerometric device. Gait Posture 16(2):124–134

13.

Hartmann A, Luzi S, Murer K, de Bie RA, de Bruin ED (2009) Concurrent validity of a trunk tri-axial accelerometer system for gait analysis in older adults. Gait Posture 29(3):444–448

14.

Hartmann A, Murer K, de Bie RA, de Bruin ED (2009) Reproducibility of spatio-temporal gait parameters under different conditions in older adults using a trunk tri-axial accelerometer system. Gait Posture 30(3):351–355

15.

Kavanagh JJ, Menz HB (2008) Accelerometry: a technique for quantifying movement patterns during walking. Gait Posture 28(1):1–15

16.

Moe-Nilssen R, Helbostad JL (2005) Interstride trunk acceleration variability but not step width variability can differentiate between fit and frail older adults. Gait Posture 21(2):164–170

17.

Moe-Nilssen R (1998) A new method for evaluating motor control in gait under real-life environmental conditions. Part 1: the instrument. Clin Biomech 13(4):320–327

18.

Moher D, Liberati A, Tetzlaff J, Altman DG (2010) Preferred reporting items for systematic reviews and meta-analyses: the PRISMA statement. Int J Surg 8(5):336–341

19.

(2018) The modified Newcastle Ottawa scale for cross sectional studies. http://journals.plos.org/plosone/article/file?type=supplementary&id=info:doi/10.1371/journal.pone.0136065.s004

20.

Newcastle (2017) Ottawa quality assessment scale cohort studies [cited 2017 07-10]. http://www.ohri.ca/programs/clinical_epidemiology/nosgen.pdf

21.

Cho CY, Kamen G (1998) Detecting balance deficits in frequent fallers using clinical and quantitative evaluation tools. J Am Geriatr Soc 46(4):426–430

22.

Auvinet B, Berrut G, Touzard C, Moutel L, Collet N, Chaleil D et al (2003) Gait abnormalities in elderly fallers. J Aging Phys Act 11(1):40–52

23.

Menz HB, Lord SR, Fitzpatrick RC (2003) Acceleration patterns of the head and pelvis when walking are associated with risk of falling in community-dwelling older people. J Gerontol Ser A Biol Sci Med Sci 58(5):M446–M452

24.

Bautmans I, Jansen B, Van Keymolen B, Mets T (2011) Reliability and clinical correlates of 3D-accelerometry based gait analysis outcomes according to age and fall-risk. Gait Posture 33(3):366–372

25.

Senden R, Savelberg HH, Grimm B, Heyligers IC, Meijer K (2012) Accelerometry-based gait analysis, an additional objective approach to screen subjects at risk for falling. Gait Posture 36(2):296–300

26.

Cui X, Peng CK, Costa MD, Weiss A, Goldberger AL, Hausdorff JM (2014) Development of a new approach to quantifying stepping stability using ensemble empirical mode decomposition. Gait Posture 39(1):495–500

27.

Brodie MAD, Menz HB, Smith ST, Delbaere K, Lord SR (2015) Good lateral harmonic stability combined with adequate gait speed is required for low fall risk in older people. Gerontology 61(1):69–78

28.

Marschollek M, Rehwald A, Wolf KH, Gietzelt M, Nemitz G, Zu Schwabedissen HM et al (2011) Sensor-based Fall risk assessment – an expert 'to go'. Methods Inf Med 50(5):420–426

29.

Doi T, Hirata S, Ono R, Tsutsumimoto K, Misu S, Ando H (2013) The harmonic ratio of trunk acceleration predicts falling among older people: results of a 1-year prospective study. J Neuroeng Rehabil 10:7

30.

Mignardot JB, Deschamps T, Barrey E, Auvinet B, Berrut G, Cornu C et al (2014) Gait disturbances as specific predictive markers of the first fall onset in elderly people: a two-year prospective observational study. Front Aging Neurosci 6:22

31.

Senden R, Grimm B, Heyligers IC, Savelberg HHCM, Meijer K (2009) Acceleration-based gait test for healthy subjects: reliability and reference data. Gait Posture 30(2):192–196

32.

Menz HB, Lord SR, Fitzpatrick RC (2003) Acceleration patterns of the head and pelvis when walking on level and irregular surfaces. Gait Posture 18(1):35–46

33.

Thaler-Kall K, Peters A, Thorand B, Grill E, Autenrieth CS, Horsch A et al (2015) Description of spatio-temporal gait parameters in elderly people and their association with history of falls: results of the population-based cross-sectional KORA-Age study. BMC Geriatr 15:32

34.

Mortaza NAON (2014) Mehdikhani N Are gait parameters capable of distinguishing a faller than a non-faller elderly? Eur J Phys Rehabil Med 50(6):677–691

35.

Herman T, Mirelman A, Giladi N, Schweiger A, Hausdorff JM (2010) Executive control deficits as a prodrome to falls in healthy older adults: a prospective study linking thinking, walking, and falling. J Gerontol Ser A Biol Sci Med Sci 65A(10):1086–1092

36.

Foucher KC, Thorp LE, Orozco D, Hildebrand M, Wimmer MA (2010) Differences in preferred walking speeds in a gait laboratory compared with the real world after total hip replacement. Arch Phys Med Rehabil 91(9):1390–1395

37.

Sedgwick P, Greenwood N (2015) Understanding the Hawthorne effect. BMJ 351:h4672. https://doi.org/10.1136/bmj.h4672

38.

Rispens SM, Van Dieën JH, Van Schooten KS, Cofré Lizama LE, Daffertshofer A, Beek PJ et al (2016) Fall-related gait characteristics on the treadmill and in daily life. J Neuroeng Rehabil 13:12
Acknowledgements
S.G. is supported by a fellowship from the FNRS (Fonds National de la Recherche Scientifique de Belgique—FRS-FNRS—www.frsfnrs.be). The authors would like to thank Mrs. Françoise Pasleau for advice on search strategies.
Ethics declarations
Conflict of interest
All authors declared that they have no conflict of interest.
Ethical approval
This article does not contain any studies with human participants or animals performed by any of the authors.
Informed consent
For this type of study formal consent is not required.
About this article
Cite this article
Gillain, S., Boutaayamou, M., Beaudart, C. et al. Assessing gait parameters with accelerometer-based methods to identify older adults at risk of falls: a systematic review. Eur Geriatr Med 9, 435–448 (2018). https://doi.org/10.1007/s41999-018-0061-3
Received:

Accepted:

Published:

Issue Date:
Keywords
Review

Acceleration

Gait

Fall

Older adults