How to obtain more evidence for the management of hypertension in frail patients over 80 years old?
Abstract
The current convention infers that an intensive treatment of hypertension is beneficial regardless of the patient's health, age, frailty and living conditions. However in patients over the age of 80 with marked frailty and functional decline, several studies showed that low blood pressure levels under antihypertensive treatment may have deleterious effects. Presently, there are no specific guidelines for the most frail old hypertensive patients. We have recently coordinated an expert group composed from the European Geriatric Medicine Society (EUGMS) and the European Society of Hypertension (ESH) to revisit, several points of the 2013 ESH/ESC guidelines, concerning the management of hypertensive patients aged  ≥  80 with marked frailty and functional decline. Finally, we believe that it is necessary to obtain more evidence by including in the clinical trials not only selected robust older subjects, but also geriatric patients, i.e. individuals with multiple co-morbidities, cognitive impairment, functional decline, and loss of autonomy. These trials will be able to elucidate the potential benefits of therapeutic strategies according to the functional status and the degree of frailty of the older patients. In this respect, we coordinate a randomized controlled trial, called RETREAT-FRAIL, which evaluates the potential interest of the down-titration of antihypertensive treatment in subjects with too low BP levels.
Keywords
Hypertension 
Aging 
Older adults 
Mortality 
Randomized trials 
Overmedication 
The hypertension in the very elderly trial (HYVET) showed the beneficial effect of antihypertensive treatment in patients ≥ 80 years [1]. More recently, the systolic blood pressure intervention Trial (SPRINT) showed benefits for a lower blood pressure (BP) goal of SBP < 120 mmHg in patients over 75 years [2], albeit after excluding patients with loss of autonomy, cognitive disorders, diabetes and history of stroke. Based mainly on the HYVET, the 2013 ESC-ESH Guidelines [3] for the management of arterial hypertension stated that "in the elderly, there is evidence for benefits of antihypertensive treatment when treating individuals with initial SBP of > 160 mmHg, whose SBP was reduced to values < 150 mmHg". Guidelines also recommend that if pharmacologic treatment for high BP results in lower SBP (for example, < 140 mmHg) and treatment is not associated with adverse effects on health or quality of life, treatment does not need to be adjusted.
Interestingly, post hoc analysis of the HYVET [4] and SPRINT [2] did not find a relationship between the benefit of antihypertensive treatment and patients' frailty. Therefore, both studies concluded that in frail older patients antihypertensive treatment strategies and goals should be similar as in the fittest subgroups of patients.
However, as it occurred in almost all previous clinical trials [
5
], the very frail subjects were excluded from both HYVET and SPRINT [
1
,
2
]. Indeed these two trials were conducted in selected populations of relatively fit community dwelling people since they excluded those with clinically significant cognitive decline and dementia, multiple cardiovascular and other co-morbidities, orthostatic hypotension, metabolic disorders, as well as patients with loss of autonomy [
6
]. The main exclusion criteria in these two studies presented in Table 
1
clearly indicate that the results obtained by both studies can hardly be extrapolated to the totality of the patients over 80 years old. In addition, the method used for BP measurements in SPRINT provides lower BP levels by 10–15 mmHg, which means that a BP level of 120 mmHg in SPRINT may correspond to a BP level of 130–135 mmHg when using classical BP measurements [
7
].
Table 1
Main exclusion criteria in HYVET (1) and SPRINT (2)
(A) Main exclusion criteria in HYVET
 Living in NHs
 Limited autonomy
 Clinical dementia
 Heart failure needing treatment with ACEI, ARA, Diuretics
 SBP  <  140 mmHg in upright position
 Renal failure
 Patients presenting a high probability of having a major health problem during the 5-year follow-up period
(B) Main exclusion criteria in SPRINT
 Type 2 diabetes
 History of stroke
 Symptomatic heart failure within the past 6 months or reduced LVEF (< 35%)
 Clinical diagnosis of or treatment for dementia
 Expected survival of less than 3 years
 Unintentional weight loss (> 10% of body weight) during the preceding 6 months,
 SBP of less than 110 mm Hg following 1 min of standing
 Living in NHs
A major concern about antihypertensive treatment—and its intensity—in older people exists for the very frail old subjects, i.e. those living in Nursing Homes and other persons with loss of autonomy, cognitive and functional decline and high levels of frailty. Noteworthy, this part of the population, i.e. individuals needing regular assistance for their basic every day activities, who represent more than 25% of the people > 75 years old in France (> 1.5 million over 6.0 million of people aged 75 or more) [8], have always been excluded from the clinical trials [5].
In these subjects, several observational studies have shown that low SBP levels (SBP < 130 mmHg were associated with higher morbidity and mortality rates especially in those receiving blood pressure lowering drugs [9, 10, 11], indicating that the medication-related drop in BP in these very frail individuals might worsen than improve prognosis [12]. These results could suggest that very old frail subjects often suffer from altered circulatory auto-regulation, causing tissue hypo-perfusion in instances of a significant drop in blood pressure due to multiple antihypertensive drugs. These contrasting results in old hypertensive subjects reflect the enormous functional heterogeneity among individual of this age group and clearly show that functional status and biological age rather than chronological age should guide therapeutic strategies. Thus, the guidelines for robust older individuals cannot be extrapolated to very frail individuals, who have been completely excluded from the above-mentioned clinical trials. Accordingly, the European and International guidelines for high blood pressure management do not provide any clear recommendation as to which therapeutic strategies to follow and BP values to target when treating very frail patients [3].
For this reason, we have recently coordinated an expert group created by the European Geriatric Medicine Society (EUGMS) and the European Society of Hypertension (ESH) to revisit the 2013 ESH/ESC Guidelines for the management of hypertension in patients over 80 years old [
13
]. This group insisted on some specificities and precautions:
Preventing problems related to multiple drug administration so common in this age stratum; despite the age-related high CV risk, initial high dose or combination of treatment should not be encouraged, and should only be considered after failure of initial low-dose therapy. The group proposed also that in this age group we should not exceed three antihypertensive drugs.

Need for information on frailty, functional capacity and cognitive status by one of the available rapid methods [14, 15]. This information should be a major determinant for therapeutic strategies and goals in addition to the other classical criteria (BP levels, associated risk factors and target organ damage). The expert group proposed that depending on this assessment, robust patients will follow the "HYVET-based guideline", i.e. treat people with SBP ≥ 160 mmHg and target an SBP under treatment < 150 mmHg. For the very frail (those who have been excluded from the clinical trials due to functional decline and loss of autonomy, the group proposes a more conservative approach and consider reducing treatment if SBP < 130 mmHg or in case of orthostatic hypotension. Other factors, that may be decreasing BP, including malnutrition, dehydration and medications, should be identified and corrected.

A particular effort should be done for deprescribing when necessary: the current evidence [16, 17] shows that de-prescribing leads to reductions in medication use and cost. In addition, most of the studies showed that medications could be successfully deprescribed with little harm to the patient. However, there are also limitations of the existing evidence which include the fact that only few of the studies investigated clinical outcomes and that most of the trials had small samples, an insufficient duration of follow-up and insufficient power to detect clinically significant differences in outcomes.
Finally the expert group pointed out the high necessity of solid scientific evidence based on registries, observational studies, large longitudinal cohorts and mainly controlled trials.
The RETREAT-FRAIL program
In this respect, our group initiated and coordinates the RETREAT-FRAIL clinical trial. The RETREAT-FRAIL is a national French multi-centric trial which will enroll patients ≥  80 years living in NHs with an SBP < 130 mmHg, with > 1 antihypertensive drugs. This group of presumably 'over-medicated' patients will be randomized into two study arms: (i) step-down reduction of antihypertensive drugs, according to a predefined algorithm, with a goal of achieving 130<SBP ≤160 mmHg; (ii) control group with standard treatment by the attending physician (Fig. 
1
).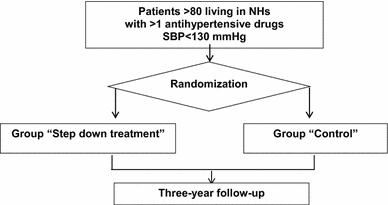 The central goal this multi‐center, trial is to examine in nursing‐home settings the change in overall mortality as the primary outcome of the above-mentioned intervention over the course of 3 years. This randomized interventional study will include also a cost-effectiveness analysis. The RETREAT-FRAIL project is financed by the National French program of Hospital Clinical Research (PHRC: AOM16549/PHRC-16-0549) and the Investments for the Future program under grant agreement No ANR-15-RHU-0004. This study has received the Ethical approval and informed consent statements of the "comite de protection des personnes (CPP) Isle de France VII".
In addition to the anticipated favorable outcome on morbidity of 'appropriate' blood pressure management, we also expect benefits from the decrease in the number of drugs. Drug-related adverse effects are important causes of emergency room visits and hospitalization and the hospitalization rate for adverse drug events is seven times higher among adults over the age of 65 years as compared to younger individuals [18]. Cardiovascular drugs are often the culprits in such adverse effects, and their widespread use, particularly the use antihypertensive drugs, is economically expensive. We will evaluate, therefore, the medico-economic aspects of the step-down strategy we propose compared to the usual care.
The originality of the proposed study comes from (a) its challenge to the current convention that an "intensive" treatment of hypertension is always beneficial regardless of the older patient's functional status, frailty and living conditions, and (b) its performance in NHs, i.e. by primary care physicians, assisted in both groups with a centralized geriatric tele-expertise throughout the trial.
Notes
Compliance with ethical statement
Conflict of interest
AB declares no conflict of interest
Ethical approval and informed consent
This study has received the Ethical approval and informed consent statements of the "comite de protection des personnes (CPP) Isle de France VII".
Copyright information
© European Geriatric Medicine Society 2018