Abstract
The demand for increasing participation of grades K-12 students in science, technology, engineering, and mathematics (STEM) education has steadily increased over time. However, the extent to which black students in K-12 gain equitable access toward a quality STEM education and eventual STEM-related careers is primarily a reflection of pecuniary influences, including socioeconomic status (SES) and inequitable educational funding. To this point, the National Science and Technology Council cautioned K-12 educators of the increasing shortage of historically marginalized students, such as black students, in STEM fields and the national and global repercussions for the U.S.A. Through a synthesis of reviewed literature including reviews of empirical studies that explore the dynamics of socioeconomics, race, and policies, and a discussion about what is missing from the literature, this article examines how SES and inequitable funding have slowed efforts toward increased participation of black students in STEM. The study concludes with final thoughts about what could be done to change course.
Access options
Buy single article
Instant access to the full article PDF.
US$ 39.95
Tax calculation will be finalised during checkout.
Subscribe to journal
Immediate online access to all issues from 2019. Subscription will auto renew annually.
US$ 79
Tax calculation will be finalised during checkout.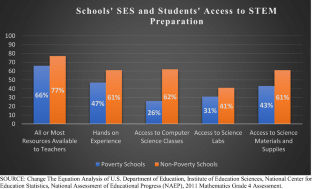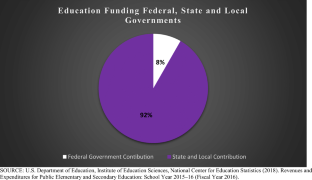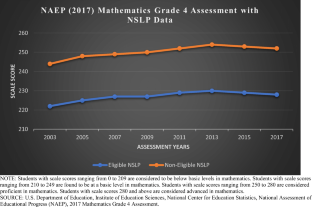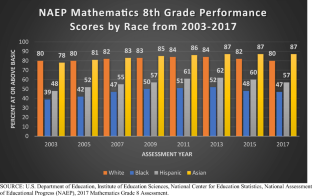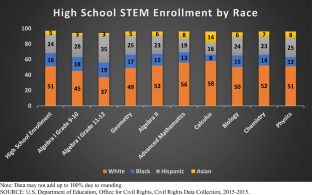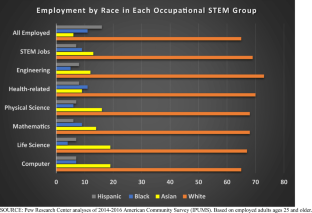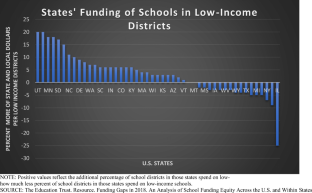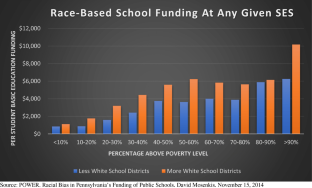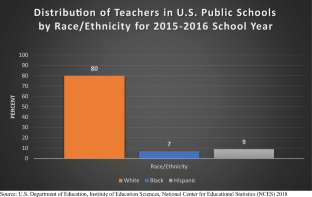 References
Adamson F, Darling-Hammond L. Funding disparities and the inequitable distribution of teachers: evaluating sources and solutions. Disparidades de Financiamento e a Desigual Distribuição de Professores: Avaliando fontes e soluções. 2012;20(37):1–42.

Ani A. In spite of racism, inequality, and school failure: defining hope with achieving black children. J Negro Educ. 2013;82(4):408–21.

Ascher C, Fruchter N. Teacher quality and student performance in New York City's low-performing schools. J Educ Stud Placed Risk. 2001;6(3):199.

Ashcraft MH. Math anxiety: personal, educational, and cognitive consequences. Curr Dir Psychol Sci. 2002;5:181.

Aud S, Wilkinson-Flicker S, Kristapovich P, Rathbun A, Wang X, & Zhang J (2013). The condition of education 2013. NCES 2013-037. National Center for Education Statistics.

Baird K. Class in the classroom: the relationship between school resources and math performance among low socioeconomic status students in 19 rich countries. Educ Econ. 2012;20(5):484–509. https://doi.org/10.1080/09645292.2010.511848.

Barbarin OA, Aikens N. Overcoming the educational disadvantages of poor children: how much do teacher preparation, workload, and expectations matter. Am J Orthopsychiatry. 2015;85(2):101–5. https://doi.org/10.1037/ort0000060.

Basque M, Bouchamma Y. Predictors of mathematics performance: the impact of prior achievement, socioeconomic status and school practices. Int Stud Educ Adm (Commonwealth Council for Educational Administration & Management (CCEAM)). 2016;44(1):85–104.

Bassey MO. Culturally responsive teaching: implications for educational justice. Education Sciences. 2016:6.

Battey D. 'Good' mathematics teaching for students of color and those in poverty: the importance of relational interactions within instruction. Educ Stud Math. 2013;82(1):125. https://doi.org/10.1007/s10649-012-9412-z.

Bean K, Buch K, Dahlberg T, Barnes T, Rorrer A, & Cagley L (2014). An innovative partnership between national and regional partnerships: STARS meets McPIE. PRISM: a Journal of Regional Engagement, 3, 119–130. Retrieved from http://encompass.eku.edu/ prism/vol3/iss2/3.

Berry IR, Thunder K, McClain O. Counter narratives: examining the mathematics and racial identities of black boys who are successful with school mathematics. J Afr Am Males Educ. 2011;2(1):10–23.

Berry IR, Pinter H, McClain O. A critical review of American k-12 mathematics education, 1900-present: implications for the experiences and achievement of black children. In: Leonard J, Martin DB, editors. The brilliance of black children in mathematics: beyond the numbers and toward a new discourse. Charlotte: Information Age; 2013. p. 123–50.

Beyer K. Comparing Native Hawaiian education with Native American and African American education during the nineteenth century. Am Educ Hist J. 2014;41(1/2):59–75.

Bonner E. Investigating practices of highly successful mathematics teachers of traditionally underserved students. Educ Stud Math. 2014;86(3):377–99. https://doi.org/10.1007/s10649-014-9533-7.

Bright A. Education for whom? Taboo: The Journal of Culture & Education. 2016;15(1):6–22.

Cheema J, Kitsantas A. Influences of disciplinary classroom climate on high school student self-efficacy and mathematics achievement: a look at gender and racial-ethnic differences. Int J Sci Math Educ. 2014;12(5):1261–79. https://doi.org/10.1007/s10763-013-9454-4.

Clewell BC, Puma MJ, McKay SA. Does it matter if my teacher looks like me? The impact of teacher race and ethnicity on student academic achievement. Montreal: Paper presented at the annual meeting of the American Educational Research Association; 2005.

Clotfelter CT, Ladd HF, Vigdor JL, Diaz RA. Do school accountability systems make it more difficult for low-performing schools to attract and retain high-quality teachers? J Policy Anal Manag. 2004;23(2):251.

Cobb C (2014). Education for liberation. (Vol. 52, pp. 32–42): University of Southern Mississippi.

Coleman J, Campbell E, Hobson C, McPartland J, Mood A, Weinfeld F. Equality of educational opportunity. Washington: Department of Health, Education and Welfare; 1966.

Collins KH. Confronting color-blind stem talent development: toward a contextual model for black student stem identity. J Adv Acad. 2018;29(2):143–68. https://doi.org/10.1177/1932202X18757958.

Cowan Pitre C. Improving African American student outcomes: understanding educational achievement and strategies to close opportunity gaps. West J Black Stud. 2014;38(4):209–17.

Cuff NB. The vectors of socio-economic status. Peabody J Educ. 1934;3:114.

Darling-Hammond L. The flat world and education: how America's commitment to equity will determine our future. New York: Teachers College Press; 2010.

Diemer MA, Blustein DL. Critical consciousness and career development among urban youth. J Vocat Behav. 2006;68:220–32. https://doi.org/10.1016/j.jvb.2005.07.001.

Dotson L, Foley V. Middle grades student achievement and poverty levels: implications for teacher preparation. J Learn Higher Educ. 2016;12(2):33–44.

Dougherty C. Numeracy, literacy and earnings: evidence from the national longitudinal survey of youth. Econ Educ Rev. 2003;22:511–21. https://doi.org/10.1016/S0272-7757(03)00040-2.

Dougherty SM, Goodman JS, Hill DV, Litke EG, Page LC. Objective course placement and college readiness: evidence from targeted middle school math acceleration. Econ Educ Rev. 2017;58:141–61. https://doi.org/10.1016/j.econedurev.2017.04.002.

Early DM, Rogge RD, Deci EL. Engagement, alignment, and rigor as vital signs of high-quality instruction: a classroom visit protocol for instructional improvement and research. High School Journal. 2014;97(4):219–39. https://doi.org/10.1353/hsj.2014.0008.

Feller R (2012). 10 startling stats about minorities in STEM. STEM career. Retrieved from http://www.onlineuniversities.com/blog/2012/06/10-startling-stats-about-minorities-stem/.

Fernandes R, Ha I, McElroy S, Myers S. Black-white disparities in test scores: distributional characteristics. Rev Black Polit Econ. 2016;43(2):209–32. https://doi.org/10.1007/s12114-015-9230-5.

Ford DY. Segregation and the underrepresentation of Blacks and Hispanics in gifted education: social inequality and deficit paradigms. Roeper Rev. 2014;36(3):143–54. https://doi.org/10.1080/02783193.2014.919563.

Ford DY, King JRA. No Blacks allowed: segregated gifted education in the context of Brown v. Board of Education. J Negro Educ. 2014;83(3):300–10.

Fryer RG, Levitt SD. The black-white test score gap through third grade. Am Law & Econ Rev. 2006;8(2):249–81. https://doi.org/10.1093/aler/ahl003.

Gay G. Teaching to and through cultural diversity. Curric Inq. 2013;43(1):48–70. https://doi.org/10.1111/curi.12002.

Geary DC. Children's mathematical development: research and practical applications. Washington: American Psychological Association; 1994.

Geary DC, Hoard MK, Nugent L, Bailey DH, Krueger F. Adolescents' functional numeracy is predicted by their school entry number system knowledge. PLoS One. 2013;8(1):1–8. https://doi.org/10.1371/journal.pone.0054651.

George JA. Stereotype and school pushout: race, gender, and discipline disparities. Arkansas Law Rev (1968-present). 2015;68(1):101–29.

Ginsburg HP. Mathematics learning disabilities: a view from developmental psychology. J Learn Disabil. 1997;30(1):20–33. https://doi.org/10.1177/002221949703000102.

Goodman J. The labor of division: returns to compulsory high school math coursework. New This Week. 2017;1.

Gregory A, Roberts G. Teacher beliefs and the overrepresentation of black students in classroom discipline. Theory Pract. 2017;56(3):187–94. https://doi.org/10.1080/00405841.2017.1336035.

Gross N, Lo C. Relational teaching and learning after loss: evidence from black adolescent male students and their teachers. Sch Psychol Q. 2018;33(3):381–9. https://doi.org/10.1037/spq0000285.

Hanushek EA, Kain JF, Rivkin SG. New evidence about brown v. board of education: the complex effects of school racial composition on achievement. J Labor Econ. 2009;27(3):349. https://doi.org/10.1086/600386.

Howard TC. Powerful pedagogy for African American students: a case of four teachers. Urban Educ. 2001;36:179–202.

Howard T (2008). Who really cares? The disenfranchisement of African American males in PreK-12 schools: a critical race theory perspective.

Hunter R. The problem of implementation of educational reform initiatives after brown and their impact on African American children and their community. Int J Educ Reform. 2015;24(4):376–85.

Hunter JG, Stinson DW. A mathematics classroom of caring among a black male teacher and black male students. Curric Teach Dialogue. 2019;21(1/2):(Sp)21–34.

Irvine J. Educating teachers for diversity. New York: Teachers College Press; 2003.

Irvine J. Culturally relevant pedagogy. Educ Dig. 2010;75(8):57–61.

Jaber LZ, Southerland S, Dake F. Cultivating epistemic empathy in preservice teacher education. Teach Teach Educ. 2018;72:13–23. https://doi.org/10.1016/j.tate.2018.02.009.

Jackson CK, Johnson RC, Persico C. The effects of school spending on educational and economic outcomes: evidence from school finance reforms. Q J Econ. 2016;131(1):157–218. https://doi.org/10.1093/qje/qjv036.

Jencks C, Smith M, Acland H, Bane MJ, Cohen D, Gintis H, ..., Michelson S (1972). Inequality: a reassessment of the effects of family and schooling in America. New York: Basic Books.

Jordan NC, Levine SC, Huttenlocher J. Development of calculation abilities in middle- and low-income children after formal instruction in school. J Appl Dev Psychol. 1994;15(2):223–40. https://doi.org/10.1016/0193-3973(94)90014-0.

Jordan NC, Kaplan D, Oláh LN, Locuniak MN. Number sense growth in kindergarten: a longitudinal investigation of children at risk for mathematics difficulties. Child Dev. 2006;1:153.

Kokka K. Addressing dilemmas of social justice mathematics instruction through collaboration of students, educators, and researchers. Educ Considerations. 2015;43(1):13–21.

Ladson-Billings G. From the achievement gap to the education debt: understanding achievement in U.S. schools. Educ Res. 2006;35(7):3–12.

Lee SW. Pulling back the curtain: revealing the cumulative importance of high-performing, highly qualified teachers on students' educational outcome. Educ Eval Policy Anal. 2018;40(3):359–81.

Lehming R, Gawalt J, Cohen S, Bell R. Women, minorities, and persons with disabilities in science and engineering: 2013 (Special Report No. NSF 13-304). Arlington: National Science Foundation; 2013.

Lubienski ST. A closer look at black–white mathematics gaps: intersections of race and SES in NAEP achievement and instructional practices data. J Negro Educ. 2002;71(4):269–87.

Lumpkin RB. School buildings, socioeconomic status, race, and student achievement. J Intercult Discip. 2016;15:170.

Lunn Brownlee J, Scholes L, Walker S, Johansson E. Critical values education in the early years: alignment of teachers' personal epistemologies and practices for active citizenship. Teach Teach Educ. 2016;59:261–73. https://doi.org/10.1016/j.tate.2016.06.009.

Martin DB. Race, racial projects, and mathematics education. J Res Math Educ. 2013;44(1):316–33.

McKown C. Social equity theory and racial-ethnic achievement gaps. Child Dev. 2013;84(4):1120–36. https://doi.org/10.1111/cdev.12033.

Morgan I, Amerikaner A (2018). Funding gaps: an analysis of school funding equity across the U.S. and within each state. Education Trust. Retrieved April 12 2019 from: https://files.eric.ed.gov/fulltext/ED587198.pdf

Murnane RJ, Willett JB, Levy F. The growing importance of cognitive skills in wage determination. Rev Econ Stat. 1995;2:251. https://doi.org/10.2307/2109863.

National Assessment of Educational Progress, U. S. D. o. E., The Nation's Report Card, Math. (2017). National Assessment of Educational Progress (NAEP) at grade 4. Retrieved April 12 2019 from https://www.nationsreportcard.gov/math_2017/nation/gaps?grade=4.

National Center for Education Statistics (2018). Revenues and expenditures for public elementary and secondary education: school year 2015–16 (fiscal year 2016). Retrieved: https://nces.ed.gov/pubsearch/pubsinfo.asp?pubid=2019301.

National Center for Education Statistics. Institute of Education Sciences. High school & beyond (HS&B). (n.d.)Retrieved November 2 2019 from https://nces.ed.gov/surveys/hsb/index.asp

National Center for Education Statistics. Institute of Education Sciences (2018). The condition of education 2018. Retrieved April 12 2019 fromhttps://nces.ed.gov/pubs2018/2018144.pdf.

National Science Foundation, National Center for Science and Engineering Statistics. Women, minorities, and persons with disabilities in science and engineering: 2019. Alexandria: Special Report NSF; 2019. p. 19–304. Available at https://www.nsf.gov/statistics/wmpd

Niu L. Family socioeconomic status and choice of stem major in college: an analysis of a national sample. Coll Stud J. 2017;51(2):298–312.

Noltemeyer A, Ward RM, McLoughlin C. Relationship between school suspension and student outcomes: a meta-analysis. Sch Psychol Rev. 2015;44(2):224–40.

Office for Civil Rights, U. D. o. E (2014). Civil rights data collection: data snapshot (school discipline) March 21, 2014 Retreived from: http://www2.ed.gov/about/offices/list/ocr/docs/crdc-discipline-snapshot.pdf.

Ostrander RR. School funding: inequality in district funding and the disparate impact on urban and migrant school children. Brigham Young Univ Educ Law J. 2015;1:271–95.

Palmer RT, Maramba DC, Dancy TE. A qualitative investigation of factors promoting the retention and persistence of students of color in STEM. J Negro Educ. 2011;80(4):491–504.

Rivkin SG, Hanushek EA, Kain JF. Teachers, schools, and academic achievement. Econometrica. 2005;73(2):417.

Rodriguez A. Inequity by design? Aligning high school math offerings and public flagship college entrance requirements. J High Educ. 2018;89(2):153–83. https://doi.org/10.1080/00221546.2017.1341757.

Rose H, Betts JR. The effect of high school courses on earnings. Rev Econ Stat. 2004;86(2):497.

Rucker WC, Jubilee SK. From Black nadir to Brown v. Board; education and empowerment in black Georgian communities—1865 to 1954. Negro Educational Review. 2007;58(3/4):151–68.

Schmeichel M. Good teaching? An examination of culturally relevant pedagogy as an equity practice. J Curric Stud. 2012;44(2):211–31. https://doi.org/10.1080/00220272.2011.591434.

Scott TM, Gage N, Hirn R, Han H. Teacher and student race as a predictor for negative feedback during instruction. Sch Psychol Q. 2019;34(1):22–31.

Siegler RS. Improving the numerical understanding of children from low-income families. Child Dev Perspect. 2009;3(2):118–24. https://doi.org/10.1111/j.1750-8606.2009.00090.x.

Sirin SR. Socioeconomic status and academic achievement: a meta-analytic review of research. Rev Educ Res. 2005;75(3):417–53.

Starkey P, Klein A, Wakeley A. Enhancing young children's mathematical knowledge through a pre-kindergarten mathematics intervention. Early Child Res Q. 2004;19:99–120. https://doi.org/10.1016/j.ecresq.2004.01.002.

Stearns E, Bottía MC, Davalos E, Mickelson RA, Moller S, Valentino L. Demographic characteristics of high school math and science teachers and girls' success in STEM. Soc Probl. 2016;63(2):87–110. https://doi.org/10.1093/socpro/spv027.

Thomas SD. A teacher like me: does race, ethnicity, or gender matter? Am Econ Rev. 2005;95(2):158.

Walsh N, Akhavan N. Developing high quality teachers through professional pre-service teaching opportunities. Contemp Issues Educ Res. 2018;11(4):153–64.

Whitford DK, Emerson AM. Empathy intervention to reduce implicit bias in pre-service teachers. Psychol Rep. 2019;122(2):670–88. https://doi.org/10.1177/0033294118767435.

Williams TM. When will we listen and heed?: learning from black teachers to understand the urgent need for change. West J Black Stud. 2019;42(1/2):3.

Woodson L, Harris SM. Teacher and student demographic variables which predict teacher referrals of males for special education evaluation. J At-Risk Issues. 2018;21(1):32–43.
Ethics declarations
Conflict of Interest
On behalf of all authors, the corresponding author states that there is no conflict of interest.
Additional information
Publisher's Note
Springer Nature remains neutral with regard to jurisdictional claims in published maps and institutional affiliations.
About this article
Cite this article
Ramsay-Jordan, N.N. Hidden Figures: How Pecuniary Influences Help Shape STEM Experiences for Black Students in Grades K-12. J Econ Race Policy 3, 180–194 (2020). https://doi.org/10.1007/s41996-019-00049-7
Received:

Revised:

Accepted:

Published:

Issue Date:
Keywords
Black students

Funding

Socioeconomic status

STEM