Abstract
The racial/ethnic differences in college enrollment are pervasive and persistent. In this article, I provide evidence of a business cycle-driven component to the college enrollment gaps among racial/ethnic groups in the USA. Using a nationally representative sample from the National Longitudinal Survey of Youths 1997 (NLSY97) and fixed-effects enrollment probability models, I find that Hispanics are more likely than non-Black-non-Hispanics to enroll in 2-year college during high unemployment periods. Similarly, I find that individuals who are Black are more likely than non-Black-non-Hispanic individuals to enroll in 2-year colleges but are less likely to enroll in 4-year colleges during periods of high unemployment. The positive effect of high unemployment rate on 2-year college enrollment for Blacks is almost entirely offset by negative effects on 4-year college enrollment. Non-Black-non-Hispanics are least sensitive to labor market conditions. The cyclicality of college enrollment rates of Blacks and Hispanics and the relatively smooth enrollment rates of non-Black-non-Hispanic individuals may be able to explain a part of the persistent gap in college enrollment.
Access options
Buy single article
Instant access to the full article PDF.
US$ 39.95
Tax calculation will be finalised during checkout.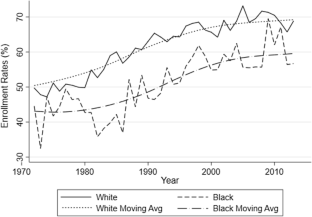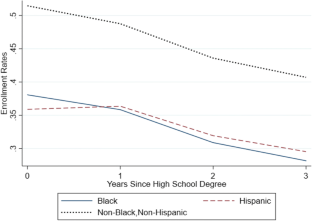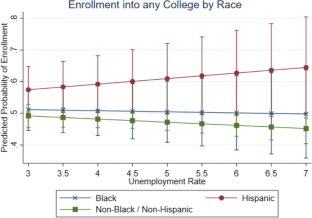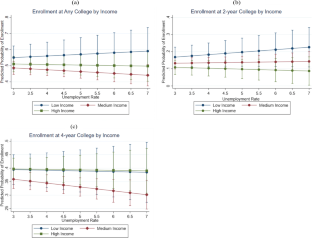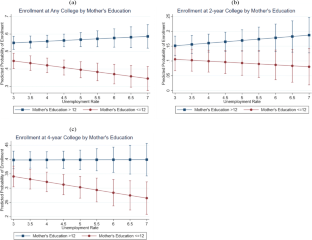 Notes
1.

Author's calculation from NCES data.

2.

This category is created by the BLS in the NLSY97 surveys and includes Whites and other racial groups.
References
Bailey MJ, Dynarski SM. Gains and gaps: changing inequality in US college entry and completion (no. w17633). National Bureau of Economic Research. 2011.

Beattie IR. Are all 'adolescent econometricians' created equal? Racial, class, and gender differences in college enrollment. Sociol Educ. 2002;75:19–43.

Bedard K, Herman DA. Who goes to graduate/professional school? The importance of economic fluctuations, undergraduate field, and ability. Econ Educ Rev. 2008;27(2):197–210.

Berger MC, Kostal T. Financial resources, regulation, and participation in US public higher education. Econ Educ Rev. 2002;21(2):101–10.

Berg-Cross L, Green R. The Impact of the recession on college students. J Coll Stud Psychother. 2009;24(1):2–16.

Betts JR, McFarland LL. Safe port in a storm: the impact of labor market conditions on community college participation. J Hum Resour. 1995;30(4):741–65.

Bozick R, DeLuca S. Better late than never? Delayed enrollment in the high school to college transition. Soc Forces. 2005;84(1):531–54.

Card D, Lemieux T. Dropout and enrollment trends in the postwar period: what went wrong in the 1970s? In: Risky behavior among youths: an economic analysis. University of Chicago Press; 2001. p. 439–82.

Charles KW, DeCicca P. Local labor market fluctuations and health: is there a connection and for whom?. J Health Econ. 2008;27(6):1532–50.

Couch KA, Fairlie R. Last hired, first fired? Black-White unemployment and the business cycle. Demography. 2010;47(1):227–47.

Dellas H, Sakellaris P. On the cyclicality of schooling: theory and evidence. Oxf Econ Pap. 2003;55(1):148–72.

Ehrenberg RG. Reducing inequality in higher education: Rus- sell Sage Foundation; 2007. p. 187–202. Access, Persistence, and Success, www.jstor.org/stable/10.7758/9781610441568.11

Ewing KM, Beckert KA, Ewing BT. The response of US college participation to unexpected changes in macroeconomic activity. Educ Econ. 2010;18(4):423–34. https://doi.org/10.1080/09645290903465739.

Hoynes HW, Miller DL, Schaller J. Who suffers during recessions. In: National Bureau of economic research working paper w17951; 2012.

Lemieux T. Increasing residual wage inequality: composition effects, noisy data, or rising demand for skill. Am Econ Rev. 2006;96(3):461–98.

Long BT. How have college decisions changed over time? An application of the conditional logistic choice model. J Econ. 2004;121(1–2):271–96.

Red Bird BJOO, Grusky D, Rodriguez N, Wimer CE. How much protection does a college degree afford? The impact of the recession on recent college graduates. Pew Charitable Trusts. 2013;13.

Ruhm CJ. Are recessions good for your health?. Q J Econ. 2000;115(2):617–50.
Ethics declarations
Conflict of Interest
The author states that there is no conflict of interest.
Additional information
Publisher's Note
Springer Nature remains neutral with regard to jurisdictional claims in published maps and institutional affiliations.
About this article
Cite this article
Smythe, A. Labor Market Conditions and Racial/Ethnic Differences in College Enrollment. J Econ Race Policy 2, 173–183 (2019). https://doi.org/10.1007/s41996-019-00030-4
Received:

Accepted:

Published:

Issue Date:
Keywords
Race and ethnicity

College enrollment gaps

Labor market conditions
JEL Classification