Abstract
The demand for postsecondary education has steadily increased since the 1970s. However, state government's pecuniary investments in higher education have steadily declined over this same period, a decline that is magnified during recessions. This paper examines the effect of state level business cycle measures on the funding of Historically Black Colleges and Universities (HBCUs), relative to other schools. We find that when controlling for school characteristics, HBCU funding is very responsive to the business cycle—particularly downturns. Generally, HBCUs receive less funding than other institutions, but this result is exacerbated during periods of economic downturn. Our results are driven by 4-year institutions—the most common type of HBCU—and dissipates when only considering 2-year institutions. Additionally, when examining the results within each state, we find that during periods of increased unemployment, Kentucky, Maryland, North Carolina, Ohio, South Carolina, and Virginia provide fewer funds to 4-year HBCUs. We also find that Florida, Kentucky, Louisiana, Pennsylvania, Tennessee, Texas, and West Virginia do not appropriate fewer funds to 4-year HBCUs within their states, independent of any unemployment effects. The remaining states have provided less funding for 4-year HBCUs, in general, over the time of our sample. We also examine states that have at least one public 2-year HBCU. The results suggest that Alabama appropriates more funds to 2-year HBCUs, relative to other 2-year schools, during economic downturns and otherwise; South Carolina provides fewer funds to HBCUs during periods of higher unemployment. In discussions with each states' higher education executive association, we find that the mechanism through which funding disparities persist are difficult to assess due to the influence and autonomy state governors and legislatures possess in determining appropriations.
This is a preview of subscription content, log in to check access.
Access options
Buy single article
Instant access to the full article PDF.
US$ 39.95
Price includes VAT for USA
Subscribe to journal
Immediate online access to all issues from 2019. Subscription will auto renew annually.
US$ 99
This is the net price. Taxes to be calculated in checkout.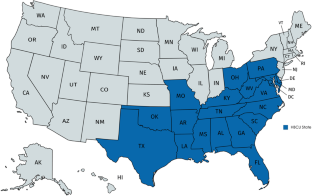 Notes
1.

2.

Full-time equivalent enrollment is calculated by adding fall full-time enrollees plus an institution's part-time enrollment scaled by factors determined by the U.S. Department of Education to account for the less than full-time status.

3.

There are only eight 2-year HBCUs in our sample.

4.

Mississippi is the only state to not respond to our inquiries.

5.

The contact person for each institution is available upon request.

6.

Results are available upon request.

7.

In our discussions with the Ohio state higher education commission, this was acknowledged and recognized with additional funding to Central State University. It is not clear given the years that we have in this sample, if this has led to more equitable funding in Ohio.
References
Autor DH, Katz LF, Kearney MS. Trends in US wage inequality: revising the revisionists. Rev Econ Stat. 2008;90(2):300–23.

Beland LP, Oloomi S. Party affiliation and public spending: evidence from US governors. Econ Inq. 2017;55(2):982–95.

Betts JR, McFarland LL. Safe port in a storm: the impact of labor market conditions on community college enrollments. J Hum Resour. 1995:741–65.

Card D. Estimating the return to schooling: progress on some persistent econometric problems. Econometrica. 2001;69(5):1127–60.

Clelan EB, Kofoed MS. The effect of the business cycle on freshman financial aid. Contemp Econ Policy. 2017;35(2):253–68.

Desrochers DM, & Wellman JV. Trends in college spending 1999-2009. Where does the money come from? Where does it go? What does it buy? A Report of the Delta Cost Project. Delta Project on Postsecondary Education Costs, Productivity and Accountability.2011.

Freeman K, Cohen RT. Bridging the gap between economic development and cultural empowerment: HBCUs' challenges for the future. Urban Education. 2001;36(5):585–96.

Humphreys BR. Do business cycles affect state appropriations to higher education? Southern Econ J, 2000 398–413.

Jaeger DA, & Page ME. Degrees matter: new evidence on sheepskin effects in the returns to education. The review of economics and statistics, 1996 733-740

Johnson MT. The impact of business cycle fluctuations on graduate school enrollment. Econ Educ Rev. 2013;34:122–34.

Kane TJ. State fiscal constraints and higher education spending: the role of Medicaid and the business cycle. 2003

Knight B. Endogenous federal grants and crowd-out of state government spending: theory and evidence from the federal highway aid program. Am Econ Rev. 2002;92(1):71–92.

McGranahan L. State budgets and the business cycle: implications for the federal balanced budget amendment debate. Economic Perspectives-Federal Reserve Bank of Chicago. 1999;23:2–17.

Minor JT. Contemporary HBCUs: considering institutional capacity and state priorities. University of Michigan. 2008

Palmer R, Gasman M. "It takes a village to raise a child": the role of social capital in promoting academic success for African American men at a Black college. J Coll Stud Dev. 2008;49(1):52–70.

Sav GT. Funding historically black colleges and universities: progress toward equality? Journal of Education Finance. 2010;35(3):295–307.

SRI International. State methods for funding higher education: Nevada Legislature's Committee to Study the Funding of Higher Education. SRI International. 2012

Tandberg DA. Politics, interest groups and state funding of public higher education. Res High Educ. 2010;51(5):416–50.

University of Kentucky Center for Poverty Research. 2016. UKCPR National Welfare Data, 1980–2015. Gatton College of Business and Economics, University of Kentucky, Lexington, KY. http://www.ukcpr.org/data (accessed <October 29th, 2017>)
Ethics declarations
Conflict of Interest
On behalf of all authors, the corresponding author states that there is no conflict of interest.
Appendix
Appendix
About this article
Cite this article
Ortega, A., Swinton, O.H. Business Cycles and HBCU Appropriations. J Econ Race Policy 1, 176–195 (2018). https://doi.org/10.1007/s41996-018-0009-5
Received:

Revised:

Accepted:

Published:

Issue Date:
Keywords
Business cycles

Higher education finance
JEL classification