Abstract
We chart the impact of the Great Recession on the employment outcomes of Native Americans, in and outside of their traditional homelands. While increases in unemployment during the Great Recession for Native Americans are comparable to African Americans, employment changes are not. It appears that this difference is the result of Native Americans moving to traditional homelands and withdrawing from the labor force. Net of this move to traditional homelands, the employment response in reservations to the Great Recession was muted relative to outside of homelands. To further investigate this phenomenon, we develop actual versus predicted employment rates based on the occupational and industrial structure of employment, differentiating Native Americans by whether they live in a traditional homeland.
This is a preview of subscription content, log in to check access.
Access options
Buy single article
Instant access to the full article PDF.
US$ 39.95
Price includes VAT for USA
Subscribe to journal
Immediate online access to all issues from 2019. Subscription will auto renew annually.
US$ 99
This is the net price. Taxes to be calculated in checkout.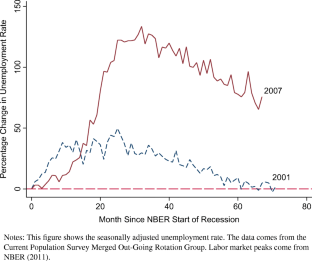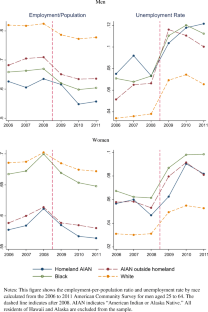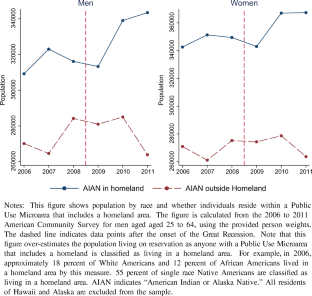 Notes
1.

While the work of Snipp (1996, 1997) studies Native American mobility during the expansionary period between 1985 and 1990, he does not explicitly consider variation in macroeconomic trends. The work of Larriviere and Kroncke (2004) studies the return to human capital as a motivation for leaving traditional homelands using the 1990 Census, but again does not focus on aggregate fluctuations as compounding stressors on social services and available human capital on reservations.

2.

It is important to acknowledge colonial policies that placed reservations on less valuable "fringe" and isolated lands (Dippel 2014).

3.

That said, outcomes still remain lower for Native Americans living off-reserve.

4.

According to the National Bureau of Economic Research (NBER), the Great Recession started in December 2007 and ended in June 2009 (National Bureau of Economic Research (NBER) 2011).

5.

The ACS samples were retrieved from the Integrated Public Use Microdata Series USA (IPUMS-USA) database (Sobek et al. 2010).

6.

The ACS sample was on average 1.9 million households per year through 2007 to 2009 with a response rate of 97.9%, while the CPS has a monthly sample of about 60,000 individuals with an average response rate of 92.2%. In 2007, the sample of single ancestry Native Americans in the ACS was 16,365 people, while the total sample size of single ancestry Native Americans in the CPS (summing over all months) was 2,153.

7.

The measure of homeland status noted above is created by IPUMS using the following procedure: "For Census 2000, the Census Bureau indicated whether or not each census block was within a homeland area. To create the IPUMS homeland variable, we have applied the Census Bureau's block-level measure of homeland status to the PUMAs available in the public use data from Census 2000, Census 2010, and the ACS samples from 2005 onwards." These homeland areas can be either legal or statistical entities. Although they do not have the legal statuses of other areas, the statistical areas included in this measure are judged by local agencies to be substantially meaningful to the local native populations. Specifically, "the legal entities consist of federally recognized American Indian reservations and off-reservation trust land areas, the tribal subdivisions that can divide these entities, state recognized American Indian reservations, Alaska Native Regional Corporations, and Hawaiian home lands. The statistical entities are Alaska Native village statistical areas, Oklahoma tribal statistical areas, tribal designated statistical areas, and state designated American Indian statistical areas. Tribal subdivisions can exist within the statistical Oklahoma tribal statistical areas" (US Census Bureau 2000). For ease of interpretation of homeland area, we have dropped Alaska and Hawaii. For purposes of consistency in definitions in PUMAs with a homeland, we restrict our time frame to the 2006 to 2011 period. We exclude 2005 because of the inclusion of those in institutions and collective dwellings in 2006, which results in non-trivial changes in population sizes on homelands between these years.

8.

For a complete comparison of the employment status questions in the CPS and ACS in 2007, 2008 and 2009, see Krorner and Howard (2011).

9.

Since 1979, there have been five recessions in the USA, occurring in 1980, 1981–82, 1990–1991, 2001, and 2007–2009.

10.

Research by Sierminska and Takhtamanova (2011) and others have identified African Americans suffering some of the most pronounced effects of the Great Recession.

11.

Part of the relatively large employment impact may be driven by the relatively young age profile of the Native American population.

12.

It should be noted that the proportion of Native Americans residing on homelands is estimated to be higher than would be expected for two reasons: first, we are focusing on single racial identity Native Americans, and second, the homeland indicator provided by the Integrated Public Use Microdata Series is at the Public Use Microarea level, which may include both homeland and non-homeland areas.

13.

There is an increase in the homeland population in 2010 that does not correspond to a decrease in the outside of homeland population because of an overall population increase in 2010.

14.

This includes 3 occupation levels of managerial, services, and blue collar and 12 industry groupings, creating a total of 36 cells.

15.

This may also be consistent with more informal working arrangements within homeland areas for Native Americans given the changes in employment status question wording in 2008 in the ACS.

16.

This is despite the shortcomings of the ACS discussed in "Data".
References
Akee, RK, Taylor JB. Social and economic change on American Indian reservations: a databook of the US censuses and American community survey, 1990–2010. Sarasota: Taylor Policy Group; 2014. Retrieved December 28 (2014), 21.

Austin, A. 2013. Native americans are still waiting for an economic recovery. EPI Economic Snapshot.

Bartik, TJ. Who benefits from state and local economic development policies? Kalamazoo: The W.E. Upjohn Institute for Employment Research; 1991.

Bitler, M, Hoynes H. Living arrangements, doubling up, and the great recession: was this time different? Am Econ Rev 2015;105(5):166–70.

Burnette, JD. Inequality in the labor market for native american women and the great recession. Am Econ Rev: Pap Proc 2017;107(5):425–9.

Dippel, C. Forced coexistence and economic development: evidence from native american reservations. Econometrica 2014;82 (6):2131–65.

Dunbar-Ortiz, R. An indigenous peoples' history of the United States, vol. 3. Boston: Beacon; 2014.

Elsby, M, Hobijn B, Sahin A. The labor market in the great recession. Brook Pap Econ Act. 2010;(2):1–48.

Feir, D, Gillezeau R, Jones M. 2017. The slaughter of the North American bison and reversal of fortunes on the Great Plains. Technical Report 1701, Department of Economics, University of Victoria .

Gitter, RJ, Reagan PB. Reservation wages: an analysis of the effects of reservations on employment of American Indian men. Am Econ Rev 2002;92(4):1160–8.

Goodman, CJ, Mance SM. Employment loss and the 2007–09 recession: an overview. Mon Labor Rev 2011; 134(4):3–12.

Hoynes, H, Miller DL, Schaller J. Who suffers during recessions? J Econ Perspect 2012;26(3):27–47.

Johnson, D. 2011. Households doubling up Census Blogs. https://www.census.gov/newsroom/blogs/random-samplings/2011/09/households-doubling-up.html. Accessed 13 Sep 2011.

Jorgensen, M. Rebuilding native nations: strategies for governance and development. Tucson: University of Arizona Press; 2007.

Krorner, BK, Howard DJ. 2011. Comparison of ACS and CPS data on employment status. Social, Economic and Housing Statistics Division. U.S Census Bureau. Technical Report No. SEHSD-WP2011-31.

Lamb, D. The economic impact of the great recession on aboriginal people living off reserve in Canada. Relat Ind/Ind Relat 2015;70(3):457–85.

Larriviere, JB, Kroncke CO. A human capital approach to American Indian earnings: the effects of place of residence and migration. Soc Sci J 2004;41(2):209–24.

Massey, G. Making sense of work on the wind river indian reservation. Am Indian Q 2004;28(3):786–816.

Mollica, A, Parker D. 2017. What makes economic growth inclusive? Evidence on the role of ethnicity from Native Americans. Mimeo.

National Bureau of Economic Research (NBER). 2011. U.S. business cycle expansions and contractions. Technical report, American Economic Association.

Peralta, K. 2014. Native Americans left behind in the economic recovery. U.S. News.

Sierminska, E, Takhtamanova Y. Job flows, demographics, and the great recession. Who loses in the downturn? Economic crisis, employment, and income distribution, research in labor economics; 2011. p. 115–154.

Snipp, CM. The size and distribution of the american indian population: fertility, mortality, migration, and residence. Changing numbers, changing needs: American Indian demography and public health; 1996. p. 17–52.

Snipp, CM. The size and distribution of the american indian population: fertility, mortality, migration, and residence. Popul Res Policy Rev 1997;16(1–2):61–93.

Sobek, M, Ruggles S, Trent A, Genadek K, Goeken R, Schroeder M. Integrated public use microdata series: Version 5.0. Minneapolis: University of Minnesota; 2010.

Trosper, RL. American Indian relative ranching efficiency. Am Econ Rev 1978;68(4):503–16.

US Census Bureau. 2000. U.S. Summary: 2000, Census US Profile.

Wise, J, Todd D, Liebler C. The occupational structure of the American Indian/Alaska Native workforce. Labor and Employment Relations Association Conference Proceedings. Labor and Employment Relations Association; 2016.
Acknowledgments
We would like to thank Maggie Jones, Dan Giedeman, David Scoones, and Rebecca Wortzman for their insights, suggestions, and support.
Funding
No grants or other external funding was used for this project.
Ethics declarations
Conflict of interest
The authors declare that they have no conflict of interest.
About this article
Cite this article
Feir, D., Gillezeau, R. Return to the Homeland? The Impact of the Great Recession on Employment Outcomes and Labor Mobility for Native Americans. J Econ Race Policy 1, 60–74 (2018). https://doi.org/10.1007/s41996-018-0008-6
Received:

Accepted:

Published:

Issue Date:
Keywords
Great Recession

Native American

Indigenous peoples

Reservations

Tribal homelands

Employment

Unemployment