Access options
Buy single article
Instant access to the full article PDF.
USD 39.95
Price excludes VAT (USA)
Tax calculation will be finalised during checkout.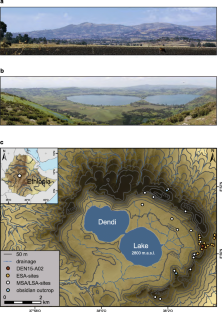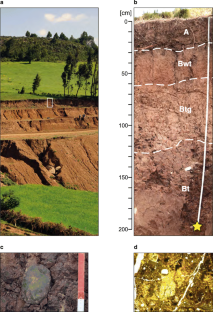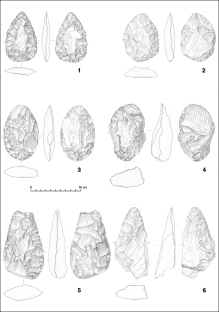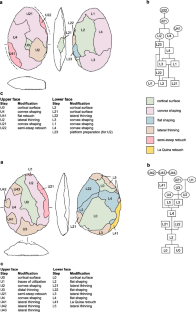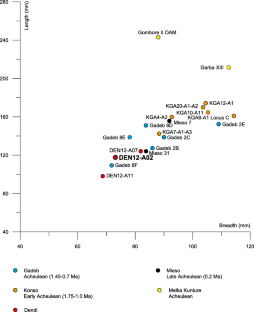 References
Abbate, E., Bruni, P., & Sagri, M. (2015). Geology of Ethiopia: a review and geomorphological perspectives. In P. Billi (Ed.), Landscapes and landforms of Ethiopia. World geomorphological landscapes (pp. 33–64). Dordrecht: Springer.

Abebe, T. (2014). The occurrence of a complete continental rift type of volcanic rocks suite along the Yerer-Tullu Wellel volcano tectonic lineament, Central Ethiopia. Journal of African Earth Sciences, 99, 374–385.

Abebe, T., Mazzarini, F., Innocenti, F., & Manetti, P. (1998). The Yerer-Tullu Wellel volcanotectonic lineament: a transtensional structure in central Ethiopia and the associated magmatic activity. Journal of African Earth Sciences, 26, 135–150.

Adimassu, Z., Mekonnen, K., Yirga, C., & Kessler, A. (2014). Effect of soil bunds on runoff, soil and nutrient losses, and crop yield in the central highlands of Ethiopia. Land Degradation & Development, 25, 554–564.

Aldenderfer, M. (2014). Altitude environments in archaeology. In C. Smith (Ed.), Encyclopedia of global archaeology (pp. 163–168). New York: Springer.

Basell, L. S. (2008). Middle Stone Age (MSA) site distributions in eastern Africa and their relationship to Quaternary environmental change, refugia and the evolution of Homo sapiens. Quaternary Science Reviews, 27, 2484–2498.

Beal, C. (2001). Adaptation to altitude: a current assessment. Annual Review of Anthropology, 30, 423–456.

Berghold, F., & Schaffert, W. (2009). Handbuch der Trecking- und Expeditionsmedizin. München: DAV.

Beyene, Y., Katoh, S., WoldeGabriel, G., Hart, W. K., Uto, K., Sudo, M., Kondo, M., Hyodo, M., Renne, P. R., Suwa, G., & Asfaw, B. (2013). The characteristics and chronology of the earliest Acheulean at Konso, Ethiopia. PNAS, 110(5), 1584–1591.

Biagi, P., & Starnini, E. (2015). Human settlement and environmental exploitation of Valcamonica-Valtrompia watershed from the beginning of the Holocene to the Middle Ages. Natura bresciana, 39, 249–259.

Biglari, F., & Shidrang, S. (2006). The lower Paleolithic occupation of Iran. Near Eastern Archaeology, 69, 160–168.

Breunig, P. (2003). Der Brandberg. Köln: Heinrich-Barth-Institut.

Chavaillon, J., & Piperno, M. (Eds.). (2004). Studies on the early Paleolithic site of Melka Kunture, Ethiopia. Florence: Instituto Italiano di Preistoria e Protostoria.

Chazan, M. (2015). Technological trends in the Acheulean of Wonderwerk cave, South Africa. African Archaeological Review, 32, 701–728.

Clark, J. D., & Kurashina, H. (1979). An analysis of Earlier Stone Age Bifaces from Gadeb (locality 8E), northern bale highlands, Ethiopia. South African Archaeological Bulletin, 34(130), 93–109.

Degefu, F., Herzig, A., Jirsa, F., & Schagerl, M. (2014). First limnological records of highly threatened tropical high-mountain crater lakes in Ethiopia. Tropical Conservation Science, 7(3), 365–381.

Doronichev, V. B. (2008). The lower Paleolithic in Eastern Europe and the Caucasus: a reappraisal of the data and new approaches. PaleoAnthropology, 2008, 107–157.

Foerster, V., Vogelsang, R., Junginger, A., Asrat, A., Lamb, H. F., Schaebitz, F., & Trauth, M. H. (2015). Environmental change and human occupation of southern Ethiopia and northern Kenya during the last 20,000 years. Quaternary Science Reviews, 129, 333–340.

Gallotti, R., Collina, C., Raynal, J. P., Kieffer, G., Geraads, D., & Piperno, M. (2010). The early middle Pleistocene site of GomboreII (Melka Kunture, upper awash, Ethiopia) and the issue of Acheulean bifacial shaping strategies. African Archaeological Review, 27, 291–322.

Gallotti, R. & Mussi, M. (2017). Two Acheuleans, two humankinds: From 1.5 to 0.85 MA at Melka Kunture (Upper Awash, Ethiopian highlands). Journal of Archaeological Science s 95, 1–46.

Gallotti, R., Raynal, J.-P., Geraads, D., & Mussi, M. (2014). Garba XIII (Melka Kunture, Upper Awash, Ethiopia): a new Acheulean site of the late Lower Pleistocene. Quaternary International, 343, 17–27.

Pik, R., Marty, B., Carignan, J., & Lavé, J. (2003). Stability of the Upper Nile drainage network (Ethiopia) deduced from (U–Th)/he thermochronometry: implications for uplift and erosion of the Afar plume dome. Earth and Planetery Science Letters, 215(1), 73–88.

Piperno, M., Bulgarelli, G. M., Gallotti, R. (2004). Prehistoric archaeology. The site of Garba IV. The lithic industry of Level D. Tools on pebble and percussion material. In: Chavaillon, J. & Piperno, M. (eds.) Studies on the Early Paleolithic of Melka Kunture, Ethiopia, 545–580.

Richter, J. (2004). Copies of flakes: operational sequence of foliate pieces from buran-Kaya III level B. In V. B. Chabai, K. Monigal, & A. E. Marks (Eds.), The Middle Paleolithic and Early Upper Paleolithic of eastern Crimea (pp. 233–248). Liege: ERAUL.

Richter, J. (2006). Neanderthals in their landscape. In: Demarsin, B. & Otte, M. (eds.) Neanderthals in Europe. Liège – Tongeren, ERAUL 117 & ATVATVCA 2, 51–66.

Richter, J. (2018). Altsteinzeit. Der Weg des frühen Menschen von Afrika bis in die Mitte Europas. Stuttgart: Kohlhammer.

Schick, K., & Toth, N. (2017). Acheulean industries of the Early and Middle Pleistocene, Middle Awash, Ethiopia. L'anthropologie, 121, 451–491.

Shipton, C. (2018). Biface knapping skill in the east African Acheulean: progressive trends and random walks. African Archaeological Review, 35, 107–131.

Shipton, C., Clarkson, C., Pal, J. N., Jones, S. C., Roberts, R. G., Harris, C., Gupta, M. C., Ditchfield, P. W., & Petraglia, M. D. (2013). Generativity, hierarchical action and recursion in the technology of the Acheulean to Middle Palaeolithic transition: a perspective from Patpara, the Son Valley, India. Journal of Human Evolution, 65(2), 93–108.

de la Torre, I. (2011). The Early Stone Age lithic assemblages of Gadeb (Ethiopia) and the developed Oldowan/early Acheulean in East Africa. Journal of Human Evolution, 60, 768–812.

de la Torre, I., Mora, R., Arroyo, A., & Benito-Calvo, A. (2014). Acheulean technological behavior in the Middle Pleistocene landscape of Mieso (East-Central Ethiopia). Journal of Human Evolution, 76, 1–25.

Tsukamoto, S., Murray, A. S., Huot, S., Watanuki, T., Denby, P. M., & Bøtter-Jensen, L. (2007). Luminescence property of volcanic quartz and the use of red isothermal TL for dating tephras. Radiation Measurements, 42, 190–197.

Umer, M., Legesse, D., Gasse, F., Bonnefille, R., Lamb, H.F., Leng, M.J., Lamb, A.A. (2004). Late Quaternary climate changes in the Horn of Africa. In: Battarbee, R.W., Gasse, F., Stickley, C.E. (Eds.) Past climate variability through Europe and Africa (pp. 159–180). Dordrecht: Springer.

Verpoorte, A. (2012). Caching and retooling in Potočka Zijalka (Slovenia). Implications for Late Auragnacian land use strategies. Archäologisches Korrespondenzblatt, 42, 135–151.

Villa, P., & Roebroeks, W. (2014). Neandertal demise: an archaeological analysis of the modern human superiority complex. PLoS One, 9(4), 1–10.

Wagner, B., Wennrich, V., Viehberg, F., Junginger, A., Kolvenbach, A., Rethemeyer, J., Schaebitz, F., & Schmiedl, G. (2018). Holocene rainfall runoff in the central Ethiopian highlands and evolution of the River Nile drainage system as revealed from a sediment record from Lake Dendi. Global and Planetary Change, 163, 29–43.

Xue, L., Alemu, T., Gani, N. D., & Abdelsalam, M. G. (2018). Spatial and temporal variation of tectonic uplift in the southeastern Ethiopian plateau from morphotectonic analysis. Geomorphology, 309, 98–111.

Zinaye, B. (2014). Geological and geomorphological characterization of the Dendi caldera, west Central Ethiopia: implications for paleo-environmental reconstruction using lake sediment cores. MSc. Thesis University of Addis Ababa.
Acknowledgments
We thank the local residents of Mt. Dendi for their support and participation in field research. The Ethiopian Authority for Research and Conservation of Cultural Heritage (ARCCH) and regional and zonal cultural bureaus facilitated fieldwork and museum studies. We thank all participants of the fieldwork, which had to stand the sometimes-harsh environmental conditions. Special thanks to Asfawossen Asrat Kassaye and Tamrat Endale for their support during the fieldwork and fruitful discussion, Wei Chu for his helpful comments, Ingrid Koch for the lithic drawings, and Lutz Hermsdorf-Knauth for help with the figures. We are grateful to the University of Cologne for administrative support, especially Dr. W. Schuck from the office of the CRC 806. Finally, we are grateful to the two anonymous reviewers for their very helpful comments and suggestions that significantly improved the manuscript.
Funding
Funding was provided by the Deutsche Forschungsgemeinschaft (DFG) in frame of the Collaborative Research Center 806 at the University of Cologne.
Ethics declarations
Conflict of Interest
On behalf of all authors, the corresponding author states that there are no conflicts of interest.
About this article
Cite this article
Vogelsang, R., Bubenzer, O., Kehl, M. et al. When Hominins Conquered Highlands—an Acheulean Site at 3000 m a.s.l. on Mount Dendi/Ethiopia. J Paleo Arch 1, 302–313 (2018). https://doi.org/10.1007/s41982-018-0015-9
Published:

Issue Date:

DOI: https://doi.org/10.1007/s41982-018-0015-9