Abstract
Palladium-catalyzed decarboxylative cross-coupling was employed to synthesize 2-arylpyrroles via a flow process. This reaction features palladium as the only metal catalyst and uses easily accessible starting materials. The reaction temperature, the residence time, and the quantity of different reactants were investigated to achieve optimal reaction conditions. A variety of N-alkylated and N-arylated 2-arylpyrroles were produced in good to excellent yields. A N-methyl-2-arylpyrrole derivative was produced in 220 min on a 3 g scale in 84% yield. The flow set-up presented in this work is featuring a fixed bed reactor to load the insoluble Cs2CO3 necessary for the decarboxylative cross-coupling to occur, it also comprises a sample loop, and a stainless-steel reactor. This study demonstrated the excellent potential of utilizing a flow process for the synthesis of 2-arylpyrroles derivatives.
Graphical abstract

Access options
Buy single article
Instant access to the full article PDF.
USD 39.95
Price excludes VAT (USA)
Tax calculation will be finalised during checkout.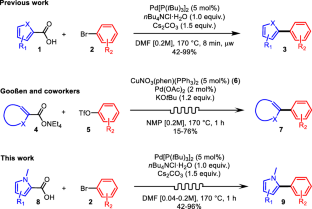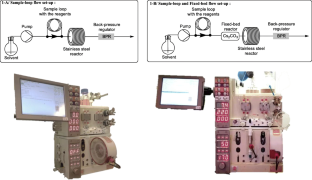 References
Bhardwaj V, Gumber D, Abbot V, Dhiman S, Sharma P (2015) RSC Adv 5:15233

Gholap SS (2016) Eur J Med Chem 110:13

Ragno R, Marshall GR, Santo R, Di; Costi R, Farmaceutici S, Applicata M (2000) Bioorg Med Chem 8:1423

Fatahala SS, Hasabelnaby S, Goudah A, Mahmoud GI, Abd-El Hameed RH, Muñoz-Torrero D (2017) Molecules 22:1

Nakazaki J, Chung I, Matsushita MM, Sugawara T, Watanabe R, Izuoka A, Kawada Y (2003) J Mater Chem 13:1011

Young IS, Thornton D, Thompson A (2010) Nat Prod Rep 27:1801

Singh N, Singh S, Kohli S, Singh A, Asiki H, Rathee G, Chandra R, Anderson EA (2021) Org Chem Front 8:5550

Fürstner A (2003) Angew Chemie Int Ed 42:3582

Hantzsch A (1890) Ber Dtsch Chem Ges 23:1474

Paal C (1885) Ber Dtsch Chem Ges 18:367

Knorr L (1884) Ber Dtsch Chem Ges 17:1635

Kaur R, Rani V, Abbot V, Kapoor Y, Konar D, Kumar K (2017) J Pharm Chem Chem Sci 1:17

Ferreira VF, Souza MCBV, CunhaPereira ACLOR, Ferreira MLG (2001) Org Prep Proced Int 33:411

Estévez V, Villacampa M, Carlos, Menéndez (2014) J Chem Soc Rev 43:4633

Philkhana SC, Badmus FO, Dos Reis IC, Kartika R (2021) Synth 53:1531

Billingsley KL, Anderson KW, Buchwald SL (2006) Angew Chemie - Int Ed 45:3484

Beaumard F, Dauban P, Dodd RH (2010) Synthesis 23:4033

Dowlut M, Mallik D, Organ MG (2010) Chem - A Eur J 16:4279

Aleskovic M, Basaric N, Mlinaric-Majerski K (2011) J Heterocycl Chem 48:1329

Johnson CN, Stemp G, Anand N, Stephen SC, Gallagher T (1998) Synlett 9:1025

Beromeo C, Bera JK, Doucet H (2012) Tetrahedron Lett 53:509

Sun G, Ren S, Zhu X, Huang M, Wan Y (2016) Org Lett 18:544

Marzo L, Ghosh I, Esteban F, Ko B (2016) ACS Catal 6:6780

Roger J, Doucet H (2009) Adv Synth Catal 351:1977

Vakuliuk O, Koszarna B, Gryko DT (2011) Adv Synth Catal 353:925

Obst M, Shaikh RS, König B (2017) React Chem Eng 2:472

Zhao L, Bruneau C, Doucet H (2013) ChemCatChem 5:255

Arylation D, Vakuliuk M, Koszarna B, Gryko T (2011) Synthesis 17:2833

Forgione P, Brochu M-C, St-Onge M, Thesen KH, Bailey MD, Bilodeau F (2006) J Am Chem Soc 128:11350

Gooßen LJ, Deng G, Levy LM (2006) Science 313:662

Gooßen LJ, Rodríguez N, Gooßen K (2008) Angew Chemie Int Ed 47:3100

Bilodeau F, Brochu MC, Guimond N, Thesen KH, Forgione P (2010) J Org Chem 75:1550

Rodríguez N, Gooßen LJ (2011) Chem Soc Rev 40:5030

Mehta VP, Van der Eycken EV (2011) Chem Soc Rev 40:4925

Glasnov TN, Kappe CO (2011) Chem - A Eur J 17:11956

Damm M, Glasnov TN, Kappe CO (2010) Org Process Res Dev 14:215

Schröter S, Bach T (2005) Synlett 1957

Dudley GB, Stiegman AE (2018) Chem Rec 18:381

Razzaq T, Kappe CO (2010) Chem - An Asian J 5:1274

McQuade DT, Seeberger PH (2013) J Org Chem 78:6384

Lasso JD, Szavay P, Covone J, Forgione P, Chaco F (2021) J Org Chem 86:515

Messina C, Ottenwaelder X, Forgione P (2021) Org Lett 23:7348

Liu JT, Hase H, Taylor S, Salzmann I, Forgione P (2020) Angew Chem Int Ed 6:7146

Messina C, Douglas LZ, Liu JT, Forgione P (2020) Eur J Org Chem 5182

Chacon-Huete F, Mangel D, Ali M, Sudano A, Forgione P (2017) ACS Sustain Chem Eng 5:7071

Noël T, Buchwald SL (2011) Chem Soc Rev 40:5010

Rudzinski DM, Leadbeater NE (2013) Green Process Synth 2:323

Therkelsen M, Rasmussen MT, Lindhardt AT (2015) Chem Commun 51:9651

Hsieh H-W, Coley CW, Jensen LM, Robinson BKF (2018) R I Org Process Res Dev 22:542

Lange PP, Gooßen LJ, Podmore P, Underwood T, Sciammetta N (2011) Chem Commun 47:3628

Lee HJ, Park K, Bae G, Choe J, Song KH, Lee S (2011) Tetrahedron Lett 52:5064

Menggen Q, Wu Y, Bao Y (2018) Chin J Org Chem 38:902

Al-Kayiem HH, Huong TM, Khan JA (2016) ARPN J Eng Appl Sci 11:9908

Plutschack MB, Gilmore K, Seeberger PH (2017) Chem Rev 117:11796

Nemec D, Levec J (2005) Chem Eng Sci 60:6947

Antilla JC, Baskin JM, Barder TE, Buchwald SL (2004) J Org Chem 69:5578

Alami M, Amatore C, Bensalem S, Choukchou-Brahim A, Jutand A (2001) Eur J Inorg Chem 2675
Acknowledgements
We are grateful for the resources provided by the Natural Sciences and Engineering Research Council (NSERC), the CREATE Training Program in Continuous Flow Science at Université de Montréal, and Le Fonds de Recherche du Québec, Nature et Technologies (FQRNT). Additional support was kindly provided by the Québec-funded Centre for Green Chemistry and Catalysis (CGCC). Special thanks to Cynthia Messina for her invaluable suggestions, Vanessa Kairouz and Dr Shawn Collins for fruitful discussions.
Ethics declarations
Conflict of interest
On behalf of all authors, the corresponding author states that there is no conflict of interest.
Additional information
Publisher's note
Springer Nature remains neutral with regard to jurisdictional claims in published maps and institutional affiliations.
Highlights
- Pyrrole carboxylic acids and aryl bromides as coupling partners.
- Palladium-catalyzed cross-coupling in a flow reactor using a fixed-bed reactor.
- Large-scale cross-coupling reaction.
Supplementary Information
Below is the link to the electronic supplementary material.
About this article
Cite this article
Buonomano, C., Holtz-Mulholland, M., Sullivan, S. et al. Development of a palladium-catalyzed decarboxylative arene cross-coupling of pyrrole derivatives in a flow reactor. J Flow Chem 12, 275–283 (2022). https://doi.org/10.1007/s41981-022-00222-4
Received:

Accepted:

Published:

Issue Date:

DOI: https://doi.org/10.1007/s41981-022-00222-4
Keywords