Abstract
The SF5 group has great potential in influencing the drug-like features of organic molecules due to its chemical stability, hydrophobic surface, electron-withdrawing capability and unique octahedral geometry. However, the difficulty in synthesising SF5-containing compounds, particularly in aromatic systems, has impeded the widespread incorporation of this group into desired scaffolds in medicinal chemistry. The most troublesome step operationally involves the synthesis of the intermediate species ArSF4Cl from aryl-disulfides. Here, we report an analytical-scale synthesis of ArSF4Cl using flow microfluidic technology, allowing for safer handling of reagents and avoiding the need for gloveboxes or Cl2 cylinders. The system is fairly straightforward to prepare, clean to assemble and can be adapted easily to further developments. As well as making progress towards continuous de novo syntheses of ArSF5 compounds, this result broadly highlights the potential of flow chemistry in providing new avenues to perform challenging batch reactions.
Graphical abstrac

Access options
Buy single article
Instant access to the full article PDF.
USD 39.95
Price includes VAT (USA)
Tax calculation will be finalised during checkout.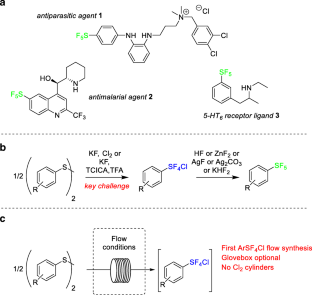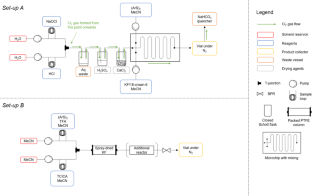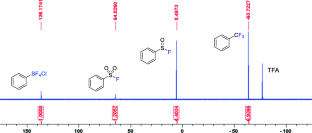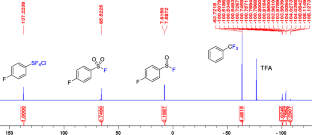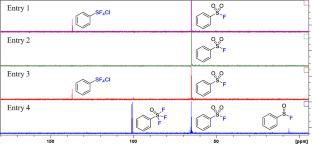 Acknowledgments
This work was supported financially by an Australian Government Research Training Program (RTP) Scholarship; and AINSE Limited through the Residential Student Scholarship (RSS). The National Imaging Facility is gratefully acknowledged. The authors also thank C.R. Pitts and A. Togni for helpful discussions.
Additional information
Publisher's note
Springer Nature remains neutral with regard to jurisdictional claims in published maps and institutional affiliations.
Supplementary information
About this article
Cite this article
Surjadinata, G., Hunter, L., Matesic, L. et al. Analytical-scale synthesis of aryl-SF4Cl via flow microfluidic technology. J Flow Chem 11, 107–115 (2021). https://doi.org/10.1007/s41981-020-00130-5
Received:

Accepted:

Published:

Issue Date:
Keywords
Pentafluorosulfanyl

Analytics

Flow chemistry

Fluorination

Arylsulfur chlorotetrafluoride