Abstract
A continuous flow process for the synthesis of trifluoromethylthioethers is reported. The palladium-catalyzed C-H trifluoromethylthiolation of amides derived from the 8-aminoquinoline using N-[(trifluoromethyl)thio]phthalimide produced the desired products in moderate to good yields with a residence time of 20 min. In comparison with the batch process, the reaction time was decreased by a factor of 100 to 200, demonstrating the positive effect of continuous flow processes for this type of reaction.
Access options
Buy single article
Instant access to the full article PDF.
US$ 39.95
Tax calculation will be finalised during checkout.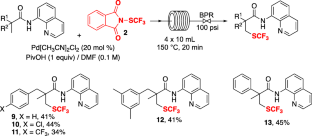 References
1.

Murai S, Kakiuchi F, Sekine S, Tanaka Y, Kamatani A, Sonoda M, Chatani N (1993). Nature (London) 366:529–531

2.

Corbet M, De Campo F (2013). Angew Chem Int Ed 52:9896–9898

3.

Sambiagio C, Schönbauer D, Blieck R, Dao-Huy T, Pototschnig G, Schaaf P, Wiesinger T, Zia MF, Wencel-Delord J, Besset T, Maes BUW, Schnürch M (2018). Chem. Soc. Rev 47:6603–6743 and references therein

4.

Rao W-H, Shi B-F (2016). Org Chem Front 3:1028–1047

5.

Yang X, Shan G, Wang L, Rao Y (2016). Tetrahedron Lett. 57:819–836

6.

Petrone DA, Ye J, Lautens M (2016). Chem. Rev. 116:8003–8104

7.

Meanwell NA (2018). J. Med. Chem. 61:5822–5880

8.

Wang J et al (2014). Chem. Rev. 114:2432–2506

9.

Toulgoat F, Alazet S, Billard T (2014). Eur J Org Chem:2415–2428 and references therein

10.

Xu X-H, Matsuzaki K, Shibata N (2015). Chem. Rev. 115:731–764 and references therein

11.

Barata-Vallejo S, Bonesi S, Postigo A (2016). Org Biomol Chem 14:7150–7182

12.

Chachignon H, Cahard D (2016). Chin. J. Chem. 34:445–454

13.

Hansch C, Leo A, Taft RW (1991). Chem. Rev. 91:165–195

14.

Shao X, Xu C, Lu L, Shen Q (2015). Acc. Chem. Res. 48:1227–1236

15.

Xu C, Shen Q (2014). Org. Lett. 16:2046–2049

16.

Yin W, Wang Z, Huang Y (2014). Adv. Synth. Catal. 356:2998–3006

17.

Yoshida M, Kawai K, Tanaka R, Yoshino T, Matsunaga S (2017). Chem. Commun. 53:5974–5977

18.

Zhao Q, Poisson T, Pannecoucke X, Bouillon JP, Besset T (2017). Org. Lett. 19:5106–5109

19.

Zhao Q, Chen MY, Poisson T, Pannecoucke X, Bouillon JP, Besset T (2018). Eur J Org Chem. https://doi.org/10.1002/ejoc.201801071

20.

Kesavan A, Chaitanya M, Anbarasan P (2018). Eur. J. Org. Chem.:3276–3279

21.

Chen C, Xu X-H, Yang B, Qing F-L (2014). Org. Lett. 16:3372–3375

22.

Guo S, Zhang X, Tang P (2015). Angew. Chem. Int. Ed. 54:4065–4069

23.

Wu H, Xiao Z, Wu J, Guo Y, Xiao J-C, Liu C, Chen Q-Y (2015). Angew. Chem. Int. Ed. 54:4070–4074

24.

Mukherjee S, Maji B, Tlahuext-Aca A, Glorius F (2016). J. Am. Chem. Soc. 138:16200–16203

25.

Xiong H-Y, Besset T, Cahard D, Pannecoucke X (2015). J Org Chem 80:4204–4212

26.

Newman SG, Jensen KF (2013). Green Chem. 15:1456–1472

27.

Gutmann B, Kappe CO (2017). J Flow Chem 7:65–71

28.

Wirth T (2017). Angew Chem Int Ed 56:682–684

29.

Morse PD, Beingessner RL, Jamison TF (2017). Isr J Chem 57:218–227

30.

Plutschack MB, Pieber B, Gilmore K, Seeberger PH (2017). Chem. Rev. 117:11796–11893 and references therein

31.

Sullivan J. Newman S (2108) in flow chemistry for the synthesis of heterocycles. K. Sharma & E. Van der Eycken, Eds. Springer. https://doi.org/10.1007/7081_2018_18
Acknowledgments
This research was supported by the Natural Science and Engineering Research Council of Canada (NSERC) under the CREATE Training Program in Continuous Flow Science, a discovery grant from NSERC (Canada), the Canada Foundation for Innovation, the Université de Montréal and the Centre in Green Chemistry and Catalysis (CGCC). We would like to thank Alexandra Furtos from the Regional Mass Spectrometry Centre and Sylvie Bilodeau from the Regional Centre of NMR spectroscopy of the Université de Montréal. H.-Y.X. thanks CSC for fellowship.
Electronic supplementary material
Below is the link to the electronic supplementary material.
About this article
Cite this article
Bouchard, A., Kairouz, V., Manneveau, M. et al. Continuous flow palladium-catalyzed trifluoromethylthiolation of C-H bonds. J Flow Chem 9, 9–12 (2019). https://doi.org/10.1007/s41981-018-0023-4
Received:

Accepted:

Published:

Issue Date:
Keywords
Aminoquinoline

Bidentate directing group

C-SCF3 bond

Organofluorine compounds

Flow process

C-H activation

Halogenation

Trifluoromethylthioethers