Enantiospecific cyclization of methyl N-(tert-butoxycarbonyl)-N-(3-chloropropyl)-D-alaninate to 2-methylproline derivative via 'memory of chirality' in flow
Abstract
We report for the very first time a continuous-flow route to perform the intramolecular cyclization of haloalkyl-substituted α-amino esters via memory of chirality (MoC), using lithium bis(trimethylsilyl)amine as a base and methyl N-(tert-butoxycarbonyl)-N-(3-chloropropyl)-D-alaninate as a model reactant. The various reaction parameters, such as temperature, residence time, reactant stoichiometry, or type and concentration of the base were optimized to maximize the yield of the cyclized product and its enantiomeric excess. At the conditions identified, the reaction was eventually scaled up, reaching a productivity of 11 g h−1. Compared to the standard batch protocols available in the literature, the use of a microreactor enables a better control of the exothermicity associated with the addition of the organolithium reagent to the reaction mixture, resulting in operations at more practical temperatures, with high enantiospecificity and full conversion of the reactive amino ester within a few seconds of residence time.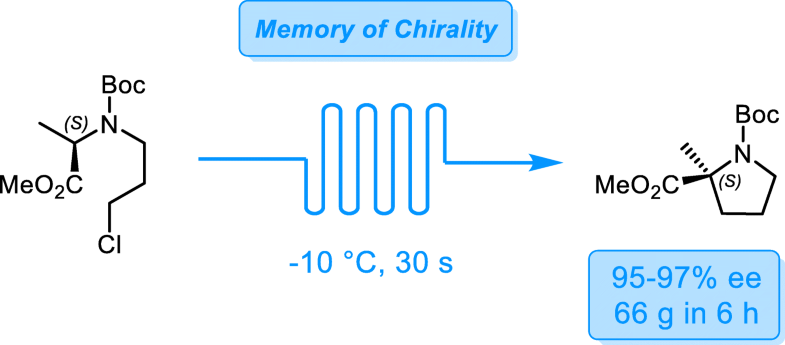 Keywords
Flow chemistry 
Asymmetric synthesis 
Cyclization 
Microreactors 
Memory of chirality 
Abbreviations
F16

flow rate in mL min−1 of compound 16 in a solution of DMF

Fbase

flow rate in mL min−1 of the base solution

T

reaction temperature

Boc

tert-butyloxycarbonyl

LC

liquid chromatography

GC

gas chromatography

MS

mass spectrometry

NMR

nuclear magnetic resonance

X

conversion of 16

ee

enantiomeric excess
Notes
Acknowledgements
We are grateful to Dr. Simone Tortoioli for proof-reading the manuscript and for valuable comments. The authors would like to thank Julien Grimont for NMR support, as well as Claus Mueller and his team for analytical methods and chiral analyses. Finally, Dr. Thomas Weller is sincerely acknowledged for support and comments on the paper.