Abstract
The development of a multistep continuous-flow process, consisting of a direct α-lithiation stage and subsequent hydroxylation by aerobic oxidation, is reported. The protocol is applied to the synthesis of cyclopentylmandelic acid (CPMA), the main building block for the anticholinergic glycopyrronium bromide (glycopyrrolate). We demonstrate the safe utilization of organolithium reagents and molecular oxygen in combination by using a continuous-flow protocol. The first stage involves the formation of a di-lithium enolate intermediate, which was either pre-formed in batch or formed in flow by using n-hexyllithium as a cost-effective and industrially safe base. The subsequent hydroxylation stage utilized molecular oxygen under homogeneous and mild conditions (atmospheric pressure and room temperature) to give the desired product. A diluted form of oxygen gas, consisting of less than 10% O2 in N2 ("synthetic air"), is used in pharmaceutical batch manufacturing to effectively address safety concerns when handling molecular oxygen. The telescoped flow process afforded the target intermediate in 65% solution NMR yield (50% isolated yield after re-crystallization). The continuous-flow process opens up new opportunities for the manufacture of CPMA, with a protocol which can safely handle pure O2, and compares favorably with existing Grignard-based batch processes.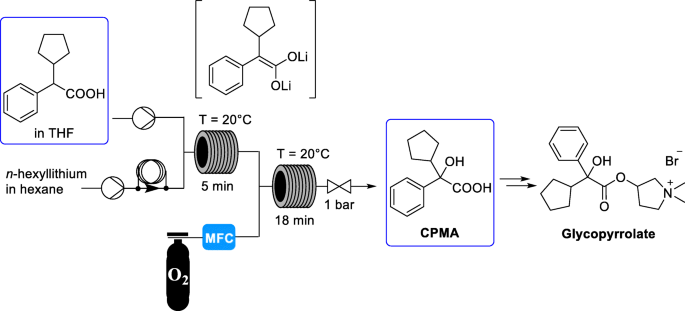 FormalPara
Representative procedure for the preparation of CPMA [
1
] using continuous-flow conditions (Table 3, entry 4)
Flow experiments were performed using the continuous-flow setup depicted in Table 3. A 2.3 M solution of n-hexyllithium in hexane was introduced through a sample loop. The liquid feed containing n-hexyllithium in hexane was pumped using a syringe pump (Syrdos) with a flow rate of 119 μL/min, using THF as a carrier solvent. A 0.19 M solution of α-phenylcyclopentylacetic acid (16) in THF (anhydrous) was pumped directly through the second syringe pump (Syrdos) with a flow rate of 481 μL/min. The two streams were mixed using a T-piece into a tubular reactor (3 mL, 0.8 mm internal diameter, PTFE coil) to provide 5 min residence time. The T-piece and reactor were submerged within an ultrasound bath at 25 °C to avoid lithium salt precipitation within the channel. On formation of the di-lithium enolate within the solution an intense dark red color was observed. The third feed consisted of O2 gas and was dosed at a flow rate of 1.28 mLn/min with a calibrated mass flow controller (EL-Flow, Bronkhorst). The gas flow rate was measured in units of mLn/min (n represents measurement under standard conditions: Tn = 0 °C, Pn = 1.01 bar). The enolate solution and molecular oxygen were mixed using a Y-mixer into a tubular reactor (11 mL, 0.8 mm internal diameter, PTFE coil) at room temperature to give a homogeneous solution and providing 18 min residence time. The pressure was maintained at 1 bar by using a back pressure regulator (Zaiput). The output material was collected for one residence time worth of material (23 min) within a round bottom flask containing MeOH (4 mL) under N2. The solution obtained was then evaporated under reduced pressure. Crystallization was achieved with hexane/chloroform (9:1). The chloroform was removed under reduced pressure which resulted in product precipitation. Subsequent filtration afforded pure CPMA (1) (230 mg, 1.05 mmol, 50% yield). 1H-NMR (300 MHz, CDCl3) δ: 7.68 (2H, d, J 8.1 Hz), 7.42–7.3 (3H, m), 2.95 (1H, q, J 8.2 Hz), 1.76–1.28 (8H, m). 13C-NMR (75 MHz, CDCl3) δ: 180.64, 141.13, 128.36, 127.90, 126.02, 79.30, 47.32, 27.08, 26.56, 26.44, 26.03.
References
1.

Frank BV, Lunsford CD (1960). J. Med. Chem. 2:523–540

2.

Mier RJ, Backrach SJ, Lakin RC, Barker T, Childs J, Moran M (2000). Arch. Pediatr. Adolesc. Med. 154:1214–1218

3.

Bajaj V, Langtry JAA (2007). Br. J. Dermatol. 157:118–121

4.

Hansel TT, Neighbour H, Erin EM, Tan AJ, Tennant RC, Maus JG, Barnes PJ (2005). CHEST 128:1974–1979

5.

Allmendinger T, Bixel D, Clarke A, Geronimo LD, Fredy J-W, Manz M, Gavioli E, Wicky R, Schneider M, Stauffert FJ, Tibi M, Valentekovic D (2012). Org. Process. Res. Dev. 16:1754–1769

6.

(a) Biel JH, Friedman HL, Leiser HA, Sprengeler EP (1952). J. Am. Chem. Soc. 74:1485–1488, CPMA 1 was prepared by using the procedure from: (b) Hoffmann K, Schellenberg H (1947). Helv. Chim. Acta. 30:292–295

7.

(a) Ji F, Wu W, Dai X, Mori N, Wu J, Buchwald P, Bodor N (2005). J. Pharm. Pharmacol. 57:1427–1435; (b) Wu W, Wu J, Mori N, Buchwald P, Bodor N (2008). Pharmazie 63:200–209; (c) Korean Kongkae Taeho Kongbo, 2012128522 (2012)

8.

(a) Dobrina VA, Ioffe DV (1977). Pharm. Chem. J., 11: 817–818 (b) Waugh TD (1968). US-Patent 3,381,017, April 30.

9.

(a) Yu F, Huang LX, Li, C-D, Wang D (2009). Chin. J. Synth. Chem. 17:385–387 (b) Zhong B, Liu H, Zheng J, Liu K, Li W, Liu L, Xie J, Chen L, Han X, Liu W, Liu C, Ge X, Weng X (2005). CN 1673209 A 20050928

10.

We also attempted to utilize Grignard-based protocols employing continuous-flow conditions. Unfortunately, no significant improvement in yields could be achieved in comparison to the published procedures with only low to moderate yields obtained

11.

Blumberg P, LaMontagne MP, Stevens JI (1972). J. Org. Chem. 37:1248–1251

12.

Adam W, Cueto O (1977). J. Org. Chem. 42:38–40

13.

(a) Feriani A, Gaviraghi G, Toson G, Mor M, Barbieri A, Grana E, Boselli C, Guarneri M, Simoni D, Manfredini S (1994). J. Med. Chem. 37:4278–4287; (b) Our repeat experiments afforded 1 in 70% NMR yield after work-up using this procedure, however yields were not always reproducible

14.

Moersch GW, Zwiesler ML (1971). Synthesis 12:647–648

15.

(a) Constable DJC, Dunn PJ, Hayler JD, Humphrey GR, Leazer, JL(Jr), Linderman RJ, Lorenz K, Manley J, Pearlman BA, Wells A, Zaks A, Zhang TY (2007). Green Chem. 9:411–420; (b) Caron S, Dugger RW, Ruggeri SG, Ragan, JA, Ripin DHB (2006). Chem. Rev. 106:2943–2989

16.

Osterberg PM, Niemeier JK, Welch CJ, Hawkins JM, Martinelli JR, Johnson TE, Root TW, Stahl SS (2015). Org. Process. Res. Dev. 19:1537–1543

17.

For general reviews on flow chemistry, see: (a) Movsisyan M, Delbeke EIP, Berton JKET, Battilocchio C, Ley SV, Stevens CV (2016). Chem. Soc. Rev. 45:4892–4928; (b) Gutmann B, Cantillo D, Kappe CO (2015). Angew. Chem. Int. Ed. 54:6688–6728; (c) Plutschack MB, Pieber B, Gilmore K, Seeberger PH (2017). Chem. Rev. 117:11796–11893

18.

For a detailed overview on the safe utilisation of oxygen by using continuous-flow reactors, see: (a) Hone CA, Roberge DM, Kappe CO (2017). ChemSusChem 10:32–41; (b) Gavriilidis A, Constantinou A, Hellgardt K, Hii KK, Hutchings GJ, Brett GL, Kuhn S, Marsden SP (2016). React. Chem. Eng. 1:595−612; (c) Gemoets HPL, Su Y, Shang M, Hessel V, Luque R, Noël T (2016). Chem. Soc. Rev. 45:83–117

19.

(a) Yoshida J (2008). Flash chemistry, fast organic synthesis in microsystems; Wiley- Blackwell: Oxford; (b) Yoshida J, Kim H, Nagaki A (2017). J. Flow Chem. 7:60–64; (c) Degennaro L, Carlucci C, De Angelis S, Luisi R (2016). J. Flow Chem. 6:136–166

20.

For selected examples using organometallic reagents and molecular oxygen in continuous-flow processes, see: (a) Watson DJ, Dowdy ED, Depue, JS, Kotnis, AS, Leung S, Reilly BCO (2004). Org. Process Res. Dev. 8:616–623; (b) Laporte TL, Hamedi M, Depue JS, Shen L, Watson D, Hsieh D (2008). Org. Process Res. Dev. 12:956–966; (c) He Z, Jamison TF (2014). Angew. Chem. Int. Ed. 53:3353–3357

21.

Wasserman HH, Lipshutz BH (1975). Tetrahedron Lett. 16:4611–4614

22.

(a) Rathman, TL, Schwindeman, JA (2014). Org. Process. Res. Dev. 18:1192–1210; (b) Wietelmann U, Klett JZ (2018). Anorg. Allg. Chem. 644:194–204

23.

The isolation procedure has not been fully optimized. 1H NMR standard showed some of 1 remained within the filtrate after re-crystallization
Acknowledgements
Open access funding provided by University of Graz.
Electronic supplementary material
Rights and permissions
Open Access This article is distributed under the terms of the Creative Commons Attribution 4.0 International License (http://creativecommons.org/licenses/by/4.0/), which permits unrestricted use, distribution, and reproduction in any medium, provided you give appropriate credit to the original author(s) and the source, provide a link to the Creative Commons license, and indicate if changes were made.
About this article
Cite this article
De Angelis, S., Hone, C.A., Degennaro, L. et al. Sequential α-lithiation and aerobic oxidation of an arylacetic acid - continuous-flow synthesis of cyclopentyl mandelic acid. J Flow Chem 8, 109–116 (2018). https://doi.org/10.1007/s41981-018-0015-4
Received:

Accepted:

Published:

Issue Date:
Keywords
Glycopyrrolate (glycopyrronium bromide)

Cyclopentyl mandelic acid (CPMA)

Continuous-flow

Gas-liquid transformations

Molecular oxygen

Organometallics