Abstract
The intrinsic complexity of post-materialist society makes it challenging to investigate the connection between social changes and generations. However, the study of consumption might help in the analysis of such a connection. In this paper, we analyse empirical data of consumption on leisure of Italian households, and focus on families at a very precise stage of family life-cycle, that is, couples with teenager children. We look at consumption of households at different points in time, 2001, 2007, and 2012, in order to investigate the impact of both social change and generation of children–Y-generation in 2001 and 2007, and Z-generation in 2012–on the leisure expenditure patterns of families. Specifically, we consider secondary data of yearly expenditure on a wide range of different leisure activities, and use hierarchical clustering and logistic regression to highlight specificities in family consumption patterns on leisure, depending on both the generation of offspring and the inter-time between sampled cohorts, 2001–2012 and 2007–2012. Our analysis indicates the presence of differences between the consumption patterns on leisure of families with Y-generation children and families with Z-generation children. However, our results also point out that such differences cannot be explained by solely invoking the different generation of offspring, and that social changes should also be taken into account.
Access options
Buy single article
Instant access to the full article PDF.
US$ 39.95
Tax calculation will be finalised during checkout.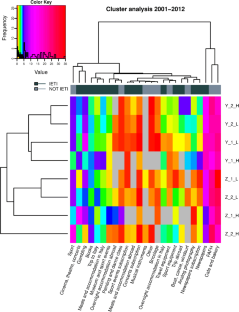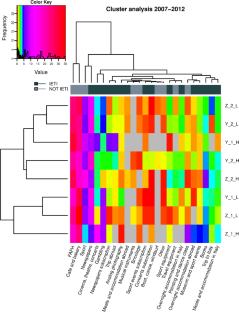 Notes
1.

Most of the social research work as well as of the popular publicity identifies the Y-generation with those born between 1980 and 2000. In this context it was decided to use the categorisation of Nielsen because it was considered more coherent with the literature concerning the identification of different generational groups as consumer actors. Nielsen ranks the Millennials as those born between 1981 and 1994.

2.

According to Morin 1962, libidinization is a continued interest and appetite for new goods that satisfy transitory and nonessential needs.

3.

According to ISTAT, a household is defined by people that live together, linked by emotional ties, relationship, marriage, affinity or adoption.

4.

5.

A few families with both parents unoccupied have been removed from the analysis, as well as the few families that showed no expenditure at all among the 25 considered expenditure categories.

6.

7.

Average Linkage method of hierarchical clustering was also performed, giving a similar partitioning of the families in the data set to the Complete Linkage algorithm.

8.
References
Alwin, D. F., & McCammon, R. J. (2003). Generations, cohorts, and social change. In J. T. Mortimer & M. J. Shanahan (Eds.), Handbook of the life course (pp. 23–49). New York: Springer.

Anderberg, M. R. (1973). Cluster analysis for applications. New York: Academic Press.

Bagnasco, A., Barbagli, M., & Cavalli, A. (1997). Corso di sociologia. Bologna: Il Mulino.

Bauman, Z. (2000). Liquid modernity. Cambridge: Polity.

Becker, G. S., & Tomes, N. (1986). Human capital and the rise and fall of family. Journal of Labor Economics, 4(3), 1–39.

Bhayani, A. (2015). Social and peer influences in college choice. ICEBMM 2015: International conference on economics and business market management, World Academy of Science, Engineering and Technology, United States, 1–20.

Blackshaw, T. (2010). Leisure. New York: Routledge.

Bourdieu, P. (1991). Language and symbolic power. Cambridge: Polity.

Brosdahl, D. J. C., & Carpenter, J. M. (2011). Shopping orientations of US males: A generational cohort comparison. Journal of Retailing and Consumer Services, 18, 548–554.

Chhetri, P., Hossain, M. I., & Broom, A. (2014). Examining the generational differences in consumption patterns in south East Queensland. City, Culture and Society, 5(4), 1–9.

Choukas-Bradley, S., Giletta, M., Cohen, G. L., & Prinstein, M. J. (2015). Peer influence, peer status, and prosocial behavior: An experimental investigation of peer socialization of adolescents' intentions to volunteer. Journal of Youth and Adolescence, 44(12), 2197–2210.

Confcommercio, Imprese per l'Italia (2014). Nota di aggiornamento rapporto consumi. Resource document. Ufficio Studi Confcommercio. http://www.ascomgallarate.it/upload/CONFCOMMERCIO_ANALISI_CONGIUNTURALE.pdf. Accessed 9 Jan 2019.

Corsten, M. (1999). The time of generations. Time & Society, 8(2), 249–272.

Costanza, D. P., Badger, J. M., Fraser, R. L., Severt, J. B., & Gade, P. A. (2012). Generational differences in work-related attitudes: A meta-analysis. Journal of Business and Psychology, 27(4), 375–394.

Cox, D. R. (1958). The regression analysis of binary sequences. Journal of the Royal Statistical Society: Series B: Methodological, 20(2), 215–242.

Edmunds, J., & Turner, B. S. (2002a). Generations, culture and society. Buckingham: Open University Press.

Edmunds, J., & Turner, B. S. (2002b). Generational consciousness, narrative and politics. London: Rowman & Littlefield Publishers, Inc.

Eisenstadt, S. N. (1956). From generation to generation: Age groups and social structure. Glencoe: The Free Press.

Eyerman, R., & Turner, B. S. (1998). Outline of a theory of generations. European Journal of Social Theory, 1(1), 91–106.

Funches, V., Yarber-Allen, A., & Johnson, K. (2017). Generational and family structural differences in male attitudes and orientations towards shopping. Journal of Retailing and Consumer Services, 37, 101–108.

Gilleard, C. (2004). Cohorts and generations in the study of social change. Social Theory & Health, 2(1), 106–119.

Grant, I. C. (2004). Communicating with young people through the eyes of marketing practitioners. Journal of Marketing Management, 20(5–6), 591–606.

Kahle, L. R. (1996). Social values and consumer behavior: Research from the list of values. In C. Seligman et al. (Eds), The psychology of values: The Ontario symposium (vol. 8, pp. 135–151). Mahwah: Lawrence Erlbaum Associates.

Kolnhofer-Derecskei, A., Reicher, R. Z., & Szeghegyi, A. (2017). Acta Polytechnica Hungarica, 14(8), 107–125.

Laslett, P. (1972). Household and the family in the past time. Cambridge: Cambridge University Press.

Leventhal, R. C. (1997). Aging consumers and their effects on the marketplace. Journal of Consumer Marketing, 14(4), 276–281.

Lindstrom, M., & Seybold, P. B. (2004). BrandChild: Remarkable insights into the minds of Today's global kids and their relationships with brands. London: Kogan Page.

Lo Verde, F. M. (2014). Sociologia dello sport e del tempo libero. Bologna: Il Mulino.

Lo Verde, F. M. (2015). Sport e tempo libero nelle regioni italiane. In Istituto della Enciclopedia Italiana (ed.), L'Italia e le sue regioni. L'età repubblicana. Territori (pp. 581–600). Roma: Treccani.

Mannheim, K. (1928). Das Problem der Generationen, in «Kölner Vierteljahres Hefte für Soziologie», VII, pp. 157–185, 309–330 (tr. en. 1952, Essays on the sociology of knowledge, Paul Kecskemeti (Ed.) London, Routledge & Kegan Paul Ltd).

Matthews, B. W. (1975). Comparison of the predicted and observed secondary structure of T4 phage lysozyme. Biochimica et Biophysica Acta, 405(2), 442–451.

McDonnell, E. M. (2013). Budgetary units: A Weberian approach to consumption. American Journal of Sociology, 119(2), 307–350.

Morin, E. (1962). L'esprit du temps. Paris: Grasset.

Mundt, M. P., Mercken, L., & Zakletskaia, L. (2012). Peer selection and influence effects on adolescent alcohol use: A stochastic actor-based model. BMC Pediatrics, 12, 115.

Noble, T. (2000). Social theory and social change. Basingstoke: Palgrave Macmillan.

Przybylski, A. K., Murayama, K., DeHaan, C. R., & Gladwell, V. (2013). Motivational, emotional, and behavioral correlates of fear of missing out. Computers in Human Behavior, 29(4), 1841–1848.

Rawlins, E. (2006). Mother knows best? Intergenerational notions of fashion and identity. Children's Geographies, 4(3), 359–377.

Rowland, V. T., Nickols, S. Y., & Dodder, R. A. (1986). Parents' time allocation: A comparison of households headed by one and two parents. Home Economics Research Journal, 15(2), 105–114.

Sassatelli, R. (2010). Fitness culture: Gyms and the commercialisation of discipline and fun. Basingstoke: Palgrave Macmillan.

Sassatelli, R., Santoro, M., Semi, G. (2008). Quello che i consumi rivelano: spazi, pratiche e confini del ceto medio. In A. Bagnasco (a cura di), Ceto medio. Perché e come occuparsene (pp. 165–210). Bologna: Il Mulino.

Solomon, M., Bamossy, G., Askegaard, S., & Hogg, M. K. (2006). Consumer behaviour: A European perspective. Edinburgh Gate Harlow Essex: Pearson Education Limited.

Vago, S. (2003). Social change. Upper Saddle River: Pearson Prentice Hall.

Waldkirch, A., Ng, S., & Cox, D. (2004). Intergenerational linkages in consumption behavior. The Journal of Human Resources, 39(2), 355–338.

Weinstein, J. (2010). Social change. Lanham: Rowman and Littlefield.

White, J. (2013). Thinking generations. The British Journal of Sociology, 64(2), 216–247.

Yao, Y.-Y. (2003). Information-theoretic measures for knowledge discovery and data mining. In J. Karmeshu (Ed.), Entropy measures, maximum entropy principle, and emerging applications (pp. 115–136). Berlin: Springer.

Zhang, Z., & Stewart A. M. (2016). Estimation of standardized mutual information. UNC Charlotte Technical Report, preprint no. 2016–07.
Additional information
Publisher's Note
Springer Nature remains neutral with regard to jurisdictional claims in published maps and institutional affiliations.
The analysis of microdata has been carried out at the Istituto Nazionale di Statistica (ISTAT) local office in Sicily, within a collaboration project on household expenditures, and the authors wish to thank Dr Fabrizio Consentino and Dr Roberto Foderà for support. Results reported in the present paper do not represent official statistics.
About this article
Cite this article
Diliberto, S., Tumminello, M. & Lo Verde, F.M. Household Expenditure on Leisure: a Comparative Study of Italian Households with Children from Y- and Z-Generation. Int J Sociol Leis 2, 121–146 (2019). https://doi.org/10.1007/s41978-019-00037-z
Received:

Accepted:

Published:

Issue Date:
Keywords
Leisure

Generations

Family with adolescents

Household consumption

Classification

Multivariate analysis