Zusammenfassung
Nebennierentumoren über 4 cm Grösse und mit kleiner Dichte in der nativen Computertomographie unter 10 Hounsfield-Einheiten bedürfen einer eingehenden klinischen und endokrinologischen Abklärung. Hyperkortisolismus, primärer Hyperaldosteronismus, Phäochromozytome und Nebennierenmetastasen sind mögliche Operationsindikationen. Die laparoskopische Adrenalektomie ist heute Therapiestandard. Die roboterunterstützte Laparoskopie wird zunehmend entsprechend ihrer Verfügbarkeit dank verbesserter Sicht, Vergrösserung und Instrumentenbeweglichkeit in Anspruch genommen und auch bei grossen Tumoren, Phäochromozytomen, Nierenrindenkarzinomen, partiellen Adrenalektomien oder Metastasektomien sinnvoll eingesetzt. Die laparoskopisch-roboterassistierte Adrenalektomie wird bereits heute in vielen Zentren mit etablierter urologischer Robotik in der Routine bevorzugt.
Access options
Buy single article
Instant access to the full article PDF.
US$ 39.95
Tax calculation will be finalised during checkout.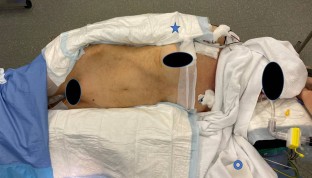 Literatur
1.

Gagner M, Lacroix A, Bolte E (1992) Laparoscopic adrenalectomy in Cushing's syndrome and pheochromocytoma. N Engl J Med 327:1033

2.

Mir MC, Klink JC, Guillotreau J et al (2013) Comparative outcomes of laparoscopic and open adrenalectomy for adrenocortical carcinoma: single, high-volume center experience. Ann Surg Oncol 20:1456–1461

3.

Hyams ES, Stifelman MD (2009) The role of robotics for adrenal pathology. Curr Opin Urol 19:89–96

4.

Nieman LK (2010) Approach to the patient with an adrenal incidentaloma. J Clin Endocrinol Metab 95:4106–4113

5.

Zeiger MA, Thompson GB, Duh QY et al (2009) The American Association of Clinical Endocrinologists and American Association of Endocrine Surgeons medical guidelines for the management of adrenal incidentalomas. Endocr Pract 15(Suppl 1):1–20

6.

Obrecht F, Sauck A, John H, Padevit C (2020) Nierenteilresektion: von der offenen Nephrektomie zur roboterassistierten Nierenteilresektion. Urol Prax 22:147–152

7.

Nigri G, Rosman AS, Petrucciani N et al (2013) Meta-analysis of trials comparing laparoscopic transperitoneal and retroperitoneal adrenalectomy. Surgery 153:111–119

8.

Heger P, Probst P, Huttner FJ et al (2017) Evaluation of open and minimally invasive adrenalectomy: a systematic review and network meta-analysis. World J Surg 41:2746–2757

9.

Chai YJ, Kwon H, Yu HW et al (2014) Systematic review of surgical approaches for adrenal tumors: lateral transperitoneal versus posterior retroperitoneal and laparoscopic versus robotic Adrenalectomy. Int J Endocrinol 2014:918346

10.

Nomine-Criqui C, Germain A, Ayav A, Bresler L, Brunaud L (2017) Robot-assisted adrenalectomy: indications and drawbacks. Updates Surg 69:127–133

11.

Agcaoglu O, Aliyev S, Karabulut K, Siperstein A, Berber E (2012) Robotic vs laparoscopic posterior retroperitoneal adrenalectomy. Arch Surg 147:272–275

12.

Brunaud L, Ayav A, Zarnegar R et al (2008) Prospective evaluation of 100 robotic-assisted unilateral adrenalectomies. Surgery 144:995–1001 (discussion 1001)

13.

D'Annibale A, Lucandri G, Monsellato I et al (2012) Robotic adrenalectomy: technical aspects, early results and learning curve. Int J Med Robot 8:483–490

14.

Materazzi G, Rossi L (2020) Robot-assisted adrenalectomy: state of the art. Updates Surg. https://doi.org/10.1007/s13304-020-00915-2

15.

Raffaelli M, Brunaud L, De Crea C et al (2014) Synchronous bilateral adrenalectomy for Cushing's syndrome: laparoscopic versus posterior retroperitoneoscopic versus robotic approach. World J Surg 38:709–715

16.

Teo XL, Lim SK (2016) Robotic assisted adrenalectomy: Is it ready for prime time? Investig Clin Urol 57:S130–S146

17.

Asher KP, Gupta GN, Boris RS, Pinto PA, Linehan WM, Bratslavsky G (2011) Robot-assisted laparoscopic partial adrenalectomy for pheochromocytoma: the National Cancer Institute technique. Eur Urol 60:118–124

18.

Ye C, Yang Y, Guo F, Wang F, Zhang C, Yang B (2020) Robotic enucleation of adrenal masses: technique and outcomes. World J Urol 38:853–858

19.

Simone G, Anceschi U, Tuderti G et al (2019) Robot-assisted partial adrenalectomy for the treatment of conn's syndrome: surgical technique, and perioperative and functional outcomes. Eur Urol 75:811–816
Ethics declarations
Interessenkonflikt
H. John und C. Padevit geben an, dass kein Interessenkonflikt besteht.
Für diesen Beitrag wurden von den Autoren keine Studien an Menschen oder Tieren durchgeführt. Für die aufgeführten Studien gelten die jeweils dort angegebenen ethischen Richtlinien.
Additional information
Hinweis des Verlags
Der Verlag bleibt in Hinblick auf geografische Zuordnungen und Gebietsbezeichnungen in veröffentlichten Karten und Institutsadressen neutral.
About this article
Cite this article
John, H., Padevit, C. Die roboterassistierte Adrenalektomie: Stand 2021. Urol. Prax. 23, 31–34 (2021). https://doi.org/10.1007/s41973-021-00121-6
Accepted:

Published:

Issue Date: